First time taking a cruise? There's no doubt that you have questions.
Sure you've seen all the pretty pictures on the cruise line website and all the glossy photos in the marketing brochures. But what is it really like to take a cruise?
What sort of things are there to do on the ship? What's the first day of a cruise like? How do you board the ship? Or tip a waiter? Or get a drink?
Note: This article focuses primarily on sailing the Caribbean/Mexico/Bahamas. If sailing Alaska, then we suggest our article here.
If you've never taken a cruise before, don't worry. You're not alone. Every year cruise lines around the world welcome millions of new passengers. That means you won't be alone on the ship in being a first-timer, and the staff will always be happy to help with any questions you have.
As well, no two cruise lines are the same. So even if someone has sailed a number of times on one line, they may still feel like a rookie the first time sailing a different cruise line.
The bottom line? There's no reason to feel like you're going to be the only one who isn't quite sure what to do on the ship. Don't let the worry of being unsure what to do make you feel self-conscious.
Beyond that, we've laid out everything you need to know about taking your first cruise… and how to sail like a pro.
Note: This post contains affiliate links. Cruzely earns a commission for purchases made through these links, at no extra cost to you.
Overview of Taking Your First Cruise
While we will get into all the details of your first cruise below, let's start with a general overview. The specifics might vary from line to line, but the general aspects of your trip will be similar.
So what is cruising like?
Truth is, it can be whatever you want it to be. If you want it to be a wild party time with lots of sun, booze, and entertainment, then it can be. If you're looking for something relaxing and quiet, it can be that too.
Today's cruise ships are large enough — and offer enough things to do — that no matter what sort of trip you are looking for, you'll be able to have it on a cruise.
It's no exaggeration that you'll find everything from newlyweds on a honeymoon to couples celebrating their 50th anniversary. You'll also find families, bachelorette parties, and just folks looking to get away for a bit. (Note that some cruise lines cater to different crowds, such as Virgin Voyages, which is adults only.)
While the major cruise lines cater to a wide audience, one thing is for certain. You can expect a lot of people on the ship. Modern ships typically carry around 3-4,000 passengers, with the largest ships carrying 6,000 plus. That means the ship is usually buzzing with activity. But don't think you can't get away. Ships are huge, which means there are always quieter spots on the ship if you prefer.
Your Cabin
While on the ship, the cabin on the ship is your home away from home. First-time cruisers are always surprised at the size of a cruise cabin. Put bluntly, they are small. The image below is a rather large cruise cabin.
Even so, a cabin will have everything that you need. From your bed to a television, from a closet to a full bathroom (shower only, no tub unless you opt for much larger suites), it offers anything a normal hotel room will have, albeit in a much cozier space. (This also includes things like an in-room fridge, a small safe, and a hair dryer.)
For two adults the size is plenty, but for more than two adults and a kid, we'd suggest looking into two cabins — even though most say they can accommodate up to four people.
Many passengers opt for a balcony cabin, and it's hard to argue with that plan. While it is a little pricier than the cheapest interior cabins, having your own private balcony is a nice feature. Balconies are normally small, but enough for two chairs and a small table. One other nice feature is that having a balcony gives you access to fresh air, unlike interior or oceanview cabins.
During the trip your cabin will be serviced by the room steward. Each day they will make up the room and deliver things like the daily schedule. They tend to work at the times that most passengers are out of the room (e.g. dinner time), so as not to disturb people.
The steward will introduce themselves on your first day on the ship, and you can let them know anything you might need. Don't hesitate to ask if you want something to make your cruise better, or if you have any questions about how things work. They are always more than happy to help.
Food and Drink on a Cruise
What's a cruise without food? And it just doesn't feel right to hang out poolside without a drink in your hand. On a cruise, there is no shortage of food or drink.
Hungry? These days cruise ships have lots of restaurants — in some cases up to a dozen different places. These range everything from the buffet to the formal dining room to specialty restaurants. There is also usually a 24-hour restaurant or café where you can get something to eat no matter the time.
What's confusing for many first-timers is that some food is free, and some places are a charge to eat. Apart from the buffet and the dining room, most sit-down restaurants on cruise ships these days have an extra charge for eating there.
Speaking of the buffet and dining room, these spots are where most people will eat their meals. The buffet is open for all three meals. You simply walk in when you're hungry and grab a plate.
The dining rooms normally assign a dinner time, but many also have "anytime" dining where you just show up and you'll be seated. Here you get the white tablecloth dining experience. Expect it to take about an hour and a half to eat. (Many people don't realize you can also eat breakfast in the dining room as well. The food is fresher than that you'll find in the buffet, with smaller crowds.)
Specialty (extra charge) restaurants offer up more intimate dining, with smaller venues and usually need reservations. Just like on land, the specialty restaurants can vary from Asian to Mexican to Italian, and of course, the ever popular steakhouse.
Thirsty? Alcohol is big business on a cruise, and you'll know it right away. That's because there are bars everywhere on the ship. The casino, the pool, the center atrium, and all throughout the ship. You are never more than a few steps from a bar.
While many things are included in your cruise fare, alcohol is not (unless you book a special package). Instead, you will need to buy drinks, and they can be pricey. It's normally $6-8 for a beer and about $10-14 for a cocktail. One other thing to remember is that gratuity is added (normally around 18%) to the price of each drink.
If you plan on drinking a lot, then cruise lines also sell alcohol packages. These deals allow you to pay one set price each day and drink your fill.
Non-alcoholic drinks are typically a charge too. This includes soda. You can get water, juice, and tea complimentary in restaurants.
Entertainment and Activities
Remember how we said that your cruise can be anything you want it to be? That's because there is always something going on, and it's a wide variety of things to do. From evening shows in the theater to belly-flop contests by the pool, there's lots happening. The good news is that it's often included in your cruise fare.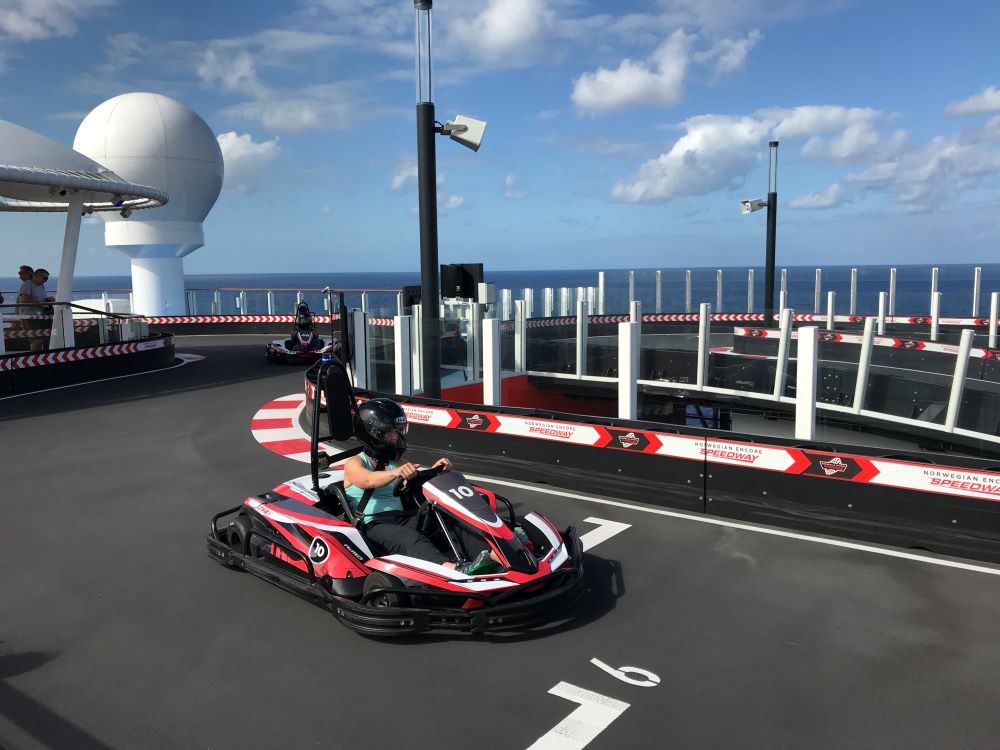 The most popular entertainment might be the evening theater shows. Some nights this might be a Broadway-style show. Other nights it can be a live game show (spin-offs of "The Newlywed Game" are especially common). But there will be some big event in the theater almost every night.
The theater, however, is just a drop in the bucket of the things to do. There are pools, hot tubs, the casino, spa, waterslides, shopping, sport courts, and more. Newer ships will often have more things to do, including things as crazy as go-karts and a roller coaster or zipline.
In addition to all of those, the staff puts on activities throughout the day. These range from trivia contests to dance parties and everything in between. You'll get a daily schedule of everything going on delivered to your stateroom the night before or you can view it on the phone app for your cruise line.
Want to just do your own thing? Of course, that's always popular. Spend some time at the pool, grab something to eat, take a nap… it's your vacation. Just because there is a schedule of activities doesn't mean you have to follow it.
Visiting Ports of Call
One thing that might surprise first-time passengers is visiting ports of call. For instance, on a 7-day cruise you might have three or four ports of call. But each stop is usually only about eight hours long. In other words, the vast majority of your time is spent on the ship.
When it comes to ports of call, they can vary widely. Cruise line private islands are popular as they are completely for the use of passengers. They have many of the amenities you'd expect on the ship, including loungers, bars, and activities, and many of these items are included for free with your fare. Have a drink package? They usually extend to cruise ship private islands.
Other ports of call are your chance to experience another country. They are completely separate from the cruise ship, and you are free to explore as you please.
Looking for something to do? Cruise lines offer excursions that you can book on the ship (fees apply). Excursions can range from everything from beach days to snorkeling to cultural activities. Or you can simply head out on your own.
One thing to note is that many ports of call have welcome areas right at the end of the dock. This often includes shops, restaurants, and spots to book excursions if you haven't already. If you don't feel like going anywhere, these spots offer something to do off the ship.
No matter where you are visiting, be sure to bring your cruise keycard (more on this in a moment), some ID, and a little pocket money.
What to Expect at Embarkation (Boarding)
Embarkation — a fancy word for when you get on the ship — is filled with excitement. So what can you expect as a first-time cruiser?
First, there are a couple of ways that you can start. Many are choosing to check-in online ahead of time. In fact, this is what we recommend if possible. Doing this allows you to fill out required forms, attach a credit card to your account, and more ahead of time. It will greatly speed up the time in the terminal and allow you to board faster.
For those that choose to check-in the traditional way, it will take a little longer, but not too long.
No matter what you choose, when you book your cruise you will have an arrival time. These days many cruise lines have moved to staggered check-in where you are given a 30-minute boarding window to arrive at the port. This helps spread passengers out over time instead of having a big rush right when the ship opens for passengers. Some cruises may simply have a boarding window of several hours, allowing you to arrive at any time you like within that period.
As you arrive at the terminal, there will be a place to check your bags if you want. Porters will load bags onto the ship, and the staff will deliver them to your room later. As a general rule, large heavy bags are good to check, but always have a carry-on with important items like medicines, your passport, and a change of clothes for the first day.
When you enter the port terminal, the first thing you'll do is enter and show your boarding pass and ID. From there, you will pass through security. Cruise ship security is similar to going through an airport, but not as invasive. After having your documents checked, you'll place your carry-on bag on an x-ray machine and then pass through a metal detector.
From there, you'll meet with an agent that will tie up any loose ends needed before boarding, such as a photo tied to your account. If you've checked in online, your room keys will likely be waiting in a sealed envelope at your door.
These cards not only act as your room key while on the ship, but also as a credit card linked to your account. Other than the casino, you don't use cash on a modern cruise ship. Instead, if you want to by anything onboard, you simply swipe your keycard. The bill is settled up at the end of the cruise.
After meeting with the check-in agent, you're ready to head to the ship as long as the staff is ready to start boarding. If you arrive early, you might have to wait in the terminal until the ship is ready.
Your First Day on a Cruise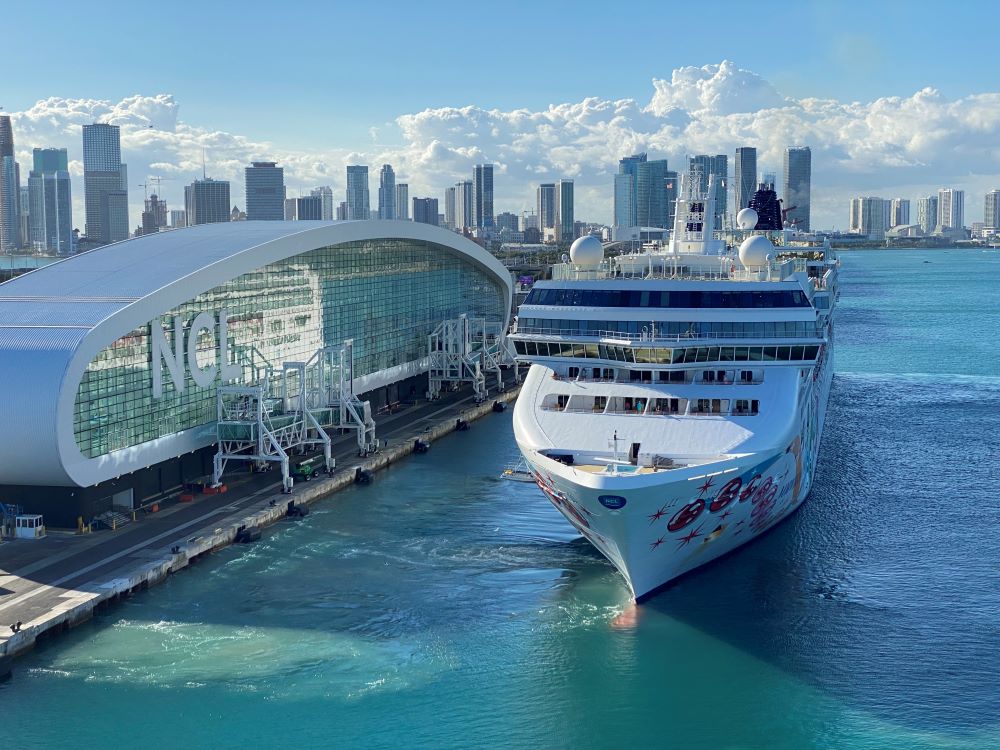 The first day on a cruise is actually a bit of a misnomer. The first "day" is more like the first afternoon and evening as boarding generally starts around noon.
For most people, the first stop is to the cabin to drop off their bags and get settled in. This is a chance to find where your room is on the ship and get acquainted with where you'll be living during your cruise. Note that if boarding early in the day, your room may not be ready yet.
From there, many take the chance to grab a drink and explore the ship a bit. There are also restaurants open where you can get a bite to eat. If you know that you want a drink package, or to reserve your spot in a specialty restaurant, it's a good time to get those taken care of if you didn't do so online ahead of time.
On the first day the big event on the ship is the muster drill. By law, cruise ships have to perform this safety drill. These days, it's largely moved to digital, making it more convenient.
You'll watch some safety information on your cabin TV or on your phone via the cruise line app. Then, you head to your muster station to check-in and watch a demonstration of putting on a life jacket.
In total the drill takes only a few minutes, and then it's back to the fun. Don't try skipping the drill; you sign in with your card and the staff will know who doesn't show.
Activities are planned throughout the evening, including the sailaway party that's held on the pool deck. The ship's casino will open up once the ship is far enough offshore, and of course, bars will have the drinks flowing.
Want to hit the pool? Or grab dinner? The ship is now wide open for you to use. Your vacation has officially started.
What's Included — and Costs Extra — on a Cruise
One of the most confusing things for first-time cruise passengers is what's included with your cruise fare. Some people think that cruises are all-inclusive. That's not usually the case on most lines. In fact, most people spend a substantial amount of money once on the ship.
The extras you can spend money on range everything from alcohol to restaurants to gambling to souvenirs from the gift shop.
Even so, there are a number of things that are included. Below, we've highlighted the major things that are included with your fare, and what's not.
Note: Some lines have started offering more "all inclusive" fares like NCL's "Free at Sea" that include things like drink packages and wi-fi with your cruise.
What's Included
Cabin: Of course with your cruise fare, the cabin is included. On the cruise the cabin is your home away from home. While small, it has everything you need for a week or so at sea. As well, you'll get daily (or twice daily) steward service.
(Most) Food: Along with your cabin, food is the other major item that's included on a cruise. What's a little confusing is that not all food is included on most ships. Things like the buffet and main dining room and snacks are free of charge. Specialty restaurants, however, cost extra.
Entertainment/Activities: For the most part, things to do on the ship are included with your fare. So for the evening shows in the theater, just come in and find a seat. The same goes for most other activities onboard. There is a trend toward charging for some special activities like go-karts on Norwegian Cruise Line. As well, things like gambling and bingo obviously have a charge associated.
Amenities on the Ship: Except in a few rare cases, you have full run of the amenities on the cruise ship when you pay your fare. Want to go hang by the pool? Or maybe you want to work up a sweat in the gym? Or just enjoy many of the public spaces on the ship that are perfect for people watching? They are all available.
Room Service Breakfast: Room service used to all be free, but is trending toward being a charge. Even so, most lines will let you order breakfast for free.
Not Included

Gratuities: So far we haven't mentioned gratuities, but they are a big expense for a cruise. Cruise lines charge a daily set amount per passenger that is then passed on to people like the room steward and the waitstaff in the dining rooms. Amounts vary by cruise line, but normally gratuities run around $16 per person, per day. So a couple sailing for a week would pay about $200+ in gratuities. This amount can be prepaid when you buy your cruise, or it is charged daily to your onboard account.
Specialty Restaurants: While plenty of food is free, ships these days have a number of specialty restaurants that charge extra for you to eat. These are smaller restaurants that focus on one type of food. While the lineup varies by line and ship, the restaurants that charge are usually the sit-down eateries, with the exception of the main dining room.
Room Service: As mentioned above, you can normally get free room service breakfast, but cruise lines are moving toward charging for other items. So if you want a late-night snack or just want lunch in the cabin, expect to pay. (Don't forget to tip the person bringing your food a couple of bucks.)
Drinks: Apart from tea, coffee, water and juices, expect to pay for drinks. This includes non-alcoholic beverages like soda, as well as beer, wine, and cocktails. Some cruise lines let you bring on a small amount of non-alcoholic drinks and a bottle of wine/champagne, so be sure to take advantage to save money.
Internet: The good news is that the Internet is available on cruise ships, so you can check email, keep up with social media, and in some cases even stream Netflix. The bad news is that it can be pricey. There are different service levels available, but it's not unusual to pay $15-25+ a day for wi-fi access.
Excursions: Want something to do when the ship is in port? That's an extra cost. Excursions can be booked before you sail, or you can wait until you get on the ship. There is always a spot where you can go and ask questions about different offerings and book your outing.
What to Pack for Your First Cruise
What to bring with you on a cruise is always a big question. In fact, we've covered it in detail on Cruzely with the following articles:
We will assume that you know to pack a swimsuit and a toothbrush for your cruise. Here are a few other things that first-time cruisers might not think to bring but are helpful on a cruise…
Outlet Adapter
On your first cruise, it won't be on your mind about plugging in electronics. But it will be after you sail. While the problem isn't as big on newer ships where more outlets are included, many older ships have only one or two spots to plug anything in. So if you want to charge your phone and use a hair straightener, then it's one or the other.
The solution is to pack an inexpensive outlet adapter that provides several plugs in a single space. They can be bought for about $5 on Amazon and are a lifesaver on a cruise.
Nightlight
Cruise cabins — especially interior rooms with no windows — can get extremely dark at night. Combine that with an unfamiliar space and you'll no doubt be bumping into things if you need to get up to use the restroom in the middle of the night.
Instead, pack a small nightlight that you can plug in to provide a some illumination. They aren't big and won't take up much room in your luggage.
Poo-Pourri
Ok, let's get real for a moment. Whoever you share a cabin with, you're going to know them very well after your cruise. Cabins are small and the smells from the bathroom can linger.
That's why it's a good idea to bring some air freshener or some Poo-Pourri. This spray isn't an air freshener, but instead you spray it over the water in the bowl before you go. Your cabinmate will be thankful that you brought it.
Copy of Your Passport/Birth Certificate
For sure you need your real passport or birth certificate with you. But we suggest keeping them in the cabin safe during your trip so that they are secure. Instead, make a color copy of the front page of your passport or your birth certificate and bring this into port with you when you go.
You typically don't have to show your documents in port. Instead, your cruise keycard and a photo ID (like a license) are asked for. Having a copy of your passport or birth certificate are simply nice to have in case you need it. They will provide something to show any officials in a pinch, and you can keep your real documents safe on the ship.
Towel Clips
Towel clips are cheap and worth their weight in gold. If you cruise, you'll no doubt spend some time catching some sun. But many people don't realize that when the ship is underway there is a constant breeze as the ship moves. That means your towel will be whipping around.
Clips help secure the corners of the towel down instead of flying around at your feet and around your face.
Wrinkle-Release Spray
Pack anything into a suitcase — even if only for a few hours — and you're going to get wrinkles, no matter how careful you fold. As well, due to fire risk, irons aren't available in cabins. You'll need to send your items down to the laundry room to get them pressed.
Instead of that hassle, just pack some wrinkle-release spray. You simply spray it on the wrinkles, smooth them out, and they vanish.
OTC Medicines
First, any cruise ship will have a small store where you can pick up small items that you might have forgotten at home. But they are expensive (we've seen cold medicine for $17 a bottle) and not open around the clock. So if you have a stomachache in the middle of the night or a headache, you don't want to have to wait… or pay tons of money.
Instead, bring a little of all types of over-the-counter medicines so that you have whatever you might need no matter what comes up.
Hand Sanitizer
Unfortunately, it's a new world we live in. Even without the pandemic, things like . Even so, you should take matters into your own hands, literally.
There will be sanitizer stations all around the ship, but bringing your own means you'll always have it ready.
Click here for more on what to pack for a cruise.
Disembarkation at the End of Your Trip
Unfortunately, the saying is that all good things must come to an end. That includes your cruise. Don't think, however, that disembarkation — getting off the ship — is as simple as just hopping off when the ship returns home. There's a procedure to get thousands of passengers and luggage off the vessel, and it can take a couple of hours from when the ship arrives.
Actually, the disembarkation process begins the night before your cruise. At that time you'll want to put any bags (with the provided luggage tags) you won't carry off yourself outside your room. The staff will pick them up, and your bags will be waiting for you in the terminal when you get off the ship the next morning.
On the morning that your ship arrives in port, the ship will first be cleared by the officials. Only then will the ship allow passengers to leave. From there, the ship will call groups to disembark, typically starting with those that are carrying off all of their luggage.
The pace of disembarkation depends on what is going on in the terminal. Passengers need to go through the return process, which involves showing citizenship before they are allowed to leave.
In recent years technology — including passport scanners and facial recognition software — have made this faster at ports that have the latest devices. Even so, those sailing with a birth certificate or ports that still require manual checking of documents can take longer.
In all, the time to get off the ship can vary widely. Some people will get off within 15 minutes of the ship letting passengers exit while others might not get their turn to leave until 2-3 hours after arrival.
Helpful First-Time Cruise Tips
Need tips for your first cruise? We have dozens and dozens aimed at first-time cruisers here. As well, we've included some of our favorites below.
Take Advantage of Drink Policies
Some cruise lines (such as Royal Caribbean and Carnival) allow you to bring on a small amount of non-alcoholic drinks with you when you board. So you can bring on some sodas, juices, teas, or anything else that you like. Take advantage. If your favorite drink isn't something that's sold everywhere, then it may not be on the ship. You can also save some money versus buying your drink of choice on the ship.
As well, cruise lines allow you to bring on bottles of champagne or wine (usually one bottle per adult) free of charge. If you're a wine drinker, there's no reason not to bring on a bottle to avoid the bar prices.
Know the Ins and Outs of Drink Packages Before Buying
Alcohol is big business on a cruise, and it's not unusual to spend hundreds on it during the course of a sailing. To help you budget, cruise lines offer "all you can drink" packages. With these deals, you pay one set amount each day and then get to have (almost) whatever you want from the bar.
But before you jump at the deal, you should know some of the details. Most importantly, if you buy the package, you have to buy it for the entire cruise. If there is a day that you don't want to drink or you are in port (packages only work on the ship and on some private islands), then you likely won't get your money's worth.
As well, many cruise lines make every adult in the cabin buy the package if one adult does. This is likely to limit "sharing" of packages (which is against the rules). But if you have one person who drinks and another that doesn't, then it could waste a lot of money to get the package.
For more on drink package rules, see our article here.
Many Hotels Have Free Cruise Parking
One of the big attractions to cruising is that many people live within driving distance of a port. Instead of having to fly for a Caribbean vacation, you can drive to the port and then hop on a ship.
Of course, that means you need a place to park your car. Parking is always available at the port, but can be expensive. Instead, many hotels near cruise ports offer free or cheap parking if you stay with them the night before your cruise. It's an easy way to save $100 or more if you plan to stay the night before anyway.
See our list of hotels with cruise parking here.
Don't Go Naked on the Balcony
First-timers (and frequent cruisers for that matter) often have the same idea — why not enjoy the fresh air on the balcony… everywhere?
It's tempting with your own private space and a million-dollar view to maybe get some sun on places where the sun doesn't shine, but just know that balconies aren't as private as you think. Cabins are close together and there is only a small wall separating each balcony. As well, glass railings can actually reflect the view of one balcony to another.
If you do decide to fully enjoy the balcony on your first cruise, it's best to wait until night… and make sure the lights are off.
Pack a Passport, Not a Birth Certificate
One good thing about cruising is that you can visit a foreign country with only a birth certificate and a government-issued ID. If your cruise leaves and returns from the same port, then you can likely sail without a passport. That can save you the time and money of getting one.
However, it's much smarter to sail with a passport. Not only does it give you more flexibility if something happens and you have to fly home in the middle of your cruise, but it can also save you time.
Many homeports are moving toward passport scanning to help passengers disembark more quickly. You walk up, scan the passport, take a picture and then head on your way home. But if you have a birth certificate, you still need to wait in line to meet with a Border Patrol agent, which can take half an hour or more.
Pack Sandals With Tread
Those cheap foam flip-flops that cost about $3 and wear out in two weeks? Toss 'em. Instead, be sure you wear something that has a decent tread.
You'll spend a lot of time walking on the pool deck of your ship where everything from kids splashing to passing rain showers can make the walk slippery. The last thing you want to do is hurt yourself on your vacation. Making sure your sandals have some grip is an easy way to avoid accidental slips on the ship.
Always Pack a Little for Cool Weather
Of course cruises go everywhere, but the Caribbean is the biggest cruise hot spot in the world. And when you think about sailing there for the first time, you likely picture tons of sun, warm water, and swimsuits.
But at night on the ship, it can get cool. As the sun sets things cool off, but also the ship will be sailing at night, adding a stiff breeze. Even indoors the air conditioner can be chilly. It's smart to pack something for those breezy nights like a light jacket and some long pants. If you only bring tank tops and shorts, you're going to get cold.
Get Back to the Ship Early
Whenever you head into port, the staff will make it very clear when the "all-aboard" time is for your return. This isn't a suggestion. YouTube has tons of videos of "pier runners" — people running back to the ship as it is about to depart. Cruise ships have a tight schedule, and if you think you can arrive fashionably late to get back on the ship, think again.
Instead, always be back to the ship half an hour before the all-board time. This gives you a little extra cushion should something come up, but also ensures you should be back well before the ship departs and you turn into a YouTube viral video.
Try not to Schedule a Flight Home Before Noon
Each year millions of cruise passengers fly into port cities to start their cruise. That means they will also be flying back home.
Now, no one wants to spend hours and hours just waiting in an airport, but it's important that if you are flying, try not to schedule your flight before noon. Yes, it is possible that you will make a noon flight in plenty of time, but you don't want to risk missing your plane home.
Cruise ships arrive back in port early in the morning, but it can be several hours before everyone is off the ship. As well, you then have to get to the airport, get through security, and find your gate. A departure time of noon or later gives you plenty of time so you don't have to stress if there is a delay getting to the airport.
Formal Night Doesn't Mean Tux (But It Can!)
Formal night poses one big question: What do I wear to dinner? The answer is likely much more lenient than you expected.
First things first, if you want to wear a tuxedo and a formal evening gown, you won't be out of place. Some people do. But if you want to simply wear a nice shirt/pants (men) or a nice blouse (women), then that's perfectly acceptable and won't be out of place.
In fact, the only rules are things like shorts and tank tops aren't allowed.
Don't want to get dressed up on your cruise? That's ok, too. Formal nights are only a couple of nights on a week-long cruise. If you don't want to participate, you can just eat somewhere other than the main dining room during those nights. While you'll see people dressed up around the ship, formal night only applies to dinner. You're not expected to be dressed up if you are just around the ship. (See more details about formal night here.)
Things That Surprise First-Timer Cruisers
When you sail for the first time, there is so much that is new. At the same time, cruising is very different from any other vacation. Combined, that leads to plenty of surprises.
See our full list of things that surprise first-time cruisers here.
Gratuities on Every Service
We've discussed the daily gratuities that are charged to your account. But there are other gratuities on the ship. Any time you buy a drink, or a meal, or get a spa service — any sort of service that's delivered by a staff member — you can expect an extra charge on top of the menu price.
This extra charge normally runs 18-20% (rates vary by cruise line) and is automatically applied. So if you order a cocktail with a $10 menu price, expect it to actually cost you about $12.
One other thing to note is that even after this gratuity is applied, your receipt that you sign will have a line for an additional tip. You aren't obligated to give more, but if you're happy with your service, it's there to show your appreciation.
How Stable the Ships Are On the Water
Worried about seasickness? It impacts some people, but if you are thinking the ship will be rocking and rolling the entire time, think again. Most days you'll likely not even notice you are on the water.
Thanks to the size of cruise ships and stabilization features, the sailing is normally smooth. There are definitely times when you feel the ship move, but apart from a few outlying cases, chances are it will be clear sailing for your cruise.
Still, it's a good idea to bring along some sort of seasickness remedy if you're worried. It's better to have it and not need it than to be without.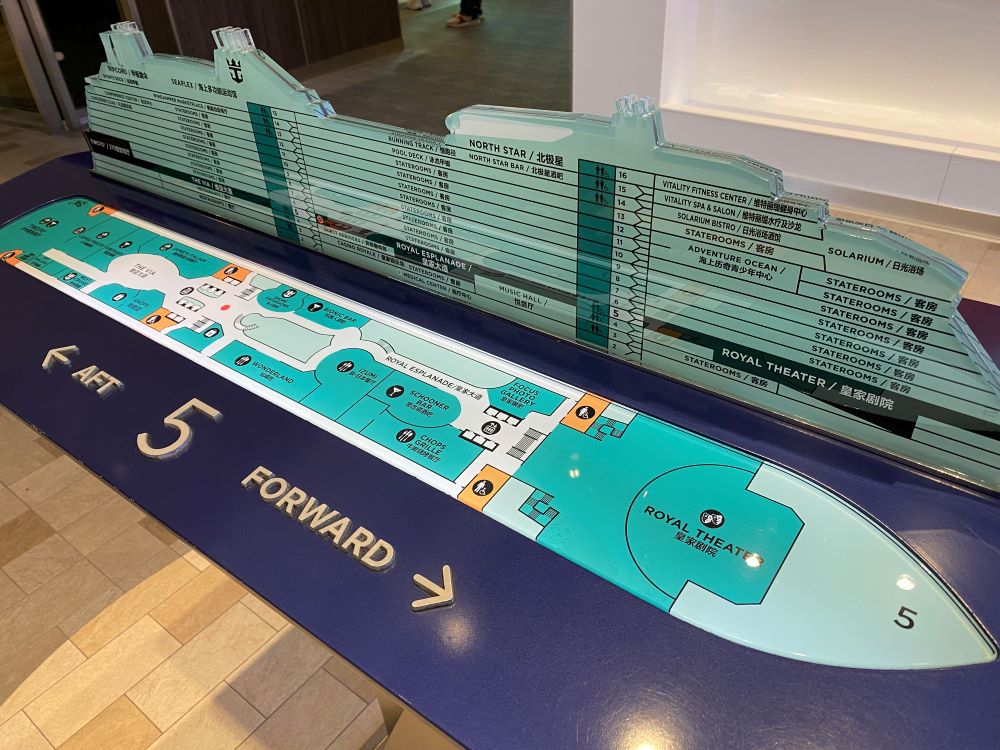 How You Can Get "Lost" On the Ship
Cruise ships are big, and the first couple of days you'll likely be turned around trying to navigate the ship. Even to veteran cruise passengers, new ships can be a maze to figure out until they get their bearings.
The good news is there are maps everywhere around the ship to help you find your way. They are usually located near stairwells or elevators. As well, the cruise line apps on your phone always have maps of the ship as well. Don't be embarrassed to stop and look for directions. You definitely won't be alone!
All the Sales Pitches You'll See
If you think that you're done spending money once you buy your ticket to cruise, think again. Cruise lines depend on the money that passengers spend on the ship, and they have lots of pitches throughout the cruise.
You'll get announcements about sales over the ship's loudspeaker. You'll get flyers on your door telling you about offers. And the daily schedule will also highlight daily deals.
If you haven't cruised before, the advertising can be surprising. Just be prepared.
You Can Still Find Quiet Spots on the Ship
For all the thousands of people on a cruise ship, you might think that it would be shoulder to shoulder the entire trip.
It couldn't be further from the truth. In general, cruise ships are no more crowded than a busy shopping center or restaurant. And that's only certain places at certain times. For example, hit the casino at 10 p.m. and it will be buzzing with activity. But during the afternoon, it will be largely empty.
No matter what time of day, however, you'll be able to find quiet spots on the ship. The promenades on lower decks tend to be less busy, as do the outdoor areas at the ends of the ship. The pool deck in general is also largely quiet in the evening and nighttime.
Frequently Asked Questions About Your First Cruise
What do I do if I have an issue on the ship?
Have bad service? Or maybe an incorrect charge to your account? Or anything else under the sun? Head to Guest Services.
Every ship will have a Guest Services desk that is staffed 24 hours a day. They can help with any issue you have, or at least point you in the right direction. Keep in mind that the lines can get long at the start and the end of the cruise (when people have the most questions about their accounts), so going during off-peak hours will ensure you don't spend your vacation in line.
When should I schedule a flight back?
As mentioned above, if you are flying home then we suggest not booking a flight before at least noon. Ships get in early, but it can take several hours to get thousands of passengers and their luggage off the ship and through customs. Add to that the time it takes to get to the airport, through security, and to your gate before boarding begins.
If you schedule for noon, there's always the chance you may arrive earlier, but it's not worth the risk. Having some extra time will make debarking the ship much less stressful instead of having to constantly check your watch.
Do I have to get a passport to sail?
For many cruises, a passport is not actually required. Most of your standard cruises that begin and end at the same port — such as a five-day cruise from Miami to the Bahamas and back — are known as "closed loop cruises." These trips fall under a provision that allows you to sail with just a birth certificate and a photo ID (ID is required for passengers 16 year or older).
Even so, it's a good idea to get a passport. Passports can allow for faster re-entry into the U.S. but are also helpful in the event that you need to head home in the middle of the cruise. You'll have to jump through bureaucratic hurdles if you need to fly home from a foreign country without a passport.
What's the difference between cruise lines?
Every cruise line does things a little differently, so no two lines are exactly the same. But in general, we find that the experience is largely the same when it comes to the mass-market lines like Carnival, Royal Caribbean, Norwegian, and the like.
These lines have broad appeal, with ships that have something for everyone. There are kids clubs for the little ones, spas, casinos, pools, hot tubs, theaters, and more. Put frankly, if you can't have a good time, it's your own fault.
While each cruise line has their devotees, we think you'll be happy with any of them.
For the differences between each line, you can read more here.
How do I pay my bill at the end of the trip?
Ah, the bill. You get to have all the fun on a cruise… but then you have to pay.
When you check in for your cruise, you'll use a credit card (or cash deposit) to attach to your account. Then, spending on the ship is done via your room keycard, which you use like a credit card on the ship.
At the end of the cruise, you'll get an itemized bill. Assuming there are no issues, the amount will be charged to your credit card after the cruise. If you do have issues, be sure to see Guest Services before you leave.
Related Articles: