Taking your first cruise is exciting… but can also be a bit confusing. Cruise travel is different than any other vacation. Even staying at a land-based all-inclusive resort — perhaps the most similar experience to a cruise — isn't quite the same as a vacation on a ship.
If you're wondering exactly what you can expect, we've detailed some of the basic things about cruising that we think every first-time cruise passenger should know. From how you spend money on the ship (cash isn't used) to what to expect going through security, it's all here.
What's surprising to many people is that it takes a couple of days to get used to how things work on a cruise. During that time you still have fun, but it can feel like the first day at a new school where you aren't exactly sure how things work. The information below should make you feel like a veteran cruiser right from the start.
And if you have questions about anything else for your first cruise, we have you covered there as well. Simply let us know in the comments below, and we'll do our best to answer.
The Headline Price Is Just the Start of What You'll Spend
If you've booked your first cruise, then you have already figured out that the prices advertised for a cruise are really just the start of what you'll pay. So when you see that cruise advertised for "$299," don't think you're going to get an entire vacation for just three bills.
First, that price is for one person, but cabins are booked based on double occupancy. That means the price for a cabin is actually double that amount, right off the bat. Then there are things like taxes and port fees and gratuities. These add hundreds more to the bill. And of course, you also have upgrades (the low headline price is for an interior cabin) and then your spending on the ship.
In other words, expect to end up spending a lot more on your entire vacation than just the headline price shown.
Hotels Offer Cruise Parking and Cruise Shuttles
Want to get a great deal to save some cash? If you plan to stay in the port city the night before, then look for a hotel with a cruise parking deal or a shuttle to the port. Hotels in port cities love to cater to cruise passengers, so they will offer these perks to customers to tempt them to book. So you can stay a night and get free or discounted parking at the hotel while you cruise. Or other hotels offer a shuttle from the hotel to the cruise port.
If you want to know more, we have hotels with cruise parking for every major port and hotels with shuttles for every major port.
Booking one of these hotels can save you a lot of money and hassle on cruise day.
The Cruise Ship Is Very Stable
One of the biggest worries of new cruisers is that they will get seasick. While it does happen, we think that the fears are overblown for most trips. Cruise lines want you to have a great cruise, and that means not being seasick.
Today's cruise ships are so large and have stabilization technology so that you don't really feel the sea on most days. If the waves pick up you will be able to feel them, but it's not the dramatic swings back and forth like you might imagine. Inside the ship without windows looking out and you will likely forget you are at sea most of the time.
The good news as well is that seasick remedies are also inexpensive, so you don't have to worry about getting sick.
You Leave the Dinner Table Without Leaving a Tip
It's a little unnerving the first time you do it, but yes, you just get up and leave when you are done with your meal. There's no need to leave a tip.
Gratuities are taken care of automatically (either paid before when you pay for the cruise or at the end of your cruise via your onboard account). No cash exchanges hands at the table. So after your meal you are free to just get up and go do whatever is next. After the years of experience you have at a traditional restaurant, it actually takes some getting used to when you just get up and leave on a cruise ship.
All Your Spending Onboard Is Through Your Keycard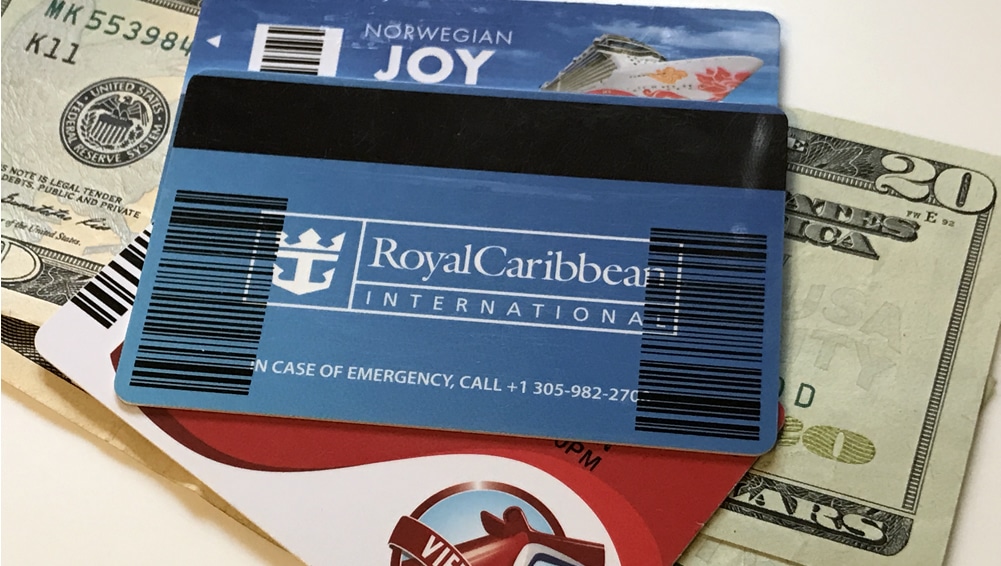 If you're picturing whipping out your wallet every time you want to buy a drink on the ship, that's not the case at all. In fact, cruise lines have gone the way of credit cards to make it easier to spend (and entice you to spend more).
When you board, you'll get your electronic keycard that's used to open your cabin door. This also acts as a credit card on the ship. Your card is swiped whenever you buy something, whether it's a drink or a souvenir in an onboard store.
Be careful, this method is convenient but also makes it very easy to spend on the ship.
You're Going to Get a Lot of Sales Flyers
Each evening your cabin steward will bring the schedule for your next day. Along with that schedule is usually a handful of flyers advertising everything from spa services to sales at stores on the ship.
Frankly, it's a bit of a surprise how much of this material you'll get. It overshadows the useful material that's left at your door and can remind you of the junk mail you get back home.
This is done to advertise to passengers in the hopes that they will spend more money on the ship.
Very Few Staff Members Are American
While cruise ships sail from the U.S., they are truly international vessels. For one, they are home-flagged in any number of countries like Panama or the Bahamas. Step on board and you will find almost zero Americans working the service jobs on the ship. Instead, the staff is from any number of countries from China to The Philippines to India.
Why do we mention this?
We think it's important for passengers to recognize that the staff waiting on them hand and foot work extremely hard — and have come from all over the world, leaving family and friends behind — to give you a great vacation. If something goes wrong, giving the staff a little slack is a nice gesture.
You Don't Spend Much Time in Port
If you have three ports of call during your cruise, you might think that means you'll spend three days in port. It's more like eight hours per port, which can feel surprisingly short in some cases.
Ships normally arrive and let passengers out around 8-9 in the morning and then have everyone aboard at 4-5 in the evening before leaving for the next port. It's enough time to get a taste of ports of call, but if you want to really explore — or even have dinner in a port — then it's tough to do. That's why excursions can help you make the most of your time. The guided tours are able to cram a lot into a short period of time.
Cruise Line Apps Are Must-Haves
Everyone has an app these days, and that includes the cruise lines. All the major lines including Carnival, Royal Caribbean, and Norwegian have their own apps that you can download for free to your phone.
These apps are great for first-time cruise passengers because they have a ton of information. This includes ship maps, daily schedules, updates to your onboard account, and more. Apps also let you communicate via text with other passengers on the ship.
You can learn more about Carnival's app here and Norwegian's app here. Be sure to download them before your cruise so you don't have to try to rush with lots of others to download from the ship.
The Air May Not Be Clean
Think of being at sea and you likely think of the fresh breeze and the unpolluted air that comes with being on the ocean. Well, you might need to think again.
A recently published study took a look at the air quality on cruise ships and the results weren't great. According to the study, particulate counts from the smokestacks of the ships caused pollution levels so high in some areas that it could be compared to the air quality of cities like Beijing.
In particular, the worst spot for air quality on the ship was behind the ship's stack when the ship was underway. Here the wind carries the ship's exhaust back. If you're worried about the air quality or are sensitive to pollution, try to stay forward of the exhaust pipes while the ship is underway. When in port, look for where the exhaust is blowing and stay upwind.
Chair Hogs Are Common
"Chair hogs" isn't a nice name, but they don't do a very nice thing. If you haven't sailed before, you might wonder what all the towels are doing in chairs beside the pool. Chair hogs go down early in the day and "claim" the best spots by putting their towel down. However, many of these folks don't come back for hours and hours, meaning some of the best seating is taken up but not being used.
How do you deal with these chair hogs? Let the staff know. If the person hasn't appeared within 45 minutes, they will usually take their items and hold them to free up the chair for someone to use.
Drink Packages Can Be a Bad Deal
Drink packages are a popular way to budget while on a cruise. Pay one daily fee and you can drink whatever you like on the ship — without worrying about your bill at the end of the cruise. What many cruisers don't know is that there are some strings attached.
For one, you have to buy the drink package for every day of the cruise, but it's only good on the ship. So if you are in port all day, it can't be used until you get back. Second, many cruise lines make all adults in the cabin buy the package if one person does. If a husband likes to drink and the wife doesn't touch the stuff, that's too bad.
In other words, you really need to think through the math before you sign up for the drink package. We have a free calculator that can help you figure out if it's a good deal.
Drink Packages Can Be a Great Deal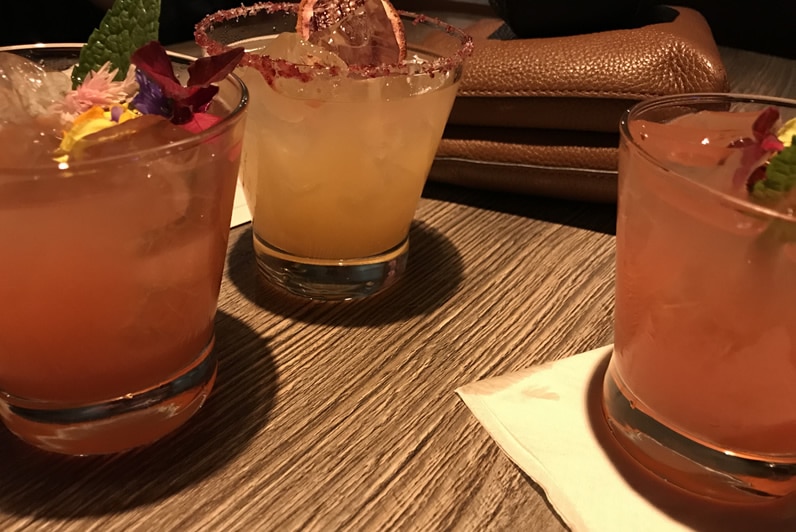 Wait, didn't we just say they can be a bad deal? That's right. If you aren't going to get your money's worth, then drink packages are a waste. But if you're someone who likes to drink every day, then it's likely the drink package will save you money.
You'll definitely want to do the math (you can use our drink package calculator here), but if you're someone who isn't on vacation if you don't have a drink in your hand, then odds are that the package will be worth the cost. Remember as well that non-alcoholic drinks also are available in the package, which can quickly add up.
Security Is a Little Different Than Airports
Wondering about security for boarding the cruise? It's similar to airport security, but a bit more relaxed. For instance, there are no body scanners.
When you arrive, you show the staff your boarding documents and then proceed to security. Then you'll put your carry-ons through an x-ray machine. In this case you don't have to take your liquids out or take out things like tablets or laptops like you would at an airport.
From there, you'll have to pass through a metal detector. If there is anything that causes the detector to go off, then you'll be wanded. Other than that, it's smooth sailing on to check-in and boarding.
You'll Be Scanned On and Off the Ship
How can a cruise line keep track of 4,000+ passengers and whether they are still in port or back on the ship? It all goes back to your keycard. You'll always want to keep the card with you, and it's required when you leave and board the ship.
As you pass the ship's exit you will have your card scanned by the staff. It then shows the crew that you are no longer on the ship. When you return, you'll be scanned in so that the staff now knows you are back onboard. Passengers aren't allowed to leave or return without scanning their card.
The Port of Call Isn't the Cruise Ship
Given so much time is spent on the ship, it can be easy to forget that not every moment is controlled by the cruise line. What does that mean for passengers?
In short, don't think that you're in Disney World when you are on shore. Just like if you were on any other vacation, be aware of your surroundings, don't flash money or jewelry, and don't drink too much. The chances of anything bad happening are small, but the consequences of something going wrong in a foreign country are very real.
One area that is an extension of the ship are private islands operated by the cruise line. Here, the entire place is dedicated to cruise passengers.
Plan for About 35%-40% of Your Cruise Fare as Onboard Spending
We mentioned above how the headline price is just the start of what you'll spend on a cruise. Once you are on the ship there are all sorts of things for you to spend money on, from drinks to casino gambling. If you're not sure how much you'll spend, then we suggest you figure to spend about a third of your cruise fare on the ship.
For example, if you spent $1,000 per person for the cruise fare, then you can figure you'll spend about $350 on the ship.
Some passengers will spend more and some will spend less, but this figure comes from the average spending onboard that cruise lines report in their financial statements. It makes a good baseline to be able for you to budget.
Casino Payouts Aren't That Great
Are you a gambler? Even if playing the slots or throwing dice isn't your favorite pastime, there's a good chance you'll still gamble on the ship. Cruise ship passengers spend a lot of time on board, and the casino is always "conveniently" placed at the heart of the ship.
Before you start to drop some cash, know that the payouts on the ship aren't that great. For example, blackjack often pays 6-to-5 instead of the more beneficial 3-to-2. Video poker payouts are lower than you'll often find on land. There are also a number of games that you don't find on shore (such as a coin pusher machine) where it's tough to know exactly what the payout might be.
Passports Are Best to Bring (But Birth Certificates Are OK)
You might be confused on what the rules are surrounding passports and birth certificates on cruises. As a rule, we recommend keeping it simple and bringing a passport. This will cover all your bases.
But if you don't have a passport and can't get one in time, most cruises from the United States allow you to use a birth certificate. If the cruise is "closed loop" — meaning it departs and returns to the same port — then the U.S. allows you to return to the country with a birth certificate and a government-issued photo ID.
Where you might get in trouble is if something happens and you have to return early via other means than the cruise ship. In this case, you'll want to have a passport. To keep things simple, just get a passport before you sail.
Pools Are Small on Cruise Ships
Head to a resort that holds 4,000 people and you'd expect the pool to be absolutely huge. Cruise ships have to deal with laws of gravity that don't apply to land-based resorts.
In this case, the extra weight of water — especially when it sits at the top of the cruise ship — creates a unique challenge. Imagine having a large pool at the top of the ship if it were to rock back and forth.
That's why cruise ship pools are likely smaller than you are expecting. They are large enough for a few dozen people to cool off, but if you're picturing a huge resort-style pool, then you need to adjust you expectations.
Stairs Are a Faster Way Around the Ship
On the ship, the elevators are the main hub. Modern cruise ships have up to 20 decks, so you'll be going up and down quite a bit. With all the traffic, the elevators can be slow with long waits.
That's why it's much faster to take the stairs if you are able and going only 2-3 decks. What's also nice is that you'll be freeing up a spot for others that are trying to use the elevator.
It's Hard Not to Have a Good Time
If you're going on your first cruise, then you're likely excited about it. But we know there are some people that turn up their nose at the thought of cruising. The truth is that if you go on a cruise and don't find something to enjoy, then that's on you.
Today's cruise ships offer something for everyone. Want to just hang out by the pool with a drink in your hand? Or maybe you like eating great food? Or casino gambling… or exploring tropical islands… or watching the sea go by from your balcony… or going to a waterpark? You can do all that and more on a cruise. There really is something for everyone.
For more tips on cruising for the first time, read our full list of must-have tips for first-time cruisers.