If you're flying into Tampa to take your cruise, or simply driving in from the surrounding area, you can't start your vacation without getting to the cruise terminal first! Below we have all the information you need to get to the Tampa port by Uber, Lyft, taxi, or shuttle.
Before getting too far, it's helpful to understand where the Port of Tampa is in relation to the airport and city to give you an idea of where the cruise terminals are located in relation to the surrounding area. The Port of Tampa (lower left) is roughly 10 miles from the Tampa airport and right near downtown: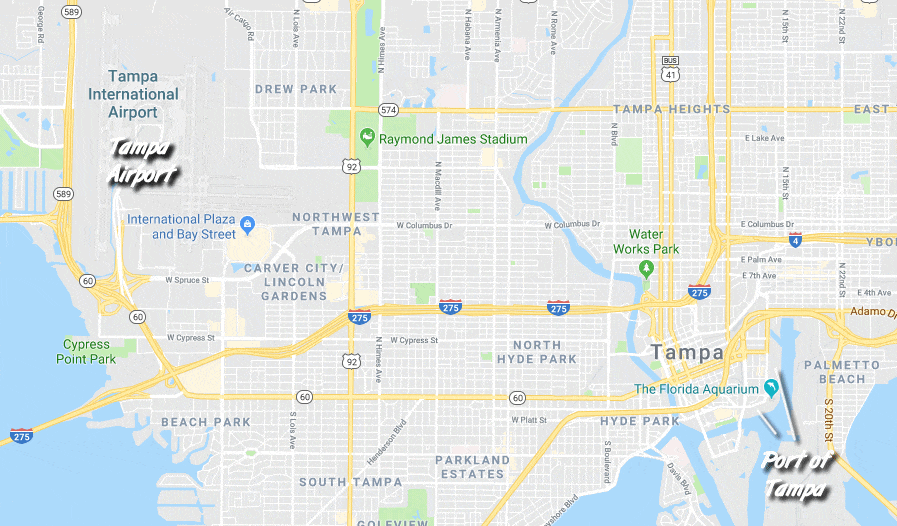 The port's official address is 1101 Channelside Drive, Tampa, Florida, 33602 if you wish to map your route using GPS. It's about 10 miles from Tampa International Airport.
If you are parking for your cruise, click here for more info on all your options.
Getting to the the Tampa Cruise Port Without a Car
If you're flying into the Tampa airport, it's very easy to get back and forth to the cruise port. In our opinion, the two best options are a rideshare company like Uber or Lyft, or to take a taxi. Both are fairly convenient.
Uber/Lyft (Recommended)
If you are familiar with rideshare companies, then you'll be happy to know that both Uber and Lyft operate in the Tampa area. If you don't know these companies, they operate a service where you can request rides around a city from your smartphone. The entire transaction takes place through the phone — from requesting a ride to paying.
Uber/Lyft are a great option whether you are coming from the airport or anywhere else around town as they offer service in Tampa, St. Pete, Clearwater, and surrounding areas. Thus, if you are staying in an area hotel or want to explore the city, you can rest easy knowing they can provide a ride.
You'll likely find that Uber/Lyft also offer cheaper fares than taxis and potentially better service than most taxis. For example, Lyft estimates a ride from the Tampa airport to the cruise port would run $20-25. Considering taxis charge a $30 flat fee from the airport to the cruise port, rideshare services are a cheaper deal.
That's why we would have to favor using Uber or Lyft over a taxi if we were needing transportation to the Tampa cruise port. Here are a number of estimated costs from points around the area to the cruise port…
Estimated costs to the cruise port from select points:
Tampa International Airport: $25-30
Orlando International Airport: $105-120
St. Petersburg: $30-35
Ybor City: $8-12
Disney World: $70-80
Lakeland: $35-45
Clearwater: $35-42
Seminole Hard Rock Casino Tampa: $15-20
Taxis
Of course, while Uber and Lyft have taken a bite out of their business, taxi cabs aren't extinct. They are also a decent option on getting from the airport to the cruise port, or from other points around town.
The ride is short (less than 10 miles, or about 15-20 minutes) and the fare is very reasonable. Taxicabs leaving the Tampa airport have a set rate of $30 from the airport to the cruise port. Given that several people can ride for this amount, taxis are a reasonably convenient way to get to your cruise.
You can also call a cab from points all around town, such as if you are staying in an area hotel.
Cruise Line Transfers
The cruise lines will offer transfers from the Tampa airport to the cruise port, however, they can be expensive. For example, Carnival charges $21.99 for each person, one way, for a shuttle between the the airport and cruise port. So a family of four would spend $176 round-trip, just to go about 10 miles each way.
Meanwhile, you are on the shuttle's schedule, can only go directly from the airport to the cruise port, and it is only available on the day of your cruise. If you come in a day early, you can't use the cruise line shuttle.
For that reason, we recommend other forms of transportation.
Public Transportation
Want to get to the port without spending a bundle? If you are in the right spot you can get to your ship with public transportation.
Tampa has the TECO Streetcar System. This route offers rides on a retro trolley car, running from Ybor City down Channelside Drive (where the terminals are located) to the edge of downtown Tampa. The great news is that the trolley runs seven days a week and it's free to ride. (There are a number of hotels near trolley stops as well.)
Unfortunately, this is the only route that runs right near the port. You can make connections at the Whiting Street Station from other routes throughout the city to the TECO Streetcar, but we'll be honest: unless you are familiar with the area or staying directly on the streetcar route, you'll likely want to just pay for the convenience of getting a ride to the cruise port.
Cruise Hotel Shuttles (Recommended if Staying in the Area)
One way that some hotels in Tampa compete for cruise passenger business is by offering rides to the cruise port.
The premise is simple — book at a hotel with a shuttle (often there is a cruise package you can reserve) and you'll get your night's stay plus a ride to the cruise port in the morning.
It makes things very simple and takes the headache out of figuring out transportation on cruise day. Keep in mind that the packages usually cost extra compared to just booking the normal base hotel rate.
You can see our list of Tampa hotels with cruise shuttles here. In addition, there are a number of hotels also listed that are near the free TECO Streetcar line that goes right by the ports.
Getting from Orlando to the Tampa Cruise Port
It may be that you find cheaper fares into Orlando International Airport, or maybe you want to visit Orlando attractions while you're in the area. Whatever the case, there are many people who need to get from the Orlando area to the Tampa port.
What most cruise passengers don't realize is that the two cities are about 90 miles (1.5 hours) apart. For that reason, there aren't a lot of options to get back and forth.
Uber and Lyft will provide rides for about $105-120 each way. There are some private car options, but the long drive makes them expensive. As well, taxis will run hundreds of dollars round-trip.
The best option we've found is a one-way car rental. We've found rates of about $70 one-way (and sometimes cheaper). If you're needing a ride back, then you'll need to book round-trip. As well, you will need to pay for cruise parking in Tampa for the rental during your cruise. (You can search Kayak for car rentals here.)
You'll want to keep this expense in mind when selecting flights. While it might be cheaper to fly into Orlando, the extra transportation cost could make a costlier flight to Tampa worth it.
More on Cruising From Tampa
Getting to the Port of Tampa — Transportation options from airports and the area to the cruise port. Everything you need to know to get to the port and start your vacation.
Tampa Cruise Parking — Parking at the port? We've got you covered with all your parking options, including costs and discounts.
Tampa Park and Cruise Hotels — If you plan to stay in the area the night before your cruise, look at this list of hotels that offer cruise parking with a one-night stay.