What time should you book your flight home after a cruise? Our rule of thumb is to schedule your flight home no earlier than five hours after your ship docks at its homeport. But there are cases where you can make a flight that departs much earlier.
Why so much time? Truth is, there's a dramatic difference between the day you get on the ship and the day you get off.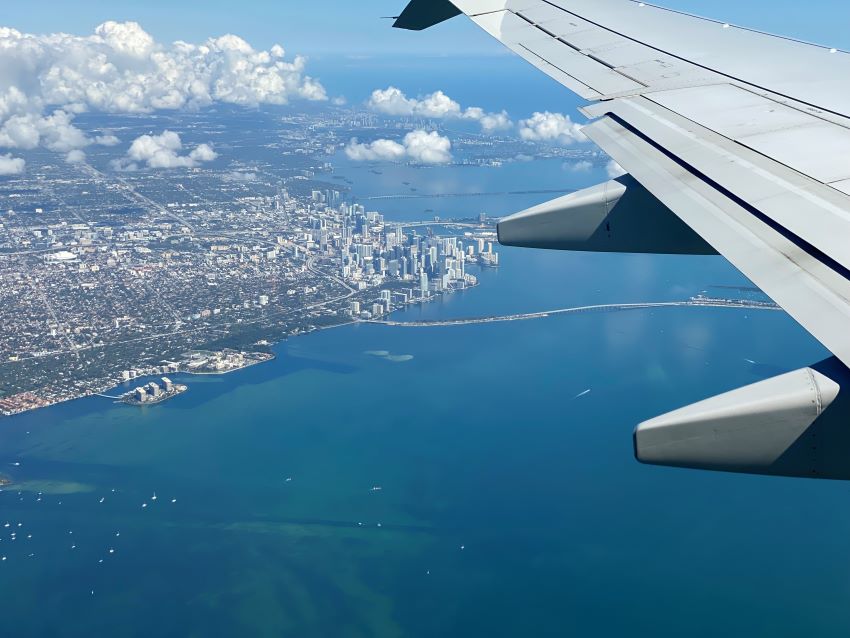 On cruise day, everyone is excited to board. Lots of passengers arrive early, standing in line for the opportunity to board early and be among the first on the ship. Show up early and it might take some time to get aboard. But show up later in the day and the boarding process can take just minutes and you'll hardly see another person in the terminal.
Debarkation day is completely different.
At that point, people can't wait to get off the ship. They wake up early and stand in line for hours to get off the ship first and head back home. The result can be long lines and waits in some cases, meaning if you are in a rush to catch a flight, the stress can be high.
The Process of Getting Off a Cruise Ship
In our experience, getting off the ship once a cruise has ended is much more time-consuming than boarding.
That's because before the ship can let passengers off, it has to be cleared by authorities to start debarking. And even then, once you depart the ship you now have to go through customs and immigration to declare anything you bought while you were abroad and be checked back into the country. Combine this delay with thousands of people trying to leave at once and you've got a recipe for long waits.
The good news is that many ports are speeding up the debarkation process.
First, ships have "self-assist" debarkation. This allows passengers who can carry all their luggage with them to depart first. So if you have an early flight and can carry all your bags, then you can be among the first to get off the ship.
The major issue is that most people seem to opt for this method, instead of waiting to leave later in the morning and not carry their luggage. We've seen lines around the ship first thing in the morning that took 1.5 hours to get off the ship and out of the terminal.
Other passengers wait for their selected debarkation time (the ship will assign a time to all passengers the day before the ship arrives home). While this means you won't get off the ship first, the process of actually leaving is usually faster since the lines are shorter by that time.
Second, most ports have switched to a facial recognition technology that dramatically speeds up getting through the terminal. It used to be you had to wait in line to meet with a border agent who would check your citizenship documents.
These days, you can often just take a photo that documents you leaving the ship and then walk right off. Note that if you are traveling with a birth certificate instead of a passport, this option isn't always available.
When to Schedule Your Flight Home
What this all means is that getting off the ship can sometimes take literally minutes. Other times, if can take hours. The good news is that debarking these days tends to be relatively quick.
In any case, given that it can take a considerable amount of time to get off the ship, what time should you book your departing flight?
We recommend scheduling a flight no earlier than five hours after your ship arrives back at home for most cruise ports. However, the absolute bare minimum should be no more than three hours before the ship returns (though we definitely suggest more time).
So if your ship is scheduled to get back home at 7:00 a.m., your flight shouldn't leave any earlier than 12:00 p.m. to give you plenty of time. There will be times that this five hours gives you a ton of extra time at the airport. However, it's important that you leave yourself a cushion should anything go wrong.
If your ship returns at 7:00 a.m., the absolute earliest we think you can make your flight is 10:00 a.m., but that will be tight.
For some ports, we think you need to allow more time given the distance from the cruise port to the closest major airport.
Things That Could Delay You Getting To Your Flight
Unfortunately, getting off the ship isn't just as simple of having it dock and then rolling your suitcase off. There are a number of factors that can delay things, which is why we recommend an ample cushion before your flight.
Weather Delays
One of the biggest headaches for a cruise ship is fog. Early morning arrivals in humid port cities are a perfect recipe for delays due to fog. It's not unheard of for a ship to have to wait off the coast for several hours while the fog lifts before making it to port — especially spots like Galveston, which is notorious for fog in the winter months.
Debarkation Delays
We mentioned earlier how there can be huge lines to get off the ship first. With such a rush of people trying to debark at once, it can take up to two hours to make your way off the ship and collect your luggage. Thankfully, that's a rare occurrence.
If you don't want to physically wait in line, you can debark later in the day. While that saves you the hassle of just standing around, it doesn't get you off the ship any earlier.
Customs & Immigration
Anything to declare? Even if you don't, you'll have to go through customs and immigration. This is another reason why it can take so long to get off the ship.
We've seen ports where it's a breeze to go through, taking almost no time at all. In fact, you literally take a picture as you leave the ship and walk right out. We've also seen ports where it's a major delay that forces you to stand in line for an eternity. Sometimes it seems there are too few agents working, leading to longer delays to get off the ship.
One tip: Many ports have now implemented facial recognition technology for passengers. You simply take a photo, and you are on your way within seconds. Meanwhile, we've noticed those with birth certificates sometimes (not always) still have to stand in line and meet with an officer, which takes much longer. Having your passport could save you considerable time.
Getting to the Airport
Getting to the airport after your cruise can take 15 minutes or more than an hour. It really depends on the cruise port you are sailing from and traffic.
Cruise ports such as Port Canaveral and Galveston are far away (about an hour drive) from the closest airports. Others like Miami are right near the airport.
If you are flying out of a distant port, remember to add drive time to your schedule. You should also factor in time to get picked up if you are taking a shuttle or other transportation to the airport. This can add an extra 10-15 minutes to your trip.
Airport Security
We don't have to remind you of the potential for long security lines in airports these days. You'll want to be sure to add in plenty of buffer time to your trip to account for potential delays getting through security and to your flight. This is where services like TSA Pre-Check can save you a lot of time.
You Might Have Plenty of Time at the Airport, But Why Stress?
Ultimately, we think the best thing you can do is pick a flight time that you are comfortable with making. You don't want to be stressed as you try to make it to the airport. The five-hour cushion should be good if you plan to get off the ship right when it arrives.
If you'd like to plan to have lunch before your flight or take your time arriving at the airport, then plan a little more time.
Passengers sailing from ports with airports close by (meaning a short commute) could likely catch a flight that's earlier, but keep in mind that adds more risk to catching your plane.