Looking for a spot to swim in Cozumel? The port is one of the most popular cruise ship destinations on the planet, with millions of passengers stopping there every year. In fact, if you are sailing to the Caribbean anywhere from Galveston to Miami, then the odds are high your trip will include a stop at the Mexican island.
Of course, when you think of Cozumel, you think of the beach. The island sitting in the Caribbean just off the coast of the Yucatan Peninsula is well-known for its turquoise water and sandy beaches.
What most people don't realize, however, is that just because Cozumel is an island doesn't mean you are always close to a postcard-worthy beach.
The truth is that while the water is beautiful, beaches around the island are not always nice. On the western side of Cozumel where the cruise ships dock, the coast is made of sharp coral rock in most places. In many places there is no sand at all.
On the eastern side of the island is where you'll find more of the classic stretches of uninterrupted sand. However, there isn't as much commercial activity on the east side of Cozumel. So while you might have better beaches, the bars, restaurants, and beach clubs are drastically fewer.
The good news is that there are still small pockets of nice beaches near the cruise ships on the west side of the island, including many in walking distance. Typically, the closest beaches to the cruise ports are going to require a fee to access. However, that's not always the case.
With that in mind, here are your options for the closest beaches to the Cozumel cruise ports…
International Cruise Terminal (At Port)
There are three cruise terminals in Cozumel, but one of the largest is the International Pier, which is right next to Puerta Maya just south of the main city of San Miguel. The International Pier often serves Royal Caribbean brands like Royal Caribbean International and Celebrity.
If you dock here, then you don't have to go far to go swimming. While it's not a white-sand beach, there is an entrance to get into the water, with the cruise ships as a backdrop. Head over to the large green "Tequila-A-Go-Go" building and you'll see staircases leading to the water to take a dip. Unfortunately, there's no beach here.
If you aren't docked at the International Pier, then you won't be able to access this area. Don't worry, there are other beaches available.
El Cid La Ceiba Hotel (0.1 miles)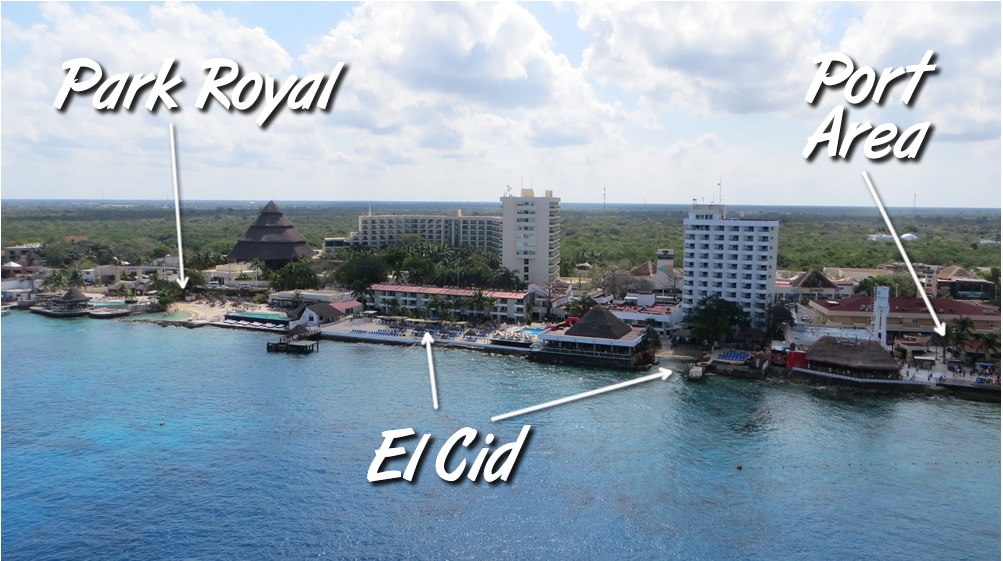 When it comes to the closest beach to the Cozumel cruise port, it doesn't get any closer than the beach at the El Cid hotel. The spot sits right on the edge of the International cruise terminal — just a few minutes walk out of the port area and you are there. It's slightly farther from Puerta Maya (where Carnival ships dock), but still very walkable.
The spot features a manmade beach with lots of loungers and palapas that sits up from the water due to the rocky shoreline. There is a sandy entrance in one area, but the largest expanse of beach is separated from the sea.
While El Cid La Ceiba is a hotel, cruise passengers can get a day pass for around $50 at last check. It includes food, drink, facilities, wi-fi, and snorkel equipment. Just head to the hotel to ask about access.
Playa Stingray (1 mile)
Want a free beach… with practically no one around? Playa Stingray may not be something out of a postcard, but it's a cool little hidden secret within walking distance of the cruise port.
Head toward town and about a mile down the road, you'll come to a sign pointing out the beach and a non-descript staircase leading down to the water. There is a narrow beach along with a number of small trees offering some shade. The shore here is fairly rocky, so some water shoes are a good idea.
Still, once you are out in the water you have a great view of the ships in port, the water is beautiful, and you should have a ton of space without a lot of other people around.
Money Bar Beach Club (1.5 miles)
Just a five-minute taxi ride from the cruise piers, Money Bar Beach Club is a great option if looking for something close by. The spot features a full-service restaurant, bar, live music, and spa, all sitting right alongside the water.
Unlike some other spots, this is a beach bar so there's not an admission fee, but instead you buy food and drink to have access to the facilities. There are also showers/restrooms available.
As for the beach, there is a purpose-built sandy beach with loungers and umbrellas, but in this part of the island the shoreline is rocky. So if you want to get in the water (there's fantastic snorkeling in this area), you do so via a set of stairs.
Chankannab (2.5 miles)
Moving south on the western side of Cozumel, you'll come to another beachy spot called Chankanaab Adventure Beach Park. The park costs $26 for adults and $19 for kids 12 and under.
Chankanaab (which translates to "little sea" in Mayan) is a beach park. The park sits right on the water, with a wide expanse of beach to sit and hang out underneath a palapa in a lounge chair.
There are all the expected beach activities, including snorkeling, swimming, sunbathing, volleyball, and more. There are also a number of exhibitions, including a Mayan art walk through the jungle, the crocodile pen, and a sea lion show. Those that want to pay a bit more can swim with dolphins and take a zipline.
The park has a small beach sloping to the water that's ideal for smaller kids, but most of the shore is rocky and requires steps to go down to snorkel.
San Francisco Beach Club (6 miles)
For a $20 admission fee, you get access to a lot of fun at the beach at the San Francisco Beach Club. Your day at the beach includes an umbrella, lounger, bathrooms, pool, snorkel gear, wi-fi and more.
Perhaps best of all is that the beach — despite only being a 10-minute taxi ride from the ships — is sandy right to the water. A number of other beaches closer to the cruise terminals have rocky shores.
Food and drinks are also available for purchase with an on-site restaurant and there are rentals like jet skis available. There are also showers and lockers available during your stay.
Playa Mia (6.5 miles)
Just a half-mile down the beach from the San Francisco Beach Club is Playa Mia. However, they can offer a very different experience. Playa Mia is essentially a beach theme park. If you want a beach spot with more to do than just lounge or you are traveling with kids, then it's ideal.
Of course the main attraction is the beach and you'll find plenty of loungers. But there are also waterslides, a floating waterpark, Buccaneer's Bay (a kid's splash park), kayaks, volleyball, swimming pools and more. Fee-based activities include parasailing, snorkel tours, and jet skis.
In short, if you're waiting a full-fledge beach day with all the extras, then Playa Mia is a good option only about 15 minutes from the cruise ships. Tickets start at $40.
Mr. Sanchos (7 miles)
Perhaps the most famous spot to hit the beach close to the cruise piers is Mr. Sanchos. It's an all-inclusive beach club. For the price of admission ($68 for adults), you get all you can eat from the menu, all you want from the pool bars, loungers, kayaks, hammocks, lockers, restrooms, and umbrellas.
There are also extra things to do like the floating aquatic park, snorkeling, jet skis, and horseback riding. With about 1,500 feet of sandy beach, there's space for to spread out, but the spot is very popular with cruise passengers.
Like Playa Mia, this area of Cozumel is still close to the ships but offers white, sandy beaches instead of the rocky shore seen closer to the terminals.
Have you visited one of these beaches? What are your thoughts or recommendations? Let us know in the comments below.
More on Visiting Cozumel: