Tell us if this process sounds familiar.
You want to book a cruise, so you start searching around. A web search takes you from one site to another. Before you know it, you've looked at a dozen different sites to try and find the best deal.
What's more, you've tried searching multiple dates, itineraries, cruise lines, and room types, searching for that best combination of price, time and route.
It's enough to make your head spin… and that's before you actually purchase your fare.
After that, you end up checking the same cruise obsessively, making sure you've gotten the best price possible.
The good news is that it doesn't have to be this way. We've spent years studying the cruise industry and have come up with our best rules to follow to make sure you're getting the absolute best rate with as little headache as possible.
It's no guarantee that you'll get the lowest rate offered for your cruise, but these rules will help you be smarter about buying your vacation.
Want a cheap cruise? Study this chart
Before we get into the rules, we want to walk you through some of the research so you can see exactly what we've found. First, we want to show you the most important resource when it comes to what you will pay for a cruise.
The chart below shows the per-person cruise fare for both an interior cabin and balcony room for a 3-day Carnival cruise over a period of two years. This particular cruise sails from Miami, with a stop in Nassau, Bahamas.
We selected this cruise because it runs weekly, giving us a chance to compare the price of the trip over multiple years and see the trends in the fare.
First, you can see from the blue line (price for an interior room) that prices to travel last minute are consistent with the same time a year later. In other words, you don't see that much of a discount — if any — by waiting until the last minute.
Second, notice the trends in the rise and fall of the prices. Cruise fares see large spikes during holidays and the summer. The basic rule of thumb is that if schools are out, then cruise fares are high. Cruising off season can save you hundreds or even thousands of dollars.
Of course, there is so much more to learn about finding the best rate on your next cruise. We go into full detail of all the rules you should follow to find the lowest rate possible…
Rule #1: DO be flexible with your days to cruise the cheapest
As you can see in the chart , the fares for the same cruise can vary dramatically, depending on when you sail.
Holidays like Christmas and New Year's fetch the highest prices by far. These rates can often be double what you would pay in the lower season. The highest rates found around the holidays are closely followed by peak summer rates when families with kids like to cruise:
The best times to sail with the lowest rates? The fall months when people are back at school and work, meaning that rates hit their lowest. You can also find lower rates in the time between New Year's and Spring Break.
Rule #2: DON'T think there is a magic website with cheaper cruise fares
The cruise line's website, Expedia, Cruises.com, Travelocity… the list of sites where you can search for trips is endless. The odd thing? They usually all have the exact same rates.
We researched the most popular sites for an upcoming Carnival cruise (although this rule applies to all cruise lines), comparing prices with the cruise line's official website. This trip is a 7-day cruise from Miami in June 2024 aboard Carnival Magic. We've tabulated the prices we found below: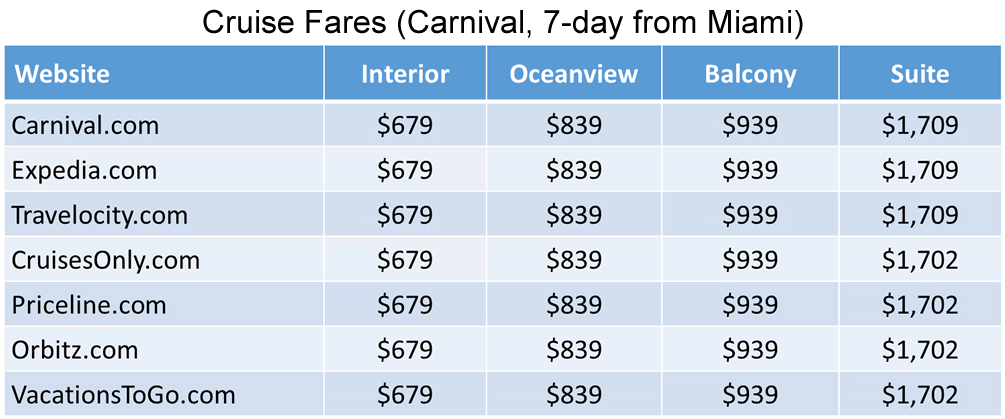 So which site should you use?
We generally suggest booking through the cruise line's website. We like this because it takes out the middleman in booking your sailing. Should there be an issue, you can call the cruise line directly and everything is dealt with through their site.
However, many third-party sites can have special deals such as onboard credit that's not available if booking through the cruise line. We've seen up to $750 in onboard credit just for booking through these types of sites, depending on their offers.
[Read: The Best Websites to Book a Cruise]
As well, third-party sites take your search across multiple cruise lines. So instead of just searching for Carnival cruises or Royal Caribbean, you can search every cruise line — potentially finding a cheaper cruise with another line. Meanwhile, you typically won't pay any more than booking directly from the cruise line.
If you know the cruise line you'd like to sail, we suggest booking directly through them. If you are open to which line you sail, then third-party websites give you the ability to search more cruise lines and itineraries to find a better price.
Rule #3: DON'T think you'll save a ton by booking last minute
It would make sense that you would find the cheapest fares right before the ship sails. After all, if a room sails empty, the cruise line earns nothing from that cabin. They should want to get you on the ship and at least earn some cruise fare, then hope to earn more on excursions, drinks, and shopping onboard.
If that were how things actually worked, however, the cruise lines would go insane trying to plan. If rates were lowest right before the trip sailed, then every passenger would wait until the last minute. The cruise lines wouldn't be able to plan their needs for the trip ahead of time or predict revenue, costs, or profits.
That's why cruise lines have largely eliminated last-minute discounts.
In fact, if you look at our chart of prices for the cruise below, you can see that the price you pay for a cruise about to depart is inline with the same time a year later.
Where you can really get burned by waiting until the last minute is in your room selection.
When you book late, many of the prime rooms have been taken already. So if you had your eye on a certain type of room or location on the ship, it might not be available if booking late.
For more on buying last-minute cruises, read 9 Smart Last-Minute Cruise Buying Tips.
Rule #4: DON'T get distracted by cruise line sales
The cruise lines are like department stores — they constantly run sales and special offers. Sometimes it is 50% off the second fare. Sometimes it's lower deposits. Sometimes it's onboard credit.
We've found that there is a constant flow of deals, and they usually are all about the same. In other words, we don't really think you should let it influence whether or not you buy… or let it affect the timing of your purchase.
Yes, it is possible that one deal might be better than another. However, they typically end up around the same price. If a cruise line really needs to fill rooms, they will simply lower the price of the specific cruise instead of offering a fleetwide discount via a sale.
Rule #5: DO sail on older ships for cheaper deals
It's not written in stone, but you will usually pay much less to sail on an older ship compared to a newer one. Older ships are still kept up and comfy, but simply can't offer the space or amenities as the larger, newer ships.
Over the past two decades, ships have seemingly transformed from simply seagoing vessels to floating amusement parks. From huge waterslides to walking promenades, robot bars, ice rinks, and more, it's hard to believe what they can put on a new ship these days.
If you don't need these sorts of things on your cruise, then look for an older ship to get a much cheaper cruise.
What can you expect to save? It's difficult to compare apples to apples as different ships sail to different ports at different times, but we found two similar cruises to compare.
The first was a 7-night Western Caribbean cruise aboard Royal Caribbean's Wonder of the Seas from Port Canaveral, departing April 2024. Wonder of the Seas is the cruise line's newest ship, and it's priced accordingly.
The cheapest price (interior cabin) we found for an April sailing on this new ship was $878 per person.
Compare this rate with a 8-night Eastern Caribbean cruise aboard an older Royal Caribbean ship — Adventure of the Seas. We found this cruise departing Port Canaveral during the same month (April 2024). Despite being one night longer, the trip was priced at just $731 per person for an interior cabin. That's about $150 per person less.
In other words, sailing the older ship in this example costs considerably less per person than the new ship — despite the cruise on the older ship being a day longer.
(Note: There is also a 6-night cruise aboard Adventure of the Seas during that same month starting at just $461 per person — an even larger discount.)
Rule #6: DO choose your room location carefully
While not every cruise line does it, many will charge you different amounts for the same class of room in different locations of the ship. For example, a room on a higher deck will cost more than one on a lower deck. Through years and years of bookings, the cruise lines know which rooms are most desirable and charge accordingly.
Most times the premium you pay for room location won't seem like a big deal. The cruise lines sometimes frame it by adding something like $3-5 per person, per day.
Let's do the math, however.
A room with two people being charged an extra $5 per person, per day would rack up $10 per day — or $70 in room location charges over the course of a week-long cruise. That may not sound like much to some of you, but that comes about to about 5-7 drinks from the bar if you were to want to spend your money on alcohol instead.
The rule of thumb is that the higher up your room is on the ship, the more you will pay.
For the absolute best rate for your particular room class, let the cruise line place you automatically at their lowest rate.
Rule #7: DON'T buy the "wave season" hype
You might have heard of "wave season." This time of year — running from January through March — is supposed to be when the cruise lines offer the best deals. That's due to the cold weather in most of the country making people think of warmer places combined with the passing of the Christmas holiday. It is definitely true that more booking activity goes on during this period. But it may not mean better prices.
Our take? Wave season is hyped up, similar to "Black Friday." Sure there may be good offers — but not enough to keep us from booking a good deal when we see one a different time of year.
If everyone waited until the wave season because the deals were better, then the cruise lines wouldn't have anyone book the other nine months of the year. You'll find that the deals offered aren't that much different than those found the rest of the year.
Rule #8: DON'T think booking far ahead will save much
If last-minute booking doesn't offer much of a discount, then surely you'll be rewarded by booking well in advance, right?
Not so much.
Rates vary the most by time of year… not by how far in advance the departure is. For example, you'll see similar fares for a cruise in September, whether that's three months from now or a year and three months from now.
Now, that's not to say that the fare for a cruise well in the future won't drop at some point. If the cruise line has trouble filling rooms, they will certainly drop the rate. But many times, there is no huge advantage to booking a year or more in advance (although you will have more cabin options).
Rule #9: DO book your cruise when you find a rate you like
We know that trying to find the best rate can be nerve-wracking. Don't let it get to you. We think the key is to do some research first on the cruises offered and what they are selling for. Once you have a ballpark idea of what they cost, you can have a better idea if you are getting a good deal.
Once you find a rate that you think is fair (including any sales/promotions), go ahead and book it. There's no sense in waiting and watching to see if the price will fall more, especially since it could also rise. (Read more on the best time to book a cruise.)
And while you want to book your cruise once you've found a rate you're happy with, we recommend NOT paying in full. In fact, put down the smallest deposit allowed.
This will give you some leverage for Rule #10. (Keep in mind that if you book last-minute, you often have to pay for the trip in full at the time of booking.)
Rule #10: DO monitor price drops…and call the cruise line
So what if after all this you book your cruise and then the price drops?
First, you should be monitoring the price of your cruise after you book if you want to save money. We're not saying to check it every day, but once or twice a month is sufficient.
If you run across a price drop, then you should contact the cruise line immediately. This is where having put down only a deposit — and not paying in full — buys you some leverage.
Many times the cruise lines will work with you to compensate for the lower fare, even though they often aren't obligated to do so. They can refund the difference or offer onboard credit to make you happy.
Some lines have price protection policies in place. Carnival, for example, has it's Early Saver Program:
1. When you book a 3-5 day cruise three months in advance, or 6 day or longer cruise five months in advance, you are assured the lowest rate.

2. In the unlikely event that you do find a lower Carnival-advertised rate after booking your cruise, we will honor it and adjust your cruise rate accordingly. Simply fill out the Price Protection Claim form and we'll take care of the rest.
If you only have a deposit down, and they won't work with you on the price difference, determine the refund policy to see if it is worth it to cancel your original trip and re-book the cruise at the lower rate.
If you've already paid in full, it's still worth calling the cruise line if you see a lower fare. The lines want happy customers and will sometimes work with you to compensate for the new lower price.
Bottom Line: Unfortunately, there is no crystal ball that will tell you the absolute best time of year or day of week to book your cruise. That said, the tips above can help you carve out the best deal possible — without driving yourself crazy.
More on Cruise Buying: