In one of the biggest stories in cruising, Royal Caribbean has completely transformed its private island — CocoCay — into a world class port of call with swimming pools, waterslides, and even over-the-water cabanas.

With an investment totaling $250 million (about 25% the cost of a brand-new cruise ship), those who have visited CocoCay in the past will hardly recognize it. Those who have never been will get a glimpse of what a port of call can be.
With such a complete overhaul, you might be wondering exactly what you can expect during your visit. Cruzely has you covered. Below we review everything you could want to know, including details about everything on the island, from prices to tips and more.
What Is Perfect Day at CocoCay?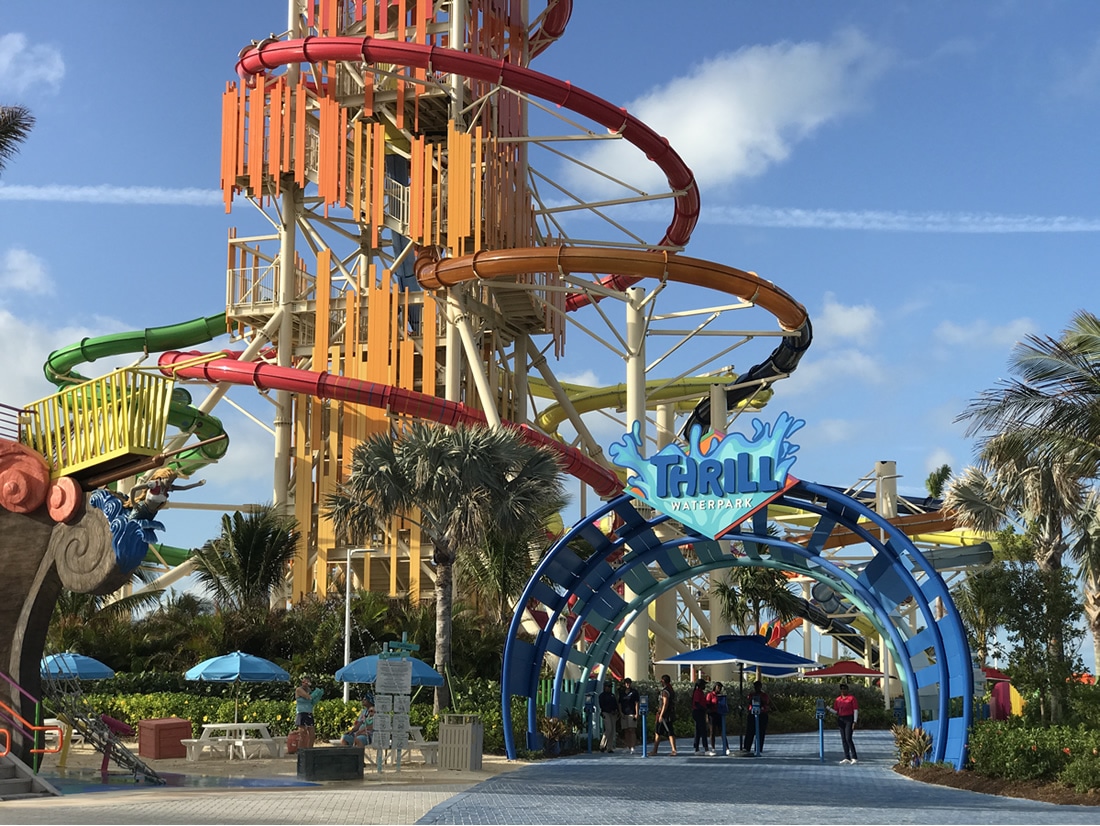 For years Royal Caribbean operated CocoCay in the Bahamas. The private island — exclusively for the cruise line's ships — offered plenty to like. It had beaches, a number of activities, snorkeling, and more. Essentially, it was an extension of life on the cruise ship.
Over the years, you might have noticed that cruise ships have become larger and more extravagant. Today's ships have entire neighborhoods, wave simulators, go-kart tracks, countless restaurants, bars, clubs, and more.
In other words, private islands like CocoCay can actually be a downgrade from hanging out on a modern cruise ship. So Royal Caribbean decided to upgrade the island.
Investing $250 million, the area is now known as Perfect Day at CocoCay and offers the most extravagant amenities of any cruise line island.
There's a complete waterpark, a 33,000 square foot pool, beaches, restaurants, and even over-the-water bungalows straight out of Fiji. It's all designed to make a world-class destination for Royal Caribbean's passengers.
Where Is CocoCay?
The island sits in the Bahamas, just about 140 miles due east of Miami. That makes it ideal for any Royal Caribbean ship that sails in the area, including those coming from ports like Miami, Port Canaveral and Port Everglades.
What's the Difference Between the Old CocoCay and the New Version?
To put it simply, just about everything.
The old version of the island had some amenities and entertainment, but it was primarily a place to hang out by the beach and maybe do some water activities like snorkel or kayak.
Perfect Day at CocoCay has added tons of new features. While the main beach (now known as Chill Beach) is still there, practically everything else is new. Where there was once just jungle brush now sits an entire waterpark. The cruise line also built the largest freshwater pool in the Caribbean and the tallest waterslide in North America. And did we mention the helium balloon that can take you up 450 feet in the air?
The closest analogy we can think of is Las Vegas when it was a sleepy town in the desert with a few casinos compared to Las Vegas today.
Here's a picture of what the island used to look like before the renovation:
And here are some images of how it looks now:
What Can I Do on CocoCay?
With the number of new attractions, it can be a bit overwhelming to get an idea of everything that's available. Here's a run-down of what's on the island:
Thrill Waterpark
Perhaps the crown jewel of the re-vamped island, the Thrill Waterpark offers a ton of different thrills (including 13 different slides). The highlight is Daredevil's Tower, home of the tallest waterslide in North America at 135 feet tall. There's also the Adventure Pool (an over-the-water obstacle course) a massive wave pool, Splash Summit (another group of slides), and a spot to eat (See our full guide to Thrill Waterpark here.)
Up, Up, and Away
A helium balloon that rises 450 feet into the air, Up, Up, and Away can give you a bird's eye view of the entire island, your ship, and the stunning waters of the Bahamas.
Zip Line
Royal Caribbean is known for having zip lines on their Oasis-class ships. CocoCay extends the trend… literally. The zip line here runs 1,600 feet long or nearly a third of a mile.
Captain Jill's Galleon
A free water feature for the kids, Captain Jill's Galleon is in the style of a pirate ship with 16 water cannons and three slides. In other words, you're not getting out of here dry.
Splashaway Bay
Similar to what you'll find on many Royal Caribbean ships, CoccoCay features a Splashaway Bay. The splash park features sprayers, dumping buckets, slides, and more. If your kid is smaller, they will love the area. Older kids will likely want to go to the Thrill Waterpark
Chill Island/Harbor Beach
If you want some beach time, then these spots are ideal. Packed with umbrellas and chairs, they feature a wide beach and calm blue water. There is also the Chill Grill to grab a bit to eat when you're hungry. A straw market is also here if you want to do a little local shopping.
Oasis Lagoon
Lagoon? Maybe it should be called a lake instead. The Oasis Lagoon is the largest freshwater pool in the Caribbean. It's surrounded by umbrellas and loungers, making it a great place to spend the day. There's also a gradual entrance (for those who don't want to dive in) and a swim-up bar.
Coco Beach Club
Recently opened, the Coco Beach Club is an exclusive enclave on the island. The most notable feature is a group of over-the-water cabanas, a first for the Bahamas. There is also a clubhouse featuring a restaurant and infinity pool for guests.
South Beach
If you want something a little more active on the beach, the South Beach might be your destination. It will feature volleyball, basketball, kayaking, paddle boarding… and even Zorbing (the big inflatable ball that you climb inside). Or you can just hang out on the beach.
Where Can I Eat?
You won't go hungry while on the island. As well, you don't have to spend any money on food either, unless you want to.
Skipper's Grill/Chill Grill (Free)
These two spots are complimentary, serving typical beach fare at lunch time. The menu includes chicken, salads, burgers, dogs, and desserts. You can think of it as an extension of the Windjammer on Royal Caribbean ships.
Snack Shacks (Free)
Dotted around the island are several Snack Shacks. These spots served up burgers, chicken sandwiches, hot dogs and salads. You can also get fries and mozzarella sticks, as well as desserts like funnel cake. The Snack Shacks have longer hours than Skipper's/Chill Grill and since there are several, it's never far to a bite to eat.
Grille at Coco Beach Club
This restaurant is free with paid admission to the Coco Beach Club. According to Royal Caribbean, it offers "elevated Mediterranean cuisine." Expect it to be more exclusive and higher-end than the burgers and dogs served elsewhere on the island.
Captain Jack's
It's more of a bar, than a restaurant, but Captain Jacks serves some bar food like chicken wings and steak fries.
Perfect Day at CocoCay Price List
Royal Caribbean is known for variable pricing of nearly everything on its ships. What you pay depends on your specific sailing. CocoCay is similar. While visiting the island — and many attractions — are free, there is lots that's you'll have to pay for if you want to enjoy it.
We've listed some prices below. Note that there are discounts in some cases for children or half-day pricing. What you will pay depends on your trip. Prices will be available when you board the ship or online with your cruise planner.
Note: You can often get discounts for booking early. Also, we've heard of prices up to $132 per person for entrance into Thrill Waterpark
CocoCay Tips & Things to Know
The Island can Handle up to 9,000 Guests at a Time
According to Royal Caribbean, CocoCay can handle a lot of people — up to 9,000 at the current configuration. With that sort of size, having one ship in port should provide plenty of space without a lot of overcrowding. But the number of guests it can hold should tip you off that it could mean that Royal Caribbean will likely have multiple ships visiting the port on some days.
Royal Caribbean Wi-Fi Works on the Island
Want to stay connected… or post to Facebook/Instagram to make everyone back home jealous? You can do that on CocoCay. Royal Caribbean announced that the on-ship wi-fi (VOOM Internet service) will extend to the island.
Considering that many people pay for Internet service for the entirety of the cruise, but normally can't use them in port (only on the ship), this is a big addition to the wi-fi package.
Drink Packages Work on the Island
If you've ever bought a drink package on a cruise ship then you likely know one of the big drawbacks is that they don't work in ports. If you are off the ship, you've got to open up your wallet for a drink. But on CocoCay, there's a huge benefit — drink packages (alcoholic or otherwise) work while you're enjoying your time at the beach.
Oasis Lagoon Is the Largest Freshwater Pool in the Caribbean
It wouldn't be Royal Caribbean if they didn't lay claim to the biggest and best. In this case, we're not talking about the cruise ship but the pool. Oasis Lagoon on CocoCay is the large freshwater pool that's a centerpiece of your time there.
How large? At more than 33,000 square feet, it's about 3/4 of an acre! That makes it the largest pool in the Caribbean. In other words, you're unlikely to have a hard time staking out your own little spot in the pool.
Daredevil's Peak Is the Tallest Waterslide in North America
On just about any picture of CocoCay, you'll see the huge structure that looks like a skyscraper, with waterslides wrapping around it. This is the Thrill Waterpark, and that tallest slide that goes to the top is called Daredevil's Peak.
All told, the slide rises 135 feet above the ground (about 14 stories). If that sounds tall to you, then you're right. In fact, it's the tallest waterslide in North America. If you don't do anything else at CocoCay, riding this slide would give you a lifelong memory… and bragging rights.
You Can Spend as Much… Or as Little as You Want
Depending on which side you land on, it's either great news or bad news. But either way, on CocoCay you can spend as much money or as little money as you want. If you just want to eat the free food and hang out by the pool or the beach, then good news — that's completely free to do.
However, if you want to do things like rent a cabana or play at the waterpark, then you'll have to spend some money. Considering a cabana can costs hundreds and we've seen admission prices up to $132 per person to get into the waterpark, there's no shortage of ways to spend your cash.
Five Different "Zones" on the Island Provide Something For Everyone
While the lines aren't hard and fast, the island is divided into separate zones that each have something different going on. First is the Thrill Waterpark. A full-fledged waterpark with more than a dozen slides, wave pool, and more, there is an admission fee. Nearby is the Oasis Lagoon, which includes the free Splashaway Bay for kiddos and the large freshwater pool open to all guests.
Keep going and you'll find Chill Island — a relaxing spot to hang out in a lounger at the beach. The other two areas are also known for their comfort — South Beach and the Coco Beach Club (including its over-the-water cabanas).
Overnight Stays Might Be in the Future
Ports of call are well known for being short — often lasting about 7-8 hours as you arrive in the morning and depart in the early evening. If you want to stay longer, however, you might get your wish. According to Royal Caribbean's website: "We are designing the island to accommodate the possibility of overnight and extended stays in the future. Stay tuned for more details."
There are some cruises that include two stops at the island. So you'll stay a day, visit another port, and then come back after that.
Bring Your SeaPass Card… And Some Cash
For the most part you'll need your SeaPass card when you at at CocoCay. You'll need it to exit and return to the ship and you will also use the card to pay for things on the island. The one exception is that there is a straw market with local goods and souvenirs where you must use dollars.
The Island Is Wheelchair Accessible With Some Exceptions
Overall, Royal Caribbean has made the island accessible to those in wheelchairs. For instance, there are beach wheelchairs available for use, and the Oasis Lagoon is also accessible. However, not everywhere is able to be accessed. For instance the tower with waterslides and the zipline aren't able to be used by those in wheelchairs at this time.
A Free Tram Runs Around the Island
CocoCay is pretty big — 125 acres. And with all the different things to do and see, you can anticipate walking a around quite a bit. If you're not big on walking, don't worry. There is a free tram that runs around the island, stopping at the major attractions. It goes every 15 minutes so you never have to wait long to get a ride. The tram is also wheelchair accessible.
CocoCay Is Great for Babies & Toddlers
If your baby or toddler isn't yet potty-trained then swimming on the cruise ship can be a challenge. Kids that are still in diapers are prohibited from the pools for health reasons (there are kid's area for those in swim diapers). But on CocoCay babies and toddlers in swim diapers can swim in all the pools. Of course, they can also swim in the ocean. That gives two great options for getting your little one in the spirit of the Bahamas.
There Are Expansion Plans… Already
Already the revamp to the island cost $250 million and there are still construction projects underway, set to be completed at the end of 2019. That's not enough, though. According to an article in the Orlando Sentinel, Royal Caribbean International President and CEO Michael Bayley has said that additional expansion plans exist, but refused to share details.
Rides Don't Have Age Limits… But There Are Height/Weight Rules
If you have kids, you'll be happy to know there aren't age limits on the waterpark rides. Instead, there are only height and weight limits. The minimum for the majority of the rides is 48 inches (four feet tall). This includes the Daredevil's Peak slide. Some slides do allow riders at 42 inches tall.
The maximum weight limit for most rides is 300 pounds. So as long as someone is above four feet and less than 300 pounds, they will get to enjoy all the water rides.
Several Spots Offer Free Food On the Island
Something about the sun and water can take it out of you… and build up an appetite. Luckily there are a number of free spots to eat on CocoCay. This includes Skipper's Grill, Chill Grill, and multiple Snack Shacks. There is also Captain Jack's where you can get wings and fries, but it's priced a la carte and not included for free.
Lockers and Beach Towels Are Available
One of the nice things about having an island that's run by the cruise line is that there is a lot of convenience. On CocoCay there are lockers available for rent at spots all around the island, no matter where you want to visit. There are also beach towel stations (free) so that you don't have to worry about bringing a towel from the ship.
Have more questions about Perfect Day at CocoCay? Let us know in the comments below…
More on Visiting Perfect Day at CocoCay