Think of a cruise and you likely envision exotic ports, hitting the beach, or splashing in the clear blue water of the Caribbean.
The truth is, however, the vast majority of your time on a cruise is actually spent on the ship. Consider that on a 7-day cruise, you might have three ports of call. Each of those port days consists of about eight hours docked. In other words, of the 160+ hours spent on a week-long cruise, only about 24 hours would be spent on shore.
That means cruise lines need to ensure there is plenty for passengers to do on their trip. And Carnival is among the cruise lines pulling out all the stops to continue to add new features and things to do to its ships.
Below we've rounded up nearly 40 ideas of things you can do on a Carnival cruise ship, and it's just a start. What's available may vary depending on which ship you sail, but overall, this is a great primer to what you can do on your vacation.
Grab a Bite From Guy's Burger Joint
If you're sailing on Carnival, you might have heard about Guy's Burger Joint. It's a venture with Guy Fieri, the famous chef and TV host. On Carnival ships there is a Guy's (usually poolside) serving fresh burgers and fries… and it's completely free.
Why are they such a big deal? Instead of some dried out burger sitting under a heat lamp, Guy's offers up fresh food that's tasty… and the price can't be beat. Grab one and you're likely to get hooked immediately.
Start Your Morning With a Breakfast Burrito at BlueIguana
Typically on the other side of the ship's pool deck from Guy's Burger Joint is the BlueIguana Cantina, which serves up Mexican food. You can stop for lunch and grab tacos or a burrito. But many people don't realize that the quick-eatery also serves up breakfast tacos and burritos. Stop by and get some eggs and bacon wrapped in a warm tortilla instead of munching on pancakes and cereal in the buffet.
Play in the Waterpark and Waterslides
If relaxing isn't your thing (or more likely you have kids!) then you can spend some time checking out the waterslides and waterpark on the ship's pool deck. What's offered will vary depending on the ship, but the newest ships like Carnival Horizon have the Dr. Seuss WaterWorks that feature winding slides and water features to help cool off on the ship. They are designed for the kiddos, but your little one should be potty-trained before playing.
Chow Down on some BBQ at Sea
In addition to Guy's Burger Joint, Carnival has also teamed up with Guy Fieri for the Guy's Pig & Anchor BBQ on some of its ships. If you're a lover of smoked meats, then getting come 'cue from here is a must. During the lunch hours it is free, but if you want to eat dinner then you'll have to pay a small charge. For getting your BBQ fix at sea, it's a small price to pay.
Get that Golden Tan on the Pool Deck
There's likely no activity more popular on a cruise than working on your tan. On days at sea you'll see seemingly everyone on the ship getting some sun. If you want to be in the middle of the action, then head to the pool area, where you'll find the most people.
Those wanting somewhere a little less busy can try the Serenity area (adults only) or try sunny spots usually found at the back of the ship. One thing — the sun is a whole lot stronger at lower latitudes. Don't stay out without sunscreen for too long or you can quickly burn.
Watch a Movie Poolside, Under the Stars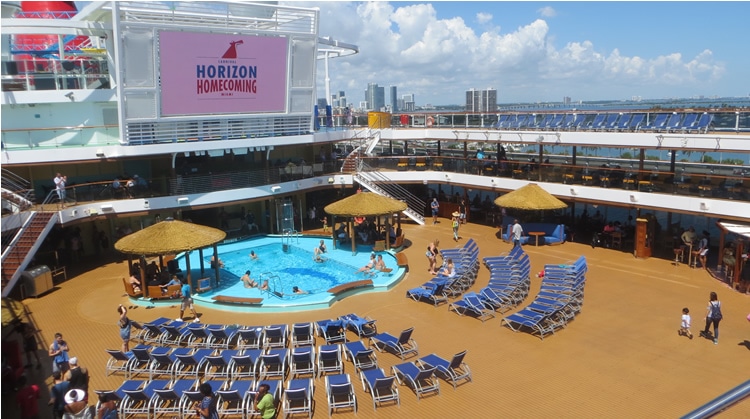 If you're looking for a unique way to spend an evening at sea, what about hanging out by (or in) the pool, watching a movie on the big screen? In the evenings new release movies are shown on the large video board that towers over the pool. You can hang out and relax under stars taking in a flick in one of the most perfect settings imaginable.
Hit the Arcade (No Quarters Required)
Each ship will have an arcade filled with all sorts of games from air hockey to racing to shoot 'em ups. Head down and play some games (it's cheaper than the casino). You don't need to worry about quarters. You simply slide your key card at the machine you want to play and the charge is put on your onboard account. For the best deal, wait until they offer half-priced games during the "Power Hour."
Visit the Shops for Jewelry or Souvenirs
Shopping is big business on a cruise, and Carnival is no different. There are a number of stores on ships, including places where you can get everything from a fancy watch to a beautiful bracelet to a designer handbag. Not looking for anything too expensive? There are also souvenir shops on the ship where you can find practically anything you want adorned with the ship's picture or name.
Have a Drink and a Sing-a-Long at the Piano Bar
You may not be the karaoke type to stand in front of a big crowd and belt out a hit, but who doesn't like singing along with a group to the classics? On many Carnival ships there is a bar/nightclub called Piano Bar 88. Have a drink of two and enjoy having some of the best music hits ever made played — and sang along to — in the company of dozens of your closest friends.
Watch the Game at SkyBox While Enjoying a Brew
The cabin television sets don't have a lot of options when it comes to watching sports. So if you want to watch the game, then you're going to need to visit the casino, or the SkyBox Sports Bar. The SkyBox offers a sports-themed atmosphere, complete with several TV sets showing the action. You can sit, watch the game and enjoy a beer (or other libation) with other sports fans.
Have a Fancy Cocktail from a "Mixologist" at Alchemy Bar
Any bar on the ship can get you a beer or a margarita. But what about a "spicy chipotle pineapple martini" or a "curative peach cosmopolitan"? If drinks that are a little out of the ordinary appeal to you, then the Alchemy Bar might be right up your alley. The bar is staffed by "mixologists" who put new spins on drinks. The bar is available on many ships, but be prepared to spend a little more than usual for the unique mixtures.
Try Your Luck in the Casino
We'll be the first to say that the payouts in a cruise casino aren't that great. If you really want the best place to play, stick to land-based casinos. But gambling on a cruise is still a lot of fun and offers low limits for smaller players. In addition, there are also a number of unique games in cruise casinos that you won't find on land like "coin-pusher" machines. The casino isn't open when in port, but once in international waters you can play.
Stock Up on Duty-Free Items
Duty-free shopping is big business on cruise ship (and in ports). The laws allow them to sell goods without taxes or duty, which means they can be cheaper than you'll find back home. The popular items include things like alcohol, cigarettes, and jewelry/watches. Just know that there are limits on what you can bring home before you have to pay fees to the government when you disembark at the end of the trip.
Post Your Cruise to Instagram
Do you love to post to Insta? You don't have to stop just because you are in the middle of the ocean. Carnival offers social media Internet access for relatively cheap (more expensive packages also provide access to the rest of the web). So you can keep up with Facebook, Twitter, Instagram, and Snapchat while you are soaking up the sun. Be sure to post a pic to make all your friends back home jealous.
Get a Pizza… 24 Hours a Day
Carnival's pizza parlor is the Pizzeria Del Capitano. It serves up handmade pies that are made fresh around the clock. There are only a few types of pie served (pepperoni, margherita, cheese, and a couple more), but they are absolutely delicious. Best of all, the pizza is free. In fact, you can even have it delivered to you on some ships, although a small charge applies if you do that.
Dance Salsa at the Havana Bar
Havana Bar is one of the favorite hangouts on Carnival ships. The Cuban-themed bar has one part that is a cozy spot to share a drink while the other part features a large dance floor. In the evenings there are bands that play lively music that you can use to practice your salsa moves. It you want to have a fun Caribbean night… while sailing in the Caribbean, then it can't be beat.
Race Your Partner on the SkyRide
Looking for a thrill? Check out the SkyRide on many Carnival ships. The ride is like a recumbent bicycle… except it is hanging high in the air. As you pedal, you race around the hanging track, giving you a view of the ship and the surrounding water. It's free to do and a memorable experience for anyone. There are two bikes that go at one time, so bring a friend to share the experience.
Play a Round of Putt-Putt or Ping-Pong
If you have kids… or you are just a kid at heart, one of the fun things to do on any large cruise ship is to play the games. Most ships have a putt-putt mini-golf course that adults and kids will find entertaining (the wind on a ship makes it challenging). As well, ping-pong is also a favorite with the cruise lines even holding tournaments so you can challenge your fellow passengers.
Tackle Your Fear of Heights on the Ropes Course
Are you scared of heights? Or maybe you just like the thrill of them? Either way, ropes courses on Carnival ships will give you some excitement. Strap in and tackle the challenging walkways that soar above the deck below, with fantastic views of the water. Don't worry, you're well secured so there's no risk of falling. Even so, it's still a challenge to complete.
Get a Workout In With a Great View
Not many people want to go on a cruise to exercise but it's a great way to feel better about eating that entire steak and lobster the night before. As an added bonus, the gym is usually in an enviable location, with floor-to-ceiling windows that give gorgeous ocean views while you jog on the treadmill.
Most gyms are stocked rather well, with plenty of machines and space for anyone interested in getting a workout done. These aren't your small, dark gyms like you might find in a hotel.
Play a Card Game or Dominos
Ships have game rooms that are perfect for spending some time playing a game with your friends or family. We'd suggest bringing your favorite games from home (a pack of cards or some dice will do just fine in a pinch) as sometimes the ship doesn't have any games in stock. Still, if you want a break from the heat and humidity, it's a great option to spend some time with your travel partners and even make some new friends on the ship.
Let the Kids Have Their Own Time and Independence
We're in no way advocating that you let your children run wild across the ship. If your kids aren't responsible or mature enough to be on their own, then keep an eye on them. That said, cruise ships are good places to let them gain some independence and freedom. In addition to kids clubs, they can also go eat at the buffet on their own or hit the arcade. As an added plus, this gives parents some time to relax without having their kids around. (It's your vacation too!)
Try Your Hand at Trivia
Looking for a fun way to get some friendly competition during your trip? Trivia contests go on several times a day, covering all sorts of themes from The Simpsons to flags of the world. Don't worry, you don't have to be a Jeopardy winner to be able to compete. You'll find all skill levels having a good time playing along. And if you win? A golden ship trophy might be yours.
Watch a Comedian at the Punchliner Comedy Club
Cruise lines are known for their shows and entertainment on board. If you want to laugh, then check out the Punchliner Comedy Club. There are usually two types of shows — a more family-friendly routine that takes place earlier in the evening and a late-night show that's definitely adults-only. And trust us when we say that the adults-only shows are exactly that. Even some grown-ups might be shocked by some of the jokes!
Dance the Night Away at the Nightclub Parties
If you like to go out to the club or love a dance party, then you're going to love cruising. Not only are there nightclubs to enjoy, but there are often themed dance parties. For instance, Carnival has an "Electric White Night" where you put on your favorite white outfit to bust a groove. The parties start a bit late — usually around 10 p.m. and go to around midnight (or later in some cases).
Get a Massage in the Spa
Cruise ships are floating resort hotels. That means they come with all sorts of services, including a full spa. You can get pampered in style, with everything from a massage to acupuncture. And what's more relaxing than getting a rub down while on your vacation? It will set you back some cash (massages aren't free), but you'll come out of it feeling worth a million bucks.
Watch the Stage Shows on the Ship
The dance production crew on a ship are supremely talented and put on several shows throughout the cruise. On top of that, the entertainment crew also puts on features — most notably the "Newlywed" game that's always good for laughs. There are productions every night of the cruise, usually at 7:30 and 9:30 so that you don't miss a thing. In the evening these are the main highlights of things to do and a fun way to spend your time before or after dinner.
Talk With the Staff About Excursions
This article is purposely focused on the things you can do on a Carnival ship, but there is a lot of fun off of it too. We suggest taking an excursion to get out and explore wherever you are in port. They can offer a way to do things that you'd never be able to experience back home.
If you aren't sure which one is right for you, go talk with the team at the shore excursions desk. Here you can get all the ins and outs of each experience and pick the perfect one for you. You can also book the excursion you want to do.
Watch (or Compete in) the Hairy Chest Contest
One of the fun things the Carnival has cooked up during sea days is the hairy chest contest. Imagine eight of the biggest, burliest, hairiest passengers all stripping their shirts and dancing to win the crown for the contest. The contest takes place poolside during the early afternoon. Be sure to grab a spot to watch earlier as the entire ship will be there.
Pour The Least Expensive Beer We've Seen on a Cruise
It's no secret that cruise lines make money on selling drinks on the ship. It's common to pay $6-7 for a beer and upwards of $9-12 for a cocktail. So when there is a deal to be found, you should pay attention.
On newer Carnival ships, there is a self-serve beer tap serving a house-brand beer and Bud Light. You simply tap your key card and are charged by the ounce you pour. The price comes out to about $4 for a beer — making it the cheapest we've seen on a cruise ship.
Have a Relaxing Soak in One of the Hot Tubs
There's a lot of talk about the pool on a cruise, and it is one of the main focal points on board. But don't forget about the hot tubs. There are several on the ship, including ones in the Serenity adults-only area and near each pool. Have a dip and let the heat and bubbles massage away the soreness in those tired muscles.
Chat With Family on the Carnival Hub App
The Carnival Hub App is a nifty program that has all sorts of information about your cruise, including the ship's deck plan, a list of what's going on during the day… and even the ability to order pizza. The app is free to use, but there is also a chat feature that costs $5 per person.
Pay your $5 for the entire cruise and you can chat with other people on board. It's a cheap and simple way to keep in touch with the rest of your traveling party so you can let them know you're poolside and will meet them for dinner at 7.
Get All Fancy for Elegant Night
Elegant nights take you back to the earlier days of cruising. These days things are a bit more casual, but elegant nights are still fun for many people. On a seven-day cruise there will normally be two elegant nights. Shorter cruises will have one. You can dress up as much or as little as you want, but if you are planning to dine in the main dining room, then it's best to get dolled up. If you're not sure what to wear, you can read our guide here.
Try a Drink from Every Bar on the Ship
Keep your wits about you, but you can do a bar crawl across the ship if you're so inclined. There are normally a ton of places to get a drink — more than a dozen in many cases — so be sure to pace yourself over a couple of days. But if you're looking for a way to spend your days at sea, try a sample from each bar on the ship.
Win a Contest on the Ship
We've talked about trivia and the hairy chest contest. There are a lot more contests for everything from free-throw shooting to ping-pong. Try your hand at whatever you're good at and do your best to win first place. Carnival gives away a famous "ship on a stick" (a golden cruise ship trophy) that you can always keep to remember your vacation.
Really Relax in the Serenity Adults-Only Area
There's no shortage of topside places to relax on the newest Carnival ships, including multiple pools and hot tubs. But the Serenity Adults-Only area is among the most relaxing areas. First no kids are allowed. But even better is that we think many people either don't know about the area or simply want to be where the action is.
In our experience there are drastically fewer people here than poolside. That gives you some nice peace and quiet. There are also private clamshell loungers and hot tubs to relax even more.
Check Out Your Photos in the Gallery
On your cruise you will likely take several photos with the roving photographers on board. There is the embarkation photo, along with elegant night pictures and also snapshots of your time aboard the ship. Head to the photo gallery on the ship to check out your pictures. If you like them they can be purchased as a souvenir. It's also fun to check out other people's photos too!
Try Your Hand at Shuffleboard
Think of shuffleboard and you might think of retirees in Florida. But truth is that it's a fun game for all ages and every cruise ship has a couple of spots to play. They are usually located on the lower decks where the walkway wraps around the ship. Grab a couple of sticks and some pucks and do your best to score points while knocking your competition's discs out of the way.