Royal Caribbean drink packages definitely have their fans. But are they worth it? And what should you know before you buy?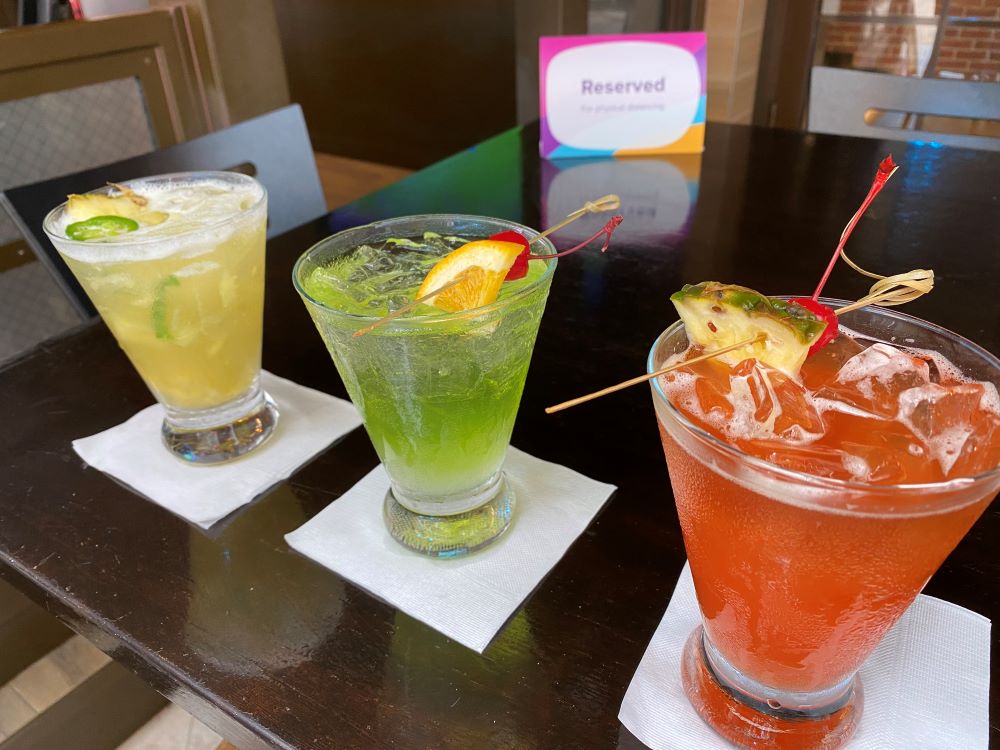 If you're about to set sail, you likely have pictured yourself on the ship — hanging out poolside, drink in hand, soaking up the sun.
Or maybe you're thinking about dinner in the dining room, eating a fabulous meal while enjoying a tasty glass of wine. Or you could be thinking about playing the slot machines in the ship's casino while enjoying a cocktail.
Are you starting to see a theme? Drinking on a cruise — alcoholic or otherwise — is a favorite pastime. Bars are everywhere. It's common to have a dozen or more across a modern cruise ship.
Of course, those drinks can add up quickly. For instance, a beer on a Royal Caribbean ship runs about $8, plus gratuity. A cocktail is usually $14. Have a few of those each day and you can easily be hit with an eye-raising bill for hundreds of dollars at the end of your cruise.
That's where drink packages can help. The concept on the surface is simple. Pay one set daily rate and you can drink pretty much whatever you want on the cruise ship. However, the fine print and rules surrounding the packages can get confusing.
Below, we explain everything you need to about Royal Caribbean's drink packages, including the most important question: Are they worth the money?
What Drink Packages Does Royal Caribbean Offer?
Thirsty? On a cruise ship we all are, and Royal Caribbean has a drink package to help.
There are three packages currently offered, but only one alcoholic drink package. While we explain all three packages here, we'll focus mainly on the alcoholic package in this article.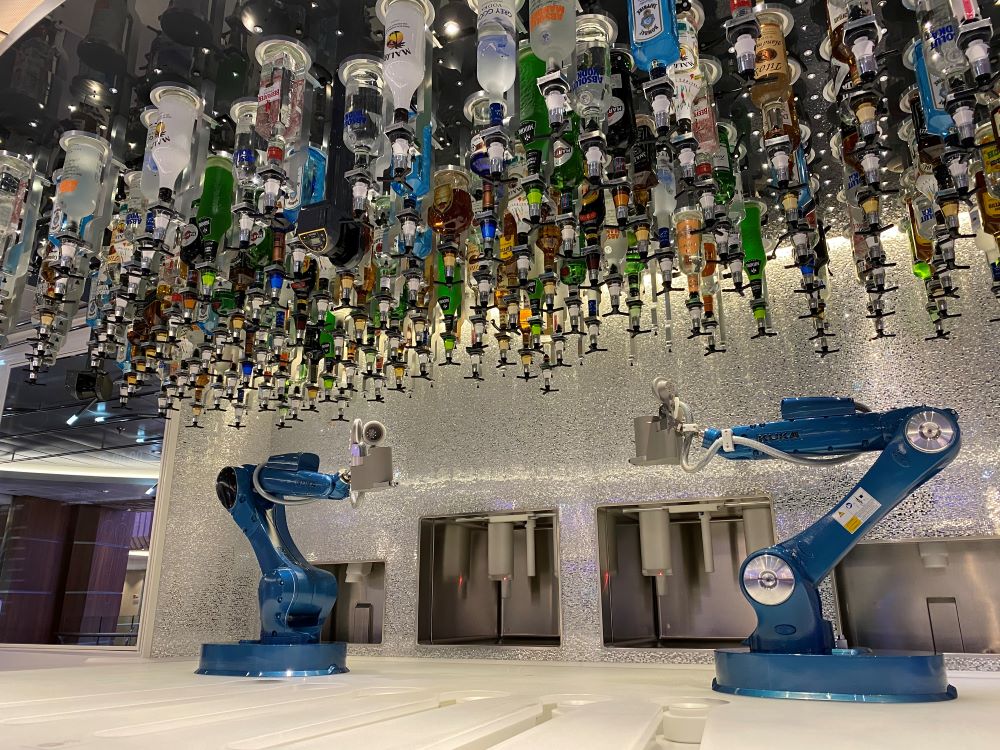 Deluxe Beverage Package: Royal Caribbean's main drink package is the Deluxe Beverage Package. Pretty much if it's on the ship and can be drunk in a glass, then it's included in the package. This includes cocktails, beers, wine, coffees, teas, juices, bottled water, and sodas.
Now, the package doesn't include room service or mini-bar items. One other quirk is that drinks above $14 per glass (before gratuity) aren't included. Thankfully, the vast majority of drinks you find on the ship are at or below this limit, so it's not really an issue.
Refreshment Package: If you want beverages but aren't interested in alcohol, then the Refreshment Package may be for you. This package offers everything in the Deluxe Beverage Package, except for the alcoholic drinks. So you can get your waters, soda, juices, coffees and teas, and even mocktails. As a result, the package is much less than the Deluxe Beverage Package.
Classic Soda Package: The least expensive package that's offered from the cruise line is the Classic Soda Package. As you might guess, it gets you unlimited soda during your cruise. Things like bottled water, juices, and alcoholic drinks aren't included. Royal Caribbean serves Coca-Cola products on board its ships.
How Much Does Royal Caribbean's Drink Package Cost?
We mentioned earlier that while drink packages are simple to understand, the fine print behind them can get confusing. Case in point is the price of the drink packages. Instead of just having one set price, each drink package offers different prices, depending on your ship and the trip.
Note that Royal Caribbean doesn't even post price ranges for the packages anymore. Instead, you have to wait until you book your cruise to see what the drink package price will be for your specific cruise.
Here are the recent prices we saw from a Royal Caribbean, but keep in mind they are subject to change:
Deluxe Beverage Package: $94 per person, per day, plus 18% gratuity ($70 plus gratuity if booked ahead of time)
Refreshment Package: $36 per person, per day, plus 18% gratuity ($28 plus gratuity if booked ahead of time)
Classic Soda Package: $13.50 per person, per day, plus 18% gratuity ($9 plus gratuity if booked ahead of time)
These figures should give you a ballpark. After you book, you can login to your account on RoyalCaribbean.com to book activities and packages for your cruise. There you can find the cost of the drink package for your particular cruise, as well as any discounts for booking the package early, like what we saw:
What's Not Included in the Drink Package?
Obviously each package has different features and what's included. For the wide view, the Deluxe Beverage Package focuses on alcoholic beverages, providing nearly all drinks except for a few cases. The Refreshment Package offers the same drinks as the alcohol package, but without the beer, wine, and liquor. Meanwhile, the Classic Soda Package only includes soda.
As for exclusions, the following are the special exceptions that aren't included in the alcoholic drink package. (This also means they aren't included in other packages as well.):
Drinks from Starbucks stores on ship
Room service beverages
Mini-bar items
Specialty beers
Beverages more than $14 per glass
Duty-free shop bottles of liquor
How Do I Buy the Drink Package?
Royal Caribbean makes it easy to buy the drink packages. You can purchase it one of three ways:
Call the cruise line and have it added to your trip before you sail
Manage your account online and buy the package before you board
Wait until you board and visit one of the tables signing up passengers for packages on the first day of the cruise.
We suggest buying online ahead of time as there are often discounts for doing so. As well, you can start using the package immediately when you get on the ship.
If you wait until you board, you'll see tables setup around the ship offering the package. You can also head to a bar and they will direct you on how to purchase the package.
What If I Order a Drink Over $14?
The bad news is that Royal Caribbean limits the beverage package to those drinks with a menu price (before gratuity) of $14 or less. So what if you order a more expensive drink?
If you have the drink package, you'll get $14 off the price. For example, a $17 drink will see a $3 charge to your onboard account if you have the beverage package.
What About Gratuity on Drink Packages?
If you were to order a drink from the bar without the drink package, you'd get a receipt for the drink and see an additional 18% gratuity tacked on. So a $14 cocktail actually costs you $16.52. This gratuity is automatic and can't be avoided.
It's similar with the Royal Caribbean beverage package. In addition to the daily fee that's charged, there is an 18% gratuity that's also charged. So if your drink package is $70 per day, you'll actually be charged $82.60. A drink package costing $90 would total $106.20.
Note that gratuity is charged on all the packages, even if you are getting one without alcoholic drinks included.
The good news is that when you buy a drink from the bar, you don't have to worry about the gratuity being tacked on again. With the 18% charge on the drink package, it's already included when you order from the bar.
Note that there will be a line on your drink receipt for additional gratuity if you are feeling generous, but it's not required.
Can I Get the Drink Package for Cheaper?
Often you can get deals on the packages. The key is to book them online, ahead of your cruise. We've seen heavy discounts, such as buy one, get the second drink package 50% off. The deal isn't always this big, but it's usually a considerable savings.
If you know that you're going to buy the package, we suggest buying online ahead of time for a discount.
There will often be discounts when buying on board as well (including up to 50% off a second drink package), but it's nice to be able to do the math behind the cost at home. Otherwise you have to figure it out on the ship since Royal Caribbean's prices and discounts can vary.
How Much Are Drinks Without the Package?
If you're weighing whether or not to get the Royal Caribbean drink package, then knowing the menu price for beverages is helpful. While prices will vary based on what you want to drink, here are some general prices to expect:
Beers: $7.50-$8.00
Cocktails: $14.00
Wines (by the glass): $8.00-$14.00
Zero-Proof Cocktails: $7.00
Soda/Juices: $3.50
All drinks will also have an additional 18% gratuity added in.
Do All Adults Have to Buy the Drink Package If One Does?
So what if one person traveling wants the drink package but the other doesn't?
Royal Caribbean requires all adults in a stateroom to purchase the Deluxe Beverage Package (which includes alcoholic drinks) if one person does.
This rule is likely in place to prevent sharing between people staying in a room. For instance, a husband might get the drink package and provide his wife with "free" drinks during the cruise.
But it does bring up a good question for many people. What if one person doesn't drink, or doesn't drink much? In most cases, you'll still need to buy two alcohol packages (assuming two adults in a room) if one person buys it. You'll want to factor this into your budget.
In our opinion it's still worth a call to the cruise line if you really don't want two packages or have a circumstance where one person can't drink. There is a chance they can be lenient on the policy, especially if there is a strong reason why one person doesn't want the package, such as a wife that's pregnant, or someone who isn't allowed alcohol due to health issues.
Can I Buy the Royal Caribbean Drink Package for Individual Days?
No. Part of the rules of the drink packages is that you must purchase them for the entire trip. So if you are sailing on a 7-day cruise, then the package is sold only on the basis of seven days.
Keep this in mind when you're deciding if it's worth it for you to buy. If there are days that you're in port or simply days where you don't feel like having drinks, then you are still charged for the drink package.
Can I Share Drinks?
No. One of the big rules of the drink package is that you aren't allowed to share your drinks with someone else. We're not saying you can't give someone a sip, but it's against the rules to order a drink and then pass it off to someone else.
How will the cruise line know?
To be honest, it's tough to enforce unless you are glaringly obvious. Even so, you're most likely to share with someone that's in your cabin. In that case, they will have already bought the drink package as Royal Caribbean requires all adults in the cabin to buy the package if one person does.
How Many Drinks Can I Buy With the Package?
While some cruise lines put a limit on the number of drinks you can get with the package (Carnival has an alcoholic beverage limit of 15 per day), Royal Caribbean has no such limit at this time. Have a screwdriver with breakfast, enjoy drinks by the pool, and have a margarita as a nightcap. It's all included.
One thing to note is that if you are obviously intoxicated, don't be surprised if you are cut-off. Cruise lines are in the business of making sure everyone has a good time, but they reserve the right not to serve if the circumstances warrant it.
How Many Drinks Can I Order at Once?
Royal Caribbean only lets you order one drink at a time with your drink package. Even though you can get your fill of drinks, you can't order multiples at once. According to the company's website, additional drinks will be charged at the full menu price.
In reality, we have heard of some bartenders being more relaxed. For example, one person heading up to get two drinks — one for them and the other for the other person in the cabin that also has the drink package. Most of the time, however, it was one drink per person.
Does the Drink Package Work on CocoCay and Labadee?
Royal Caribbean's CocoCay has been a huge hit since the cruise line revamped the island. One of the great perks is that the drink package, which normally only works on the ship, also works on the island. You can use it there just as you would on board.
This perk really helps you get your money's worth as in most ports you can't use the drink package on land. The package also works on Labadee, another Royal Caribbean port.
Is Royal Caribbean's Drink Package Worth It?
Before you ever buy an alcoholic drink package — from Royal Caribbean or any cruise line — we always suggest that you run the numbers behind buying. Truth is, for some people the packages are well worth it. For others, they end up paying way more than they would if they just bought individual drinks.
We've put together a Drink Package Calculator here than can help you do the math and see if the package is a smart buy for you. Simply enter the number and type of beverages you think you'll drink each day, and you can compare that amount to the cost of the drink package offered on your cruise.
When you do run the numbers, we suggest you factor in a couple of things to see if the package is worth it.
First, you need to think about how you will drink while on vacation. For some people, they have no problem drinking every day of a vacation. Others may have a couple of nights where they let loose, but enjoy having breaks in between. With the drink packages, you're paying for the package every day of the cruise — even when in port or on days where you don't get drinks at all.
For people who plan to spend a lot of time in port (off the ship) or simply don't drink every day, it can be difficult to get the value from the package. But if you're someone who likes to have drinks each night, then you'll often find it can work in your favor. This seems to be the case on shorter cruises where it's easier to keep the party going versus week-long trips.
Second, remember the rule that all adults have to purchase the drink package if one adult in the cabin does so. If your traveling partner doesn't drink that much, then you're essentially paying for two drink packages for only one person. In this case, it's going to be hard to get your money's worth out of the package.
Finally, factor in any discounts. Royal Caribbean makes it a little difficult to plan as drink package prices can vary widely depending on your specific cruise. As well, discounts also vary. A popular offer is buy one, get a second package 50% off.
So instead of working from one price to figure out if you'll drink enough to make the package worth it, you have to see the cost of the drink package for your specific cruise, plus any discounts you may get.
Bottom line: Drink packages can be completely worth it for some passengers. For others, they aren't such a great deal. That said, be sure to do the math (check out our Drink Package Calculator here) and make the right choice.