Miami is known as a tourist mecca. Of course, there is the cruise industry with millions of passengers heading to South Florida every year to set sail. But from its famous beaches to sporting events and more, Miami is a tourist destination all its own.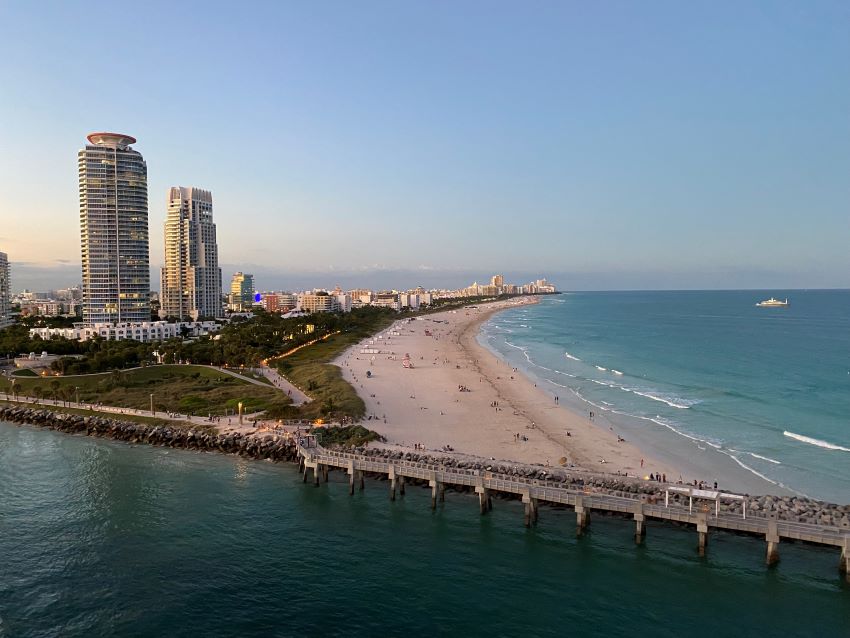 That's good news if you are looking for an inexpensive Miami hotel. With so many people coming into the area, there are hundreds — if not thousands — of hotels. That means there is a lot of competition for your business, driving down prices and making Miami a surprisingly affordable place to stay, if you know where to look.
Case in point: We've found more than a dozen hotels below that are close to the Miami cruise port, get good reviews, and are priced affordably. For a recent search, all of the hotels below were priced under $150 a night, with some starting much less. Keep in mind, however, rates will vary.
And don't think that because they are inexpensive that these are bottom-tier hotels. We've only included hotels rated close to 4.0 stars or above by Google.
That makes these finds ideal if you're wanting a convenient and affordable spot to stay the night before your cruise.
To be sure, prices for these hotels can change depending on your specific travel dates. Click the links below to read reviews on Kayak. We've also mapped all the hotels listed below.
More Hotel Ideas: You can also click here to see hotels with shuttles to the Miami cruise port or see "Park and Cruise" hotels in the port area.
Note: This article contains affiliate links to Kayak. We earn a commission for clicks made on their website, at no charge to you.
Inexpensive Miami Cruise Hotels Near the Port
Novatel Miami Brickell
When it comes to convenience, style, and affordability, it's tough to beat the Novatel Miami Brickell. the hotel is just south of the cruise port, right near the free Coral Way Trolley that visits the Port of Miami. As you'd expect in this area of town, it's also trendy (complete with rooftop pool), with great views of downtown. Despite the great reviews, prices are affordable, at roughly $150 per night during a search for a Saturday night stay.
Distance to Port: 3 miles
Review Rating: 4.5 out of 5
CitizenM Miami Worldcenter
The CitizenM is just across the causeway from the cruise ships… in fact, you should be able to see them from the rooftop pool that looks over the Kaseya Center (where the Miami Heat play) and then the port just beyond. The decor is fun and stylish, including lots of public space that may make you never want to head to your room. While the hotel is new, the reviews are great, earning a 4.5 out of five stars. And while it won't surprise us to see higher rates, we did find a Saturday night stay just under $150.
Distance to Port: 1 mile
Review Rating: 4.5 out of 5
The Balfour Hotel Miami Beach
Think "Miami" and you likely picture South Beach. The cool spot with art-deco architecture is a must-see and not that far from the cruise port. The Balfour Hotel sits on the southern end of the beach, putting you even closer. Of course, it offers that art-deco style and has been around since 1940. From here, you're just one block from the ocean and walking distance of tons of restaurants, including the famous Joe's Stone Crab.
Distance to Port: 5 miles
Review Rating: 4 out of 5
The Goodtime Hotel
In a town filled with beautiful spots to stay, The Goodtime Hotel might take the cake as one of the most gorgeous. It's a newer spot in South Beach, with a large rooftop pool club and just a couple of blocks from the beach. The Goodtime is the brainchild of musician Pharrell Williams and David Grutman, the founder of LIV nightclub at the Fontainebleau. The hotel walks the line between having fun, lively spots and much more calm and quiet areas. But it's likely your stay will be unforgettable.
Distance to Port: 5 miles
Review Rating: 4.5 out of 5
Chesterfield Hotel & Suites
If you want classic South Beach before you cruise, this is it. It's located in the heart of everything the area has to offer, including being one block from the beach. The hotel itself is a relatively small boutique spot with the required art-deco architecture. Simple, clean, affordable — and in a fantastic location to enjoy yourself before your sail — it's hard to beach this spot. One thing that's missing? There is no hotel pool.
Distance to Port: 5.5 miles
Review Rating: 4 out of 5
SpringHill Suites by Marriott Miami Downtown/Medical Center
To be sure, no one gets too excited about staying at a hotel convenient to a medical center. But this spot is highly rated and affordable, and it's not far from the cruise port nor the airport. It's also a good idea if you're traveling with a family as the suites offer more space for everyone. On cruise day, you're just a 5-10 minute ride to the port.
Distance to Port: 3 miles
Review Rating: 4 out of 5
The Clinton South Beach
Another South Beach option, The Clinton is just a couple of blocks back from the famous white-sand beach and just 15 minutes from the cruise ships. The Clinton is a boutique hotel (as many are in this area) that is a great mix of retro and modern. If you're looking for cozy and tropical without breaking the bank — or staying at a chain — then you can do much worse than The Clinton.
Distance to Port: 6 miles
Review Rating: 3.5 out of 5
Hampton Inn & Suites Miami Midtown
Hampton Inn may not be the first thing you think of when you picture Miami, but they offer a ton of locations and a reputation for quality. This location is deep in the heart of the city, just a few miles from the cruise port and right near Biscayne Bay. Within minutes you can be at the port, or South Beach, or downtown. No wonder it earns such great reviews.
Distance to Port: 3.5 miles
Review Rating: 4.5 out of 5
South Beach Hotel
The spot is between the Miami Beach Convention Center and the actual beach, putting you in the middle of everything. You can be at the port in about 15-20 minutes, you're right across the street from a park, and there are plenty of restaurants nearby.
Distance to Port: 6 miles
Review Rating: 4 out of 5
Eurostars Langford Hotel
The Langford is a modern, upscale hotel with a strong call to the city's Art Deco roots. Stylish and unique, there are cool touches abound, like the herringbone wood floors in the rooms. It's definitely a more memorable stay than bedding down a mega-chain hotel. Located about 10 blocks from the port entrance, you'll need a ride to the cruise ship. However, the ride will be only a few minutes and considering the great price you can get for the hotel, it won't hurt your wallet too hard.
Distance to Port: 2 miles
Review Rating: 4 out of 5
YVE Hotel Miami
Modern, hip and trendy can all be used to describe YVE Hotel. Think Miami nightclub meets hotel. But that would fail to to mention how great the location is. The hotel is on Biscayne Boulevard, just across the street from Bayfront Park and the entrance to the cruise port. The bright building and rooms will definitely let you know you are in Miami, as will the stunning views of the water available from the high-rise hotel.
Distance to Port: 1.5 miles
Review Rating: 4 out of 5
Aloft Miami
Aloft Hotel is a national chain of trendy urban hotels and the Miami edition doesn't disappoint. The hotel is about 10-15 minutes from the cruise port on the southwest side of downtown. Just a short walk away are tons of restaurants and the Brickell Metromover Station. If you're looking for water views, then another hotel may be a better option. However, Aloft is highly rated on Google, earning 4 out of 5 stars — all for less than $150 a night in some cases.
Distance to Port: 3 miles
Review Rating: 4 out of 5
Hilton Garden Inn Miami/Brickell South
If you want to stay near the port, but outside of the busy downtown area, then Hilton Garden Inn may be perfect for you. The hotel sits about 15 minutes from the port. It also has has a very "Miami" feel, including a resort-style pool with lush landscaping and cabanas. It's a great choice for those who want somewhere stylish and contemporary to stay before their cruise.
Distance to Port: 4.5 miles
Review Rating: 4 out of 5