Think of a cruise, and you might picture sitting on a cabin balcony, sipping a drink, and watching the waves go by. It's a classic staple of taking a cruise.
Cruise ship balcony cabins are popular, and for good reason. They provide your own little oasis, away from the rest of the ship, along with million-dollar views that you simply can't get on land.
But before you drop the money to book that balcony, there are some things you'll want to know about sailing in this type of cabin.
Note: This article contains links to our partner, Cruise Critic. We earn a commission for clicks made on their website, at no charge to you.
Balcony Cabins Are Often Larger (Even Without the Outdoor Space)
Of course the biggest perk of a balcony cabin is having the outdoor space; that's no argument. But one thing you might not realize is another perk — balcony cabins are normally larger than non-balcony rooms.
For instance, an interior cabin on a ship might be 140 square feet in space, while a balcony cabin might be 170 square feet, plus the additional outdoor space. Of course, the figures will change from ship to ship, but you can expect to see the trend on many cruise lines.
For example, you can see the difference on this Royal Caribbean cruise aboard Navigator of the Seas where the balcony room is considerably larger than an interior even before the balcony space is added in:
The Rooms Are More Expensive (50%-100% Over Interior)
We all understand that a balcony cabin is also going to come with a higher price tag. What you might not realize is that the increase can vary widely. Pricing will vary ship by ship and even down to the specific cruise.
Instead, you should just anticipate the price difference between a basic bare-bones interior cabin and a balcony room. In our estimation, it seems to run between 50%-100% more for a balcony cabin.
So if a 7-day cruise for an interior cabin is $500 per person, expect a balcony to be between $750 and $1,000.
You can check prices for balconies versus interior cabins for specific cruises with our partner Cruise Critic, here.
You'll Likely Use the Balcony Less Than You Think (But It's Still Wonderful to Have)
If you are considering booking a balcony cabin, you might picture yourself sitting out and taking in the view for hours on end each day. The reality is a bit different.
Yes, you definitely can do that if you want to, but you might be surprised at how little time overall you actually spend there. Between activities around the ship, mealtimes, and being out in ports of call, the amount of time to actually just sit and do nothing is less than you think, unless you make it a priority.
All you have to do is take a look at a ship in port and see how few people are actually out on the balcony. It seems what's more common is to sit occasionally and other times simply popping out for a few minutes to take in the view before heading off to do something else.
Even so, being able to have that outdoor access to take in some fresh air and a view is still a great thing to enjoy, even for a short bit.
Balconies Themselves May Not Be That Large
When you think of your balcony, maybe you think of a large area where you can lay out and get some sun, or enjoy a meal sitting at a table. The reality is somewhat different. Balconies will vary in size, but for the most part they are relatively small.
While they are the width of the cabin — usually around 8-10 feet, the typical balcony doesn't offer much depth. We'd estimate about 4-5 feet. There's enough space for a couple of chairs and a small table between, but that's about it.
That's not to say you can't find larger balconies on the ship — there are some large enough in some high-end cabins to have their own hot tub — but in general the space is modest.
These Rooms Are Great for Longer Trips (6+ Days)
We're strong believers that on a short cruise of five days or fewer, you can get by without having a balcony cabin. On a short trip, between everything to do on board and being in ports of call, the amount of time you'll take advantage of the balcony is relatively small. It's nice to have, but not a must.
On trips longer than that, the amount of "downtime" you have increases. That means more time to take advantage of the balcony space. As well, on longer trips simply having access to some fresh air and natural light in the cabin is a major benefit. (See cruise offers for trips of 6 days and longer here.)
Light/Late Sleepers Might Have Issues
If you're a light sleeper — or you like to sleep in — then a balcony room actually might have a disadvantage. You see, with one of these cabins the end of your room is essentially a wall of windows with a glass door that leads out. It's wonderful for views, but can also be bright.
There is a blackout curtain that you can pull to close off the light coming in, but even then there will normally be light around the edges on the sides, top and bottom. The result is that even if you try to make it as dark as possible, there's going to be some light entering the room in the mornings. So if you had a late night and want to sleep in, it could be enough to disturb you.
Infinite Balconies Are a New Style on Some Ships
As of now, most balcony cabins are a traditional style where you have the cabin, and then a door that leads out to the outdoor balcony. But some newer ships are changing that style with a few rooms.
Dubbed an "infinite balcony," this style makes the balcony and the cabin one space. At the end of the cabin you'll have a full window wall instead of a door leading outdoors. The top half of this wall slides down, essentially like a large horizontal window. With the window up, you have all the space of the cabin and balcony to enjoy indoors. With the window down, it's as if your entire cabin is now the balcony as it's open to the outside air.
Your Balcony May Not Be Private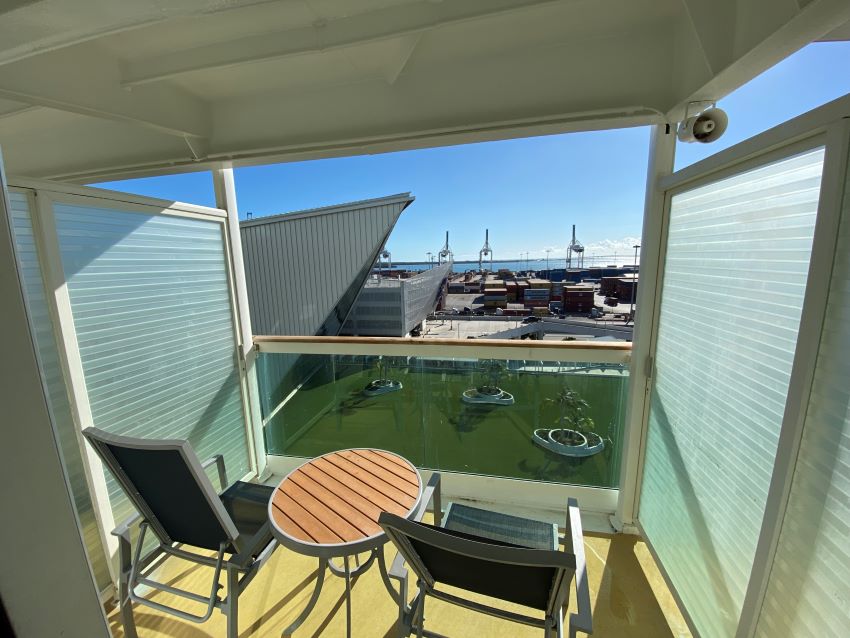 To be sure, there is a lot of privacy to your own balcony. Traditionally, there are dividers on either side of you, meaning that you won't have your neighbor staring at you if you both decide to sit outside at the same time.
But don't think it's completely private. For one, any sound will travel. So if you and your neighbors are both sitting outside, you will hear each other talking.
Meanwhile, the dividers usually leave gaps around the bottom and the edges, so just passing in and out you might catch sight of someone else, similar to a stall in a restroom.
All that's to say if you were thinking about getting some sunshine where the sun don't shine or maybe getting frisky with your significant other in the fresh air… you might want to be careful that others don't catch a glimpse.
To search for a deal a balcony cabin, you can find the latest offers with Cruise Critic, here.
More on choosing a cabin: