Carnival Cruise Line is one of the largest brands in North America, sailing from ports all over the United States to destinations in the Caribbean, Bahamas, Alaska, Canada, Mexico, and Hawaii. Put simply, if you want to take a cruise from a port near you, then there is a good chance that Carnival either sails from there or sails to there. (More recent ventures into Australia and Europe also give it global reach.)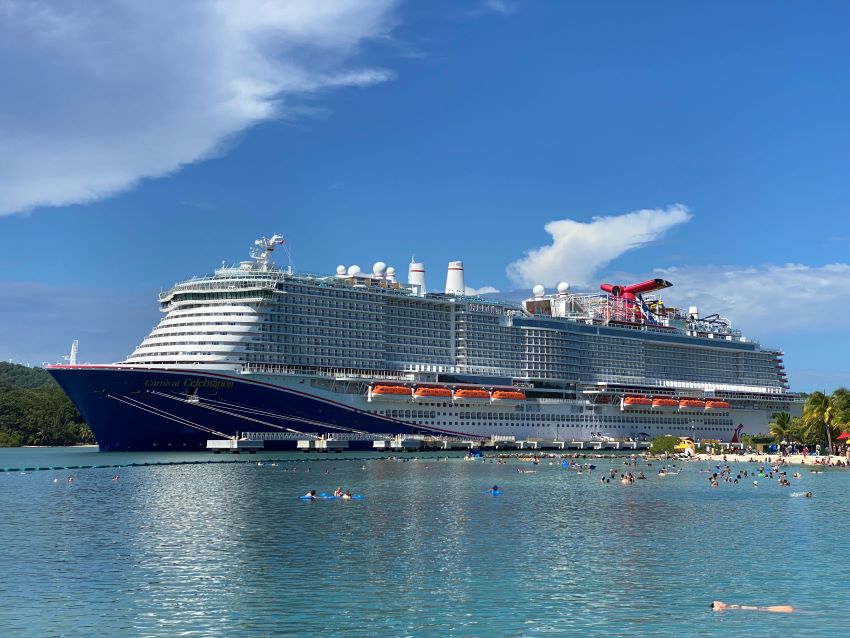 Millions of passengers every year set sail on Carnival ships, and nearly all of them have a great vacation that they will remember for a lifetime. In total, the cruise line's roughly two dozen ships sail thousands of trips throughout the year.
As one of the most popular cruise line in North America by number of passengers and sailings, Carnival offers a wide appeal. Whether you are a couple looking for a romantic getaway… or a family seeking to spend a vacation together… of just friends hoping to let loose for a few days on a girls' trip, the line has something you'll enjoy.
Still, you might be wondering if Carnival is the right cruise line for you. Or maybe you simply have never sailed the line before and want more of an idea on what you can expect. No matter the reason, below we've covered everything you could ever want to know about taking a cruise on Carnival.
And if we haven't covered something you want to know? Let us know in the comments below.
Overview of Carnival Cruise Lines
Based out of Doral, Florida (a suburb of Miami) Carnival is what is known as a "mass-market" cruise line. While some companies try to appeal to niche audiences, Carnival tries to appeal to everyone. That means you'll find a wide range of things to do that are for people of all ages and interests.
If you want a cruise line that caters only to people just like you, this isn't it. From food to entertainment to activities, expect a number of things that will appeal to you… but also some that may not interest you at all.
Of course, having wide appeal means you'll find all sorts of passengers on the ships. Ages range from 1 to 100, with families well represented. You'll find couples getting married… couples celebrating honeymoons… couple celebrating 50th anniversaries. You'll find those celebrating birthdays. You'll find passengers just looking for a vacation for the family. And you'll find everything in between. During the summers you'll see more families sailing while longer cruises during the school year tend to draw older passengers.
Carnival's fleet ranges the gamut from older, smaller ships to brand-new megaships that can measure the length of a city block and have roughly 20 decks. Like most cruise lines, Carnival is trending toward larger ships, with the introduction of its Vista-class (Carnival Vista, Carnival Horizon, and Carnival Panorama) ships a few years ago and the arrival of its largest ships ever — Mardi Gras, Celebration, and Jubilee.
For more specific details on Carnival and what it's like to sail, keep reading.
Atmosphere of a Carnival Cruise
The cruise line's famous motto is "The Fun Ships." In other words, if you're expecting a stuffy, luxury-focused liner with caviar and champagne, this isn't it.
Instead, like most cruise lines in this corner of the market, the overall atmosphere is relaxed, warm, and fun. Hang out poolside on the first day and you'll see the energetic staff leading line dances to help people let loose a little bit. Most restaurants are casual where you can get a bite to eat without having to worry how to pronounce half the menu.
In general you'll find the staff friendly and warm, always ready to share a smile or laugh at a joke. If you're thinking of a rigid "maître d" type that looks down his nose at you… or a bartender who acts like you're an annoyance instead of a guest… you won't find it on Carnival.
The ship décor also lends to the atmosphere on board. Some cruise lines aim to outfit their ships with luxurious and elegant décor. Carnival aims to make things nice, while also being warm and inviting. For example, instead of dark wood and shiny brass, interior spots on Carnival ships often look bright, often with lots of color.
Many spots include bright colors (even neon on some ships) that liven things up. Or select a Havana room on Carnival's newer ships and you'll be greeting by a waving senorita painted next to your cabin door.
Meanwhile, your fellow passengers further help to make the atmosphere relaxed. You'll see that t-shirts and shorts are the dress of the day (except for formal night). And the mix of people and ages on the ship add some youthful energy to the crowd. Contests and events — especially those held poolside — are always fun and lively.
Luxury? No. But fun? Absolutely.
Price of Cruises
Perhaps no factor has been a bigger driver of Carnival's growth as one of the most-sailed cruise lines in America than price. Put simply, no other cruise line offers as many sailings for as low a price as Carnival.
Whether looking for a quick 3-day getaway from Miami or a 7-day cruise from Galveston (and everything in between), it's likely that Carnival will offer one of the lowest prices around. In fact, many times you can find cruises for less than $70 a day for the per-person price for an interior cabin. Trips under $120 per day, per person are just about everywhere. You can read more about the cost of a Carnival cruise here.
That's not to say you can't find deals on other lines. In general, however, Carnival comes in less expensive on many cruises. The best news for passengers is that those low prices apply not only to the cruise fare, but also once you board.
Let's take the drink package, for instance. Carnival offers the CHEERS! package, which provides up to 15 alcoholic drinks per day for one set price. Other cruise lines have similar deals, but Carnival's package is one of the cheapest. The per-day price for CHEERS! is $64.95 (discounts are available if bought before you sail). Other cruise lines charge up to $109 per day for this sort of offer.
You'll find the same sort of lower prices on everything from Internet to specialty dining. Bottom line, you can be confident if you're looking for the best deal that any sailing from Carnival will offer lower prices both on your cruise fare and once on the ship.
Ports of Departure
In the same way that Carnival has beat the market on cruise prices, it has also set the bar in ports of departure. In fact, the line sails from more departure points than any other competitor.
Carnival has worked hard to put a port of departure within driving distance of hundreds of millions of people. Underserved ports like Norfolk and Charleston put cruise ships near people who would otherwise have to travel much longer distances to go on a cruise.
Smaller cruise ports, such as Baltimore and Jacksonville typically have a single ship that sails. While this does give you an option if you live near these ports, the ships that sail are not the biggest and newest in the fleet. More recently the cruise line has added ships sailing from Australia and Europe, offering more departures.
If you're interested in sailing on Carnival's newest ships, then you'll want to head to a major cruise port such as Miami, Port Canaveral, or Galveston. These larger ports give you more options. Not only are there more ships sailing, but they also offer more routes.
Here is a full list of ports where Carnival has service in the United States:
Baltimore
Charleston
Galveston
Jacksonville
Los Angeles
Miami
Mobile
New Orleans
New York
Norfolk
Port Canaveral
San Francisco
Seattle
Tampa
The following ports also have departures outside the United States:
Barcelona
Brisbane, Australia
London
Rome
Sydney, Australia
Note: Carnival has taken over sister ships from Costa and now offers cruises on those ships under the Carnival name. This includes Carnival Luminosa and Venezia.
Ports of Call and Itineraries
Outside of their own private island destinations (such as Carnival's Princess Cays and Half Moon Cay), cruise lines largely sail to the same ports. So whether you pay more to sail a different cruise line, or go with Carnival, you'll usually see the similar ports of call.
Carnival sails all around the Caribbean, Bahamas, as well as trips to Mexico and Alaska, among others.
Trips leaving Florida ports will usually go one of two ways — either east to the Bahamas (often with stops in Nassau, Freeport, or other nearby ports) or to the southwest, which takes passengers to the Caribbean and Yucatan. Popular ports of call here include Cozumel, Jamaica, and Grand Cayman.
Sailing from the Gulf Coast (Galveston, New Orleans, or Mobile)? If so, then most routes head to the Yucatan and southern Caribbean. Ports of call include Cozumel, Costa Maya, Progreso, Roatan, and Belize. In Roatan, the ship docks at Mahogany Bay, a Carnival-dedicated port area exclusive to the cruise line.
Alaskan cruises on Carnival will depart from Seattle, stopping in Canada as well as several ports in Alaska. Sailing from Los Angeles usually means shorter trips to the western Mexico ports such as Ensenada.
Don't have much time to sail? In addition to classic 7-day journeys, Carnival is also a leader in shorter cruises. You can find many sailings aboard Carnival that are 3-5 days in length. This makes the cruise line perfect for those searching for an inexpensive getaway, without having to take too much time off of work.
Things to Do on Carnival
In recent years there has been an arms race of sorts among cruise lines pushing to have bigger and better things to do on the ship. In our opinion Carnival trails in this respect, especially what we consider the industry-leader in onboard activities, Royal Caribbean. But newer ships have made strides.
Let's first discuss some of "built-in" activities you'd find on many ships — those things that are part of the ship's actual structure and not part of the entertainment put on by the crew. The majority of these items are on or around the pool deck, but not all.
(See our article on things to do on a Carnival ship here.)
Pools
Of course, you can't even talk about cruising without talking about sitting poolside with a drink in your hand. Carnival ships all have pools, with the newer ships offering multiple. Note that given the weight of the water (and the location of the pools high on top of the ship), the pools are not huge given the number of people on the ship. They are still more than adequate to take a dip. Poolside is without a doubt the most popular place to be on sunny days at sea.
Serenity Adults-Only Area
Each Carnival ship also has a Serenity area for adults. This private outdoor spot is away from the crowds and no kids are allowed. Inside you'll usually find whirlpools, a bar, and plenty of private seating. This includes clamshell-type loungers perfect for cuddling up with a spouse. If you simply want a relaxing spot without all the people (or kids), this is it.
Waterslides/Waterpark
Ships will often have waterslides or even waterparks. No one would confuse these spots with massive land-based parks, but they are plenty for kids on a cruise. One thing to note is that for pools and waterparks your kids need to be potty-trained before they are allowed to use the area.
Bolt Roller Coaster
If sailing the newest Carnival ships (Mardi Gras, Celebration, Jubilee), then by far the most attention-grabbing activity is the Bolt roller coaster. The only coaster at sea, the ride takes you up to about 40 miles per hour around the top deck of the ship. It's a short ride, but the adrenaline will be pumping long after you finish.
SportSquare
The Carnival SportsSquare is an outdoor area offering a number of activities that are all game related. From mini-golf to yard games (bean-bag toss, soccer billiards, ping pong) to a ropes course and the SkyRide, there is lots to do.
It's definitely aimed towards kids and families, but people of all ages can enjoy themselves. For instance, the SkyRide is a sit-down bike ride that goes on a hanging track around the ship, offering stunning views of the ocean.
Casino
Just like a pool, every cruise ship you sail is going to have a casino. It's located on lower decks in the heart of the ship (so that it's never far away when you are doing some shopping or eating).
Cruise ship casinos are similar to what you'd find on land, but not exactly the same. You'll find all your favorite games, ranging from penny slots to roulette, blackjack, craps, and more. Often there are lessons for new players offered in the mornings. Limits are low (usually $5-10), making games approachable for all players. One thing to note is that the payouts for any cruise ship casino — not just Carnival — are usually low.
Cloud 9 Spa
Each ship you sail on Carnival will have a spa, with all sorts of amenities and treatments for you to enjoy. Whether you want a massage… or acupuncture… or a manicure… or any other service, you'll be covered. You can also buy a day pass to go enjoy the sauna, thermal beds, and more. While most activities on the ship are free, you will have to pay for any spa treatments you receive. Prices are higher than what you'll usually find on land, but that's the price you pay for treatment on the ship.
Fitness Center
Not everyone goes onto a cruise to exercise, but for many it's a routine they like to keep or it simply makes them feel a bit better burning off some of those buffet calories. You might picture a chain hotel "gym" when you sail, but cruise ship gyms are well-stocked and usually located in one of the best places on the ship.
Traditionally built with tons of windows looking out over the water, you can take in the gorgeous views as you run on the treadmill, do some aerobics, or get a workout on one of the many weight machines.
Camp Ocean Kids Area
A favorite of both kids and parents, Camp Ocean is Carnival's kids club on their ships. In effect, it's a place where you can drop your kids off (free of charge!) and let them have a great time while Mom and Dad enjoy their vacation too. There are separate groups within Camp Ocean, depending on the age of your kiddo. This way kids are grouped with similar ages and activities can be better suited to their age level. If you're a parent you should definitely take advantage of this free service to allow yourself some time to relax.
Arcade
Video games may not be your thing… but if you have kids they will likely love the arcade. Similar to the ship's casino, the arcade is just like you'd find on land, only smaller. There are shooting games, air hockey, skill cranes, and more. The arcades can sometimes be hard to find as they aren't that big and can be tucked away. Check out your specific ship's deck plan to see exactly where it is.
IMAX/Thrill Theater
Only available on a couple of newer Carnival ships, most people won't be sailing on a vessel that has an IMAX. Still, if you are on the Vista or Horizon then you can catch a flick at the only IMAX screens at sea. The costs are similar to what you'd pay on land and the theater shows new release movies. In addition, there is also the Thrill Theater, a theater with a platform of seats that moves with the action on the screen, along with other effects like wind blowing and water splashing.
Shopping
If you want to spend some money, you'll have no shortage of things to buy on the ship. There are stores for everything from duty-free alcohol and cigarettes to expensive watches and jewelry. You can shop for souvenirs, t-shirts, art, and more. Oh, and if you forget anything at home there will also be a small shop where you can get everything from a toothbrush to over-the-counter-medicines.
Nightclubs/Bars
What would a cruise ship be without bars? Carnival doesn't lack in this respect. No matter if you want a fun poolside bar (RedFrog Rum Bar) or a fancy high-end bar with craft cocktails (Alchemy Bar), you'll be covered. In addition there are also a number of clubs for you to hang out in the evening while you enjoy your drink.
Entertainment Put On by Staff
In addition to these things to do, there is also the entertainment put on by the cruise staff. This includes games and trivia during the day, contests (dancing, free-throw shooting, ping pong), production shows, game shows, movie screenings, and even late-night comedians.
For an idea of what you might expect, check out the lineup of activities from just one afternoon of a day at sea:
Carnival Ships
All told, Carnival's fleet of ships measures more than two dozen vessels and frankly, your vacation can vary widely with the ship that you sail.
Take the Carnival Elation. The ship was built in 1998. Coming in at about 70,000 gross tons, it is among Carnival's oldest and smallest ships. While's it's been refurbished (don't worry, you aren't sleeping on the same bed as someone who sailed in the '90s!), it's still going to be smaller and not offer many of the amenities of the newer ships.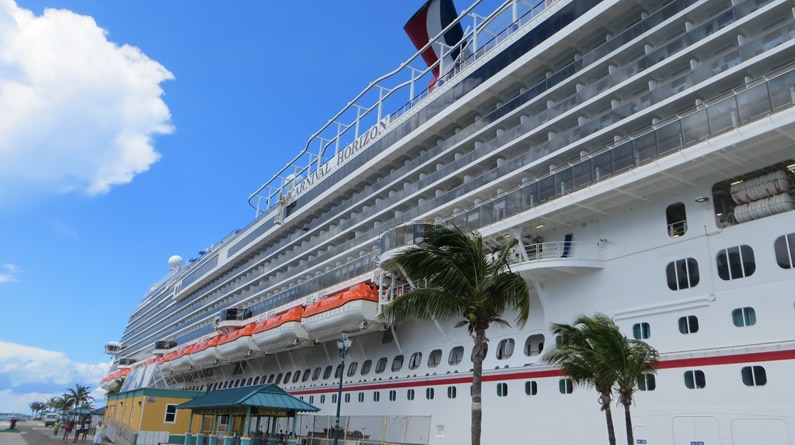 Compare that to Carnival's newer Vista-Class ships like the Carnival Horizon (shown above). These ships are about twice the size of the Carnival Elation… and have a lot more features. From way more restaurants to IMAX theaters to larger venues to spots like the Havana Bar, cabins, and pool area, the larger and newer ships have a lot more to offer.
And Mardi Gras, Celebration, and Jubilee — part of Carnival's Excel class, came to the fleet starting in 2021. It takes things even bigger. These vessels reportedly cost $1 billion to build, comes in at 180,000 gross tons and can carry 6,500 passengers at full capacity. They even has the only roller-coaster ever put on a cruise ship, along with several new eateries not available on the rest of the fleet.
Personally, we like to stick with newer ships (those built around 2010 and later). To us, these ships simply offer "more" of everything to passengers.
Cabins & Accommodations
Across more than two dozen ships (each with hundreds or thousands of cabins), the cabin experience can vary widely. In most cases, however, Carnival offers a consistent experience across most of its fleet. That means while they may not be exact, the rooms are somewhat similar.
The first thing you'll notice about most cabins is that they are small. After all, you are on a ship… no matter how large it might be. Most cabins are about 150-200 square feet. Two adults can share a room comfortably. With two adults and one kid, it's a tighter fit, but still manageable. Any more than that, and we'd suggest getting two cabins.
Interior
The least expensive cabin option, interior cabins are perfect for folks who want to save some cash while setting sail. It's also ideal if you are the sort of passenger who likely won't spend a ton of time in your room. Interior cabins are exactly as they are named. Located on the inner part of the ship, they don't have any windows or access to the outside. In short, it's a place to keep your things, take a shower, and sleep, but not much else. If you're interested in learning more about interior cabins, see our article here.
Oceanview
A step above interior cabins are oceanview rooms. These staterooms on Carnival offer one advantage over interior cabins — they have a window that lets in natural light and lets you see out. They typically cost a little more, but it's worth it for those who want to at least have a window in their room.
Balcony
Think of your cabin, and you likely picture a balcony room. While the inside part of the cabin is usually not that much different in size than an oceanview cabin, the addition of the balcony makes the room feel much larger as there is an extra space for you to enjoy. In addition to a great place to relax, the balcony offers essentially another room in the cabin so that you don't feel like you are cramped inside of four walls.
Suites & Special Cabins
If you want luxury, more space, or simply want some exclusive access to facilities, then Carnival has you covered.
First, you can get a suite. Larger and coming with perks like VIP check-in, suites are ideal for those that need more space or simply want a more luxurious experience.
In addition, Carnival has introduced a few new room options on some ships like — Havana rooms, Cloud 9 rooms, and the Family Harbor cabins.
Havana rooms are located in their own special area and have a Cuban-theme different from the rest of the ship. While the theme of the rooms might pique your interest, it's the exclusivity that many enjoy about the Havana cabins.
As a guest in one of these few rooms, you have access to an exclusive pool and bar; you wear a wristband to show that you're a guest with access. This means you have your own oasis with only a handful of other guests, away from the crowds found on the rest of the ship.
Cloud 9 Spa rooms are for those who love the spa experience. The cabins include amenities like priority spa reservations, unlimited use of the spa's thermal suites, special robes, treatment discounts, and more.
Family Harbor cabins are similar to Havana room in that they also offer their own theme (classic nautical, complete with lots of signal flags) and their own exclusive space. In this case instead of a pool and a bar area, it's the Family Harbor Lounge. This lounge is a dedicated space for families — featuring TV, video games, board games, as well as snacks and breakfast. If you want a spot where you're family can play together, this is it.
Food & Restaurants
What would a cruise be without food? In that area, Carnival is no slouch. In fact, among the mass-market cruise lines, it offers the most variety of free dining options. While it also has specialty restaurants, Carnival still keeps many of the most popular restaurants free.
Dining Included with Your Cruise Fare
You won't go hungry on your cruise, even if you don't want to shell out more for dining. Free options abound on the ship.
Guy's Burger Joint
By far the most popular free dining on the ship among passengers is Guy's Burger Joint. In collaboration with celebrity chef Guy Fieri, Carnival offers this hamburger spot across the fleet. Burgers are freshly made, along with tons of topping options and seasoned fries. Simply line up (it's by the pool) and get your lunch or early dinner. The only downside is that the restaurant is open only during the day.
BlueIguana
Serving both breakfast and lunch, BlueIguana is in the same area as Guy's Burger Joint — next to the pool. Here you can get free Mexican food favorites like tacos and burritos. Similar to Chipotle, you just let them know what you want in your tortilla. In the morning they also serve breakfast burritos.
Pizza del Capitano (or Pizza Pirate)
Depending on the ship you sail, the pizza parlor onboard Carnival is either Pizza del Capitano or Pizza Pirate. In essence, they are the same place. And while you might not expect a joint called Pizza Pirate to serve up good pizza… it actually does. In fact, it's some of our favorite pizza anywhere, even on land. The pies are baked fresh and come in only a few combinations: margherita, four cheese, and pepperoni. Best of all, it is free, 24 hours per day.
Buffet
Many people want to know about the buffet on a Carnival cruise. To be sure, it's the busiest place to eat during the cruise. You'll no doubt eat many of your meals here. The buffet serves breakfast, lunch and dinner, and while it's not open around the clock, it is open during the normal mealtimes. The menu changes, but it's typical buffet fare and quality.
Mornings will have everything from omelet stations to cereal to bacon and pancakes. Lunch and dinner will have a wide variety including a salad bar, burgers, entrees (often similar to what's in the main dining room), and desserts.
We'll be honest, the buffet quality isn't the greatest to us. It's a good idea to eat here occasionally and try your other options around the ship so you don't get tired of what you're eating.
Big Chicken
Making its debut on Mardi Gras, Big Chicken already looks to be a favorite that could spread to other ships. It's a chicken restaurant serving chicken sandwiches, chicken strips and baskets. They also offer breakfast, including chicken biscuits.
ChiBang!
Another new addition to the Carnival fleet, if sailing on Mardi Gras, Celebration, or Jubilee, then you'll see ChiBang! It's free to eat and is a combination Asian food and Mexican food spot. Not fusion… it's literally two different menus based on what you want to eat. So you can get Kung Pao chicken or have some nachos.
Main Dining Room
Many of your meals in the evening will likely be in the main dining room. Here you'll get table service and white tablecloths. The menu changes each night, but keeps classic dishes in rotation no matter when you visit. Your options here are fresher than you'll find in the buffet. As well, you have a variety of options of what to eat.
Most nights the dress code is casual — wear pants and a shirt and you'll be fine. No swimsuits or tank tops. On elegant night, you don't have to wear a tux, but it's ideal if you can dress it up a little bit.
Specialty Restaurants (Extra Cost)
In addition to the free dining, there are also a number of specialty restaurants where you'll pay extra to eat. This includes places like the steakhouse and Bonsai Sushi.
Specialty restaurants offer different fare — Asian, Italian, steak, BBQ, and more — allowing you to skip the main dining room or buffet during the evening. One nice perk is that some are open for lunch for free, while charging for dinner. Head over during lunch and you can get a free meal instead of having to pay.
For a full run-down on all your options, including profiles and costs, we have everything about Carnival specialty restaurants here.
Gratuities on Carnival
Like nearly every cruise line, you'll have to pay gratuities when you sail aboard Carnival. These days the charges hit your bill automatically. In fact, many people pay them when they pay for the cruise and well before they set foot on the ship.
Carnival's gratuities run $16.00 per person, per day for most cabins. So on a five-day cruise, you'll pay an extra $80.00 per person in addition to your cruise fare. The amount for suites is $18.00 per person. All passengers — except children under 2 years old — are charged these amounts.
For more on cruise line gratuities and how they work, see our article here. You can also use our gratuity calculator to see how much you'll spend in total over the length of your trip.
Drink Packages
Enjoying your cruise with a drink in your hand is a popular pastime. With bars all over the ship, it's never a far walk to get a beverage. Meanwhile, selling alcohol is a big moneymaker for the cruise lines. Prices for beer can run $6-8. It can be $10-12 for a cocktail. Having several of these a day can add up.
If you're worried about your tab, Carnival offers the CHEERS! drink package. This package provides your drinks for one flat rate. For $59.95 per person (plus gratuity), per day you can get pretty much anything to drink on the ship. That includes everything from alcoholic drinks to soda to water to milkshakes.
One caveat is that you can only get up to 15 alcoholic drinks per day (no limit on non-alcoholic). As well, it's $5 more per day if you purchase once on the ship instead of ahead of time.
For more on everything about the CHEERS! package, you can read our complete profile here.
What Carnival Does Well
When it comes to an affordable and fun vacation, it's hard to beat what Carnival has created. As one of the more budget-friendly cruise lines, it's given the ability for people to travel the Caribbean and have a great time for sometimes less than $70 per day.
The atmosphere is warm and fun, with no pretentiousness. Food is decent to good (with lots of included options), and the staff is attentive to passenger needs. In short, it's a solid all-around enjoyable vacation.
If you're the sort of person who wants to stay at the Four Seasons and drink nothing but the finest champagne, then Carnival might not be the cruise line for you. But if you enjoy having a burger and drinking a fruity cocktail or a beer next to the pool, then you'll have fun.
What Carnival Could Improve
So where could Carnival do better for passengers? Keeping in mind that Carnival offers a lot of value already at the low price point, we wouldn't suggest more luxuries or a higher-end focus. That would be hard to accomplish and still offer a great value for a cruise.
Instead, we think one of the areas where the cruise line can improve in relation to competitors are the things to do on board. In our opinion, Royal Caribbean leads the industry and everyone else is playing catch-up.
When you're spending an entire week on a cruise ship, it takes a lot of options to keep things entertaining. Having more activities keeps things fun. Already we're seeing Carnival do exactly this with the recent launch of the world's first roller coaster at sea on its Excel-class ships. Still, more things to do — both big and small — would be ideal across the fleet.
Have more questions about sailing aboard Carnival… or if it's the right line for you? Ask in the comments below.
Related Articles: