What is it like to sail on Norwegian Cruise Line (NCL)?
The experience can vary from ship to ship, but expect to have a great time. While the cruise line is the third of the "Big Three" in size among rivals Carnival and Royal Caribbean, it doesn't mean that its cruises lag compared to its larger competitors.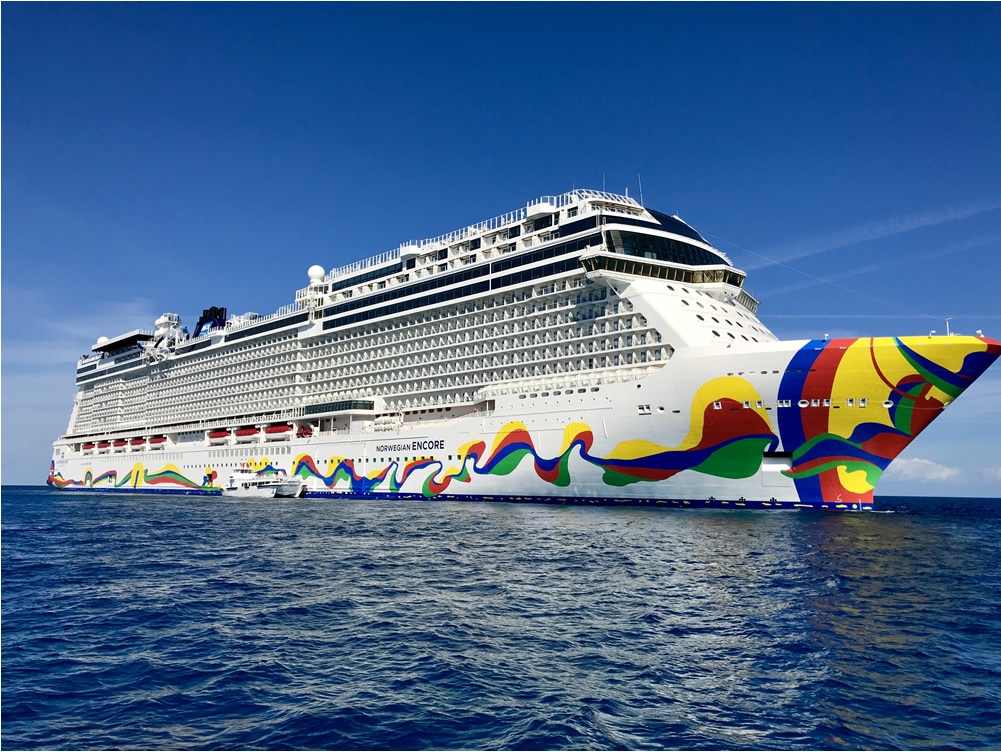 If you haven't yet sailed Norwegian, you might not be sure what to expect. The name of the cruise line makes it sound like it is Nordic, however, as you'll see below, the experience is anything but.
Today the cruise line of about 18 ships sails worldwide, including cruises to the Caribbean, Bahamas, Alaska, Europe, and Asia. In total, Norwegian carries millions of passengers each year, making it among the largest cruise lines in the world.
For those unfamiliar with sailing NCL and who aren't sure what the cruise line is all about, we've put together the following guide to help familiarize you with everything you need to know.
Overview of Norwegian Cruise Line
Founded in the 1960s, NCL is the smallest of the big three cruise lines — but it is no slouch. However, in recent years it has made a big push with a lineup of huge new ships. In total, the line has seven new ships in the past decade, with another newbuild on order each year through 2027.
Like competitors Carnival and Royal Caribbean, Norwegian is what we call a mass market cruise line. This means it offers mega ships designed to appeal to all types of passengers. You'll find options for everyone from families with kids to couples on romantic holidays, young, old, and in between.
Not the sort of person who likes huge ships? It is also making an effort to offer more exclusive service and a smaller ship atmosphere with "The Haven" on many vessels.
The Haven is a luxurious, high-end "resort within a resort" experience with dedicated space and amenities like a pool, restaurant, and bar that are only open to The Haven guests.
While the cruise line sails globally, North America — and the United States — is its largest market. You can find all types of sailings from the U.S., ranging from quick trips to the Bahamas (including Norwegian's private island), to Alaskan cruises to Hawaiian cruises.
In short, no matter what you look for in a cruise, Norwegian likely has something for you.
Atmosphere of Norwegian Cruise Lines
In general the atmosphere that you'll find on Norwegian's ships is on par with other mass market cruise lines, although it does seem to focus on a more luxury and and upscale vibe. It is still warm, inviting, and comfortable. After all, you're there to have a fun vacation.
You'll find plenty of friendly staff, ready to welcome you to the ship and help with anything you need. And because Norwegian is known for its "Freestyle Cruising," that means you can set your own schedule for dining — taking some of the rigid atmosphere out of mealtime.
Ships can vary, but with a relatively new fleet, the décor and atmosphere is modern. You'll see bright colors painted on the ship's hull, but the interior is more subdued with lots of wood and metal finishes.
The style seems more in line with a high-end hotel than a classic cruise ship. That said, the people — both crew and passengers — keep things friendly and down-to-earth.
If you are looking for more exclusivity and a higher-end experience, then Norwegian offers "The Haven." Mentioned above, this is a separate area of the ships with access only for The Haven guests. It includes higher-end cabins, your own restaurant, pool, and more.
Price of Cruising
With a wide range of cruise options from quick Bahamian getaways to Alaskan cruises, and also sailings worldwide, it can be a little tricky to nail down exact pricing.
As well, there's a wide range for prices even within a region depending on the ship you sail and the length of journey.
During the height of summer, we found prices starting around $80-120 per day on cruises from Miami on Norwegian Sky (an older ship in the fleet). For example, a five-day cruise on the Sky to Key West and the Bahamas ran $599 per person for an interior room in a recent search.
Longer trips and newer ships are usually more expensive. The summer season sees 7-day cruises from Miami to the Caribbean aboard Norwegian Escape (a newer ship, but not the newest) running around $899 per person.
However, what you spend on cruise fare is just a portion of what you'll spend on your entire cruise. Norwegian is big on generating onboard spending.
The cruise line charges for many amenities on the ship, and at prices higher than you'll find on other lines.
For example, while Carnival charges around $60 per day for its drink package, NCL charges $99 per day. The highest tier of wi-fi service costs about $40 per day on the ship. The cruise line also has a heavy focus on specialty restaurants that are an extra charge, as well as charges for some things to do on the ship like laser tag and go-karts.
Don't like extra charges? Norwegian offers a "Free at Sea" sale that can give you certain perks for free, including free drinks, Internet, shore excursions, and specialty dining. For some passengers this can save money, just be aware that the rate for a cabin with these perks included is usually higher than the base price for the room.
Ports of Departure
As we've mentioned, Norwegian sails around the world. You can board a cruise anywhere from London to Lisbon to Los Angeles. In total, the cruise line has sailings from more than 40 ports worldwide.
In the United States Norwegian has a smaller presence than bigger lines like Royal Caribbean and Carnival. That means the cruise line is more limited when it comes to U.S. departure ports. Smaller ports typically don't have as many sailing options as you will find with larger lines.
All told, Norwegian sails from the following U.S. ports:
Baltimore
Boston
Galveston
Honolulu
Los Angeles
Miami
New Orleans
New York
Port Canaveral
San Diego
San Juan
Seattle
Seward
Tampa
Ports of Call and Itineraries
No matter where on the planet you want to go, if it has a coastline then Norwegian likely sails there. This includes exotic destinations like the Greek Isles, Scandinavia, Africa, the Mediterranean, and Alaska.
Sailings include everything from short three-day getaways all the way to three-week tours of entire regions. This includes numerous trips to The Bahamas, Bermuda, the Caribbean, Mexico, and Alaska.
Two specific ports of call deserve special mention: Great Stirrup Cay (Bahamas) and Harvest Caye (Belize). These two spots are Norwegian's private islands for the exclusive use of NCL's passengers.
Great Stirrup Cay features ziplining, several stretches of white-sand beaches, and beautiful blue water. If you've ever wanted to spend your day in a postcard-perfect island, this is your chance. Located about 140 miles due east of Miami, the island is a regular on itineraries that go to the Bahamas.
Harvest Caye is located in Belize and is often visited on cruises to the western Caribbean. Like Great Stirrup Cay, the island's big draw is the beach and water. As well, Harvest Caye has a large freshwater pool, as well as a number of bars and restaurants, wildlife exhibits, ziplining, and more to do.
One other unique thing about Norwegian is that it has the Pride of America — a U.S.-flagged cruise ship. This allows it to sail U.S.-only itineraries around the Hawaiian islands. Foreign flagged ships (which most are) must incorporate a stop in a foreign port before they return to the United States. So if you've ever wanted to cruise Hawaii, NCL is your choice.
Things to Do on Norwegian
Over the past several years, Norwegian has put a major emphasis on things to do on its ships.
As with other lines, the newest and largest cruise ships will have the most — and latest — things to do. Older ships are more limited in what they offer, but still offer plenty of basics including pools, spas, casinos, and shows.
Here are a number of things to do that you'll find on Norwegian's newest ships: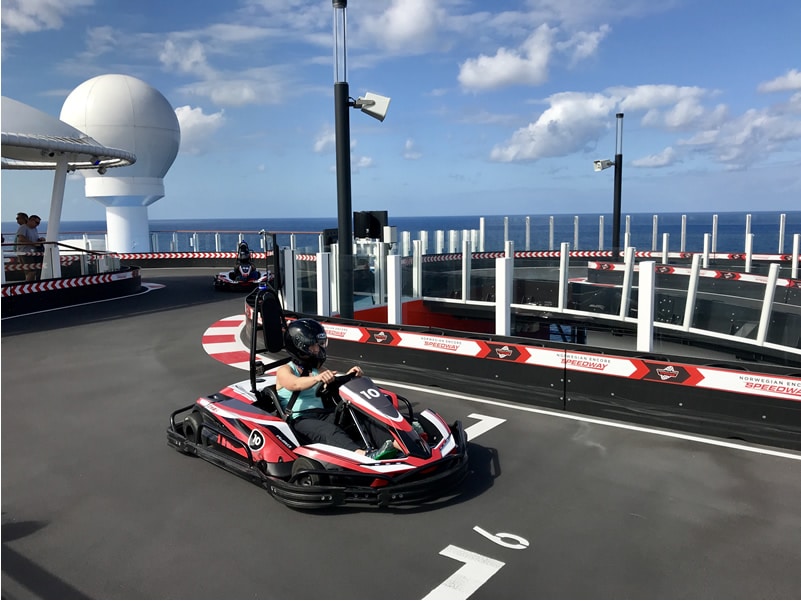 Speedway (Go-Karts)
Available on NCL's newest and largest ships like Bliss, Joy, and Encore, the speedway is the only racetrack at sea. The electric carts race around a custom-built track that twists and turns around the top decks of these ships. It's one of the most unique experiences you can have at sea and a lot of fun. You have to pay to ride, but it is definitely worth the price for a turn.
For more, see our guide to the go-karts on Norwegian.
Laser Tag
Along with go-karts, Norwegian has made a name for itself with outdoor laser tag games. Suit up and use your gun to blast the other team. The sets that are built are immersive and extremely impressive. Our suggestion is to sign up to play at night when the laser colors and lights are easier to see.
Evening Shows
Norwegian has put a big emphasis on its entertainment onboard the ship, and that means bringing Broadway shows to sea. The biggest-name shows are on their newest ships, including Choir of Man, Kinky Boots, and Footloose. Considering that people normally pay hundreds to watch these performances on Broadway, but they are free on the ship, it's a great deal and a can't miss.
Mandara Spa
Want to pamper yourself? Check out the Mandara Spa on Norwegian ships. Here you can get any treatment under the sun, from a massage to a haircut. A day in the spa can also come with access to many unique areas, including the heated loungers, a salt therapy room, whirlpools, and a snow room.
Galaxy Pavilion
A newer feature on some ships, the Galaxy Pavilion is a virtual reality playground. You can walk a plank above the city, race an F1 car, outrun dinosaurs, and blast zombies — all virtually, of course. It does cost money to play and some things (like the driving simulator) are extra on top of that.
Casino
Every cruise ship in the fleet will have a casino — except for Pride of America. Gambling on cruises is always popular, and NCL is no different. Casinos on older ships are usually more closed, separate areas. On newer ships the cruise line has built them to be open and airy, which is a nice touch.
All your favorite games will be here, including slots, tables games, craps, roulette, and even a few games you won't see on land like "claw games" where you try to maneuver the claw to pick up money.
Outdoor Dining
One of the unique things about Norwegian is that they've placed a lot of focus on connecting people to the outdoors. Despite a cruise ship being at sea, so much takes place indoors.
Norwegian puts a big focus on outdoor dining. It may not seem like a big deal, but with the sun and wind, eating outdoors on a cruise ship can be a pain.
Instead, NCL has done thoughtful design for outdoor eating with covered spaces and windbreaks to make it pleasant to sit out and enjoy your meal. The cruise line definitely focuses on bringing people closer to the sea.
Daily Activities
There is never a shortage of things to do on the ship, and what we've covered above is just a taster of all the things going on while you sail. (For more see our 25+ Fun Things to Do on a Norwegian Cruise.)
In addition, there are plenty of activities put on by the staff. Below is a sample of the activities on board a ship in just a single morning:
Norwegian Ships
All told, NCL offers 17 different ships, but with six new ships in the past seven years, much of its fleet consists of newer vessels. Its oldest ship, Norwegian Spirit, was built in 1998 and last refurbished in 2020.
To us, there is a big difference between the cruise line's ships. While older ships still have plenty to love, its newer ships are much more modern in both amenities and atmosphere and have more things to do.
We'd prefer to sail on the biggest and newest vessels. That said, the lower prices for sailing older ships can be tough to ignore. You can sail largely the same trip for potentially hundreds of dollars less on an older, smaller ship.
Here's a breakdown of all ships for NCL:
Spirit Class (1 ship, built 1998)
Norwegian Spirit
Sun Class (2 ships, built 1999-2001)
Norwegian Sky
Norwegian Sun
Dawn Class (2 ships, built 2001-2002)
Norwegian Star
Norwegian Dawn
Pride of America Class (1 ship, built 2005)
Pride of America
Jewel Class (4 ships, built 2005-2007)
Norwegian Jewel
Norwegian Jade
Norwegian Pearl
Norwegian Gem
Epic Class (1 ship, built 2010)
Norwegian Epic
Breakaway Class (2 ships, built 2013-2014)
Norwegian Breakaway
Norwegian Getaway
Breakaway-Plus Class (4 ships, built 2015-2019)
Norwegian Escape
Norwegian Joy
Norwegian Bliss
Norwegian Encore
Prima Class (6 ships, built 2022-2027
Norwegian Prima
Norwegian Viva
Unnamed #3
Unnamed #4
Unnamed #5
Unnamed #6
Food & Restaurants
Norwegian takes its food seriously. While you don't have to be a foodie to appreciate a good meal, even diners with high expectations should be pleased.
Specialty Restaurants
Most eateries on the ship are specialty restaurants. Just like a restaurant on land, you'll have a full menu with a la carte prices. Specialty restaurants range from steakhouses, to Italian, seafood, Japanese, Mexican, BBQ, French, and more.
We'd suggest planning to eat in a specialty restaurant at least a couple of times during your cruise. Not only is the food great, but you can pick a style that fits your taste buds.
While we have yet to try every specialty restaurant on Norwegian, the ones we have had were fantastic. We were especially surprised by Q Texas Smokehouse — a BBQ restaurant on a handful of ships. Being from Texas, we've grown up on BBQ and what we had would fit right in back home.
Other favorites that earn strong reviews are Food Republic (a fun spot where you order small dishes that are Asian and Mexican inspired) and Onda by Scarpetta — a high-end Italian spot.
Keep in mind that the restaurants on your specific ship will vary. Here is a list of what's available:
Ocean Blue (seafood)
Onda by Scarpetta (Italian)
La Cucina (Italian)
Cagney's Steakhouse
Food Republic (Asian fusion)
Teppanyaki (Japanese)
Los Lobos (Mexican)
American Diner
Le Bistro (French)
Q Texas Smokehouse
Moderno Churrascaria (Brazilian)
Included Dining
As far as number of options, you have a lot fewer spots to eat that are included with your fare. That doesn't mean you will go hungry. There is plenty to eat, all around the clock.
Main Dining Room
Just as with any other cruise line, Norwegian has the classic main dining rooms. With its famous "Freestyle Cruising," one thing you don't have to worry about is a set dining time. Simply show up when you're hungry.
Expect classic cruise classics like steak, chick, pasta, and lobster, all served in white tablecloth atmosphere.
Garden Cafe
Garden Cafe is NCL's main buffet. (There are sometimes other spots that serve the same food in different locations on the ship.) You'll get the classic buffet fare like burgers, dogs, entrees, salads, and desserts for lunch and dinner. In the morning, breakfast is served.
The buffet is fine, but you certainly don't want to eat it for every meal for a week. That's why we suggest trying breakfast in the main dining room and checking out specialty restaurants during your cruise.
The Local/O'Sheehans
No matter when you get hungry, The Local or O'Sheehans will have you covered. Each ship will have one or the other, but they fill the same space — a spot to grab a bite to eat 24 hours a day. They feature sit-down dining where you eat your fill with classics ranging from burgers to salads and more.
The Haven
While most people won't stay in The Haven during their cruise, it is an important differentiation between Norwegian and other cruise lines. As well, it's also a sign of the more upscale atmosphere that NCL has for passengers.
As mentioned, you can think of The Haven as a "resort within a resort." So passengers staying in these rooms can get the experience of sailing on a large cruise ship with all the amenities and activities it offers, but also have the small-ship, exclusive experience.
Not every ship has this area, but many — especially newer vessels — do. To put simply, staying at The Haven makes you a VIP. Rooms are more luxurious than the rest of the cabins, and you are given access to an area reserved only for The Haven guests. Amenities include a private pool, bar, and restaurant. You also earn priority status for boarding, tendering, and even restaurants and entertainment.
Passengers staying here also have a 24-hour butler and personal concierge. In short, if you're looking for the most upscale experience on NCL, then you'll find it in The Haven.
Gratuities on Norwegian
Like other cruise lines, Norwegian charges a daily gratuity (the cruise line calls it a "service charge").
The daily rate is $16.00 for most passengers who book interior, oceanview, or balcony cabins. Guests in The Haven, Concierge or Suites pay $20 per person, per day. The rate is charged to all guests three years and older.
A couple staying in a balcony cabin would pay $32 per day in total. A week's cruise would cost a little over $220 in these service charges.
You can pay the amount ahead of time (so you don't have to worry about the charge during your trip) or you can have it charged to your account each day that you sail.
As well, NCL charges a 20% gratuity on things like drinks, spa treatments, and specialty restaurants.
Drink Packages
Plan to have a drink… or ten… on your cruise? You're not alone. Alcohol is popular on a cruise, but it's also expensive. Expect to pay $6-8 for a beer and $10-12 for a cocktail.
If you want to better budget your cruise, then you might want a drink package. These offer all-you-can-drink for a set daily price. This way, you don't have to worry about a surprise bill at the end of your cruise.
Norwegian offers several different packages, for both alcoholic and non-alcoholic beverages:
Premium Beverage Package | $109 per day + 20% gratuity
The Premium Beverage Package is the base package for alcoholic drinks. It offers your choice of beverages, from water to soda to beer, wine, and cocktails. The package covers drinks on board up to $15 per glass.
Premium Plus Beverage Package | $138 per day + 20% gratuity
The Premium Plus Beverage Package is made for those with higher-end tastes. It includes practically any drink on the ship as it has no dollar limit on the price of the drink. So if you are someone with top-shelf preferences, then this might be the deal for you.
Corks and Caps Package | $65 per day + 20% gratuity
Beer or wine drinker? This less-expensive package could be a better deal for you. It offers up beers, wine, sodas, and more, but not cocktails.
Soda Program | $6-8 per day + 20% gratuity
If you have kids or simply like to drink soda, then you can get the Soda Program. Prices vary by age. Older kids and adults pay $8 per day, while younger kids are charged $6. The program gives you your fill of any sodas on the ship.
Before you purchase a beverage package, there are a number of things to know. For example, if you purchase the package for one adult in the cabin, all adults in the cabin must buy it. For more on what you need to know, see our guide to Norwegian's drink packages here.
What Norwegian Cruise Line Does Well
Norwegian Cruise Lines has a lot to like. In fact, it's among our favorite lines. New ships are especially modern and gorgeous, and the newer things to do like the go-kart track are lots of fun.
In our opinion, Norwegian is a great all-around cruise line. We like the upscale, yet welcoming feel of the ships. We also like how NCL has taken special effort to bring people closer to the water with outdoor eating and outdoor promenades. Entertainment and shows are also top-notch.
Solo cruiser? Norwegian is one of the few lines that takes special effort to cater to you. Many ships have solo cabins that aren't charged a single passenger supplement. They also feature solo-cruiser lounges for socializing with your other solo passengers.
What Norwegian Cruise Line Could Improve
That's not to say that the cruise line is perfect. While we haven't sailed every ship in the fleet, there is a big difference between the newest ships and older ships we've seen (just like on many other lines). Your impression of the line may vary based on whether you sail an older ship or the newer fleet.
What we'd like to see improved is pricing of things on the ship. Norwegian seems to price at a premium, which means the costs you see can be higher than what you'd find on rival lines, especially with drink packages.
As well, there are charges for many things to do on the ships (such as Galaxy Pavilion and go-karts), which we'd like to see reduced or eliminated altogether.
We certainly don't mind spending money on vacation, but seeing charges for items that are considerably less expensive on other cruise lines is hard to swallow sometimes.
More on Sailing Norwegian Cruise Lines