Searching for a cruise packing checklist you can trust? Look no further. The staff at Cruzely has taken cruises from Miami to Vancouver, including trips done solo, as a couple, and with a family.
In other words, when it comes to packing for a cruise, nobody has the expertise — and the experience — that we do.
And if you think packing for a regular vacation can be daunting, then try packing for life on the ship.
What's so challenging about cruise packing? Well, when you cruise you have some unique situations that you don't find on any other vacation.
First, you have so many different scenarios to pack for. Sure you might think that it's tossing some shorts and a swimsuit into a suitcase. On a cruise, however, you're hanging out by the pool in a swimsuit, dressing up for dinner, wearing casual clothes to the buffet, and putting on something warm for a show in the theater.
In other words, you need to pack for a lot of different situations.
Second, in the middle of the ocean it's tough to run out for anything that you forgot. Yes, you can wait until you get to port to pick up things you meant to bring, but that's not always convenient. And while the ship will have some sort of small shop you can purchase things you forgot, these spots are notorious for being expensive for basic items (seriously, we've seen an $18 bottle of cold medicine).
That's why we've put together this packing checklist for your next cruise. It covers everything that you might need to bring, all broken down into easy sections. It's not saying you have to bring everything on the list, but it offers up a lot of ideas that you'll want to consider.
Note: This article contains links to Amazon. As an Amazon affiliate we earn a portion of each sale at no extra cost to you.
Download the Printable Checklist
Our checklist of things to pack for a cruise is completely free. While we cover all the items in detail below, you can click the image (or click this link) to download the printable PDF.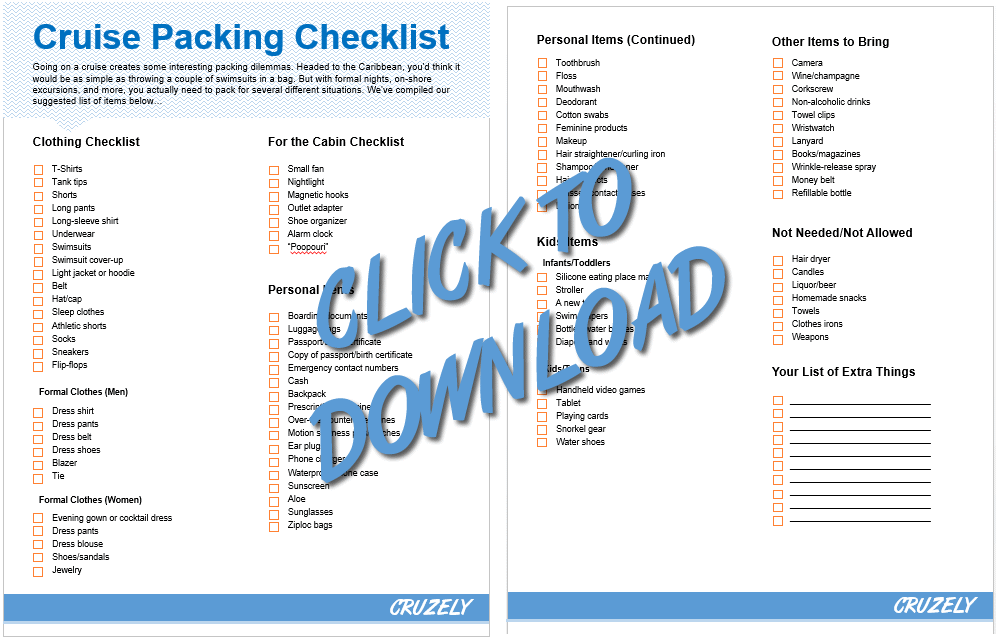 While many items on the list are self-explanatory, we go into more detail below about what's included on the checklist for your cruise.
Cruise Packing Checklist: Clothes
Clothing will make up the bulk of what you'll bring on a cruise, and rightly so. With so many different scenarios to dress for on a cruise, it's helpful to bring a little bit of everything.
Of course, how much you'll bring depends on how many days you'll be at sea. Shorter cruises obviously require fewer items. Also, it's ok if you wear the same thing twice on a cruise. For a 7-day cruise, having 3-4 outfits is a good idea.
Casual Clothes
T-Shirts (at least one for every two days of your cruise)
Tank tops
Shorts (at least one pair for every two days of your cruise)
Long pants (at least one pair for nights on the ship)
Long-sleeve shirt (at least one for nights on the ship)
Underwear
Swimsuit (At least two, so that one can dry when you wear the other)
Swimsuit cover-up
Light jacket or hoodie (evenings on the ship can be cool)
Belt
Hat/cap
Sleep clothes
Athletic shorts
Socks
Sneakers
Flip-flops (be sure they have tread; wet decks can be slippery)
Formal Clothes for Men
Dress shirt
Dress pants
Dress belt
Dress shoes
Blazer (optional, if you want to be more formal)
Tie (optional)
Formal Clothes for Women
Evening gown or cocktail dress
Dress pants
Dress blouse
Shoes/sandals
Jewelry/accessories
Cruise Packing Checklist: Items For the Cabin
Think you only need to pack things to wear? The following items are ideal for a cabin to make it more comfortable during your cruise. Don't think you have to pack all of these items, but those that catch your interest should be brought along.
Small fan (cabins don't have fans to circulate air)
Nightlight (interior cabins are especially dark)
Magnetic hooks (to hang from the ceiling to dry swimsuits)
Outlet adapter (to provide more outlet spaces in the cabin; those with surge protectors aren't allowed)
Shoe organizer (hangs over the door for storage of small items)
Alarm clock (alarm on the phone is just fine)
"Poopouri" (bathroom smells can linger)
Cruise Packing Checklist: Personal Items
In addition to clothes, you need to pack a few other items with you to make your cruise go smoothly. This includes everything from your boarding documents to your toothbrush.
Boarding documents
Luggage tags
Passport/birth certificate
Copy of passport/birth certificate (carry a copy of your passport with you in port; keep the original in the cabin safe)
Emergency contact numbers
Backpack (a light backpack is perfect for taking into port)
Prescription medicines
Over-the-counter medicines (headache, stomachache)
Motion sickness pills/patches
Earplugs
Phone charger
Sunscreen
Aloe
Sunglasses
Ziploc bags (these bags have numerous uses)
Toiletries/Personal Care
Toothbrush
Floss
Mouthwash
Deodorant
Cotton swabs
Feminine products
Makeup
Hair straightener/curling iron
Shampoo/conditioner
Hair products
Glasses/contact lenses
Lotion
Wet wipes (cabin toilet paper is thin, 1-ply product; do not flush wipes)
Cruise Packing Checklist: Kids Items
Obviously not everyone packs for a cruise with kids. But if you are packing for a family, then there are some things that good to bring. See our full list of ideas here.
Infants/Toddlers
Umbrella stroller
A new toy (great for when kids are fussy and need a distraction)
Swim diapers
Bottles/water bottle
Diapers and wipes
One thing to know is that cruise lines will provide a crib for sleeping in your cabin at no charge. Just let the staff know you need one.
Kids/Teens
Handheld video games
Tablet
Playing cards
Cruise Packing Checklist: Other Items to Bring
While we've covered a number of things to pack for your cruise, there are some other miscellaneous items that are a good idea to bring.
Cruise Packing Checklist: Not Needed/Not Allowed
The following items may be tempting to bring, but cruise lines either take care of these for you or they aren't allowed on the ship.
Hair dryer (already provided in each cabin)
Candles
Liquor/beer
Homemade snacks (not allowed; pre-packaged snacks are ok)
Towels (beach towels are supplied on the cruise)
Clothing iron
Weapons (including small knives and pepper spray)
Cruise Packing Tips: Beyond the Checklist
As we've mentioned, packing for a cruise is a little different than any other vacation. While you need to prepare for lots of different situations — everything from hanging out by the pool to formal night — we actually think it can be easier to pack for a cruise than other trips. That's because the rules for packing are more relaxed than if you are flying for a vacation.
Luggage Rules Are Fairly Simple
Want to bring a large suitcase? Or two large suitcases? Or two carry-ons and several large bags? It's all ok. The luggage rules surrounding cruises are nothing like you'll find with airlines. Cruises don't charge for luggage and there are no weight limits (within reason).
In short, you can bring as much as you want. That's one less thing to worry about when packing for your cruise and very convenient for passengers who are driving to the port.
Remember You Have to Carry Everything to the Ship
While the rules surrounding luggage mean you can bring as much as you want, remember that whatever you bring, you will have to get it to and from the port. So if you are flying to the cruise port, then you'll have to pay any baggage fees your airline might charge. You also have to carry your bags to the terminal to drop off for the luggage handlers.
Instead, keeping your bags manageable will save you a lot of hassle when you head to the ship.
Liquids Are OK
Another way cruise packing is easier is that there aren't rules regarding liquid sizes. You likely know that airlines limit you to three ounces of liquids to get through security. There are no such limits with cruise security.
So if you have a bottle of your favorite shampoo you want to bring or simply have an 8-ounce bottle of sunscreen, go ahead and pack it. There is no need to put it into smaller travel-sized containers.
Keep Anything for the First Day in Your Carry-On
You don't have to check any bags at the port if you don't want. If you can carry it with you to your cabin, you are welcome to take it aboard. Still, many people choose to check larger or heavier bags instead of carrying those by themselves. It's just easier. These bags are then delivered to your room later in the afternoon or evening.
If you check a bag, be sure to bring a carry-on that has anything in it you might need for the first day. So you'll want a change of clothes, swimsuit, toiletries, boarding documents, and any valuables. If you bring on wine or champagne, also pack it in your carry-on so that it doesn't accidentally get broken.
For more things to pack, don't miss our 39 Useful Things to Pack for a Cruise (Including 17 You Might Not Think Of).