Whether it's your first sailing or your 50th, there are always new cruise tips to learn for when you take your trip. That's why we've rounded up a staggering 107 of the best cruise tips, secrets and freebies for you to enjoy.
This list varies from relatively small tips to make your cruise a little more comfortable all the way to big secrets that the cruise lines don't like to talk about. And while experienced cruisers may know some of the things on this list, you can rest assured everyone reading will learn at least a few helpful hints.
To make things easy, we've broken our 107 tips down into separate sections, including tips for saving money, packing, staying healthy, and more.
Note: This article contains links to Amazon that are affiliate links. Should you make a purchase, we receive a small percentage of the sale at no extra charge to you.
Our 10 Best Cruise Tips
If you want the best of the best, these tips are our favorites. But don't miss out on the dozens more things to know that we have below.
1. Many hotels near the port will offer free (or discounted) cruise parking and/or shuttles to the ship
Are you planning to drive in for your cruise and need a place to stay? Look for hotels that offer cruise parking. Hotels in port cities will do whatever they can to attract cruise passengers. That means they will let you park at their hotel during your cruise for free (or at a sharp discount). Many will also offer a shuttle ride to the cruise port as well.
There is no better way to save money on your cruise parking and getting to the port than with this tip. See our list of hotels in every port with cruise shuttles, including Miami hotels with shuttles to the cruise port.
2. Older ships are way cheaper to cruise on
If you're the sort of person who likes a deal, look at sailing on an older ship. Even if an older ship and a newer ship sail the same itinerary, the fares on the older ship will be dramatically lower.
Of course, in exchange you won't get the wild new things like waterslides and ten swimming pools. But if you're the sort of person who simply wants to be out on the water, you can save hundreds of dollars by sailing on an older ship.
3. Bring your own power adapter to give you more outlets
Phones, iPads, laptops, curling irons… the list of things you'll bring that need plugging in seems to grow by the year. However, many cruise ship cabins have limited outlets. The good news is that newer ships are being built with more power plugs. Still, we suggest bringing an adapter or two to increase the number of plugs available.
We really like this one from Amazon, which offers three plugs and doesn't take up much room. Also, make sure your plug doesn't have a surge protector. They are not allowed onboard.
4. Your balcony isn't as private as you think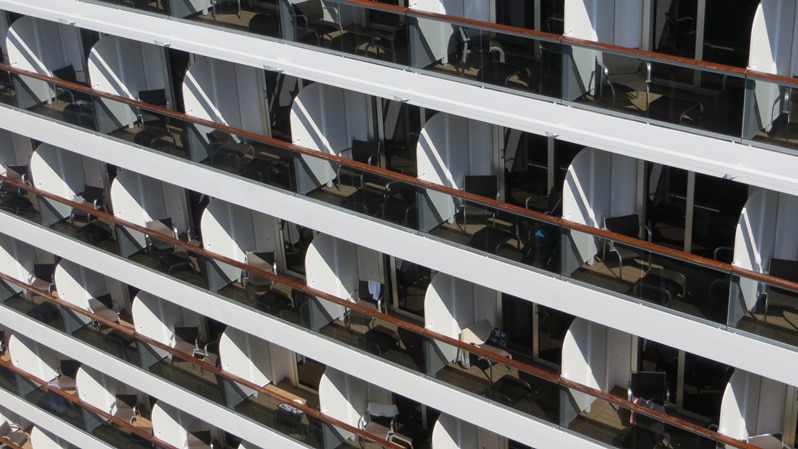 Thinking of sunbathing "al fresco" on your balcony? Want to get a little frisky with your partner in the fresh air? Keep in mind that your balcony isn't all that private. The dividers between balconies are low to allow wind to pass through. They also are several inches above the floor to allow water to flow during a rainstorm. That means anyone in the balcony next to you could easily see what's going on without much effort.
5. Those "all you can drink" packages aren't a good deal, unless…
"All you can drink" alcohol packages can really help you budget. For a set amount, you can drink as much as you want without worrying about the bill. But buyer beware, the cost of the packages usually means you have to order between 7-10 drinks per day before you save any money.
And since you have to buy the package for every day of your cruise, that means you have to drink that much every single day you are on your ship — even when you are in a port of call.
Many people will find that they are better off simply ordering drinks the old-fashioned way. (Read more about all you can drink packages here or use our Drink Package Calculator to see if you'd save money.)
6. Turn your phone on airplane mode the second you board the ship
There are way too many horror stories of cruise passengers forgetting to turn off their phone's data and then coming home to huge bills for international roaming.
That's why you should either turn your phone completely off or turn it on airplane mode to where it doesn't use up data (but can still connect to wi-fi). It's the simplest way to make sure there are no big surprises when you get your next phone bill.
7. If traveling fewer than three decks, take the stairs. It's much faster
Who wants to take the stairs on vacation? That sounds like work! Well, the stairs can often be much faster. Realize that with thousands of people on a cruise ship, the elevators can get overwhelmed, making stops on every deck going both up and down. That means it can take a while for the elevator to reach your floor.
Instead, if you are only going up or down a few decks it's definitely easier and faster to just hoof it with the stairs. Plus you get to work off a few of those extra "cruise calories" from eating so much.
8. Casino payouts are often worse than many casinos on land
Expect to hit it big in the casino? It's going to take a little more luck than usual. Yes, there are stories of people hitting it big, but there are a lot more stories of people losing their cash. In our experience, cruise ships don't offer great payouts. For example, low-limit blackjack tables will often pay 6-to-5, instead of the usual 3-to-2 you'll find in many land-based casinos.
9. S
how up later to boarding to get on the ship fast

est

If you show up to board right when the boarding window opens, you can expect to do a lot of waiting. There is always a mad rush to board the ship right as it opens, which leads to long lines. (Following the health crisis, cruise lines are putting a bigger emphasis on trying to spread passengers out to keep crowds smaller.)

What most people don't realize is that showing up later actually lets you board faster in many cases. Get to the port about an hour before the boarding window closes and you'll find no lines. It usually only takes about 10-15 minutes to get checked-in and board, all without having to fight huge crowds.
10. Book extras like drink packages online ahead of time for huge discounts
Want to save a bundle? If you know that you'll be booking something extra like an Internet package or a drink package, then do it online ahead of time.
To entice passengers to book these deals early, the cruise lines offer special discounts. We've seen drink packages for buy one, get one 50% off. That's a big savings over what you'll spend if you wait to buy until you get on the ship.
Money-Saving Tips For Your Cruise
Want to have a great time without spending a fortune? Here are our best tips on saving money during (and before) your vacation.
11. Pay off your cruise as slow as possible
You'll always put down a deposit when you first book your cruise, but some people opt to pay off the entire cruise at once. Sure, it's a nice feeling knowing that your cruise is bought and paid for, but it also puts you at risk if there is a price drop.
You likely know that cruise lines adjust fares, similar to airlines. When you put down a deposit, you can call the cruise line if you see a price drop and ask them to honor the lower price. Not having paid for the entire trip already gives you some leverage as you can potentially cancel and re-book at the lower price.
If you've already paid for the entire trip, you lose some of that leverage. Don't worry, though. Even if this happens, still give the cruise line a call and ask for the lower price. You might get money back for the difference as onboard credit.
12. Want to sail cheap? Cruise when the kids are in school
They should call it the "law of cheap cruising." If you want to save a ton, be flexible with your dates and sail when school is in session. When school is in, families with kids — a huge demographic in cruising — can't easily take their trips. That means the cruise lines are looking to fill rooms and will offer up cheaper fares to entice people to sail.
In fact, it's not surprising to find fares that double during holiday breaks when families can take their trips.
13. Look for cheaper prices on the ship when in port
It's not always the case, but sometimes you'll run into discounts around the ship if you buy when the ship is in port. For instance, maybe it's a spa session that has a slight discount if you book a service while the ship is docked. Or things like Royal Caribbean's North Star observation pod are free when done while the ship is in port, but sees a charge if sailing.
14. Lunch prices at specialty restaurants are often cheaper than dinner
On your cruise, there are free restaurants that are included with your fare and specialty restaurants, which cost extra. These specialty restaurants offer meals not available in the included restaurants and provide a higher-end experience. In return, you usually pay a flat fee for whatever you order.
If you want to eat here and save money, see if they have discounted lunch rates. Some of the restaurants have fees that are substantially less at lunch time compared to dinner. You can get the same meal for much less.
15. Save money by looking for happy hour specials
Drinks on a cruise ship can get expensive. If you want to save some cash, then check the daily planner delivered to your room (or found on the cruise line app) for any happy hour specials or drink deals. For example, we've seen 50% off drinks at RedFrog Pub on Carnival at certain times during the day. There will often be some sort of discount somewhere on the ship each day, it's just a matter of paying attention and taking advantage.
16. Consider those package deals to save money
Typically, cruise lines offer a low "headline" fare that is enticing. But then anything extra on the ship — including drinks, wi-fi, gratuities, and more — costs extra. Now, the tide on this model is shifting though as more cruise lines offer all-inclusive deals.
With these deals, you pay a bit extra, but then you get more included in your fare. This can include Internet access, drink packages, your onboard daily gratuity, and other perks. What's often the case is that the price for the upgrade is significantly less than what you'd pay for these items individually. If you plan to buy them anyway, a package is likely worth the money.
17. Independent parking lots offer cheaper cruise parking
Driving to the port? That means you have to find somewhere to park your car while you're gone. The cruise ports all have on-site parking, usually located within steps of the cruise ship. While it's extremely convenient, you'll pay for that convenience. Official port parking lots are always the priciest. Instead, look for off-port parking that can be as much as 50% cheaper.
18. It's so much cheaper to drink in port
Want to know the cheapest place to drink on a cruise? It's in port!
If you want to get a good buzz going, check out the bars and restaurants in the area. Many of them not only have cheap drinks every day, but offer drink specials to entice cruisers to stop in. If you plan on drinking, get your fill in port and then walk back to the cruise ship that afternoon/evening. It's a lot cheaper to pay $2-3 bucks for a beer in port compared to $7-9 on the ship. For more tips on drinking on a cruise, read this article.
19. Cruise line transfers from the airport are a terrible deal
When you fly in for your cruise, you have to also arrange for transportation from the airport to the cruise port. We usually recommend a rideshare company like Uber or Lyft. What we don't recommend is taking the transfers offered by the cruise line.
Cruise line transfers seem like a great idea — after all, if you're getting a ride from the cruise company to the port, you know you won't miss your ship. However, the cruise transfers only run on the day of the cruise. That means if you fly in a day early for your trip, you are out of luck.
They are also expensive. For example, Carnival charges about $23 per person one-way to get you from the Miami airport to the Port of Miami — a 10-mile ride. Compare that to a taxi or Uber, which will charge you about $25-30 each way for up to four passengers. Meanwhile, with a taxi or other transportation, you aren't tied to the cruise shuttle's schedule.
20. Cruise prices are the same on every website
Think you have to search site after site to get the best cruise deal? Think again. We've discovered that the cruise prices are actually the same across all websites.
That's not to say that prices won't change (they will), but when a price moves, you'll see it reflected everywhere. Just pick your favorite spot to search and stop worrying if another website has it cheaper. (Hint: Costco usually has great incentives.)
Here's a roundup of prices that we recently found: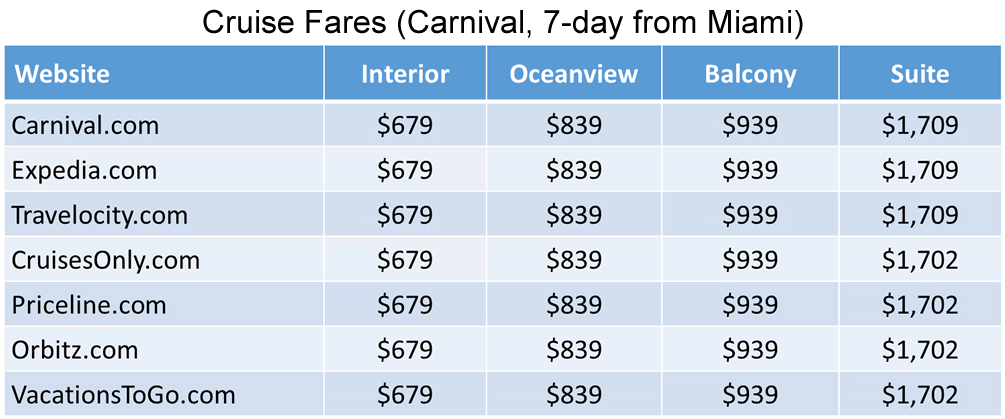 21. There is free booze at the art auctions
If you want to snag a cheap glass of champagne, head down to the art auctions that are held on the ship. These auctions serve up flutes of the bubbly to set the mood and entice you to spend a little dough. While the art costs money, the booze is free.
22. You'll pay for premium brands, but not generics
If you want that special gelato or the Starbucks coffee, then it will likely cost you a few bucks on the ship. What many people don't realize, however, is that you can get the generic versions of these foods elsewhere on the ship (and sometimes even at the same location) for free.
For instance, if your ship sells Starbucks for a fee, just ask if they have any free coffee. If they don't at that location, they will point you to where you can get it for no charge.
23. Cheaper interior cabins mean more money for cruises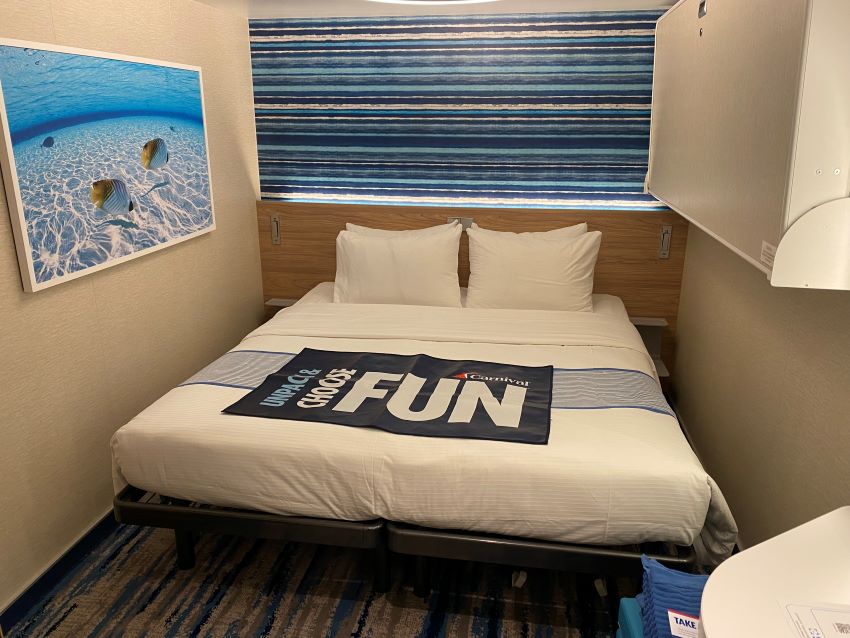 Many people claim they couldn't sail in anything other than a balcony room. But interior cabins can get you on the ship for hundreds — or even thousands — less than paying for a balcony room. Considering that many people (especially on shorter cruises) are rarely in their cabin other than to sleep, it doesn't make sense to pay a fortune for a room that you won't use. Instead, you can sail a lot cheaper with an interior room… and potentially cruise a lot more!
24. Don't waste money on lower-tier Internet
These days being connected is just a fact of life. Not surprisingly, many people opt to pay for the cruise line's wi-fi service, even though it is pricey. If you do decide to purchase, then you'll find that there are tiers of service. So you can pay less and get slower or limited service, or pay a little more to get higher speeds and full access to the web.
In this case, you shouldn't waste your money on the cheapest service. Even at is best, the wi-fi on a cruise ship will be slower than you're used to seeing at home. In our experience, the lower tiers are almost unusable. This is one place where you don't want to skimp if you're buying.
25. Think twice before buying cruise insurance sold by the cruise line
While we think travel insurance is a good idea to give you peace of mind, think twice before buying the insurance that the cruise lines offer when you book your trip. Yes, it's better than nothing, but third-party cruise insurance is often a much better deal.
The insurance offered by the cruise lines typically has lower limits and is priced higher from what we've found. It also often doesn't offer as much protection as insurance offered by a third party. Be sure to check what is covered by any policy before buying.
There are even more cruise tips… keep reading: