For getting to the Port of New Orleans, taking a taxi has long been your best bet, especially coming from the airport. However, technology is changing that.
Chances are that you've likely heard of ride-sharing services like Uber and Lyft, even if you haven't used them before. For anyone unfamiliar, these services let everyday people turn their car into a cab. Drivers get to earn money providing rides around cities while passengers get a ride that is usually more comfortable and cheaper than using a taxi.
These services are booming in popularity and are widespread around the United States and the world. You can now even use them to get back and forth from your cruise in New Orleans.
Uber in New Orleans
Uber is officially approved in all of New Orleans. The service area is much larger than just the city limits. Whether you are coming from Gretna, Slidell, or Covington, Uber is available in your area. So if you live in the area, it may be worth it to take a ride with the service to the cruise port. This may be less expensive than paying for parking while you cruise.
Here's a map of the current Uber service area in and around New Orleans: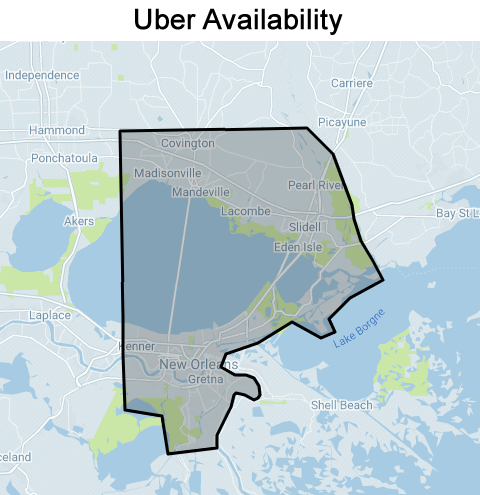 Note that Uber also picks up and drops off at the New Orleans airport (MSY). So if you are flying in for your cruise, you can use the service to get to your hotel or to the cruise port.
Lyft in New Orleans
In addition to Uber, the most popular rideshare service is called Lyft. It works just like Uber — in fact, many drivers work for both companies. Together, the two services cover all of New Orleans and surrounding area, giving you multiple options to get to the port.
Here is a map of Lyft's service area in southeastern Louisiana:
As you can see, this is an enormous area, well beyond just the New Orleans city limits. That's great news if you are an area resident and don't want to pay for cruise parking. As well, Lyft also offers service at the Louis Armstrong New Orleans International Airport, providing an option for those flying in and out for the cruise.
How Much Does Uber & Lyft Cost to the New Orleans Port?
We've found Uber/Lyft to be among the most affordable options. Obviously, the price depends on the distance you are going. In general, however, the estimates are slightly less than what you'd see for a similar taxi ride.
One important distinction is if traveling from the airport. From there, taxis charge a $14 flat to the cruise port. If riding with two or more people, then the rate is $8 per person, or the meter fare, whichever is higher.
Below, we took a look at some sample rates between popular spots and the cruise port. Note that Uber & Lyft doesn't charge extra for more passengers, so these fares are per car, not per person.
Uber and Lyft also offer different levels of service, depending on how nice of a car you want and how many people are riding. Here's the breakdown of the basic services that most people use:
UberX – Base service, carrying up to four passengers in a typical sedan
UberXL – Upgraded service, carrying up to six passengers in an SUV
Lyft – Base service, carrying up to four passengers in a typical sedan
Lyft XL – Service carrying up to six passengers
In our experience, while the base service says it can carry up to four passengers, remember you'll also have your luggage. We'd suggest no more than three passengers to a car unless upgrading to "XL," which will be more expensive.
How to Get a Ride With Uber & Lyft
Ready to use Uber or Lyft to get to the New Orleans cruise port? You have to download the app on your cell phone and create an account with a payment method. Whenever you are ready for a ride, you'll pull up the app on your phone and request a ride to your destination (no need to reserve ahead).
Simply enter the port address (920 Port of New Orleans Place) and it will provide the destination to the driver. Payment is done through your phone as well, linked to your credit card. No money is exchanged with the driver and passenger.
We highly suggest downloading the app and creating your account before you leave for your trip. It's must easier to do in advance versus when you are ready to take a ride.
Have you used Uber or Lyft to get to the port? Tell us about your experience in the comments below!
More on Cruising From New Orleans
New Orleans Cruise Parking — Parking at the port? We've got you covered with all your parking options, including costs and discounts.
Transportation to the Port — If you need a ride to get to the cruise terminal, all of your options are here. From Lyft to taxi to shuttles, here's how to get there.
New Orleans Cruise Hotels — Getting in late? Leaving early? Simply need a place to rest your head? We've rounded up the options for places to stay near the port.
New Orleans Park & Cruise Hotels — Looking for a hotel that offers cruise parking while you set sail? We have you covered.