If you're cruising nearly anywhere in the Caribbean, then there's a good chance your ship is going to stop in Cozumel. In fact, when it comes to ports outside the United States, Cozumel is at the top of the list (alongside Nassau). Each year more than 3 million cruise passengers make a stop at the Caribbean island.
On the island there is a ton for passengers to see and do. Over the decades it has become a tourist mecca, offering everything from food and culture to adventure sports to relaxing on white-sand beaches.
In other words, no matter what you're looking to do, Cozumel has something to offer.
With so much happening, there is plenty to know about visiting the port. If your cruise is making a call to Cozumel, then we have you covered. We've rounded up a list of more than a dozen tips and things to know to make your trip more enjoyable.
Be Aware of Taxi Rates Before Getting a Cab
Chances are you'll be using a taxi to get around the island or to get into the main city (San Miguel). To help tourists out and keep them from being fleeced by unscrupulous taxi drivers, taxi rates are flat fees. You'll find the rates displayed prominently at all the cruise ports. Figure out where you want to go and you'll see the charge listed for how many people are riding.
Confirm the price of your fare on the display before getting into a cab. Even better, take a photo of the taxi fares on your phone or camera so that you can reference them if there is ever a dispute over the rate.
Cozumel Beaches Are Public
You wouldn't know it by looking at the hotels along the coastline, but the beaches in Mexico are actually open to the public. That doesn't mean they are easy to access, however.
Hotels and businesses cut off access unless you either pay a fee or approach from farther down the beach. Still, if you access the beach and find a perfect sandy spot in front of a nice hotel, don't feel out of place. You have every right to be there. But that doesn't mean things like beach chairs and umbrellas provided by the business are free for use. Those will be for guests only.
Paying For Beach Access Is Worth It
We understand if you don't like the idea of paying to access a free public beach. However, many hotels or resorts will allow you access for a small fee (usually $10-30 per person). For that price you get so much more than just a place to put a towel. Resorts charging access typically have cleaner beaches and allow you to use chairs, umbrellas, lockers, and shower facilities as well. It's a cheap way to spend the day on an idyllic beach.
Cozumel also has a number of spots with day passes where you can get all you can eat and drink, as well as full access to all the facilities and some of the most beautiful beaches in the world.
Don't Forget to Explore the Other Side of the Island
When your ship comes in, it will dock on the western side of Cozumel. Here there are multiple docks, along with restaurants, hotels, shops, and tons more.
But Cozumel is actually pretty large, and there is a lot that's outside the populated areas. That includes the eastern side of the island where far fewer people visit. Here you can see what the island was like before it was a tourist mecca, including some classic hole-in-the-wall beach bars and white-sand beaches with far fewer people.
When looking for things to do, check out activities that include sightseeing around the island, including this area. It's a neat way to get away from the crowds and tourist traps.
Don't Worry About Having Pesos
If you are wondering where to exchange your U.S. dollars for Mexican pesos, don't worry. Dollars are widely accepted in Cozumel. Just about any shop you hit will take U.S. currency.
Keep in mind that you might not get the best exchange rate on your purchases, but it's a small price for the convenience of not having to change your money over. If you would like to pay by credit card, major brands are also accepted in most places.
If Your Spanish Isn't Great, It's No Big Deal
No habla español? No problemo.
If you're just visiting for the day, one of the nice things is that you don't have to be fluent in Spanish to enjoy the island. With literally millions of American tourists coming to Cozumel each year, those in the tourist industry know English fluently. In fact, you'll likely be surprised by how little Spanish you hear near the cruise piers and restaurants. But if you do want to try out your Spanish, feel free. The locals appreciate you trying to speak their language.
Credit Cards Get the Best Rates… But Be Careful
There's no doubt that credit cards offer the most convenience in buying things in Cozumel. For one, you will get closer to the real exchange rate compared to buying with dollars. As well, you don't have to worry about getting correct change in a foreign currency.
But if you do use your card, you'll also want to be careful. With passengers coming into port for just a day, it can be tempting for some unscrupulous vendors to try and take advantage. If you use your card, be sure to check your statement when you get home to make sure everything is as it should be.
Grab Things You Forgot in the Cruise Port
During the course of your cruise it's almost a certainty that you'll find you run out of toothpaste… or forget your deodorant… or need some more sunscreen. No matter how well you pack, there's always a little something you'll find yourself needing.
There are toiletries for sale on the ship, but if you wait until Cozumel, it's a good idea. The port area has small pharmacies and shops that sell everything from deodorant to diapers and anything in between. Not only will you have more selection, but the prices will also be cheaper than what you'll pay on the ship.
Here's the Closest Beach to the Cruise Port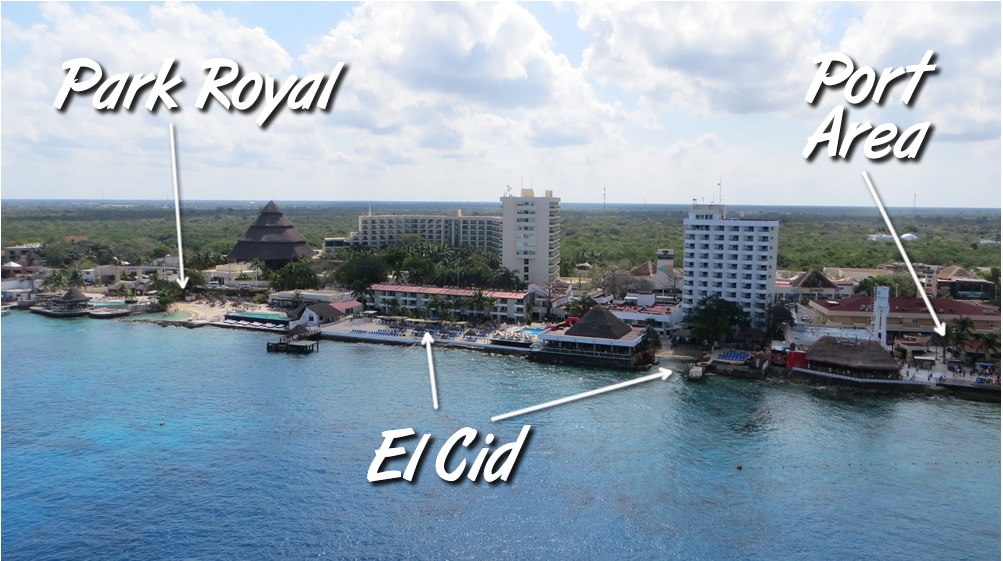 At Cozumel — just like many cruise ports — the beach is a big draw. And on an island, there are beaches everywhere, right?
Unfortunately, Cozumel's shore near where the ship docks is pretty rocky. If you're expecting wide beaches, that's not the case. The closest "beach" to the ship is at the El Cid hotel, which offers day passes for cruise passengers. They've created a small sand beach for guests. The hotel is literally right next door to the cruise terminal, but you'll need to walk out of the port and then next door to the hotel.
Just keep in mind it's not the classic white-sand beach with big palm trees you might picture in your mind. For those sorts of beaches you need to go farther down the coast.
Cozumel's Best Beaches Are South & East
Ok, so you hit an island in the Caribbean and you want to head to the beach. You aren't alone. When you visit Cozumel on your cruise, however, you'll want to head south or east to find the best beaches on the island. (Note: There are also a few nice spots like Isla de Pasion on the north side.)
At these areas you'll find that the rocky shore seen near the cruise terminal gives way to more sand. As well, on the southwest side of the island is where you'll find many of the beach clubs that cater to cruise passengers.
Getting to these spots is easy. There will be dozens of taxi cabs right at the exit of the port. Rides to the top beach spots will usually cost between $10-$20 each way.
Get Your Souvenir Photo For Free in Front of the Ship
One tip for visiting Cozumel on a cruise is to be sure to get one of the most memorable photos on the island. In the cruise port near the water, you'll see a large set of letters spelling out "Cozumel" with the cruise ship in the background.
This is put in as a free photo opportunity. The letters are bright and colorful, and the vantage point looks back toward the ships that are in port. You'll find tons of people grabbing a photo. It's a great way to remember your cruise.
Going Somewhere Other Than the Port? You'll Need a Cab
When you disembark from the ship, you'll find yourself in the middle of a port complex. Here you'll find shops, restaurants, and more all designed to cater to cruise passengers. However, most of the things to do and see are outside of the port. Unfortunately, given the location of the pier, that means you'll almost always need a taxi.
While there is some development around the port, things like beaches, the town of San Miguel, restaurants, and excursions are away from the ships. If you have an excursion booked, it will normally include transportation to and from the cruise terminal. If you're exploring on your own, then you'll want a cab.
Drink Cheaper Off the Ship
Having a beer or a cocktail on the cruise ship can be expensive. It's not unusual to pay $6-8 for a beer and $10-14 for a mixed drink. The good news? Cozumel features a number of bars in the port where you can grab a drink for less. So you can get your fill without having to empty your pocketbook.
There is one exception — if you have a drink package on the ship. In this case your drinks are included on the ship even if it is in port. So yes, drinking would be less expensive on the ship in this case. However, it's doubtful that you'll be running back and forth from the ship to have an adult beverage.
Get Free Wi-Fi in Port
These days Wi-Fi is a necessity — not just something nice to have. Whether you are checking up on work email or checking in back home, being connected is important.
You can access the Internet on the cruise ship, but it's pricey. Often access can run $20 per day. So on a week-long cruise you can spend more than $100. If you want to save some money and just need occasional access, then wait until you hit Cozumel.
In the port area you can find spots like restaurants that offer Wi-Fi to customers. One such place is Pancho's Backyard, a Mexican food restaurant in the port. Here you can have a margarita and chow down and have free online access.
In addition, many cellular plans extend to Mexico automatically, allowing you to use cell data instead of Wi-Fi.
More on Cozumel: