When it comes to Caribbean ports, there's Cozumel… and then everywhere else. The Mexican island is booming and is the most busy cruise port in the word outside of departure ports in Florida. Each year, about four million people make a stop in Cozumel and every major cruise line that sails the Caribbean makes a call there.
Of course, that means there are millions of people looking for the best thing to do in the short time they are in Cozumel. The good news? There are plenty of options for you to choose from. Below, we've rounded up a definitive list of all the things you can do in Cozumel during a cruise visit.
We've tried to include helpful links for booking activities where appropriate. In many cases the items listed below can be booked via an excursion through your cruise ship.
Note that these suggestions are in no particular order. This article contains links to Viator that are affiliate links. We earn a commission if you book through their website, at no charge to you.
1. Head to Mr. Sanchos Beach Club
Mr. Sanchos is one of many all-inclusive beach clubs on Cozumel. For about $70 per person, you get full access to the club, which includes a nice beach with beautiful water, pools, chairs, all you can eat/drink, showers, lockers, and more. It's an easy way to enjoy the island's beaches and get your fill of food and drink, all for one price. (See our full list of Cozumel resorts with day passes here.)
2. Lounge on the Beach at the Pier (Puerta Maya)
If you dock at the main cruise pier for Carnival (Puerta Maya), then you can lounge on a manmade beach with great views of the ship. As you leave the pier and step onto land, hang a left past Fat Tuesday. Walk down a bit and on your left you'll see a small beach with a number of loungers that are usually empty. This is a spot where passengers can visit, but many may not realize it.
The sand is white and soft, but just know there isn't water access. Still, it's free and convenient if you're wanting to get off the ship and not go far.
3. Go Swimming at the Pier (International Pier)
There's a manmade beach at the pier where Carnival ships dock, but nowhere to swim. It's the opposite at the Royal Caribbean pier (International Pier) nearby. There, you'll find a spot where there isn't a beach, but there is a spot where you can climb a ladder down into the water and go for a dip. The water is crystal clear, and you'll find lots of others swimming… and taking selfies as they swim with the ships right in the background.
4. Get a Family Photo in Front of the Ship
The free beach at the pier also offers a perfect view of the broadside of the cruise ships in port. Make your way there and get a photo of you standing with the ships in the background as a cheap souvenir to remember your trip. One hint is to take the picture earlier in the day as the angle of the ship will catch the morning sun and make the color really pop.
5. Pick Up Any Supplies You Might Have Forgotten
When you're on a cruise ship, it's not too easy just to run to the corner store and pick up anything you might have forgotten. But in port, you'll find there are several small shops in the pier area that offer up nearly anything you can imagine. Hit the pharmacy or bodega shops to pick up items you might need like Ibuprofen, sunscreen, deodorant, or anything else. Yes, these may be available on the ship, but they are cheaper in port.
6. Drink Cheap at Three Amigos (or Other Bars)
The cruise ships will offer a lot of excursions and things to do in Cozumel, but they won't mention that you can drink cheap, often just a stone's throw away from the ship. Head into the pier area and you'll see Three Amigos and several other bars and restaurants. These places are typically much cheaper than drinking on the ship, despite being only a short walk away.
7. Head to the Punta Sur Eco Park
Punta Sur — South Point if you don't speak Spanish — is an ecological park on the south end of Cozumel. For a moderate admission fee ($19 per adult), you can hang out on the beach, snorkel, see wildlife in its natural habitat (including crocs and sea turtles), and get a scenic view from the historic lighthouse. Just know you will have to pay for a taxi there and back, which can be a decent amount. (See recent Cozumel taxi fares here.)
8. Visit Chankanaab Park
Located about 10 minutes south of the main cruise port, Chankanaab is a massive park with tons of things to do. The main draw of the park is a large beach that sits right on a rocky shore. The water is crystal clear and offers great snorkeling. In addition there is a pool, restaurants, a dolphin center, sea lion show, nature walk, and more. It costs about $25 per person (kids 12 and under are cheaper), with additional prices for swimming with dolphins, ziplining, and other attractions.
9. Go Tequila Tasting
What would Mexico be without tequila? If you are an aficionado… or simply like tequila, then there are plenty of excursions that offer the chance to eat authentic Mexican food and taste test different tequilas. Check them out through your cruise line excursion desk. They usually also include lunch.
10. Go Ziplining Through the Jungle
In the touristy spots of the Yucatan, ziplines are everywhere. You'll find ziplines at the theme parks in the area, including Chankanaab just a few miles from the cruise pier. Suit up, strap in, and glide over the jungle canopy. Not sure how to make your way to the zipline? Your ship will offer an excursion you can book.
11. Eat Tasty Mexican Food at Pancho's Backyard
Want some guacamole or a quesadilla? Try Pancho's Backyard in the area right around the Carnival cruise port. The place is famous for its margaritas and offers affordable dining with a gorgeous view of the cruise ships.
One added bonus is that they also have free wi-fi for customers so you can login and check your email or send a message back home. (Read reviews of Pancho's Backyard here)
12. Souvenir Shop at the Pier
From t-shirts to glassware to hammocks to Mexican art, the area around the cruise piers has something for everyone. You can take time to stroll through the shopping areas and find anything you can think of with "Cozumel" written on it. When it comes to souvenirs, you won't be without options.
13. Explore Underwater and Take a Snorkel Tour
Cozumel is as well known for what's under the water as what is above it. With an electric blue sea and gentle waves, the island is a snorkeler's paradise. The waters surrounding the island are also abundant with colorful tropical fish. Through your cruise line you will find plenty of excursions offering snorkeling trips. You can also rent gear at nearly any beach club you visit.
14. Hit the Closest Beaches at Park Royal & El Cid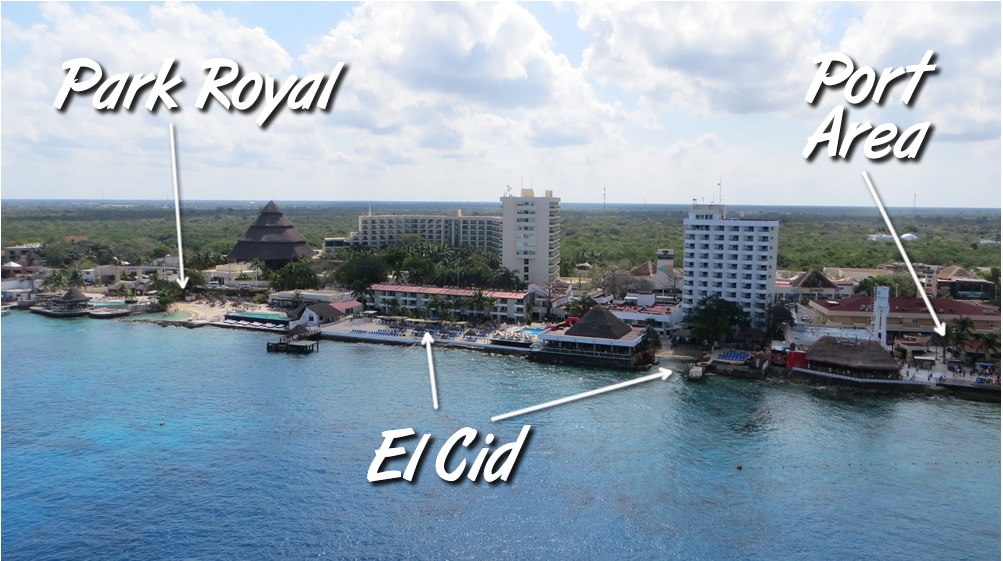 Want to get on the beach as quick as possible… and without going far from the ship? While there is a free "beach" in the port area where Carnival docks, it's manmade without access to the water. And in the area where Royal Caribbean docks there is access to the water, but no beach.
If you want both, head just a little north of the main cruise pier to the Park Royal resort. or El Cid La Ceiba Beach. There you can get a day pass to lounge on their beaches and use their facilities. It's just a short walk from the ship.
Note: Due to occupancy restrictions, day passes may not be available during your visit.
15. See Ancient Ruins at Tulum
Whether you realize it or not, you've seen Tulum. Located on the mainland, the ancient Mayan city is one of the most photographed destinations in the world. The buildings go right up to the cliffsides overlooking the water and stand dramatically over the scenery. Book an excursion and you can go visit the ruins for a few hours, usually followed by beach time, with swimming next to the ruins.
16. Walk Cozumel's Malecón
In the downtown area of San Miguel (Cozumel's main city), you can walk the wide malecon with the beach on one side and shops and restaurants on the other. It's free, a great way to work on the tan, and you can also pop in and out of any place that seems interesting. Just be prepared for taxis to give you a beep as they pass, seeing if you want a ride!
17. Make a Visit to the Cozumel Island Museum
Want a little culture on your cruise? Head to the Museo de la Isla de Cozumel located in San Miguel. The museum covers the history of Cozumel, including some interesting exhibits showcasing items from both the Mayans and the Spanish. It's only a few bucks to see, and best of all it's a good way to get in some air conditioning on a hot day.
18. Party Down at Fat Tuesday
The first spot you'll see as you exit the ship (if docked at the Puerta Maya, the most southern cruise pier) and make your way off the pier is a Fat Tuesday. This Mardi Gras-themed place has tons of drink specials and is right near the pier. In other words, it's a party atmosphere. If you want to get a drink and party while in port, it's the place to be… and a short walk back to the ship should you have one too many.
19. Visit Your Own "Private" Beach for Free (Playa Stingray)
Perhaps the ultimate in status symbols is a private beach. Well, Playa Stingray is public, but most people don't know about it, so chances are you will be all by yourself if you decide to visit. Walk up the road toward town from the cruise piers and you'll come to Playa Stingray after about 15 minutes. Walk down the easily missed stairway and there you are.
The shore is a bit rocky, so water shoes are a good idea. And while the beach isn't white-sand, it's also likely to be all yours… and you can't beat that.
20. Visit the Discover Mexico Park for Gardens, Margs, and Models
The variety offered as the Discover Mexico Park makes the place a little hard to explain. It's a cultural park where you will find botanical gardens, models of famous Mexican buildings, and a Mexican art museum alongside tequila tastings, margarita bars, and showcases on traditional chocolate making. If you want to spend a day off the beach, it's a good option.
21. Hit the Beach at Paradise Beach Cozumel
What's not to like for beach lovers? Located just a few minutes south of the cruise ships, Paradise Beach is a beach club offering up a huge freshwater pool, white sand beaches, and crystal blue water. Sit on a lounger under the palm trees while the kids conquer the in-water obstacle course. Restaurants and bars are on-site meaning you can spend an entire day here, no problem. Prices run around $65 per adult.
22. Do Some Duty-Free Shopping
Cozumel offers plenty of duty-free shopping where you can pick up alcohol, cigarettes, chocolate, jewelry and more at decent prices. You'll make your way through the duty-free area as you make your way off the ship, so don't worry about missing it. You should be a smart shopper, however, and know what's a fair price before you shop. Don't just assume you're getting a good deal.
23. Eat, Drink, and Snorkel at the Money Bar Beach Club
How many restaurants have you been to where you can eat with your feet in the sand and then go snorkeling? The Money Bar Beach Club, located just a few minutes south of the cruise pier, offers just that. Head over and get your fill of food and drink before hanging out on the beach and taking in some of the gorgeous snorkeling right in front of the restaurant. Just keep in mind that the spot has a rocky shore (like most of the west side of Cozumel). So there is a beach, a rocky wall, and then water.
24. Lounge and Snorkel at Playa Palancar
Located on the strip of beach clubs south of the cruise piers and on the western side of the island, Playa Palancar is technically a free beach. Entrance is free, however, you are expected to purchase food and drinks and there are also rentals like chairs and umbrellas. Facilities are also available. For people searching for a cheaper alternative to the beach clubs (which can cost $60+ per person), it's a great deal.
25. Take an Unspoiled Trip to the Cozumel Pearl Farm
You likely won't find the Cozumel Pearl Farm on excursions lists from the cruise ships, but it's the highest rated attraction in the area. In fact, it's one of the more undiscovered things to do on the island. The trip is a little rustic and not a ton of people go on it. That's actually a big draw. Located on the northern part of the island — via a boat ride and away from the crowds — the tour offers education into an actual pearl farm, plus snorkeling and beach time.
26. Visit the Mayan Ruins of San Gervasio
The Yucatan was a hotbed for the Mayan civilization, and Cozumel is no different. Today you can take a cab and explore these ruins located in the middle of the island. The site isn't as large as major cities like Tulum or Chichen Itza, but still worthy of your time. Plus, it's a convenient way to see Mayan ruins without having to take an all-day trek to the mainland.
27. Head Out to Go Scuba Diving
Of course Cozumel is a world-famous dive spot. Hook up with a local dive company (if you're certified) and have them take you to the best spots. There are also lots of classes for beginners. The area is ripe with reefs, offering divers a ton to explore. Meanwhile, the waters surrounding the island are relatively shallow, making it ideal for beginners.
Sailing to Cozumel on Royal Caribbean? Many of their ships have dive centers on board that can get you ready to go before you reach the island.
28. Get a Birdseye View With Parasailing
Strap in and get ready to see the best views of Cozumel if you go parasailing. Several companies offer trips for about $60 per person for roughly 15 minutes. Head toward downtown on the main street to find places offering to take you up. Or you can book online — or through you cruise line — at a few places before you set sail.
29. Explore XCaret
Pronounced "ex-cah-ray" the theme park is a fun mixture of culture, water, food, and fun. Learn about the history and culture of the region before snorkeling and swimming in crystal-clear lagoons and underground rivers. There are also wildlife exhibits, or you can just hang out, have a drink and lounge by the water. The park is located on the mainland, so be sure to include extra time for transportation.
30. Go on an Adventure at Xplor
If you're seeking adventure during your time in Mexico, check out Xplor. The theme park is carved out of the jungle, offering high-octane rides like ziplines and amphibious vehicle excursions, and ziplines. The big draw is the underground river that runs through a series of caves for you to explore. This is a great for kids as well as adults.
31. Explore the Waters at Xel-Ha Theme Park
From the same people who brought tourists XCaret, Xel-Ha (pronounced "shell-ha") is another theme park that takes advantage of the ocean inlets and small rivers of clear water. Here you can snorkel, swim, waterslide, rope swing, and even cliff jump. There are also ziplines, bike rides and jungle trails if you want to have fun away from the water.
32. Take a Boat Ride to Passion Island
On the northern side of the Cozumel is a small spit of land that's dubbed Isla Pasion (Passion Island). To get there involves a scenic boat ride up the coast before you make your stop at the beautiful white sand beach. Book an excursion through the cruise lines and it normally comes with open bar and lunch served as you lounge on one of the most beautiful beaches in the world.
33. Compete in The Amazing Race: Cozumel
If you love The Amazing Race on television, this is your chance to compete in a real-life version of it. You'll hunt for clues and complete tasks around Cozumel and San Miguel, competing against other teams. It's a chance to have some fun, but also get a unique tour. It's great for families with older kids, but wear walking shoes and expect to sweat!
34. Walk on the Bottom of the Sea
Sure you can go snorkeling. But that sticks you on the surface. Instead, with the Sea Trek helmet, you can actually walk on the bottom of the seafloor. The helmet fits over your head and shoulders, with an air hose attached. With this you can dive under the surface and explore just like you would if scuba diving, all without the heavy tanks or awkward fins.
35. Get a Look Underwater on a Submarine
If you want to get a look underwater without getting wet, there is an excursion you can take that allows you to ride in an actual submarine and slip below the waves. There you can check out the coral and abundant wildlife in the waters off Cozumel. It's ideal for those who want a look under the sea, but may not be up to snorkeling in open water.
36. Get Your Thrills on a Jet Boat Ride
Jet boats are essentially full boat-sized jet skis. They can carry about a dozen people and knife through the water, with the ability to accelerate quickly and make quick 360-degree turns. In other words, it's like a roller coaster on the water. In Cozumel you can hop a ride to get your adrenaline pumping. Just check your cruise line's excursion lineup to find it. If you book the excursion, it's usually accompanied with some beach time and lunch.
37. Hire a Taxi for an Island Tour
What better way to see the island then with a local driving you around? Taxis on the island are happy to take you on a full tour so you can explore the sights at your own pace. Best of all, you'll have a personal driver who will go wherever you want whenever you want to get there. So you can hit the beach, the town, the Mayan ruins on the island, and make it back to the ship without breaking a sweat.
38. Head Across the Island for a Less Crowded Beach
While most cruise passengers hang out on the western side of the island, the beaches on the eastern side are typically offer nicer sand and much less crowded. Be careful, this side of the island is usually windier and the water can be a bit rougher. Still, if the weather is good it's a great way to head to a beach without the big crowds. Just be sure that you have a way to get back. With fewer tourists, there are fewer transportation options this way.
39. Try Your Hand at Snuba Diving
You've heard of snorkeling. You've heard of scuba diving. But what about snuba? It's a mixture of the two. Like snorkeling you don't have to worry about air tanks, and like scuba diving you can go below the water. The key is that you have a long air hose to breathe through, giving you full mobility to go deep below the surface. Tours are available around the island or through the cruise ship excursions.
40. Make a Stop at the Casino
Yes, there will be a casino on the ship, but if you can't get enough of trying your luck, what about a little play in a Mexican casino? At the very least, it will be an interesting story to share back home.
If you walk out of the port area, right as you exit you'll see the Royal Village Shopping Center. Within this center is the casino (next to the Hard Rock Café), with a huge sign that you can't miss. Now, don't expect a huge Vegas-style resort. Instead, it's a relatively small spot, but a nice way to kill some time in the air conditioning if you have time to spare before heading back to the ship.
41. Take a 4×4 Tour Into the Jungle
Want to get a little wild? Cruise lines offer 4×4 excursions — either on a four-wheeler or on an ATV buggy — through the jungle. You'll likely get a little dirty, but that's the point. After the trek, you usually then have a few hours to hang on the beach and have lunch provided. It's not a bad way to spend the day for people that want some adventure.
42. Head Out Deep Sea Fishing
For decades before tourism, Cozumel was all about fishing. These days you can charter a boat to head out for a few hours and fish the rich waters off the coast. It's ideal if there are several people going along so that you can split the cost of a charter. Just one thing to know is that you can't bring fish back with you on the cruise ship due to customs issues.
43. Explore the Neighborhoods of San Miguel
Most tourists see only the main promenade that runs right by the water or the touristy shops and restaurants. But take a turn into town and you can find some cute houses and sights in the neighborhoods of San Miguel. It's a cool way to get a feel for authentic Mexico. One thing that sticks out is the lush foliage that seems to be everywhere.
44. Visit "La Farmacia" for Prescriptions You Might Need
Do you have expensive prescriptions back home? Or maybe there's medicine — like those little blue pills — that requires a prescription in the United States, but doesn't in Mexico. In the port area you'll find pharmacies where you can go shopping and get a deal, or pick up something you wouldn't be able to get back home. Just be aware of any laws about bringing pharmaceuticals back home.
45. Have a Margarita at… Margaritaville
If you don't want to go far and have a lot of fun, there is a Margaritaville right near the main cruise pier where Royal Caribbean ships dock. Head down and sip a margarita (or any other libation) while the tunes play and you munch on your bar favorites like burgers and nachos. Best of all if you have a little too much to eat… or drink… it's a very short walk back to the ship. (Note: This is at the port area for the Royal Caribbean pier)
46. Eat the Highest-Rated Burrito in Town
Want a cheap and easy lunch? Crazy King Burrito is among the highest-rated place to eat in town according to TripAdvisor, coming in with a perfect 5.0 rating after more than 1,300 reviews. The specialty is burritos (obviously), which are rather large and perfect if you had a little too much to drink the night before. Pair it with a cold Mexican beer or a glass bottle of Coca-Cola, and you have the perfect lunch.
47. Grab a Treat at Chocolateria Isla Bella
One of the top-rated place to eat on the island isn't even a restaurant. TripAdvisor rates Chocolateria Isla Bella as a top restaurant. In actuality it's a small chocolate shop with tons of tasty dessert treats. Stop in and pick up a dozen of the chocolate bites to take back to your cabin.
48. Eat Some Great Italian at Rolandis
Rolandis has several locations in the Yucatan, including nearby Cancun and Isla Mujeres. There's a good reason for its popularity — great Italian food in beautiful surroundings. Pizza and breads are wood-fired, and you have a wide choice of seafood and pastas. The view is killer, and the restaurant is also a great option for vegetarians.
49. Take a Water Taxi to Playa del Carmen
If you haven't had enough boat rides in taking a cruise, try one of the fast-moving ferries that goes the 12 miles from Cozumel to Playa del Carmen on the mainland. The trip is fun — the ferries offer great views, as well as indoor and outdoor seating. Once in Playa del Carmen, you can hit the beach, grab some lunch, or go shopping. Just be sure to get back in time to get back on the ship.
50. Explore and Swim in a Cenote
Cenotes (pronounced say-NO-tays) are large caverns where underground water has made its way to the surface. Because of the rock this water has gone through, it's highly filtered freshwater that's crystal clear… and cold. The mainland area around Cozumel is rich with cenotes and they make amazing swimming spots to explore. Several excursions will take you to these spots where you can swim and enjoy the natural beauty that the Yucatan has to offer.
51. Drive Your Own Speed Boat
Cozumel is known for having a lot of adventurous things to do, and it's a good spot to try some things you simply wouldn't be able to do back home. One favorite we've personally done is an excursion through the cruise line that featured snorkeling combined with speed boats. Every couple gets their own personal speed boat to drive to the snorkeling spot. That's fun on its own, but then you get to hop out and take a guided snorkel trip seeing all sorts of creatures, including turtles and rays.
52. Take a Tour of Chichen Itza
Often cited as one of the new Seven Wonders of the World, Chichen Itza is the most famous of the Mayan cities in the Yucatan. It's a few hours from Cozumel, but several tours will take you there and get you back before your cruise departs. Be aware, a trip to Chichen Itza will take all day. It's not ideal if you're traveling with small kids. Your cruise line will have excursions offered to the wonder.
53. Head out on a Catamaran Tour
There is no shortage of way to get on the water in Cozumel. Case in point are the catamaran tours that offer the chance to sail in the crystal waters off the island, snorkel, and eat lunch. Most cruise lines will have this as an option on their excursions. Expect prices to run between $70-100 per person.
54. Go Horseback Riding Along the Beach
Horseback riding is a unique way to see Cozumel. Trips are offered around the island (including Mr. Sanchos) and can take you around the jungle, on the beach, or both. Note that weight and mobility limits may apply. You don't need prior experience in order to ride.
55. Hop on a Bike Tour of the Island
Want to get your exercise while also doing some sightseeing? Check out a bike tour of the island. It's a cheap way to get around and see the sights without having to keep to anyone else's schedule. They also offer electric bikes so you don't have to do all the pedaling in the heat. If you do go, pack plenty of water, sunscreen, and a good hat.
56. Have a Spa Day on the Ship
Ok, technically it's not something to do in Cozumel, but when in port, it's a great time to hit the spa on the ship. On port days most people leave the ship meaning the spa has a lot more openings for its services. Hang out on the ship, get a massage and do it on your schedule! In fact, sometimes you can get discounted prices if you head to the spa on a day that the ship is in port.
57. See the Stars at the Planetarium
One of the little-known gems of the island is its planetarium. The Cha'an Ka'an facility is open Tuesday through Saturday and offers a 3-D projection dome, astronomy shows, and even an observatory. It's a cheap way to spend the day in the air conditioning while seeing some cool things.
58. Have a Drink and Party at Senor Frogs
Sure it's a little bit touristy, but there's a reason that places like Senor Frogs are popular — they are a lot of fun. There's one right by the cruise ships and you can hang out right next to the most beautiful water in the world, having a blast with other cruise passengers. If you want to be more low-key, snag a table around the edge of the restaurant instead of by the bar.
59. Check Your Email With Free Wi-Fi
If you don't pay for wi-fi on the ship, you can find it in the port area. Pancho's Backyard (listed above) has free wi-fi for their customers and you'll find other networks around the port. Spend a few minutes checking in back home, writing an email, or making video calls to tell everyone how much you're enjoying your trip.
60. Pick Up Some Mexican Vanilla
Mexican vanilla is famous the world over for its flavor. And while it's not as popular an export as tequila, many people still stock up while they are in port. Take home a big bottle that will last you for years. They are for sale in several shops around the port.
61. Take Your Photo in Front of the Cozumel Sign
One of the best spots to have your picture taken is in front of the Cozumel sign. In the background you'll have the ships docked, and you'll never forget where you were. The sign is located at the pier where Margaritaville is located and where Royal Caribbean normally docks. You might not be able to access it if your ship docks at the other piers.
There is also another Cozumel sign (pictured at the start of this article) if you walk north from the port area for about five minutes, which sits right in front of the beach.
62. People Watch at the "Grand Canyon" of Cozumel
No, Cozumel doesn't have any real canyons. But when the big cruise ships dock, they tower over the pier, creating the feeling of being at the bottom of a canyon. Best of all, it's usually shady (because the ships block the sun) and breezy. There are benches where you can sit and enjoy the cool breeze while watching passengers go back and forth. It's a nice way to relax before you head back on the ship.
63. Do Nothing!
For some people, it's the most boring thing imaginable. For others, it's the best way to relax. It's your vacation. If you want to just stay on the ship and enjoy some peace and quiet while everyone else on the ship heads into port. Sit by the empty pool, have a drink in hand, and enjoy yourself without ever stepping on shore.
Headed to other nearby ports? See our list of things to do in Costa Maya on a cruise and our guide to Progreso.
We also have a list of free or cheap things to do in Cozumel here. You can also see our entire Cozumel guide here.