About to head to Norwegian Cruise Lines' Great Stirrup Cay? Get ready to have a blast.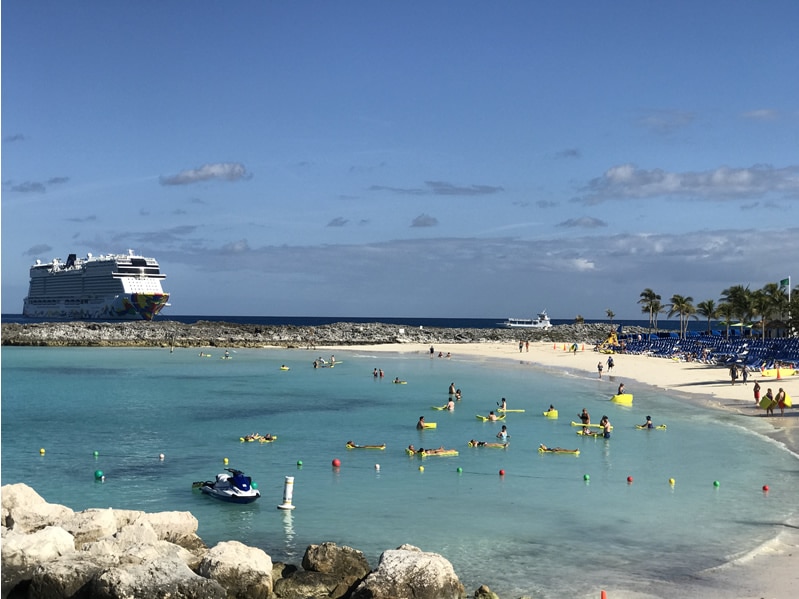 When it comes to cruising, it's hard to beat a port-of-call that's a private island. Every major cruise line has (at least) one, and while each is different, they are all desirable places to spend a day.
Today, Norwegian Cruise Line actually operates a couple, including Harvest Caye in the Caribbean and Great Stirrup Cay in the Bahamas.
So what can you expect from your visit? We've put together everything to know about the island.
From a general overview of what to expect all the way down to nitty-gritty details, this guide to Great Stirrup Cay will make you a pro before you even set foot on its white sandy beaches.
Great Stirrup Cay Overview
First things first — an overview of exactly what Great Stirrup Cay is all about. The cruise port destination sits in the middle of the Berry Islands, about 140 miles from Miami.
It's completely run by Norwegian Cruise Lines for the enjoyment of its guests. At about 2 long by a half-mile wide, it's decently sized but only a portion of the island is developed for cruise passengers.
On shore you'll find a wide range of activities, from ziplining to parasailing to snorkeling, along with beautiful sand, electric blue water, food, bars, and even villas (more details below).
In short, if you've ever wanted to visit a picturesque private island without having to pay a fortune, this is it. Everything you could need is offered right here and the only people on the island are Norwegian passengers.
Here is a complete map of the island, provided from NCL:
Where is Great Stirrup Cay Located?
Norwegian's island sits in a chain of islands called the Berry Islands in the Bahamas. The islands are about 140 miles east of Miami, making it a close port of call for cruises departing the Florida port. It's also about 60 miles north of Nassau. The close proximity means that any trip headed from Miami or going to The Bahamas will often have Great Stirrup Cay included as a port of call.
What Do I Need to Bring to Great Stirrup Cay?
The great news is that you don't need to bring much to the island, but you do HAVE to bring a couple of things. You will have to bring your room card and photo ID. When you leave the ship you will scan your card so that crew knows who is on and off the ship.
When you return, you will show the security guard your room card and ID to get back on the tender to the ship.
Apart from those two items, you don't NEED to bring anything. However, you should bring anything you might want for a day at the beach, including things like your swimsuit, sunglasses, sunscreen, and a hat. (See our suggest cruise packing items here.) It's also smart to bring a towel from the ship.
One note: You CAN'T bring any food with you between the ship and the island. There's plenty to eat on Great Stirrup Cay, so you don't really need to bring snacks.
How Do I Get to Great Stirrup Cay From the Ship?
The island is a little unique in that you don't have a big pier (just yet) that the ship docks at to let passengers off. Instead, the ship docks offshore and you use a tender to get the shore. Tender is just a fancy term for taking a smaller boat from a larger boat. You hop on this smaller boat to motor to the island.
Tenders run continually throughout the day so you can come and go from the island whenever you want. The cruise line might ask passengers to make a reservation for a tender if you want to go right when they start running. However, once it is open tender, you don't need a reservation. At that time, when you're ready to go to Great Stirrup Cay, just walk down to the gangway deck and climb aboard the tender.
The ride takes about 10 minutes to get between the island and where the ship is anchored offshore.
Do Drink Packages Work on the Island?
Yes, you can use your Norwegian drink package from the ship on Great Stirrup Cay. Head to any bar on the island and you can get a drink just like you would on the ship. The same $15 per drink limit applies.
This actually is a big benefit to buying the package for cruises that visit the island. On most ports of call the drink package does not work when off the ship. That's a day where you don't get the full potential of the package despite having to pay for the service. Having it work on Great Stirrup Cay means you are better able to get your money's worth.
What Is There to Eat on Great Stirrup Cay?
The good news is that food is free on Great Stirrup Cay, and you have several options to choose from.
Buffet: Starting at 11:30, there is a large buffet serving up a number of dishes, including burgers, dogs, pizza, salads, chicken, fruits, and a few other dishes. There are also a number of covered areas with picnic tables for you to sit and eat.
Grill: Right near the buffet is a spot where staff cooks up jerk chicken and other goodies that you can get fresh off the grill. There are a number of sides available too, and the smell draws in a lot of folks to eat here.
Hot Dog Cart: Want a snack? We saw a couple of hot dog carts roaming around the island during our stay. Step up and get a dog as a snack to hold you over, or as your meal.
Food Truck/Abaco Taco: There are two other spots on the island — Abaco Taco (a build your own taco bar) and a food truck called Tropic Like It's Hot (pictured above) — serving up some dishes that you won't find anywhere else on Great Stirrup Cay. The menus include ceviche, pulled pork sandwiches, spicy chicken sandwiches and more. Best of all, they are free.
Do I Need Cash on the Island?
Yes, but only a little bit. For the most part any spending you do on the island can be done on your cruise room key, just like you were on the ship. If you want to pay for an excursion or get a drink at the bar, just hand over your card to pay.
The only exception is that there is a small straw market of local vendors selling souvenirs. If you want to purchase something here, then bring a little bit of cash. U.S. dollars are accepted. If you don't anticipate buying any souvenirs then you can leave your money on the ship.
Does My Room Card Work to Buy Things on the Island?
Yes, since Great Stirrup Cay is run by the cruise line, almost everything is run just like on the cruise ship. If you want to buy a drink at the bar, for instance, you just scan your card just like the bars on the ship. That makes it extremely simple for passengers.
Great Stirrup Cay is Next Door to CocoCay
If you've been cruise shopping, then you've likely seen ads for Royal Caribbean's CocoCay. If you've never seen it in person, you will from the cruise ship. CocoCay is literally the next island over and you can see it right from the ship. In fact, it's very likely you'll see a Royal Caribbean ship right next door when you visit Great Stirrup Cay.
Beach Wheelchairs Are Available (First-come, First-served)
If you have mobility issues, you can still enjoy the island. Beach wheelchairs with massive inflatable tires are available for you to use for free. We will also mention that Great Stirrup Cay didn't feel particularly accessible otherwise as there are lots of spots that require walking through sand. With the beach wheelchair, however, it should be much easier to navigate.
Want Smaller Crowds? Head Farther Down the Beach
Great Stirrup Cay has several coves that run across the length of the island. The first and largest cove is by far the most popular with people as it's right by the landing for the tender boats.
If you want to have smaller crowds, head down the beach some, following the path to the other coves. Here there aren't as many people, and it's a bit slower paced.
Want to really get away from the crowds? Check out the new Silver Cove (more on this below).
Silver Cove Villas Brings Luxury to Great Stirrup Cay
On Norwegian cruise ships, guests looking for luxury have The Haven — an exclusive part of the ship that separate from the rest of their guests. They can still enjoy the rest of the ship but also have their own little spot.
On Great Stirrup Cay, the equivalent is the Silver Cove area of the island.
Walk all the way to the end of the beach area, and you'll find Silver Cove. This area is equivalent to The Haven on the ship. To access the spot you have to purchase a villa during your stay on the island (prices start around $500).
These luxury villas include beds, a living room, bathroom, fridge, TV, and outdoor seating areas. Meanwhile, you have two choices of where to rent a villa — oceanside or surrounding a massive lagoon of electric blue water.
Keep in mind the only other people in this area will be those who've booked villas, so it's a bit quieter than the rest of the island. There are also a number of amenities, including a spa, restaurant, and a shuttle to take you back and forth from the tender ship dock.
There Are Tons of Photo Ops
Whether you love social media of just want a nice snapshot, there are a ton of photo opportunities around Great Stirrup Cay. One of the most popular are the over-the-water swings. There are a few sets around the island and you can get a pic with your toes dangling in the water.
One other great spot is the tender that takes you back and forth from the ship. This gives you fantastic views of the ship up close from the water with no obstructed views. It's the best chance to get that perfect photo in front of your ship.
Need a Restroom or a Shower? Look for the Teal Buildings
Thankfully restrooms aren't hard to find on Great Stirrup Cay, as they are dotted around the island. All you have to do is look for the teal buildings. This helps them stand out from the rest of the island.
Also, if you need a shower to wash off the sand and the salt, there are showers on the sides of the restrooms that are free to use.
The Water is Calm for Swimming (But Can Get Cool!)
One thing that's great about Great Stirrup Cay is that the land forms coves around the swimming area. That reduces the waves and the choppy water and makes things perfect for playing in the water, even for small kids. During our visit the open water had a slight chop, but the water near the beach was perfectly flat and calm.
That said, depending on when you go you may not want to swim much. When we visited in late November and found the water cool. It was still nice and warm to lay on the beach, but we didn't do much swimming.
Ziplining Is a Big Deal
From a distance, the first thing you will notice on the island is the massive lighthouse that towers over everything. This is actually not a lighthouse, but the peak of the zipline course that runs throughout the island.
Ziplining is a big draw and you'll see the lines criss-crossing the entire island. During our visit, the lines were running constantly with people zooming back and forth. You'll have to pay extra to do them, but the views you get are second-to-none.
Wi-Fi Doesn't Work on the Island
If you get the Internet package on the ship, unfortunately it won't extend to the island. There's no service while you're on the beach so if you want to get in touch at home or post to social media about your day at the beach, you'll need to wait until you go back aboard.
Rental Fees and Activity Prices for Great Stirrup Cay
Wondering what more there is to do than hang out on the beach or zipline? There are a number of things you can do. Below, we've included the listing of activities and rentals from a recent cruise, along with prices:
Big Plans Could Be In the Works for Great Stirrup Cay
We mentioned above that Great Stirrup Cay is right next to CocoCay. Royal Caribbean recently spent about $250 million renovating their island, putting in everything from the Caribbean's largest pool to a waterpark with the tallest waterslide in North America.
The reviews of CocoCay have been phenomenal from visitors, including us. But of course, just like with bigger and better cruise ships, there is also competition among private islands.
During our visit we were given a tour and told that there were bigger plans in the works for Great Stirrup Cay. While not many details were mentioned, the guide did mention plans for a pier so that passengers can come and go as they please, and it was also mentioned that Great Stirrup Cay is much larger than CocoCay, giving them more options.
Again, no specific details were mentioned, but it gave the impression that there could be some big changes to the island in the coming years.
Have more questions about visiting Great Stirrup Cay? Let us know in the comments below.
More on Sailing NCL: