Had your fill of the ship's buffet? Can't stand another meal in the dining room? Or maybe you just want to go explore, grab a bite to eat on land, and enjoy your time in port over a meal and a drink.
No matter your reason for wanting to eat right near the Cozumel cruise port, we have you covered with a number of options for you to enjoy.
Cruise ships that visit Cozumel primarily dock at one of two piers located on the western side of the island. These piers lead to port areas all designed to cater to cruise passengers. There you will find dozens of shops, plenty of restaurants, bars, and things to see.
That means you can go and grab something tasty without having to venture far.
We've rounded up a list of restaurants all within the port areas of the main terminals of Cozumel. These restaurants are nearly in the shadow of the cruise ships.
Many of these restaurants are popular American brands that will sound familiar. Others are local joints that can give you a little of the island flavor. Either way, they all offer a place to grab a bite to eat with the convenience of being right near the ship.
Be sure to see the map at the end of this article, showing all the restaurants on our list.
One note: There are two main piers in Cozumel. The International Pier is located north of Puerta Maya. The two piers feature dedicated port areas that are closed off from each other. We've specified which pier the restaurants below are located.
Three Amigos (Puerta Maya)
Three Amigos is a touristy bar and restaurant that's loosely based on the classic comedy film by the same name (seriously, they have an "El Guapo" burger). As you would expect in a cruise port, the drinks flow freely and it's a party atmosphere. Three Amigos serves classic Tex-Mex fare like nachos and guacamole, as well as burgers. You'll also find plenty of colorful tropical drinks and margaritas if you're thirsty.
From this spot you'll have a great view looking back to your ship and it's not a far walk should you have a little too much before you need to return to the ship.
Price: $15-25 per person | Read reviews of Three Amigos
Fat Tuesday (Puerta Maya)
As you would expect with a name like Fat Tuesday, this bar and restaurant has a Mardi Gras theme. Famous for its daiquiris, the restaurant also has a full menu of bar food, including hamburgers, nachos, wraps, and sandwiches. There is also Mexican food items like fajitas as well.
The vibe is definitely one of a party atmosphere. Don't be surprised if there's a bit of loud music and dancing. Something about huge frozen daiquiris seems to put people in a fun mood!
Price: $15-25 per person | Read reviews of Fat Tuesday
Pancho's Backyard (Puerta Maya)
If you want to a nice spot to dine near the cruise ship, sip some drinks, eat some great food, but be away from the party scene, then Pancho's is a good choice.
It's a relaxing atmosphere and more upscale (though not stuffy), right near the waterfront — you can literally see the cruise ships from the restaurant. The menu is Mexican food, but a little more authentic than the Tex-Mex served at other places. You can get nachos and quesadillas, but also ceviche and shrimp. Pancho's is also famous for its margaritas.
Note: Free Wi-Fi is also available, making it a nice stop if you want to check your email on your phone.
Price: $15-25 per person | Read reviews of Pancho's Backyard
Bar Mandy (International Pier)
Perhaps the most "low-key" of the places to eat, Bar Mandy is a casual open-air bar that you'll find in the port area. It's not fancy, but that's the point. Stop in and grab a beer or a cocktail for a few bucks (be sure to bring cash; credit cards aren't accepted).
Want something to eat? You're in luck. There are tons of Mexican-food options available, from simple things like chips and guacamole to lobster burritos. Don't expect fine china and white tablecloths here, however!
It's great for both kids and adults and it's perfect for one last bite to eat before heading back to the ship.
Price: $10-15 per person | Read reviews of Bar Mandy
Margaritaville (International Pier)
Ok, so it's a bit of a tourist trap, but who cares when you are right on the water, watching the turquoise water of the Caribbean with a cold beer (or two) in your hand? There's every type of booze you can imagine, as well as tons of bar food like "Volcano Nachos," huge burgers, sandwiches, street tacos, and even ribs.
Like other bars in the area (Three Amigos, Fat Tuesday), expect the vibe to be lively with dancing, drinks, and an upbeat vibe. There are also plenty of places where you can get a fun souvenir photo and shopping for anything related to Jimmy Buffett.
Price: $20-30 per person | Read reviews of Margaritaville
Senor Frog's (International Pier)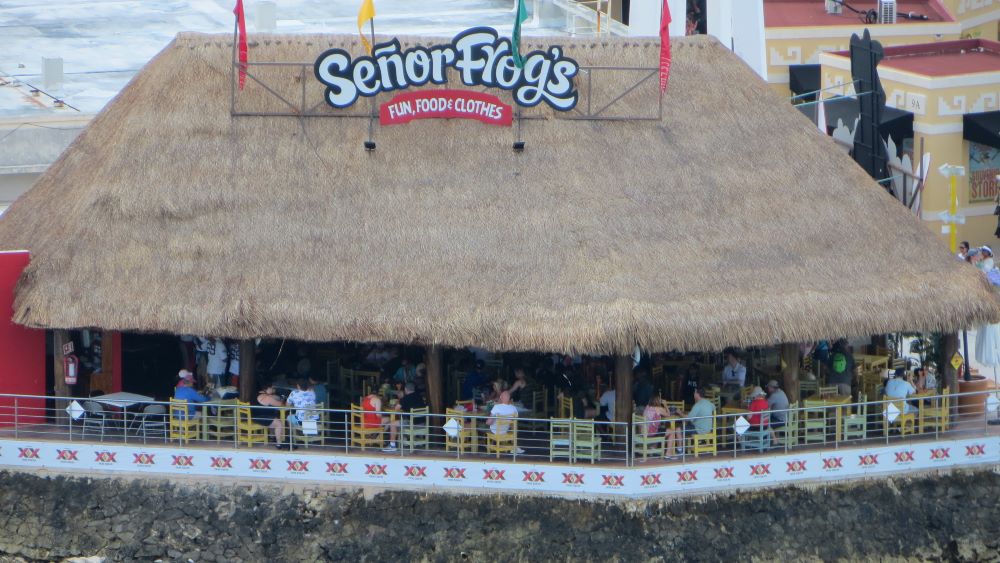 Perhaps the original of the upbeat "party" bars, Senor Frog's has a well-known reputation as a place to relax, let loose, and have a drink (or three). The location at the Cozumel pier is no different, sitting under a large palapa right on the water. There's fantastic views back toward the ship.
As for the food, expect the typical Mexican beach fare. Guacamole, tacos, nachos are all on the menu, as are burgers, wings, and more. Drinks? Beer and tequila are popular, which might put you the mood to dance. The good news? That's highly encouraged at this sort of spot.
Price: $15-25 per person | Read reviews of Senor Frog's
Cafe Punta del Cielo (International Pier)
If you're wanting your coffee fix while in port, this is the place. The small cafe serves coffees, desserts, and pastries in an upscale, modern atmosphere. Wi-Fi is available, making it a nice spot to sit, relax, and email people back home to tell them how much fun you're having on your cruise.
If you just want to hang out a little bit before heading back to the ship, this is ideal.
Price: $5-10 per person | Read reviews of Cafe Punta del Cielo
Hard Rock Cafe (Across from International Pier)
Technically this spot is outside of the port, but it's so close that we will include it.
Hard Rock Cafe is a classic restaurant with locations everywhere from Cozumel to New York City. The food is definite American fare, so if you're craving a big steak, burgers, pulled pork sandwiches or even a Caesar salad, then it's your place.
What we think is coolest about Hard Rock is the memorabilia. There's also a shop where you can get just about anything with Hard Rock written on it. (It's also supposedly the smallest Hard Rock location in the world.)
Price: $15-25 per person | Read reviews of Hard Rock Cafe
Ix Kool (Across from International Pier)
The highest-rated hotel in Cozumel on TripAdvisor? It's this spot located in the Royal Village Shopping Center, which is across from the International pier. Its offers up Mayan cuisine, which may be something you haven't experiences before. There are classic dishes like guacamole and ceviche, but also lots of offerings like pork tacos and papadzules (corn tortillas dipped in pumpkin seed sauce).
While it's a bit adventurous, the reviews are outstanding, as is the service. If you want a meal that's more authentic compared to what you usually find around the port, this is the place.
Price: $10-15 per person | Read reviews of Ix Kool
San Juan Restaurant (Across from International Pier)
Another low-key spot to grab a snack and a drink, San Juan is outside the port area but not a far walk. You'll find that its less expensive than the restaurant/bars closer in to the ship and often has 2-for-1 drink specials. As far as eats, it's typical Mexican fare (guac, nachos, quesadillas, etc.), along with some American items like chicken strips if you have kids that are picky eaters.
One nice perk is the free wi-fi, allowing you to check-in back home instead of the pricey service found on the ship.
Price: $10-15 per person | Read reviews of San Juan