When it comes to booking a cruise, everyone wants to get a good deal. And the truth is that you can get the same exact cruise for hundreds — and sometimes thousands — of dollars less just by sailing during the right part of the season.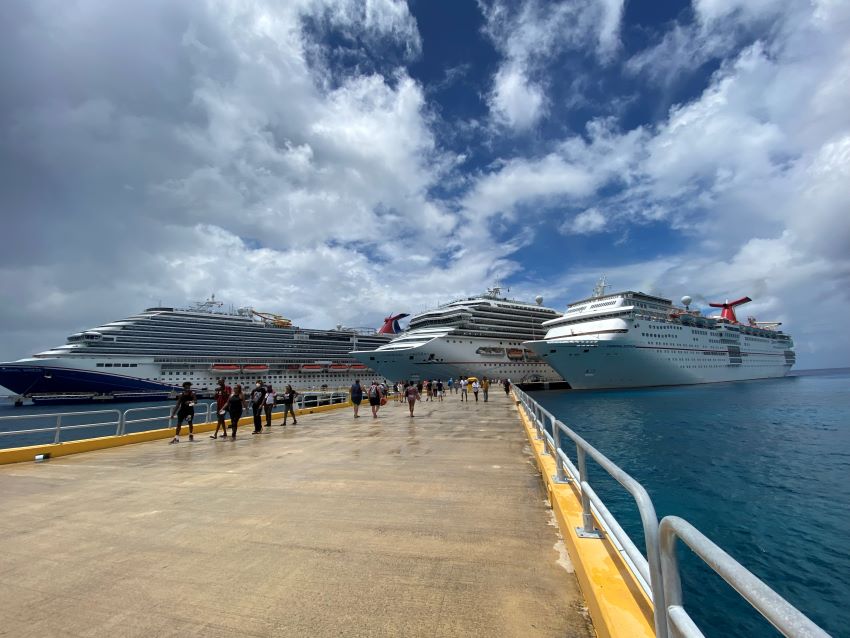 So when is the best time to book a cruise? Below, we'll explain exactly the best time to buy your vacation.
Before we get too far, however, you should know that the biggest factor in how much you'll pay depends on one thing: timing. And when it comes to timing your purchase, there are two things to consider: when you actually buy the cruise and when the cruise departs.
Below, we go into detail on both fronts with some actual data to show you exactly when to time your purchase and when to set sail to save the most money.
Best Time to Buy Your Cruise: As Far in Advance as Possible
When should you buy your cruise? While the lure of last-minute cruise deals tempt people, data actually suggests that it's a much better idea to book as far in advance as possible.
This isn't because you'll get amazing deals by buying earlier. But there is a different benefit to booking early. Truth is that cruise prices will vary, but tend to hover around the same price point, whether the trip departs next month or next year.
But what about last-minute deals?
It seems like basic logic that if a cruise were about to set sail with empty rooms, the company would slash prices to get people on the ship. After all, once a room leaves empty, it earns no money for the cruise line.
However, if every cruise line slashed prices last-minute, people would catch on and wait to book their trip. There would be no reason to book early.
This would be disastrous for the cruise lines, who want you to book as soon as possible. In fact, some lines refuse to drop prices any lower once the cruise gets within a few weeks of departure.
Where you can get burned waiting until last-minute is with cabin selection. If you wait until a couple of weeks before the cruise sails, then you're going to be left with cabins that other passengers didn't want. This usually means there are no or limited balcony rooms, and the locations of available rooms are often less desirable.
In other words, by waiting you can actually see fewer options for cabins and locations on the ship.
If that weren't enough to convince you to buy as early as possible, you should also consider how waiting until closer to the cruise sail date doesn't always save money. And even if you book farther out and the price drops, you can often be compensated for the lower price.
Prices Behind Buying a Cruise Earlier Instead of Later
The price difference between a cruise bought close to the sail date or farther out is not always clear. Sometimes it's cheaper to book sooner. Other times it's cheaper to book later. It really depends on the demand for that cruise. In that case, we think it makes sense to go ahead and book your cruise early if you can and lock in a better cabin location.
The table below shows the headline fare for one cruise as an example. This cruise is aboard Harmony of the Seas on a 7-day cruise departing Galveston. Since the cruise is scheduled regularly for more than a year into the future, we can compare the price of the cruise now with the price of the same cruise at the same time next year.
As you can see, the prices for this trip are similar from one year to the next, though there is some variation across weeks.
The prices below are shown per person for an interior cabin, before taxes and fees.
Bottom line: Yes, there are some slight price differences and it's not set in stone that buying sooner or later will save you money one way or the other. But if you're going to end up paying around the same price whether you book the cruise a month before it leaves or a year before it leaves, it makes more sense to book as early as possible. That way, you have the most options available for cabin types and location.
Another Reason to Book Early: Price Protection If Prices Fall
Yes, prices for trips can vary but are usually similar whether you book early or not. There is another reason to book early, however. When you book early, you can often get price protection included in your fare.
How does this work? Like airfare, cruise fares can move up and down over time (though not near as drastically). If you book a cruise and see the price drop later, you should call the cruise line and request a refund of the difference.
Many last-minute cruise fares (those sold within 30-45 days from the sail date) have their prices locked. What you pay is what you get. If the price drops after you book, then it can be more difficult to get the difference in cruise fare refunded.
If you book well in advance (usually 90+ days), you can usually get some sort of price guarantee included with your fare. Book a fare, and if you see it drop later, you can call the cruise line and get the price difference either refunded or get the difference back as onboard credit.
There are rules and stipulations for each cruise line as to whether your fare is eligible to get refunded should the price goes down. You'll want to make sure you read all the fine print of your fare before you buy. For instance, you can learn more about Carnival's different fares here.
You can also learn more about getting your money back after a price drop here.
Is There a Best Month/Season to Book a Cruise (Such as Wave Season)?
We mentioned earlier that we suggest booking as early as possible. This gives you the most options as far as lowest prices, most cabins available, and price protection.
What about the actual date that you book your cruise? Is there a month or time of year (e.g. "Wave Season") when the cruise lines offer the best sales if you book?
In our experience, there isn't much difference in the time of year that you book. For example, the same cruise isn't automatically cheaper if you buy in January versus if you buy in July.
This makes sense. Say there was a month or two out of the year when cruises were drastically cheaper for you to book, no matter when you sailed. If that were the case, passengers would catch on and wait until then to book.
That would lead to fewer people booking throughout the year; instead they would wait until that one time a year when cruises were cheaper. Obviously the cruise lines wouldn't want this. That's why there's not a best time of year to actually buy your cruise. You can find deals throughout the entire year.
Instead, what will have the biggest impact on what you pay for a cruise is when you sail, not when you book.
Best Time to Sail for Cheap: Go When School Is in Session
Knowing the best time to purchase your cruise is just one part of the puzzle. The other piece of that puzzle? When you actually set sail. When you sail has a much bigger impact on what you pay than when you buy.
The simple rule of thumb is that prices are lowest when school is session.
When school is back in session, it's much more difficult for many people to set sail. That means cruise lines offer cheaper cruises in an effort to get more people on the ship during these times. So you'll find the cheapest time to book a cruise is in the fall and winter.
Specifically, the following times of year see cheap fares:
January and February
April and May
September through November
Between Thanksgiving and Christmas
Meanwhile, you'll see the highest fares during summer, Spring Break, and the Thanksgiving/Christmas holidays.
How much can you save based on when you sail? Take a look at the chart below. We've charted the per-person cabin prices for both a balcony and interior room. Specifically, these prices were for a 3-day cruise aboard Carnival from Miami that sailed regularly throughout the year.
During the course of a year, the price of the cruise varied from a low of $299 for a balcony cabin (during October and November) and a high of $539 (Christmas/New Year's) even though this is the same trip on the same ship.
In other words, if you can sail at the least expensive time, your cruise can be a sharp discount off the peak price.
Again, the best time to take a cruise if you want the cheapest price is when school is in session. If you have to sail during the summer or holidays, expect to pay a premium.
What About Sailing During the Winter or Hurricane Season?
We've shown you the best time to sail if you want to save money. But what if you're wondering about the best time to sail due to weather?
For example, is it fine to sail in the middle of winter or during hurricane season?
The good news is that there is no wrong time of year to sail for most cruises, such as those heading to the Caribbean or Bahamas.
Let's take winter. While it might be cold in North America, the weather stays fairly consistent in the Caribbean. For instance, the average high temperature for Cozumel is about 84 degrees in January and 91 degrees during the peak of August. So temperatures are cooler during the winter, but not by much.
Where there is a difference during winter months is with your departure port. If you are sailing from a port in the United States (outside of South Florida), then the winter months can be cold. That means the first day of your cruise during the winter can be chilly as the ship heads south.
One more thing to keep in mind is the summer months in the tropics can often mean regular afternoon thunderstorms. (For example, Nassau in The Bahamas see about nine inches of rain in August.) Late winter and early spring months are drier. Even so, it can rain any time of year in the Caribbean.
Hurricanes are always of interest to the Caribbean, and hurricane season runs from June through November. For cruise passengers, the risk of being caught in a hurricane on a ship is low. Cruise ships actively avoid storms and steer for better weather.
Even so, hurricanes can impact your cruise. They may mean adjustments to the itinerary as storms hit near ports or delay ship arrivals. That can cause headaches.
In past experience, however, it seems fruitless to worry about storms if sailing during hurricane season. Their formations are simply unpredictable more than a week in advance. Outside of avoiding sailing between July-September (the peak of the season), there simply isn't much you can do. (See our article: Is It Crazy to Book a Cruise During Hurricane Season?)
What About Waiting For Sales to Book/Sail?
Now that you know the best time to book a cruise, there is one final thing to mention — cruise line sales. You might wondering if they have an impact on the best time to take a trip.
Frankly, cruise lines are similar to clothing stores in that they are always running sales. Sometimes it might be an incentive to book and receive onboard credit, or a sale where additional passengers sail for a discount, or a percentage off the total cruise.
Truth is, there rarely seems to be a difference in what you end up paying for a cruise based on sales. Deals run so often that cruises seem to be in a constant sale. If you are short on cash right now, cruise lines do run deals with lower deposits to book cabins from time to time. However, the overall price that you'll pay tends to end up the same.
In other words, if you're looking for the best time to book, then focus on buying earlier and sailing when school is in session. Those factors play a much bigger role than constant sales offered up by cruise lines.
For more tips on finding cruise deals, be sure to read our 10 Rules for Getting the Best Deal on a Cruise.