If it's your first time taking a cruise, you might be wondering exactly what there is to do on the ship.
First things first, there's a lot more things to do on a cruise ship than most people realize. In the past, it might have been that the majority of your time would be hanging out on the pool deck and having a drink. These days there is no end to the fun you can have on a cruise, and there are activities nearly around the clock.
Whether you want to relax and do the bare minimum, or have a thrill a minute, modern cruise ships have no end to how you can have fun. To give you just an idea of how you can spend your time while sailing, we've offered up a massive list of 70 things to do on a cruise ship.
Create Your Own Bar Crawl Across the Ship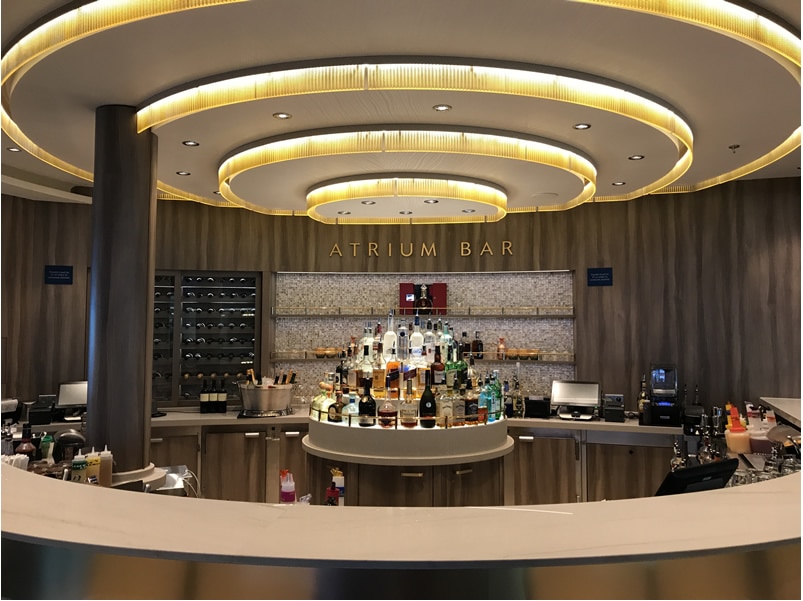 Alcohol flows freely on a cruise ship. It's normal for a ship to have a dozen or more bars, and you can get a drink whether you are hanging poolside, watching a show in the theater, or trying your luck in the casino.
Just like restaurants, these bars all have different themes and menus. There are fun poolside bars, classy lounge bars, and even trendy hip bars with "mixologists." Check them out and take a look at the menu to see what sort of cocktail speaks to you. Nowhere can we think of do you have the opportunity to try as many different drinks all in one place than on a cruise.
Take Part in the Poolside Competitions (Or Just Watch for Laughs!)
A belly-flop contest? Sexiest legs competition (for men only)? These are classic poolside events that are must-sees.
They typically take place in the afternoon on sea days, and all the contestants are sourced from your fellow passengers. It's a riot with people packed around the pool to see. If you want to participate, get in on the action by heading down to the host. If you plan to just watch, we suggest getting there early. With hundreds — if not thousands — of people watching, great spots to get a view can fill up fast.
Find "Your" Spot on the Ship
Over the course of a cruise, something surprising happens. Since people are creatures of habit, we tend to find a spot that we really like and find ourselves going back again and again.
For some people it's a special spot near the pool. For others it's a bar that they just love. Still others find the most secluded spot they can because it's perfect for reading a book.
During the course of your cruise, it's always fun to spend some time exploring and find what "your" spot is on the ship.
Stock Up Your Liquor Cabinet With Duty-Free Shopping
Like airports, cruise ships are able to sell items duty-free. This means you can save cash since taxes and duty aren't included in the price.
Every ship will have a store onboard that sells items normally subject to these fees like alcohol and cigarettes. Take advantage to stock up on what you might be missing back home and save a few bucks while you're at it. Just keep in mind there are limits to how much you can bring home.
Also, you can't buy bottles in these stores to enjoy on your cruise. They will be packaged and delivered to you at the end of the trip.
Try Out a Specialty Restaurant for Different Flavors
If you've never taken a cruise, you should know that not all food on the ship is free. There are many spots to eat, including the main dining room and the buffet, that are included with your fare. Many other restaurants on cruise ships now carry a charge.
It might be off-putting to have to shell out more money for a restaurant when you've already paid for the cruise and there are free options available. Don't automatically discount these options, however.
Most specialty restaurants serve food you can't find elsewhere on the ship, and if you like higher-end dining, it's your best bet for a meal that you'll love.
Take Advantage of the Kid's Area
If you are a family going on a cruise, your kids will probably want to go check out the dedicated kids area on the ship. Parents are typically happy to oblige.
Major cruise ships have spaces made just for children that are staffed by the cruise line. They are split into different age groups with areas and activities that are interesting to each age. This way a 14-year-old doesn't have to do the same things as a 5-year-old.
The kid's areas are free and a big hit. Kids love having something they want to do while parents enjoy some time to relax without having young ones in tow.
Try Your Hand at Shuffleboard
There's nothing more classic than playing shuffleboard on a cruise. It's a reminder back to the older days of sailing, but the game is surprisingly fun. Each player takes turn sliding a disc onto a numbered board. While you are trying to score points by sliding the disc on a numbered spot, you are also trying to knock your opponent's discs off the board.
It's relaxing to play and a fun way to get a little competition while on the ship. Best of all, it's free to play; sticks and discs are normally kept right by the boards on the ship.
Work on Your Tan
It's hard to think of anything that's more synonymous with cruising than sunshine. That's why it's no wonder that getting some sun and working on your tan is one of the most popular things to do on the ship.
The top deck on a cruise ship will feature tons of chairs, although those closest to the pool get picked first.
One thing to keep in mind is that the sun can be strong at lower latitudes in the Caribbean. Use plenty of sunscreen and keep track of your time in the sun. You don't want to get burned early in your trip and not be able to enjoy yourself the rest of the cruise.
Hit the Hot Tub
There's no better way to relax than by some time in the hot tub. On today's cruise ships hot tubs dot the entire top deck. While there are usually multiple whirlpools around the main pool, other hot tubs are found around the ship, including adults-only areas. So while a ship might have a couple of pools, it could have 8-10 hot tubs.
These spots are especially popular in the evenings or during the winter months when the ship is sailing in cooler weather. There's not much better than keeping warm on a cool night in a whirlpool.
Take a Dip in the Pool
Of course, most people go on a cruise to get warm, but sometimes you need to cool off. The classic way to chill out it to take a dip in the pool. Modern ships will have two or even three pools, sometimes including one in a covered solarium that can stay warm year round.
One thing to keep in mind is that swimming pools on a cruise ship might be smaller than you imagine. Remember that water is heavy, so having too large a pool up on the top of the ship could cause problems. Still, pools are large enough for dozens of bathers at once.
Try Your Luck in the Casino
Nearly every cruise ship you sail will have a casino; it's a point of emphasis. Casinos are almost always centrally located on the ship, usually near the main promenade deck where there is lots of foot traffic.
Casinos are open when the ship is at sea, but closed in port. So most of your play will either be on sea days or in the evening as the ship is heading from port to port. Games include all your favorites including roulette, blackjack, craps, and slots. There are also some unique games you won't find in most land-based casinos like coin-pusher machines that play for real money.
Careful, the payouts on a cruise ship are normally pretty stingy compared to many land-based casinos.
Get Your Mile in on the Jogging Track
A popular thing to do in the mornings, just about every major cruise ship will include a jogging track around the top deck. Only a couple of lanes wide, you might have to dodge a few people walking and a couple of deck chairs. That said, you'd be hard-pressed to find a better view than the open sea while on a jogging track.
We'd suggest going early in the morning as more people come out as the day goes on. This causes lots of traffic on the track and makes it harder to jog. Running before about 9 a.m. should be feasible, but going for an afternoon jog is impossible.
Relax on Your Balcony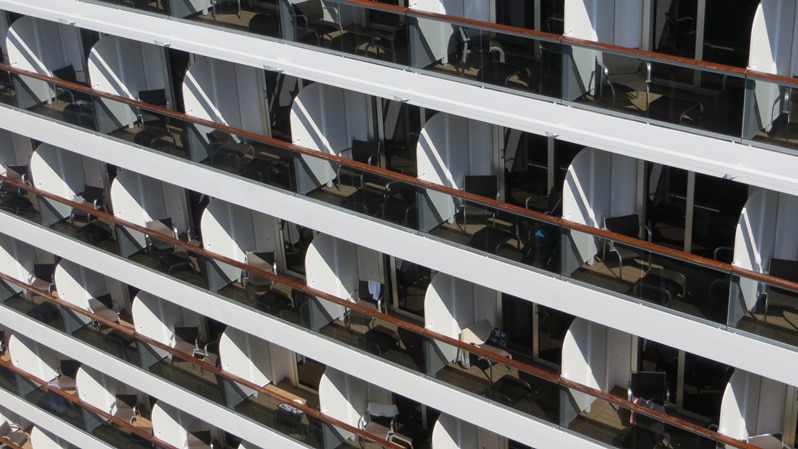 If you're fortunate enough to have booked a cabin with a balcony, then take advantage! There's nothing better than spending some time just relaxing while watching the ocean roll by. Given how fast-paced most of our lives are these days, it's the ultimate luxury to just be able to sit still in your own private space without having to do anything at all.
Balconies usually aren't that large; it's just enough space for a couple of chairs and a small side table. Still, they are big enough to get some fresh air and take in the view. Sitting out here in the evening as the sun sets is one of our favorite things to do on a cruise.
Pamper Yourself at the Ship's Spa
All the major cruise ships have a spa where you can get tons of different treatments. Whether you want a massage, or manicure, teeth whitening, or any other thing under the sun, it's likely the staff on the ship can accommodate.
Rates will vary across lines, but you can expect the cost of an hour-long massage to run about $100-150. Most spas will also give you a free tour so you can get a look before committing. We highly recommend you take advantage of the tours as you will be amazed at some of the facilities on a modern ship. We've even seen one spa with a "snow" room that has literal snow in it to help improve circulation in the cold air.
Tip: You can also usually purchase a day pass to hang out in the spa for much cheaper than a massage.
Watch a Movie on the Pool Deck Under the Stars
In the evening the pool deck crowd thins out considerably. To still utilize this space, the cruise lines often show feature films on the big screen that overlooks the deck. You can grab a pool chair or hang out in a hot tub and watch a flick.
In our experience the films are family-friendly, with them often being one of the newest superhero films. One more thing — sometimes the cruise line even serves free popcorn to movie-goers. It's definitely one of the more unique places to watch a flick.
Enjoy Some Live Music Around the Ship
Are you a live music fan? In the evenings you'll find live music being played at locations around the ship.
Styles vary, and the lineup will be mentioned in your ship's daily planner. It's almost always something easy to listen to (don't expect any heavy metal), and usually the bands play covers ranging from classic hits to new favorites.
Find a musician you like, grab a drink, and settle in while you enjoy the evening.
Let the Kids Splash at the Waterpark
As cruise ships get larger, that means more space for things to do. One popular addition is a waterpark for kids. They aren't on every ship, but if you are sailing a vessel that's been built or updated in the past several years, it's likely to have one.
These waterparks won't be confused with anything you might find on land, but for a cruise ship they can be impressive, including waterslides, splash pads, and more. One of our favorites is Splashaway Bay on Royal Caribbean ships (shown above).
This waterpark features tons of features that will soak any kid who plays. It also has a reserved area for kids who aren't yet potty-trained so that they can enjoy as well (typically kids not yet potty-trained aren't allowed in pools or water features for health reasons).
Spend Some Time (and Money) in the Arcade
If you have kids (or you're a kid at heart), don't miss spending some time in the arcade on the ship. They feature games ranging from air hockey to racing to shooting genres, and you can play them all with a swipe of your keycard.
Arcades can vary widely on cruise ships. We've seen large ones with dozens of games, and others that have been relatively small. Games are usually higher priced — expect it to cost $1-2 to play anything. We have been on cruises where there is a "Happy Hour" where arcade games are discounted 50% for a short period. Take advantage if you see this sort of deal. It's a great way to spend an hour that the kids will love.
Grab a Bite to Eat… Around the Clock
Cruise ships and food go together like peanut butter and jelly. Every ship will have lots of places to eat around the ship, ranging from the buffet to the high-end steakhouse. But whether you just want a snack or a full-blown meal, you'll always be in luck.
These days food is served somewhere on the ship around the clock. Of course the most restaurants are open during meal times. However, ships will usually have a 24-hour restaurant you can visit or at least a buffet that's open extended hours.
So no matter when you get an urge, you can grab a bite to eat.
Watch the Game in the Middle of the Ocean
Is there a big sporting event happening while you're on your cruise? It doesn't mean you have to miss it just because you are at sea.
Cruise lines offer feeds of popular sporting events, such as NFL games, during the trip. And while not every ship has a sports bar, many do, making it the perfect place to watch. No matter, you'll be able to find games being broadcast somewhere on the ship to enjoy while you sail.
Take in the Evening Entertainment
What do you do if you're a cruise line and need to keep hundreds of people entertained at once? Put on a show!
These days most cruise lines have moved beyond the typical song and dance routines. Evening shows on cruise ships look more like Broadway. For instance, Norwegian has productions of Footloose and Kinky Boots aboard its newer ships.
No matter which line you sail, you'll be impressed with the talent and production of these programs. Evening shows typically run twice a night, with a rotating lineup during the cruise so that you have something different each day of your cruise.
Get Your Workout in While Setting Sail
When it comes to things to do on a cruise, not too many people consider working out. That's a shame because cruise ships offer some of the best gym facilities you'll find.
First, there is a wide variety of equipment in gyms; it's not at all what you'd find at a chain hotel. From aerobic machines (treadmills, bikes, etc.) to weight lifting machines and dumbbells, there's something for everyone. As well, gyms on cruise ships are usually spacious with plenty of room.
But what always wows new cruisers are the views. Gyms are usually high up on the ship with massive windows that look out over the water. It is one of the most breathtaking views you can imagine while getting a workout.
Catch Up on Netflix
There's so many things to do on the ship, it might seem silly to talk about Netflix. We know, however, that some people's favorite thing to do is catch up on all those shows they want to watch. And it's your vacation; do what you want!
We personally love watching a show after coming in from a long day in port. After being in the sun all day, it's nice to relax in the cool cabin. If you feel the same, bring along your tablet, phone or computer with your Netflix account.
We suggest that you download the shows at home beforehand. That way you don't have to stream over the ship's wi-fi, which can be choppy and expensive. Many ships also won't let you stream over their connection.
Order Breakfast, Lunch, Dinner, or a Midnight Snack from Room Service
One of the guilty pleasures on a cruise is that you can order room service and eat in your pajamas. Every cruise line offers room service.
Most of the time breakfast is free, but there is normally a small charge for lunch, dinner, or late-night meals. Rates are usually around $8 per trip, but you can order whatever you want. Other lines do charge ala carte, so your bill can rise or fall with how much you order.
One thing to remember is that it's customary to tip the staff that brings your meal a few bucks.
Book an Excursion For Your Day in Port
While there's a lot to do on the ship, there's also a lot to do in port. The best way to explore the area is on an excursion. You can always just plan your own day, but it's much easier to pick from a menu of options and have your day planned for you. Excursions do exactly that.
Every ship has an "Excursions Desk" that you can visit to learn more about all your options, ask questions, and book your spot.
While these day trips can get pricey, we suggest that passengers book at least one excursion during their trip. They can offer some of the most memorable moments of your entire cruise and an opportunity to do something that you would never be able to experience back home.
Enjoy Some Quiet Time in the Library
Cruise ships have libraries, and compared to other parts of the ship, they are barely used. Inside you'll find plenty of books covering all genres from poolside paperbacks to serious historical volumes.
What some folks may like is that the libraries are a nice quiet spot out of the way. If the pool is too loud and you simply want to get away from some of the crowds, head to the library for some peace and quiet.
Play a Board Game or Some Cards
Usually near the library you can find a game room on a lot of cruise ships. If you want some time out of the sun, head here to see what they offer. The board games are basic — checkers and chess — and there are usually decks of cards.
While there will be tables in the game room, don't think you are stuck playing there. Take the games with you to find a spot to play (you'll often see people playing near the pool in the fresh air), just be sure to return the games when you are done so that other passengers can enjoy them.
You can also bring your own favorites and play whenever you want.
Get Online to Send a Selfie Home
Want to show off what you're doing on your vacation? You can, even if you are in the middle of the sea.
Cruise ships all have Internet service. While it can be expensive (expect to spend $20-30 per day), there are often "social media" packages available for cheaper. If you're online, then snap a few poolside selfies to post to Facebook, Instagram, or send back home to let everyone know you're enjoying your vacation.
In addition, online access gives you the chance to check in back home, catch up on emails, and keep up with the news even while you're in the middle of the ocean.
Learn a New Game in the Casino
Have you always wanted to play blackjack but have been too intimidated? Or maybe you want to try craps but are scared of losing money?
If you've ever wanted to try a new game, a cruise ship casino is a great place to start. Ships will have beginner lessons on all sorts of games. Best of all, they are free to play while learning. You'll see the times listed in your ship's daily schedule, but classes are usually in the morning when the ship is as sea.
Simply show up and the staff will walk you through the games and let you play some practice rounds to get you up to speed.
Play in a Slot Tournament on the Ship
Slot tournaments are simple — get the highest score at the end of a certain time and you are the winner. Ships often have tournaments during the day in casinos and they can cost little to enter — about $20 or so.
Prizes vary, but even if you don't win, it's a fun way to spend some time in the casino without having to spend a fortune.
Bid on a New Piece of Art
If you've never been on a cruise before, you might be surprised at how heavily the art auctions are promoted on the ship. You'll receive lots of flyers, and you'll see the artwork for sale as you walk around.
Styles range the gamut, so just about everyone can find something that they would like to bring home. If a piece catches your eye, talk to the clerk to see what it costs. They can get you all set up to bid on the piece and help you get it home.
Play a Round of Putt-Putt
Putt-putt has become a favorite on a cruise. Most ships have a course that you can play 24 hours a day. Simply walk up, grab a club and ball, and start swinging.
What's nice is that it's an easy go-to when you have kids as they seem to love to play. It's also an easy-going activity and only takes about 20-30 minutes to play a round. So when you're bored or have a few minutes to kill before dinner, you can get a round in as easy entertainment.
And did we mention that it's free to play?
Go Shopping… In the Middle of the Ocean
These days some sections of new cruise ships look more like a mall than a ship. Shopping is a big draw, with a number of stores offering everything from souvenir keychains to high-end expensive watches.
Even if you aren't in the market for anything, going window-shopping is a fun thing to do on a cruise. One thing to note is that cruise lines will often have sales in their stores. We'd suggest scoping things out early on the cruise. If there is something you like, give it some time during your trip to see if it goes on sale before you buy.
Grab an Ice Cream Cone by the Pool
What's better than ice cream on a warm day? Not much. That's why cruise ships often have ice cream stations located near the pool. Sometimes it's free soft-serve, other ships might have gelato that costs a few bucks.
If you're out at the pool, grab a cone to help you cool off.
Play Ping-Pong to See Who Is Better
Ping-pong is such a simple game, but for some reason it brings out the competitive spirit. Maybe that's why everyone seems to love to play.
On a cruise ship you are in luck. Ships have spots dedicated to the game, often with multiple tables in a place outside, but with minimal wind so that you can play even when it's breezy. (Tables are normally located on the pool deck, tucked in a corner.) Just head up and pick up a couple of paddles (which are provided) to play.
Score Big in a Blackjack Tournament
Similar to the slot tournament mentioned above, casinos often offer blackjack tournaments as well. Pay the entry fee and do your best to come out in the lead at the end of the time. Be the big winner and you could go home with some cash or prizes.
It's also a good way to get the hang of the mechanics of the game if you're a beginner, without risking a lot of money.
Hit the Comedy Show For Belly Laughs
Think that the entertainment on the cruise ship is going to all be PG-rated? Most is, but the comedians that perform during the trip can get a little dirtier… and a lot funnier.
Many ships have comedy clubs while others simply have a lounge or theater where the comedian performs a set. As well, there is usually a "clean" routine earlier in the night and then a more adult routine late at night.
The comedians brought onboard may not be the biggest names, but they are often well-accomplished, including appearances on TV shows and specials.
Belt Out a Tune During Karaoke
Love to be the center of attention? Check out the karaoke on the ship. It's may not be on your specific cruise, but some ships offer karaoke times where you can go listen to others sing their favorite songs… or try your own favorite tune.
Don't be intimidated — everyone is there to have a good time, whether good or bad — but we have been to some shows where the singers are top-notch.
Buy Your Next Cruise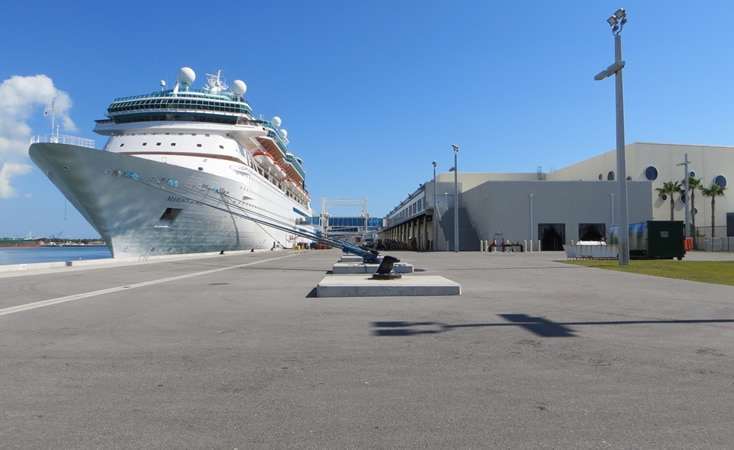 Did you know that you can book your next cruise… while still on your current cruise? There's a big push to get you to book again, and the cruise like will offer perks to entice you. That can include discounts and onboard credit.
During your cruise you can stop by the booking desk to talk to an agent. They will explain all the options and help you find the perfect cruise to match your schedule and budget. Best of all, having an agent there can help you with any questions you might have about the trip.
Dress to the Nines for Formal Night
Part of the tradition of cruising is getting dressed up for dinner. These days there are usually two formal nights on a 7-day cruise and one formal night on shorter trips.
Formal nights give you a chance to glamour up and have a "date night" with your significant other.
You don't have to get dressed up on these nights (if you aren't dining in the main dining room, then casual wear is fine), but it's a fun thing to do during your trip. And don't think you have to get dressed in a formal gown or a tuxedo. Just getting a little dressier is fine. You will want to leave the t-shirt and jeans in the cabin.
Test Your Brain with Daily Trivia
The library on your ship will have a sheet of daily trivia and puzzles that you can pick up each morning. It's a simple sheet with maybe a crossword puzzle, Sudoku, and some trivia questions. Lots of people like to work this into their daily routine as a fun way to get their day started.
There are also trivia contests later in the day where you can compete against other passengers for bragging rights… and maybe a small trophy.
Meet the Ship's Captain
While there is an entire team of people who handle the navigation and maneuvering of a cruise ship, there's one person that's in charge above everyone else — the ship's captain. And while you might think the captain is some far-away person who the passengers will never see, you usually get a chance to meet him or her during your cruise.
The captain often hosts a welcome party or some other get-together on the ship where you can meet and get a picture. Note that the pandemic has changed this some as cruise lines don't want the captain to get sick!
Try Your Luck at Bingo (And Possibly Win Some Dough)
While it might seem old-fashioned, bingo is big on cruises. Best of all, you can win some cash playing. Cards are for sale before the games begin and usually cost around $10 each. Games are normally played on days at sea.
Get a bingo on your card and you could sail home just a little bit richer as there are cash prizes often given to the winners.
Dance All Evening ('80s, White Parties, Disco Themes)
Dance parties are a popular thing to do on a cruise in the evenings and late-nights. There are clubs that play music, but the big events are the themed parties that usually take place on the pool deck at night.
The theme will differ among cruise lines, but some of the popular themed dance parties are the '80s (everyone dresses like a flashback to the 1980s), white parties (dress in all-white), and disco themes.
Don't worry if you don't have anything that matches the theme. While it's nice to dress up, you won't be shunned if you don't. Just be sure to have a good time!
Try to Win a Sports Tournament
Volleyball, soccer, free-throws, ping-pong… if you think you're good enough then enter one of the tournaments that the cruise line hosts.
These games usually aren't too competitive, but a fun way to to pass the time while at sea. They are normally hosted on sea days; just check your daily planner for the schedule. Sign up, and you could take home bragging rights as the best ping-pong player on your cruise. You might even get a medal or a trophy to prove it.
Get Away From the Kids in the Adults-Only Area
Not every ship has it, but many have an area on the pool deck that's reserved only for adults, such as the Serenity area on Carnival.
What we find is that often not only are the spots kid-free, but they are just less crowded in general. If you're looking for a spot to get away, it's a great choice. You'll often find a dedicated pool or hot tubs, seating, and a bar, meaning you have everything you need to enjoy the day, just without as much noise or as many people.
This is a great place to visit if you want to enjoy a space that's a little quieter.
Get a Professional Photo Taken
From the moment you board the the ship, you'll see the ship's photographers out to take souvenir photos for your cruise. As well, they are prominent on formal night when many people are dressed up for the evening.
If you'd like a great photo, then take a couple of minutes to pose for the photographer. They feature professional lighting and backdrop and can work with you to get the perfect picture. Best of all, it's free to take the pictures. You only pay if you decide to purchase the photo in the ship's gallery.
Try Your Luck With Scratch-Off Tickets
We mentioned that the ship's casino has some games you don't normally find on land. That includes the coin-pusher machines that use actual coins and even electronic "skill" games where you normally win a prize but win cash instead.
One unique thing we've seen on some ships are their own scratch-off lottery tickets. You can buy a ticket, and if it wins, you cash in.
Get Romantic With the Ocean Air
Maybe it's the relaxed mood that comes with being on vacation. Or maybe it's that everyone is dressed in a little less around the pool. Or maybe it's that there's plenty of adult beverages around. No matter the reason, cruises definitely spark romance between couples.
If you have a balcony cabin, then you have an opportunity to open up that door and let in the wonderful ocean air and the sunshine to the cabin while you enjoy each other's company. Just know that balconies aren't completely private (sounds can travel and there are usually gaps around dividers) if you do decide to get frisky, so keep it in the room.
Take a Nap!
Is a nap a little boring for a vacation? Sure. But can it be one of the best things ever? Absolutely.
Remember, your time on the cruise ship is yours. While there is no shortage of things to do, don't think you have to go 100 miles per hour the entire cruise. Sleep in, take a nap, just relax. Spend your cruise doing what you want to do.
Do Some Major People Watching
There's hardly a better place to do some good old-fashioned people watching than on a cruise. We're not talking about staring at folks as they go about their vacation. We're talking about just simply sitting in a spot, watching people pass.
Major areas like the pool deck and the main promenade see nearly everyone on the ship pass by at one point or another, and they have lots of seating. It's relaxing to sit down, have a drink, and just watch as everyone on the ship eventually passes by.
Try New Foods
Cruise ships are one of the best spots ever to try new foods. Whether you are a foodie or simply want to expand your palette, take advantage.
First, there are a number of restaurants within a close proximity so you don't have to go far to try something unique. Literally within steps of each other can be an Asian restaurant and an Italian restaurant.
Second, while not every restaurant is free, many are. That means you can try new things without worrying about if you will like it or not. After all, if you get something and don't like it at a free restaurant, you aren't out any money.
Ship-Specific Things to Do on a Cruise
So far the items we've covered apply to most, if not all cruises. But every cruise ship is different. Below, we cover some things to do that are available only on some ships or cruise lines.
Get Racing in a Go-Kart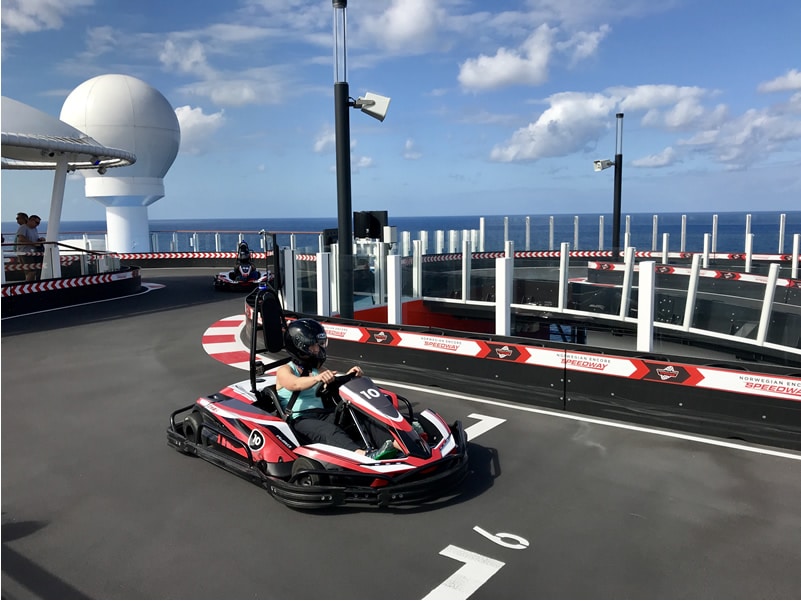 One of the most unique things you can do at sea is to race go-karts. Norwegian Cruise Lines allows you to do just that on several of their newer ships.
The speedways on these ships feature tracks that twist and turn, and even span multiple decks. You'll be in control of your own electric car as you race against other passengers around the course. Now it does cost money, but it's a sure way to get your adrenaline pumping while at sea.
Ride on a Roller Coaster
Carnival is making waves with its new ships like Mardi Gras and Celebration. Not only are they completely different ships compared to the rest of Carnival's fleet, but they also feature the only roller coasters at sea.
Strap in and hang on as the ride takes you all around the top deck of the ship. It's a ride that just a few years ago wouldn't even be imagined, but the cruise line has made it a reality — and one of the more memorable things you can do on a cruise ship.
Practice Surfing on a Standing Wave
Many Royal Caribbean ships have a water feature on the top deck that's called the Flowrider. This ride is free, and spits out a thin layer of fast-moving water. With some practice you can ride a boogie-board or a special surfboard over the water, carving back and forth.
What if you fall down? Don't worry, everything is padded. All that should be hurt is your pride (lots of people like to hang out and watch the surfers try their luck).
Ride a Zipline… Across the Ship
How big are cruise ships these days? So big that you can zipline across them. Several ships, including those from Royal Caribbean and MSC have zipline rides that will sail from one end of the ship to the other. So you can sail over the ship as it cruises over the water. It's an experience you won't find anywhere else. Just be sure before you strap in that you aren't afraid of heights!
Take a Turn on a Waterslide
While older ships might not have them, most newer ships come with waterslides onboard. And before you think these are simple slides that make a turn or two and let you out… that's normally not the case.
For example, Norwegian has the Ocean Loops (pictured above) — an extreme slide that juts out over the side of the ship. After a nearly vertical drop, you'll go out over the side of the ship before doing a sharp turn back. And did we mention the clear tube so you can see the water below?
Go Ice Skating at Sea
We can't think of anything that seems more unlikely than ice skating while sailing the Caribbean. Yet many Royal Caribbean ships have an ice rink. While it's used for performances put on by the entertainment staff, there is also a chance for passengers to skate as well.
Look at your daily calendar for the times. Most of what you need — including skates — are provided for you. Be sure to bring long pants and socks. You'll need them to skate.
Have Some Fun in Bumper Cars
Another Royal Caribbean activity on some ships is the chance to ride bumper cars while at sea. Passengers need to be at least five years old to ride tandem, but eight years old and above can drive their own car.
Don't worry, you won't go fast enough to get hurt, but the bumps can come suddenly enough that you might not stop laughing while you drive around.
Take a Class You've Always Wanted to Learn
On many higher-end cruise lines, classes are a big draw. Whether it's learning more about the history of a country or port you're visiting or learning some new cooking skills under the leadership of a chef, it's a fun way to get something more "cultural" out of your cruise.
Classes often have a fee associated. You'll be able to find out more once you are on your cruise.
Listen to The Beatles Play (Or at Least a Cover of Them)
The Cavern Club in Liverpool is where The Beatles got their start. The Cavern Club on Norwegian Cruise Lines is a re-creation of the famous club on some of the ships.
Walk into the dimly-lit joint and you can get a drink, hang out, and in the evenings there is a recreated Fab Four that plays covers of the band. If you're a fan, it's a must see. Even if you aren't, it's a fun thing to check out while on the ship.
Pour Your Own Beer
Want to get a cheap beer? Suds on a cruise can cost a bit. It's normal to pay between $6-8 for a beer.
But some cruise lines like Carnival and Royal Caribbean are putting in self-serve taps. You swipe your card, pour your beer, and you are charged by the ounce. Best of all? You don't have to wait on a bartender for a beer, and it's also among the cheapest options on the ships. We've found beers for about $5 a glass.
Get Your Drink Made by a Robot
One of the more unique things you'll find a cruise, some Royal Caribbean ships have the "Bionic Bar." What makes this special is that it's a robotic arm that grabs all the ingredients and makes your entire drink without human interaction (you even order from an electronic pad). While it might not replace the traditional bar anytime soon, it is something unique to try on your cruise.
See How Fast You Are on an F1 Simulator
If you love to race, you already know some ships have go-kart tracks. But what if you want to go faster? Some ships, including those from Norwegian and MSC have F1 simulators. This includes a full-sized car replica that you sit in and wide screens to make you feel like you really are driving around the course.
Jump 10 Feet in the Air with the Sky Pad
Royal Caribbean has a feature on some ships — a huge sphere that sits high atop the ship. The massive ball contains the Sky Pad. It's a thrill where you are attached to bungee cords via a harness and then start jumping on a trampoline.
What's surprising is how high this can make you jump. You can choose to free jump, or there are also virtual reality headsets that allow you to play games as you jump (such as blocking virtual soccer balls). Either way, it's unique to be jumping so high while you are on top of a cruise ship.
Get a Taste of Virtual Reality
Norwegian has a place called the Galaxy Pavilion on some of its newer cruise ships. If you have kids, they will likely beg you to go.
The area features a ton of virtual reality games. From a Jeep ride that moves as the virtual reality headset takes you on a run from chasing dinosaurs to walking a balance beam high above a city to rescue a kitten, the experience can make you feel like you are really there.
The Galaxy Pavilion does cost extra, but it's a pretty memorable thing to do on a cruise and the entire family will have fun.
No Shortage of Things to Do on a Cruise
The good news is that whether you like it quiet and relaxing, or you love to be on the go your entire vacation, there's something for everyone on a cruise. There are dozens — if not hundreds of things for you to do. But the most important thing is to remember that your time is your own on vacation. Spend it how you want without worrying about if you're making the "most" of your trip.
Related Articles: