While there are a lot of cruise lines out there, when it comes to the United States, two main players come to mind: Carnival Cruise Line and Royal Caribbean.
That's for good reason. The two cruise lines are by far the most popular in the country, with millions of cruise passengers sailing on their ships each year.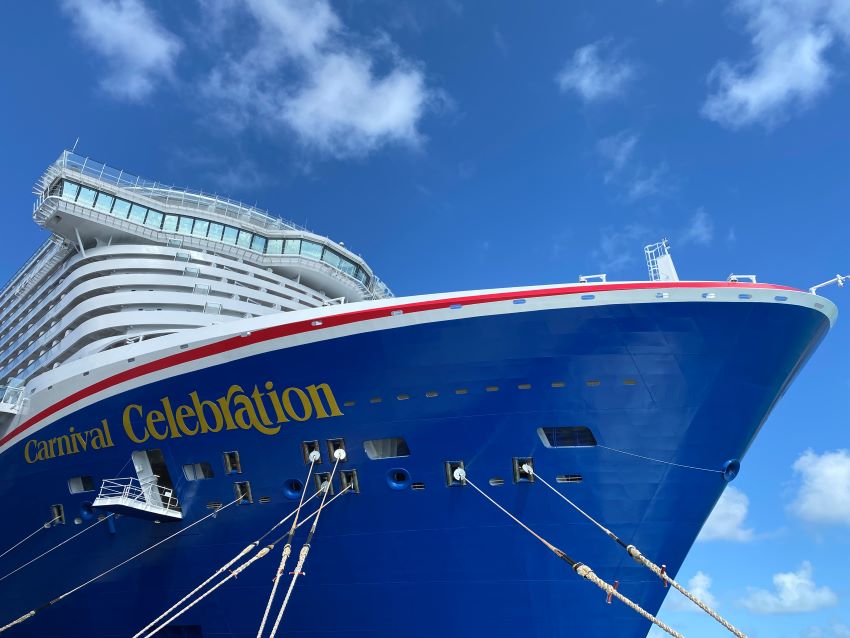 If you've never taken a cruise… or you've only sailed with one cruise line or the other… then you'd be forgiven for thinking that both Carnival and Royal Caribbean are exactly the same.
In fact, while both lines do have a lot of similarities, there are also some major differences.
Anyone that is loyal to either Carnival or Royal Caribbean would tell you as much. To be sure, you're bound to have fun on either company's ships, however, if you want the real scoop on how they differ, we've laid out some of the major differences below.
Cost of Royal Caribbean vs. Carnival
Want to sail affordably? Both Royal Caribbean and Carnival offer affordable vacations. If you want to sail the more inexpensive cruise line, however, then you're better off with Carnival according to our analysis.
We recently analyzed dozens of cruises from both cruise lines departing from three of their most popular ports. Carnival and Royal Caribbean both sail from Miami, Port Canaveral, and Galveston, which gives an ability to compare prices across the lines with similar trips.
When looking at the fares for each sailing in July 2024 (the peak of the cruise season in North America), we found that Carnival's fares are less expensive on average.
According to our analysis, cruise fare for a 5-night trip aboard Carnival was about $50 cheaper per person during our search than what was seen on Royal Caribbean. That lower average pricing also held no matter the cruise length.
(Note: Royal Caribbean's 7-night average in our analysis includes trips aboard Icon of the Seas. This ship features prices considerably higher than other ships.)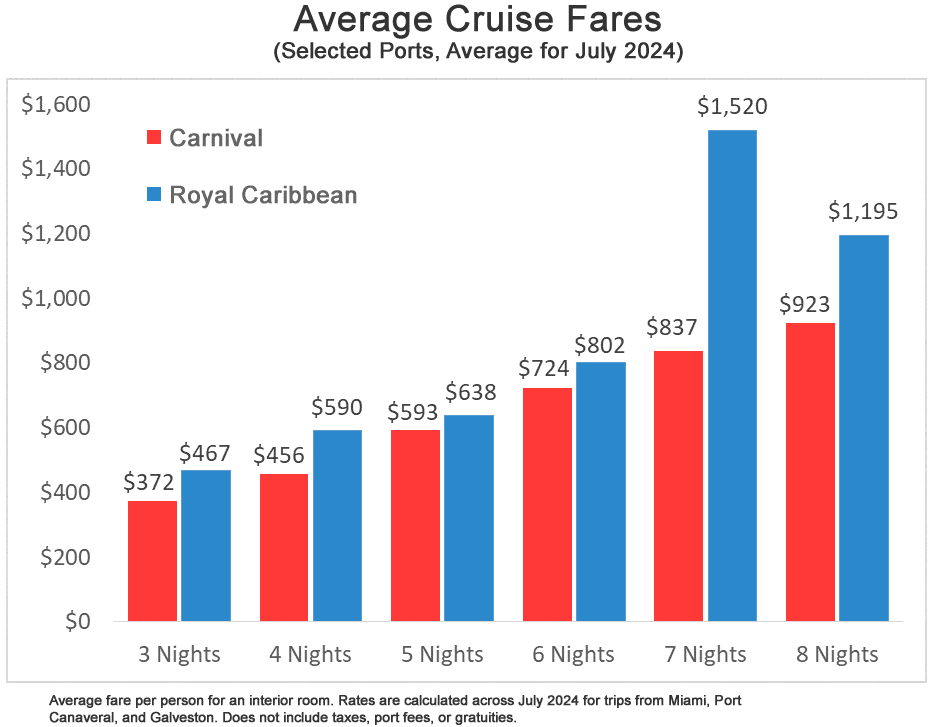 Now keep in mind that this doesn't mean your cruise will automatically be less expensive on Carnival or more expensive on Royal Caribbean. What you pay for a cruise depends on a lot of factors, including when you sail, the specific ship you choose, and the route you take. But in general, you can figure that a Carnival cruise will run less than a similar one on Royal Caribbean.
Bottom line: When it comes to cost, Carnival is usually cheaper to sail than a similar trip on Royal Caribbean, but prices for specific trips will vary.
Size of Ships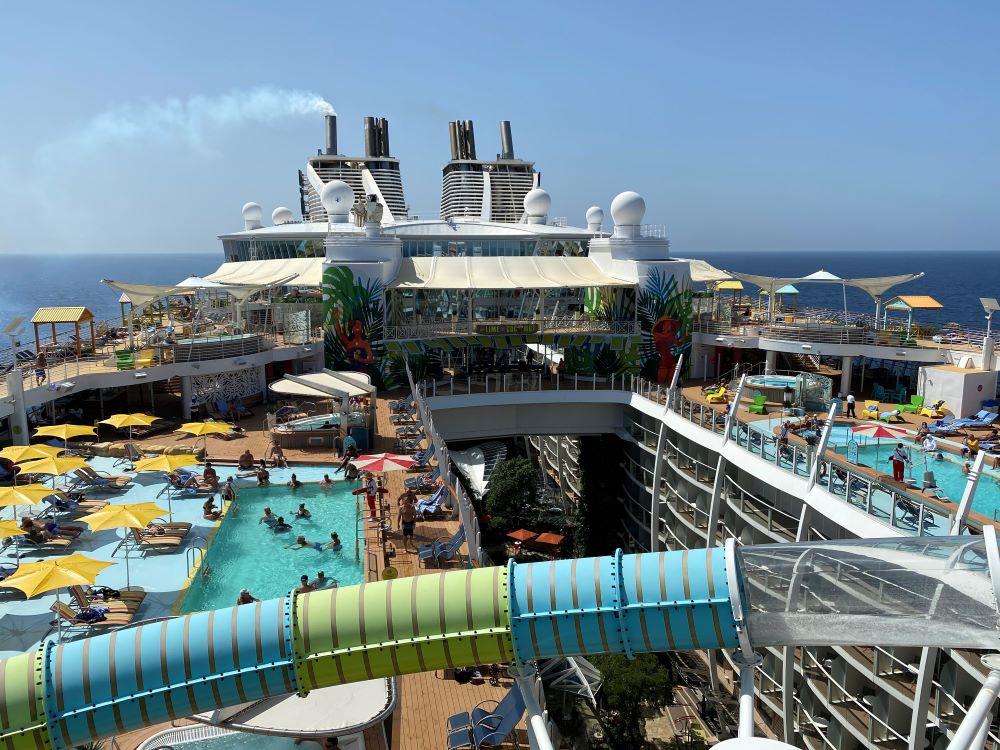 While both cruise lines have ships ranging from older, smaller vessels to brand new mega-ships, Royal Caribbean and Carnival's vessels definitely differ. Royal Caribbean is well known for having the largest cruise ships in the world. And while Carnival's ships can be of comparable length, the overall size of Royal Caribbean's biggest ships is noticeable.
Consider that Royal Caribbean's Wonder of the Seas (the largest cruise ship in the world) is nearly 1,200 feet and carries more than 5,700 guests at double occupancy. And that's just one of several in it's largest Oasis-class fleet. Overall, it has a gross tonnage of 237,000 tons.
(Icon of the Seas — the cruise line's newest ship — takes over the largest ship title starting in 2024, and comes in at more than 250,000 gross tons.)
Carnival Celebration, Carnival's largest ship, is a full 50 feet shorter and carries about 5,200 passengers. It's gross tonnage is 183,000, or about nearly 25% smaller than Wonder. And this is just one example. When it comes to size, Royal Caribbean ships definitely have an edge.
Of course, with larger ships you can pack a lot more onto the vessel. While both cruise lines take advantage of all the space on their ship, you'll see below that there are major differences in activities and entertainment between the two cruise lines due partly to the ship size.
Bottom line: If you want to travel on the biggest cruise ships, then Royal Caribbean is the clear winner. It sails the largest ships in the world, and the fleet as a whole is on average larger.
Activities & Entertainment
You might not realize it, but the vast majority of your time on a cruise is actually spent on the ship. Even on days in port, the ship is normally docked for only about 8 hours. That means the activities and entertainment on the ship are important to the fun you'll have.
Good news — both cruise lines offer constant entertainment. In fact, we find that the entertainment like evening shows, comedians, onboard contests, evening game shows, casino gaming and more are very similar between the two lines. (Though we do have to acknowledge the Aqua Theater shows aboard Oasis-class ships as unique to Royal Caribbean.)
But when it comes to activities on board, we think Royal Caribbean and Carnival are very different.
Royal Caribbean definitely seems more innovative with the things to do on the ship. Newer ships include the world's tallest slide at sea, bumper cars, ice skating, a surf simulator, escape rooms, and even an observation pod that can take you up and out over the water on some ships. Icon of the Seas debuts a full-fledged water park with six slides.
Carnival offers plenty of fun things to do as well, but it's typically more of the classic things to do on a cruise ship, like mini-golf, movies, pools, and jogging tracks (which Royal Caribbean also has).
That said, Carnival is moving in the direction of Royal Caribbean. For instance, Mardi Gras and Carnival Celebration have the first-ever roller coaster at sea, and the cruise line is the only one to have an IMAX on some of its ships.
Bottom line: While the entertainment on board may be similar, the activities on Royal Caribbean are more innovative in our opinion.
Ports of Departure
One of the biggest benefits to the growth of the cruise industry? As cruise lines grow their fleet, they are able to add more cruises — including from smaller ports.
Are you near a major cruise port like Miami or Galveston? The good news is that you have your choice of either cruise line. You'll find both lines in any port with heavy cruise traffic.
If you are close to a smaller cruise port like Mobile, Jacksonville, or Charleston, then you'll be glad to know you still can sail aboard Carnival. Royal Caribbean is catching up in this regard, sailing from spots like Baltimore and New Orleans (2024).
What's so nice about sailing from smaller ports is that it means more people can cruise without the added expense of flying. The added cost of plane tickets on top of a cruise can be burdensome for some people who would otherwise set sail.
Bottom line: Carnival offers up trips from a number of smaller ports. Yes, trips from smaller ports are usually aboard smaller and older ships, but we think any cruise is better than no cruise.
Drink Package Rules & Pricing
On a cruise, alcoholic drinks are a big business. It's not unusual to pay $7-9 for a beer, or $11-14 for a cocktail. At those prices, the bar tab can add up quickly.
To help passengers budget, cruise lines have drink packages. The packages allow you to pay one set daily price and then you can get what you want, without worrying about the bill.
There are differences, however, between Carnival and Royal Caribbean when it comes to these packages.
First, Carnival's CHEERS! package is less expensive than what you'll usually find on Royal Caribbean. Carnival charges around $60 per day (if bought ahead of the cruise), while Royal Caribbean uses dynamic pricing where the price depends on your specific cruise. However, in general you can expect it to be more than what Carnival charges.
As well, Carnival has a 15-drink limit over 24-hour period for alcoholic beverages (non-alcoholic drinks are unlimited), while Royal Caribbean makes no mention of a limit.
Bottom line: Both lines offer drink packages, but Carnival's rates are normally lower than Royal Caribbean. As well, Carnival makes an explicit limit of 15 alcoholic drinks per 24-hour period.
Atmosphere on Board
While it's hard to explain, Carnival and Royal Caribbean just have a different "feel" to most passengers. It's purely anecdotal, but you'll hear many say that Carnival has more of a laid-back party atmosphere.
Want to have a margarita and dance in conga line around the pool? Let's just say, there's good reason that Carnival is known as the "Fun Ships." In our experience, folks on both cruise lines love to have a great time, but seem more outgoing on Carnival.
To us, Royal Caribbean has more of a luxury feel. That's not to say it's stuffy (far from it), however, it feels more subdued than Carnival. There are still plenty of chances to party, but we think there is simply a slightly different feel on Royal Caribbean.
Either way, you'll have plenty of fun.
Bottom line: Both ships have a fun atmosphere and are similar, but the vibe on Carnival is a bit more "outgoing" than what we've found on Royal Caribbean.
Ship Decor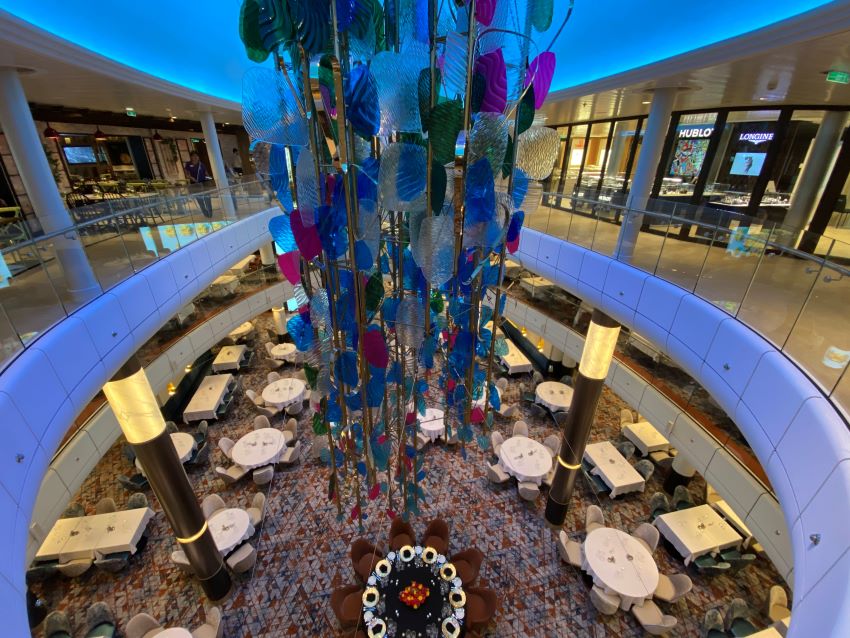 In fitting with the ship's atmosphere, the ship decor is also different between Carnival and Royal Caribbean.
To us, Carnival's decor around the ship is often brighter and bolder — more colors and more festive. Royal Caribbean, on the other hand, seems to focus more on elegance and style with touches of fun/funky art. Sure there is still plenty of bright chrome and colored lights, however, there are much more subdued colors and rich wood around the ship.
If Carnival's style is akin to Miami, then Royal Caribbean feels more like a luxury New York hotel. One thing we have noticed is that newer Carnival ships and Royal Caribbean ships are more similar with a modern feel. But you can find bigger differences between older ships.
Bottom line: While newer ships are more similar in decor between the lines, older ships can be pretty different with Carnival having more festive decor and Royal Caribbean being more luxurious in style.
Costs on Board
When you cruise, you should really think of having two different costs for the trip. There's the cruise fare, which is by far the biggest bulk of what you'll spend. But then there is also the spending you'll do on the ship including things like drinks, wi-fi, excursions, specialty restaurants, and more.
The good news is that this spending is optional. If you don't want to spend anything on the ship, you don't have to. But if you do spend, then you'll likely find that Carnival is less expensive than Royal Caribbean.
For instance, specialty cocktails on Royal Caribbean were recently seen at $14 per glass. On Carnival, they run more in the $10-12 range. The same goes for the drink package, discussed above. It's less expensive on Carnival.
Internet prices are similar. The highest-tier wi-fi plan on Carnival runs $22 per day. On Royal Caribbean, it's closer to $24 per day.
We will say that since the pandemic and the rise in inflation Carnival's prices seem to be creeping up to match Royal Caribbean. Still, at this point we'd say that Carnival generally offers lower prices around the ship.
Bottom line: On average, the prices on Royal Caribbean in general seem higher than what you'll spend on Carnival. This is
Worldwide Sailings
Are you a Royal Caribbean fan, but also love to travel the world? In that case, you are in luck. The cruise line has trips sailing everywhere from the United States to Asia to Europe. While most trips are from the U.S., there are a number of other options if you are a fan of the cruise line but want to experience somewhere new.
In comparison, Carnival is more focused on the United States with their sailings. Outside of a handful of trips in Europe, there isn't much available that isn't based in the U.S. The one exception is Australia. Carnival does offer some trips from Brisbane and Sydney for Carnival fans in the southern hemisphere.
Bottom line: Royal Caribbean offers more sailings from a variety of spots around the world. Carnival is mainly U.S.-focused, although Australia is well-represented in their sailings.
Private Islands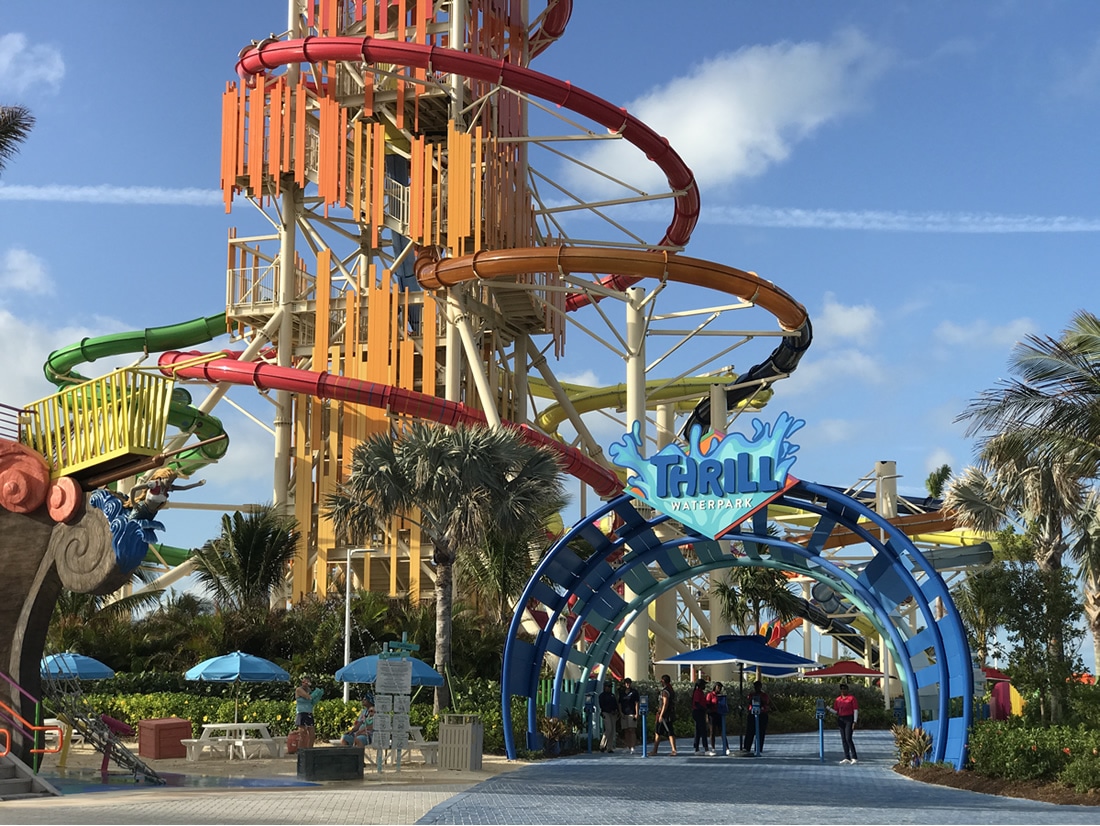 For years cruise lines have had private islands. These islands had largely been the same, offering some restaurants and shops, but the big draw being white-sand beaches with beautiful water. These spots offer snorkeling, beach activities, kayaking, and other beach activities.
However, that's changed with the recent renovation of CocoCay by Royal Caribbean. The cruise line spent $250 million to completely transform the place from a sleepy tropical island to a full-blown destination.
Today CocoCay features a full waterpark with one of the tallest slides in the world, a massive freshwater pool, restaurants, and tons more.
Carnival does have its own private destinations that are a lot of fun (Grand Turk, Amber Cove, among others), but they aren't the same league as what CocoCay can offer as far as things to do. However, that will be changing. The cruise line has broken ground on a new destination in The Bahamas scheduled for 2024 that will be even larger than Royal Caribbean's offering.
Bottom line: Royal Caribbean's CocoCay gives it the lead in private islands and marks a big difference with Carnival. In the coming years, however, Carnival is set to debut a massive private destination of its own that should be on par.
Dynamic Pricing
If you are a budgeter, then one of the frustrating things you might encounter is dynamic pricing on Royal Caribbean. With this type of pricing, there isn't a set cost for something like a specialty restaurant or drink package. Instead, the price will vary based on the specific cruise you take. So you could sail one cruise and see one price, but a completely different price the next time you sail.
Royal Caribbean has dynamic pricing on many things. For instance, the cruise line adjust prices on drink packages. And admission to Thrill Waterpark on CocoCay has also been higher or lower (including some prices of more than $150!) depending on the individual cruise.
Not having a set price can make it tougher to budget before you buy your cruise as you won't know the price of some items on the ship until you are booked.
Carnival, on the other hand, has more traditional pricing that doesn't change from trip to trip (at least right now). So even if you haven't booked, you'll have a good idea of how much things will cost on the ship.
Bottom line: Royal Caribbean has prices that can vary from cruise to cruise while Carnival has more traditional pricing based on our experience.
Food Offerings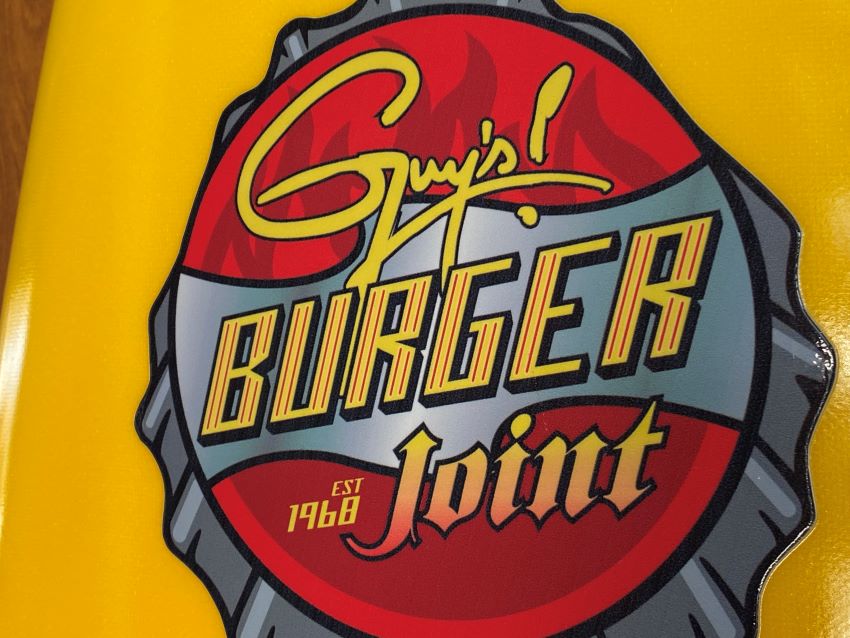 What's a cruise without food? This is one area that the cruise lines differ a little bit. You won't go hungry, and both offer tasty options. Where the difference lies is in your free versus paid choices.
In our opinion, Carnival has more and better "free" options. One of the most popular places on the ship is Guy's Burger Joint — a tasty fresh-grilled burger with seasoned fries. If you want to eat there, it's free. As well, there is also BlueIguana Cantina, Pizzeria del Capitano and a few other places where you can grab a bite (ChiBang!, Big Chicken, the deli) without any additional charge. And some spots that charge for dinner also have free lunch options.
Royal Caribbean definitely has free places to eat (larger ships tend to have more free options), but in our opinion the freebies outside of the buffet and dining room seem to be more snacks than meals. Meanwhile, the cruise line seems to focus more on specialty restaurants that charge extra. And those specialty restaurants tend to lean more toward fancier, high-end eats than Carnival.
Bottom line: While both lines won't leave you hungry, in our opinion Carnival offers more tasty free options that are included in your fare.
Frequently Asked Questions
Is Carnival better than Royal Caribbean or vice versa?
Like most preferences, the decision of which cruise line is better is subjective. Many people are steadfast fans of one ship over another — and won't hear anything otherwise. In our opinion, both offer an experience that's about 80% the same. It's that other 20% that may sway you one way or another. Like big ships with lots to do? Royal Caribbean may be for you. Like more free dining options and a fun atmosphere? You'll enjoy Carnival.
I have the choice between a Royal Caribbean cruise and a Carnival cruise. Which should I pick?
If you have two cruises — one from each cruise line — that you are choosing between, then it's a good problem to have! To help you decide, we'd suggest taking into account a few items like the ship (we think newer is better), the cost, and the ports of call. The good news is that you'll have fun on either line.
What about a different cruise line like Norwegian?
You might realize that Carnival and Royal Caribbean are not your only choices. There are a number of cruise lines out there. In terms of larger lines, Norwegian is one of the other options for many passengers. If you want to know more about it, you can read the differences between Carnival and Norwegian or the differences between Royal Caribbean and Norwegian.
Have more questions about sailing Royal Caribbean or Carnival? Let us know in the comments below.