Formal night on a cruise is a classic tradition, but for many passengers, it can also lead to lots of questions. Do I have to dress up? What can I wear? When are the formal nights?
For those unfamiliar with formal night, it can feel a bit unnerving trying to figure out the ins and outs of dressing up. No one wants to head to dinner underdressed. At the same time, some people don't want to dress up at all and prefer to know what options they have.
Below, we've covered some of the most frequent questions about formal night on a cruise.
What Is a Cruise Formal Night?
Just as the name implies, formal night is the evening on the cruise when the dress code goes from the casual style that's normal around the ship to more elegant. It's a chance for passengers on the ship to put on their best and have an evening out that feels more special than just going to grab dinner in the dining room.
You'll find people around the ship dressed up, having drinks, taking formal pictures, and enjoying dinner and a show. Think of it as a special event where many passengers have an elegant "date night" that's more memorable than just another dinner on the ship.
Do I Have to Dress Up?
Absolutely not. Your cruise is your own. If you don't want to dress up for the evening, then you certainly don't have to do so. Many people choose to keep it casual. If you decide that shorts and a t-shirt are as formal as you want to get, you won't be alone.
However, if you do decide to not dress up, it's a good idea to dine outside of the main dining room or higher-end specialty restaurants. These are spots that request nicer dress during formal night.
Even if casual dress is allowed in the dining room during formal night, you might feel out of place with others wearing suits or evening gowns.
What Can I Wear to Formal Night? Do I Have to Wear a Tux or an Evening Gown?
Perhaps the biggest question around formal night on a cruise is what to wear. What's acceptable is wide-ranging. No, you don't have to go out and get a tuxedo or a formal evening gown unless you want to.
For instance, you can go all out and dress up in your best evening gown or tuxedo. And you will see some people around the cruise ship go this route. But you don't have to wear a tuxedo to enjoy the evening.
Women can simply wear a cocktail dress or a nice blouse with pants. For men, it's fine to wear a suit, or even a buttoned-down shirt and a pair of slacks if you don't want to get too fancy. Nice jeans would also be ok, although we'd suggest something slightly more dressy.
That said, not everything goes. There are some clothing items to avoid if you plan to eat in the dining room on formal night. This includes shorts, tank-tops, t-shirts, and swimsuits, as well as flip-flops. If you'd wear it to the pool or the beach, you don't want to wear it to formal night.
Ok to Wear for Formal Night (Women): Gowns, dresses, skirts, blouses with pants
Ok to Wear for Formal Night (Men): Tuxedoes, suits, button-down shirts, slacks, nice jeans
Avoid Wearing (Men and Women): Shorts, tank tops, t-shirts, flip-flops
Is The Dress Code Strictly Enforced?
Don't worry, you aren't likely to be denied entry to the dining room, even if you are dressed casually. It's not like an exclusive nightclub that bars entry.
While the name might be "formal" or "elegant" night, you won't be out of place as long as you dress nicer than a t-shirt and shorts. Remember, the cruise lines want you to enjoy yourself and not be worried about if you should be in a tuxedo.
For that reason, as long as you avoid wearing something very casual (e.g. flip flops, shorts, and a tank top), it's likely to be no issue. Even so, we'd highly recommend dressing up somewhat if you plan on eating in a dining room or a nicer specialty restaurant. Not only will you feel more comfortable around others who are dressed up, but it also adds to the atmosphere of formal night for others.
Where Should I Eat If I Don't Dress Up?
While the main dining room is the spot for formal eating during the evening, you won't go hungry if you decide not to take part in dressing up. Every cruise ship offers a number of different places to eat, with many casual dining options for those who aren't getting dressed up for the evening.
For instance, instead of the main dining room you can head to the buffet or one of the 24-hour restaurants around the ship. The restaurant's atmosphere will give you an idea of if it's ok to eat there dressed casually or not. The fancy steakhouse? You want to go formal. The spot serving pizza? Shorts and a t-shirt are just fine.
Is Formal Night For Everywhere on the Ship?
While you'll definitely see people dressed up all around the ship, the only place where you'll find any sort of suggested or required dress code is in the dining room and/or specialty restaurants.
So if you are just hanging out around the ship — having a drink in a bar, playing in the casino, watching an evening show — then you are perfectly fine dressing down. You won't be the only one. While many people participate in formal night, a considerable chunk of passengers don't.
How Many Formal Nights Are There During the Cruise?
The number of formal nights varies based on the length of your cruise. The rule of thumb is that a week-long cruise will have two formal nights during the trip (i.e. Day 2 and Day 5). Shorter trips normally have one.
It may be that if you are on a very short cruise (e.g. three days), there might not even be one formal night. For instance, we've been on one short cruise with "Wear Your Best" (i.e. the nicest thing you packed) instead of formal night.
Does Everyone on the Ship Dress Up?
No. If you decide to not dress up, then you certainly won't be out of place. Many people choose to dress casually and just eat somewhere else other than the main dining room or higher-end restaurants. Even so, formal nights are popular and when you walk around the ship in the evening on one of these nights, there is no mistaking that it's dressier than normal.
How Will I Know When It Is Formal Night?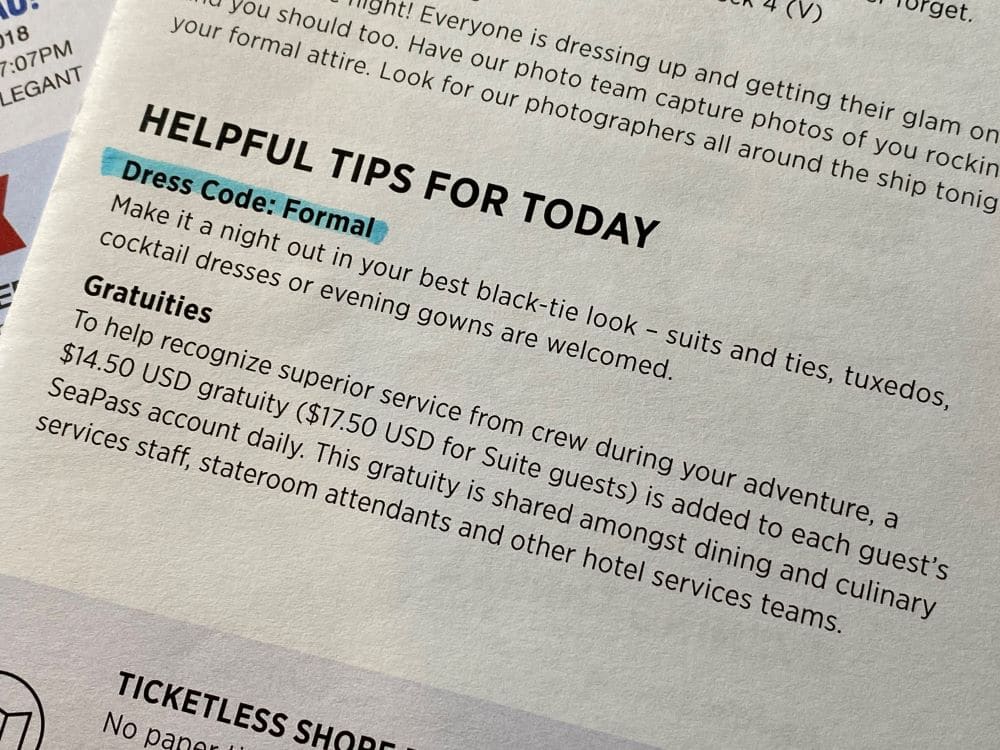 Nothing would stop you in your tracks like heading down to dinner in a pair of shorts and then realizing everyone else is dressed up! Fortunately, you'll get plenty of notice when it is formal night.
The most obvious spot will be with your daily cruise planner delivered to your cabin each day or through the cruise line's app. There will be some mention of the dinner attire. It may be referred to as "formal" or "cruise elegant" or some other name. They all mean the same thing: Time to get dressed up!
As well, there are almost always announcements from the cruise director throughout the day sharing what is going on during the day and evening. They will usually mention it when it is formal night, so keep an ear out for announcements.
In the worst case, even if you don't see any notice at all, you will definitely not miss the fact that many people are dressed up when you head to dinner that evening. That should give you a little time to head back to the room and dress up if you want to join in.
Do I Need to Dress Up at Any Other Time Than Formal Night?
For the most part, the only time you'll need to dress anything other than casual is if you participate in formal night. That said, there are some spots where some nicer clothes are a good idea even if that evening's dress code is casual.
Specifically, if you plan to visit any of the higher-end specialty restaurants on the ship, such as the steakhouse, then there may be a dress code.
Even if there is not, dressing up to fit the style of the restaurant is smart. So while it's ok to dress casually at a burger joint on the ship, you'll want to dress a little nicer if you go to the formal Italian or seafood spot for dinner.
Bottom Line on Cruise Formal Nights
The formal nights on a cruise are a fun way to do things a little differently. If you're not someone that gets dressed up often, don't worry. The rules around what's formal and what's not are flexible. As long as you make some sort of effort to dress a little nice, you'll be fine. And if you want to go all out, you won't be alone!
If you're someone who likes to keep things casual, then that's no issue either. While we'd suggest not eating the main dining room or nicer specialty restaurants on that night, you can wear what you want around the ship.