If you're sailing on a Royal Caribbean cruise from practically anywhere on the East Coast, then it's almost assured that you're going to make a stop at Perfect Day at CocoCay — the cruise line's private island.
Now I've been fortunate enough to visit this spot countless times, including well before the island was completely transformed into what it is today. So what do I think people will wish they knew before they visited? Here are the things I wish I knew before visiting for the first time…
Lay of the Land
First up is that if you're visiting for the first time, you're going to want to know a general layout of CocoCay. The place is big, with several different areas. There are maps around the island, and you can also find them online. I'd highly suggest just checking one out to get some idea of where things sit.
I like to think of it as three different sections, although Royal Caribbean might disagree. The first section is Chill Island and Oasis Lagoon, which is the huge pool. These spots go from the center of the island to the left as you look from the ship. It's where the vast majority of free things to do around the island are located.
Second is the Thrill Waterpark, which is by far the most attention-catching area with the huge tower with waterslides spiraling around it. The waterpark costs extra — more on that in a moment — but it's one of the most popular areas.
Third is the backside of the island. Here is where the Coco Beach Club — a fee-based area — and the free South Beach sit.
There's a tram that runs around CocoCay, taking you from spot to spot, but it's still a good idea to have a mental map when you're exploring.
There's Lots That Is Free
Make no mistake, Royal Caribbean transformed CocoCay to make money, and there are plenty of opportunities to spend… a lot. But one thing I'm glad I know after visiting is that there is a nice balance between free and paid. Frankly, if you want to visit and not spend a dime, you can still have a full day.
Specifically, most food is free. The beach and loungers are free, as are the beach games. The pool is free, and so is the kids splash pad and the pirate ship on the island. Now, anything more active like the waterpark, zip lines, or special places like cabanas or the beach club definitely cost extra.
But it's nice to know if you don't want to spend more, you absolutely can still have a lot of fun.
The Waterpark Prices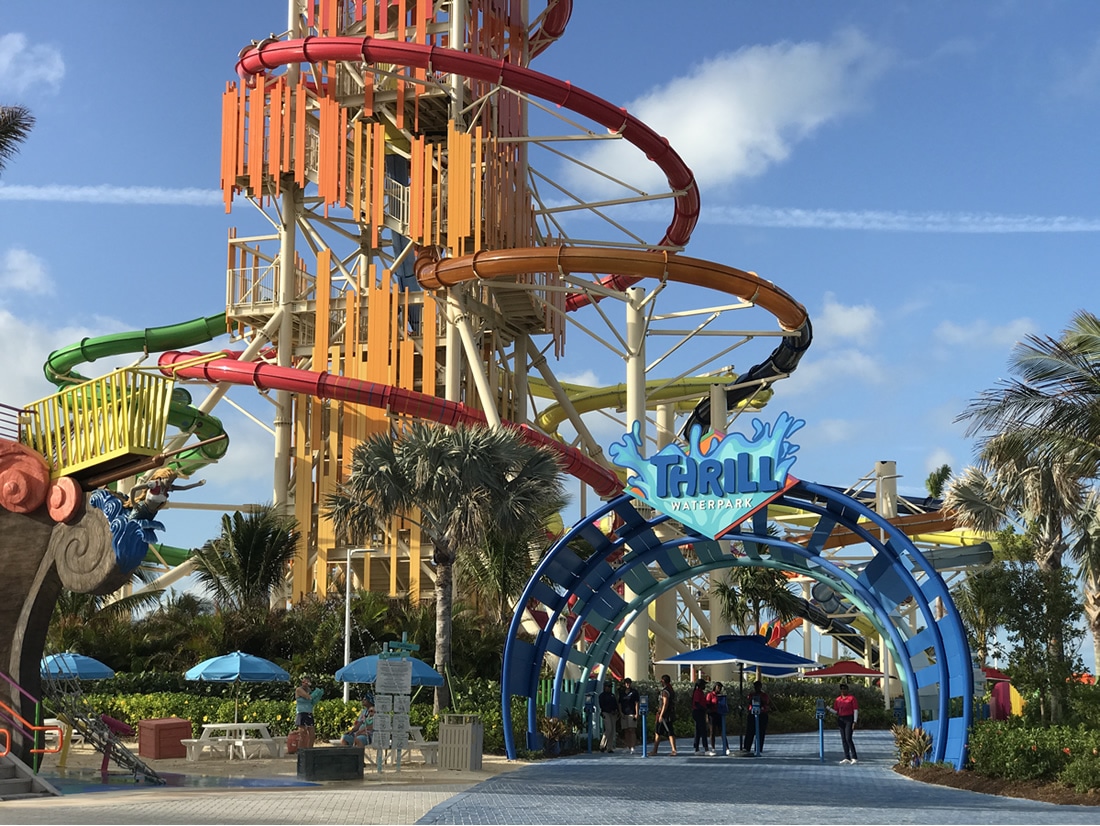 One thing I think anyone is going to want to realize is that Royal Caribbean is very proud of the waterpark… and that shows in the pricing.
The cruise line uses dynamic pricing, so there isn't a set price for admission. Instead, it depends on your specific visit and the prices can be eye-watering. I've personally seen prices as high as $161 on cruises. But I've heard from passengers that report prices even higher — above $200 per person.
Now, I don't know for sure, but I expect that these prices are so high to help limit the crowds somewhat and reduce lines. After all, if you were to go to a waterpark in Orlando you'd pay around $50-80 per person for an experience that's much bigger than Thrill Waterpark.
Drink Packages and Wi-Fi Extend to the Island
One big value on CocoCay that anyone is going to want to know before they visit is that your onboard drink package and wi-fi package will work on the island.
Normally these things only work on the ship. So when you're in port all day, you pay for the drink package but don't get to use it. Same thing with wi-fi. That's not the case on CocoCay. Instead, you get to squeeze an extra day out of the services, just as if you were on the ship.
Make it Two Days on CocoCay
It took me several times visiting CocoCay before I realized what I think is the best way to enjoy the island.
When you port, you'll spend a full day docked. Usually from around 8 a.m. to 5 p.m. By far the busiest hours are between 10 a.m. and 2 p.m. So come around 2 o'clock, you'll notice things die down considerably. Yet it's still a long time until the ship leaves.
That's why I break down my time there into two day. First, I like to go out and enjoy the morning before things get too crowded. There's plenty of room around, it's not too hot out, and you can figure out what you like around the island. Then, after eating lunch, I head back to the ship.
There, I spend a couple of hours in the cabin, take a siesta, and avoid the middle of the day when things are busiest and hottest.
At around 2 p.m., I'll head back out for my "second day." By this time there is still plenty of sun and people, but crowds are starting to thin out. Plus, I get a second wind instead of being toast from sitting in the sun all day.
The Island Can Get Busy
CocoCay is a hit among passengers and Royal Caribbean. These days, more than half the cruise line's sailings visit. Royal Caribbean said that they average 11,000 people a day and plan to add more capacity with a new section opening soon.
That means there are usually two large ships visiting on any given day. The good thing is that there is plenty of space around the island. So no, you aren't going to be standing shoulder to shoulder on the beach. But you can definitely still feel the crowds and some spots will be packed. Specifically, the bar area in the Oasis Lagoon pool can get packed.
The Pool Is Not Heated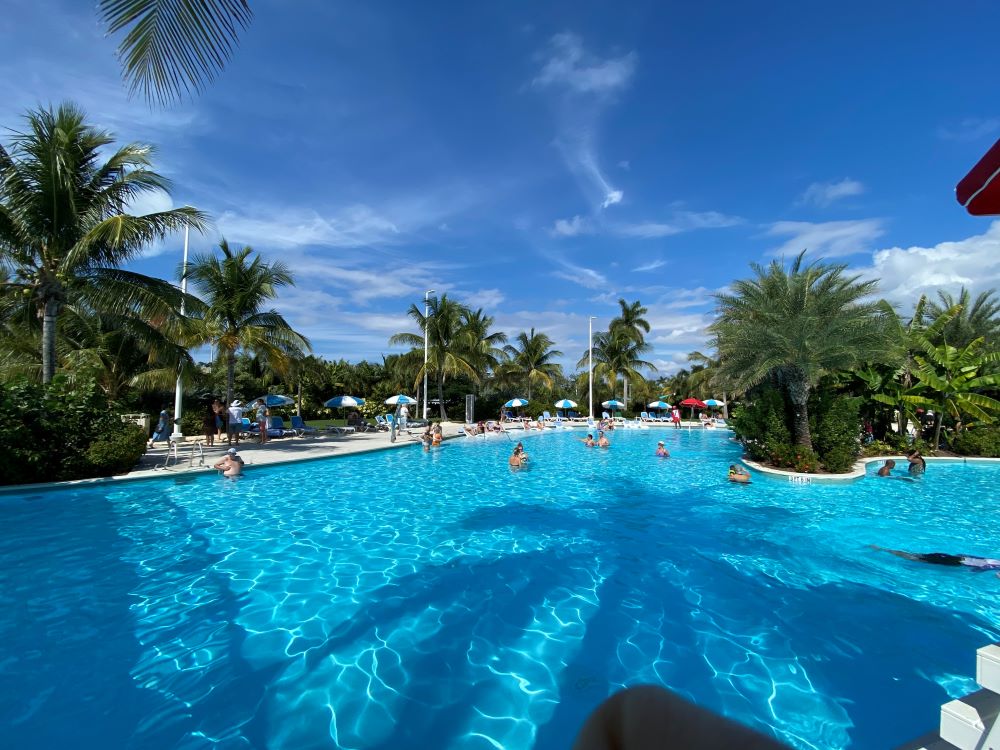 One thing I wish I knew before I visited in the winter is that Oasis Lagoon — the huge freshwater pool on CocoCay — is not heated. It never gets too cold in The Bahamas, but as someone who grew up in the south, I am not equipped to handle cold water.
A February trip to the island ended up with me spending more time in the ocean as it was actually warmer to me than swimming in the pool.
Beach Recommendations for CocoCay
If you're excited about hitting the beach, you're not alone. It's a huge draw. They are white sand with calm, blue water. What's not to like? But, two things I wish I knew before I ever visited are a couple of beach tips.
One, if you want the best beach, then I'd recommend South Beach. It's on the far side of the island, so the crowds are a bit smaller. But it also has all the features you want. Lots of room, a bar close by, restrooms, a restaurant, and lots of beach games. Other beaches have those as well, but here, it is all self-contained. When I noticed that the ship's entertainment crew members seemed to congregate here when relaxing, that said it all.
Second, if want the calmest beach, then check out Harbor Beach. It's smack in the middle of CocoCay. Because the water is from an inlet instead of the open ocean, it's always completely calm. As well, I get the impression most people want to sit on the beaches on the outside of the island, so it seems like the number of people here is just a fraction of what's found elsewhere.
Where the "Party" Spots Are
Are you the sort of person that wants to party? Or maybe you're the sort of person that wants to avoid that scene? Either way, one thing you'll wish you knew are the party spots on CocoCay. To be sure, it's not exactly Bourbon Street, but two spots in particular seem to get a big more festive.
First, the Oasis Lagoon pool has a swim-up bar that's very popular and will by far be the most crowded spot in the entire pool.
Second, one lesser-known spot is a floating bar located in the water off South Beach. It's essentially a floating island with booze. (Literally the bartender has to kayak into shore to go get ice.) I've found it can get pretty busy and loud. If you want that, then it's your spot. If not, then you'll know to avoid it.
Cabanas Come With Perks
I'll be honest, this isn't something I wish I knew, simply because I don't plan on spending the cash for a cabana on CocoCay, which start at around $1,000 for the day.
However, if you are in the market, then you will want to know that these cabanas can come with some perks you may not realize. For example, when you opt for the $1,000 cabana at Thrill Waterpark, you get the space, but it also comes with six entrances to the waterpark. Considering that admission is $100 or more a day, that means you're paying just a fraction for the actual cabana.
Same thing with the cabanas at the Coco Beach Club. These are pricier, but also include the expensive admission to the club for up to eight.
What to Know About Food
If you're wondering about food, well you have several options that you may not realize. First, the vast majority of food is free. During the day there is a buffet served with things like burgers, dogs, and the like. There are also smaller spots called Snack Shacks that serve chicken sandwiches, fries, funnel cake, and more. All of this is free.
What I've learned is that the Snack Shacks, which are essentially like little fast food spots, serve up stuff that to me just seems better than the larger buffet and without the hassle of dealing with the crowds.
If you want higher-end dining, then you have a couple of options. First, you can head back to the ship. It's not a far walk and restaurants on board are still operating even though you're in port. Second, the highest-end dining is in the Coco Beach Club. There's an admission fee to this private area that's around $150 per person. But one thing included is lunch, which can be steak, lobster, and more. You know, for those times when a burger just doesn't cut it.
More on Visiting CocoCay: