Chances are that if you are taking a cruise on Royal Caribbean from the East Coast, then your ship is going to have a stop at CocoCay.
The private island operated by the cruise line is one of the most popular ports in cruising. Royal Caribbean spent hundreds of millions to transform the area from a sleepy island to a full-fledged destination. And passengers universally love the experience.
While we have everything to know about CocoCay here, we wanted to spend some time focusing on one of the biggest draws of island — Thrill Waterpark.
Thrill Waterpark is a separate section of CocoCay that's a full-fledged waterpark complete with towering slides, a wave pool, obstacle course pool and more. This part of the island isn't open to everyone; an entrance fee applies.
Want to get the most out of your money? Here are some of our top things to know when visiting Thrill Waterpark on CocoCay…
Location of Thrill Waterpark on CocoCay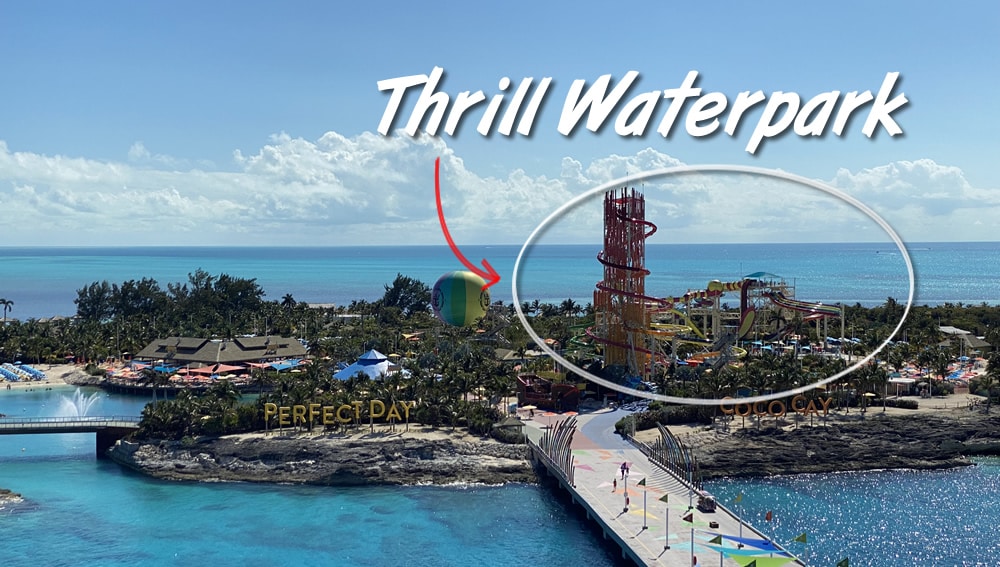 Before going any further, let's first give you the lay of the land. As you arrive at CocoCay, you'll see the entire island spread out before you. But there will be one feature that literally stands out above anything else.
On the right side of the pier you'll see a large tower with waterslides branching off. This is Daredevil's Tower — the most noticeable feature of the park. The waterpark is literally just a few minutes' walk from the ship and the entrance is right at the entrance of CocoCay.
How Much Does Thrill Waterpark Cost?
Unlike (most of) the rest of CocoCay, which is free for you to explore, there is a fee to enjoy the waterpark. Like many things on Royal Caribbean, the fee depends on your specific cruise and ship. But expect to pay a pretty penny. While rates used to be in the $40-50 range per person just a few years ago, now it's common to see admission in the $80-$100 range these days. But prices can rise considerably higher. In fact, there are reports of prices DOUBLE that amount.
The easiest way to book your spot is to reserve online through your Royal Caribbean account in advance of your cruise. You can also book once you are onboard through the Royal Caribbean app or through the shore excursions desk.
One thing to note is that we have seen discounted admissions that allow access only in the afternoon hours, but it's not clear if that's still an option. However, the discounts we've seen aren't that much (just a few dollars), so it seems worth it to book the entire day if you plan to visit.
It's also worth booking early as there is usually a discount for doing so.
Don't Worry, You Can Still Have Fun in Water Without Paying (Just Not in the Waterpark)
While the waterpark activities are only to those paying the entrance fee, don't think you have to pay to have fun and get wet while visiting.
CocoCay features several spots where you can hang out and play on the beach, Oasis Lagoon (a massive freshwater pool), Captain Jill's Galleon (a pirate ship with lots of water spraying everywhere) and Splashaway Bay (a water feature with water spraying and dumping everywhere; pictured above). All of these items are free.
You Room Card Is Your Ticket (Or a Wristband)
You only need to scan your key at the entrance kiosk to get into Thrill Waterpark. Assuming you've already reserved tickets, it will flash green to give you access.
There are a number of stands at the entrance, as well as staff on hand to monitor and give you a hand if you're having trouble.
One tip is to hold the card at an angle when scanning the barcode. We had trouble scanning our keycard flat. You scan whenever you enter and exit the area, so be sure to keep your card on you at all times.
As well, you might simply be given a wristband that you show the staff for admission. Either way, have the card or your wristband with you as you can come and go as you please.
All Ages Are Welcome, But Someone Over 14 Years Old Must Accompany Kids
While we have never seen anyone being denied access, the conditions of booking Thrill Waterpark state that "Children under age 14 must be accompanied by a ticketed guest age 14 or older to enter Thrill Waterpark."
In other words, if you have a kid under 14, you'll need to accompany them to the park and you'll need to pay admission as well.
Note that there is no rule that you have to ride the same slides. So Mom and Dad could hang out by the wave pool while the kiddo rides slides. You simply need to be there in the park with them.
There Are Lockers To Use at No Additional Charge
It's always a big question of what to do with your stuff when you hit the pool or beach. At Thrill Waterpark, there are tons of lockers for you to use.
Each locker is big enough to fit a backpack and maybe a towel or shoes. Not enough space? Don't worry, you can use multiple lockers.
To use a locker, you simply find an open one, enter a passcode and then hit the lock button on the keypad. When you're ready to get your stuff, just enter your code and hit unlock. It's super simple, and there's no key to keep track of while you're in the park.
Thrill Waterpark Has Four Main Areas
Within Thrill Waterpark there are four main areas — all within an easy walk of each other.
Daredevil's Tower: This is the main tower and the tallest structure on the island. Coming off of it are five different waterslides. The tallest is Daredevil's Peak, which starts 135 feet above the ground.
Splash Summit: Another pod of waterslides, Splash Summit features more slides including a raft ride for up to four people and another raft ride for two people.
Adventure Pool: Kids will like the Adventure Pool. It's a pool area with a number of obstacles over it, including big pads to walk across, a climbing wall, rope swing, and more.
Wave Pool: On the shallow end, it's a gentle pool with lapping waves. Head out into deeper water and the water gets rougher. The random wave machine makes it feel like swimming in the open ocean.
There Are Eight Different Waterslides
If you're going to Thrill Waterpark for the waterslides, you have quite a few to choose from. In total there are eight different slides in two different areas. Here are your choices:
Daredevil's Tower
Daredevil's Peak: The tallest slide in North America at 135 feet, it's the red slide when looking at the tower. It loops several times around, picking up speed. By the time the 20-second ride ends, you're going extremely fast. (Red slide in photo.)
Dueling Demons: These two slides are the second-most extreme ride in the park, and feature a standing free-fall. The floor drops out from under you, sending you falling. One perk is that this line is usually much shorter than Daredevil's Peak. (Yellow slide in photo.)
Screeching Serpent: The slide is simple — you go over the ledge and then what feels like straight down in a steep drop. It's over in just seconds but will give you a huge adrenaline rush. (Blue slide in photo.)
Green Mamba: Green Mamba is relatively calm compared to the other slides on the tower. It's an enclosed tube that twists and turns back and forth. It's a lot of fun, but not as scary as other rides. (Green slide in photo.)
Manta Raycers: These slides are better for smaller riders as they start from the lowest point of any slide on the tower and wind back and forth. They are also open-air instead of an enclosed tube. (Purple and orange slides in photo.)
Splash Summit
Sling Shot: For this ride, up to four people sit in a raft that winds down the slide, ending in free-fall as it slides up a huge wall before coming back down. The rafts are brought up mechanically, so you don't need to grab one before heading up to get in line. (Middle slide in the photo.)
Twister: For Twister you can either ride down solo or tandem, but you'll need to grab a tube before heading up the stairs. Once on the slide, it will wind back back and forth before ending in the pool. (Left slide in the photo.)
Splash Speedway: Grab a mat before you head up the stairs and get ready to race your friends and family. There are four different chutes that fly down, make a loop, and then head to the final finish. (Right slide in the photo.)
Showers and Restrooms Are Available
Just like the rest of CocoCay, you don't have to go far if you need a restroom or want a fresh water shower. Thrill Waterpark has both men's and women's showers, and restrooms right by the lockers. So if you want to rinse off and change before you head back to the ship, then you can.
You Can Enter and Re-Enter As Much As You Want
Say you want to visit the waterpark and then head over to the beach. Or say you forgot sunscreen and need to head back to the ship.
No matter the reason, you can leave and re-enter Thrill Waterpark as much as you want. There are no restrictions on coming or going. The only thing is that you'll need to scan in and out each time (or show your wristband), so be sure to keep your cabin keycard on you at all times.
Small Kids Can Enter for Free
Truth be told, young kids (those under about six years old) won't get a ton from the waterpark. The minimum height for slides is 40″… and that's just for one slide. You must be at least 48″ to ride everything.
Still, if you have a family that you don't want to split up, it's nice to know that kids under three years old are allowed to enter at no charge. So they can hang out with one parent while another takes the bigger kids to ride.
Shoes Aren't Allowed on Slides (There Are Cubbies Available)
One of the rules on the waterslides in the park is that no shoes are allowed. This includes flip-flops, water shoes, and tennis shoes. Fortunately, we didn't find much reason for them. While we worried that the sand would feel hot, even in the middle of the afternoon it wasn't too warm on our feet walking from place to place.
If you are the type that wants to wear shoes, then there are little stands with cubbies available near the slide entrances. Just slip your shoes off, put them in the cubby hole and then come get them when you need them again.
Daredevil's Tower Has The Best Views
When you start climbing the stairs, you think you're just going to the top of the waterslides. But as you get higher, you start to realize that the views from the tower are insanely good.
The Daredevil's Tower is built with a staggered facade to let the wind through, but that also gives you a chance to look out 360 degrees around CocoCay. You can see the entire island and the blue water that surrounds it.
Our advice is to head up to take some photos. You can bring cameras with you on the ride, or you can just climb up, take the pics, and then walk down to put the camera away. The photo opp is worth the stair climbing.
Ride Lines Are Fairly Short Overall (But Reservations Might Be Needed if Two Ships Are in Port)
Don't like waiting in line? Good news — when we have visited the lines were fairly short for most rides. On days when we've visited with a single ship in port, it's been easy to go ride everything with minimal waiting.
There is one exception — on days we've visited with two ships in port, the crew implemented a reservation system for Daredevil's Peak (the tallest slide). There, you had to visit to put your name on the list and then come back when it was your time. However, the other slides you were able to ride right away.
With one ship in port, the longest we waited in line was about 10-15 minutes for the popular Daredevil's Peak. Other slides had much shorter (or no) waits.
Want to spend even less time in line? We noticed that the later the afternoon went on, the fewer people seemed to be in the park. During the mid-to-late afternoon you were able to hop from slide to slide without almost no waits at all.
Thrill Waterpark Never Felt Crowded
In addition to the relatively short lines, we also noticed that the waterpark never felt crowded. There were plenty of people there, but it was not overwhelming. You could always find a locker or a lounge chair. Lines for the rides or for food were close to zero. There was no issue with crowded walkways or stairways to the rides.
This may actually be a benefit of the relatively high price tag for visiting. It serves as a way to manage the crowd size so that people that do pay have a good experience.
The Waterslides Might Scrape Your Back
Planning to ride the waterslides again and again? You might want to wear a shirt. We found that the slides would cause some light scrapes on our back and were a little bit painful.
Each slide is made up dozens of smaller pieces bolted together and where each is put together, it forms a seam. Meanwhile, you lay on your back for each ride, with your feet and arms crossed. Sliding over dozens of seams on each ride ended up giving our back a rough treatment.
We could only ride a few at a time before we needed a break, and the next day we had some soreness from riding these slides.
There Are Plenty of Spots to Relax
Not all that into waterslides? Or maybe you simply want to take a break from the action? There are plenty of spots to sit and relax. Lounge chairs and umbrellas surround all the different areas of the waterpark (as do cabanas), so you can always find an open spot to work on your tan, sip a cold drink, or just sit in the shade.
Cabanas May Be a Good Deal for Groups (Includes Admission)
If you are traveling with a large group that wants to visit the park, then it may be worth looking into a cabana at Thrill Waterpark. Royal Caribbean has a limited number of cabanas that offer your own private shaded space that's right in the middle of the waterpark. It's a great place to create a "home base" while everyone has their fun.
But one perk of the cabanas is that admission to the park is included. So you'll want to weigh the cost of booking one (they can be pricey, upwards of $1,400 a day, although prices vary) compared to the cost of admission for everyone to the park. It may be that you can get a cabana AND admission to the park for not much more than admission itself.
There Aren't Age Limits, but Height/Weight Restrictions
If you have kids, they likely want to know if they can ride all the waterslides. Chances are that they can because there aren't age requirements to ride. It all depends on your size.
The ride minimum heights range from 40″ to 48″; the most extreme rides require riders to be at least four feet tall. As for weight limits, we didn't see minimums, but did see maximums of 300 pounds. There are scales that you will stand on before some rides to confirm you meet the weight limits, and we saw staff checking heights.
Height Requirements
Daredevil's Peak: 48 inches
Dueling Demons: 48 inches
Screeching Serpent: 48 inches
Green Mamba: 48 inches
Manta Raycers: 40 inches
Sling Shot: 48 inches, unless with an adult and wearing a life vest, then 42 inches
Twister: 48 inches, unless with an adult and wearing a life vest, then 42 inches
Splash Speedway: 42 inches
Hungry? You Don't Have to Leave the Thrill Waterpark to Eat
Food is a big part of any cruise, and one of the great things about CocoCay is that you have a number of free options. This includes two large buffet-style restaurants that serve lunches of burgers, tacos, hot dogs, and more. There are also multiple "Snack Shacks" — including one in the waterpark.
The Snack Shack is like a mini fast-food restaurant that serves burgers, chicken sandwiches, dogs, fries, and dessert. It's completely free and open longer hours than the buffet. Having one in the waterpark means you can stop by and get something to eat without going through the hassle of leaving the park, eating, and coming back in.
The Park Slows Down in the Afternoon
You might think the afternoon would be the best time to head to a waterpark. Surprisingly, we found that things really slow down all around the island after lunch.
Consider that you'll arrive to CocoCay in the morning — usually around 8-9 a.m. — and depart in the evening around 5-6 p.m. Many people head off the ship earlier in the morning, and those who go to the waterpark seem to make a beeline there.
As the day wears on, however, some people get their fill and head back to the ship. The result is that things are slower and there are fewer people in the mid to late afternoon. It's not empty, but there are definitely fewer passengers around. Take advantage and visit around this time to get shorter lines on your favorite rides.
Forget Your Towel? There's a Towel Station
You can always bring beach towels from the ship (they are available by the pools onboard), but it's inevitable that someone will forget to bring one.
Don't worry, you're covered. There is a towel station in the Thrill Waterpark, right beside the wave pool. Stop by and grab a couple of towels. It's free, you just tell them your room number. You can also swap out wet or dirty towels for new ones.
When it's time to head back to the ship, you'll simply take the towels back with you. Drop them off at the towel station back on board so that you don't get charged.
Have more questions about the Thrill Waterpark? Let us know in the comments below. And don't forget to read our complete guide to visiting CocoCay here.