When it comes to cruising, two of the biggest players are Norwegian Cruise Line and Royal Caribbean. If you are planning to set sail, the odds are high you'll be at least looking at one of these lines.
Of course, if you are about to cruise — or if you are just planning your next vacation — then you might wonder exactly what the difference is between the two. After all, at first glance they both seem to offer a similar experience with massive ships sailing to exotic ports of call with thousands of passengers.
The truth is there are a lot of things that are similar between Royal Caribbean and NCL. For the most part, taking a cruise on either line will have a similar feel. But that's not to say they are exactly the same. Each line has things unique to its service that can endear them to passengers and potentially be what you're looking for.
Below, we cover some of the bigger differences between Norwegian Cruise Line and Royal Caribbean. This should give you a better idea of what you can expect on each cruise line and if it's the right fit for you.
In addition, we've also covered the differences between Norwegian and Carnival here and differences between Royal Caribbean and Carnival here.
Fleet Size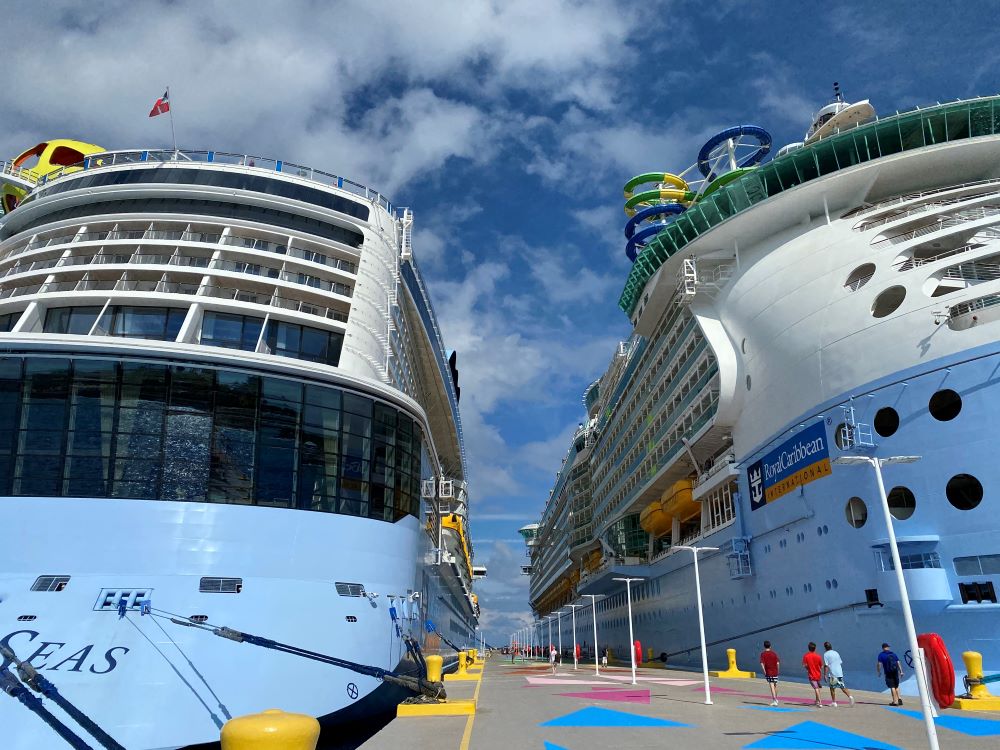 Why should you care about the size of a cruise line's fleet? After all, you can only sail one ship at a time.
Fleet size gives you more options. It means more departures, more itineraries, and more choice for which ship you cruise. Bigger fleets mean more likelihood of finding the cruise that fits exactly what you want.
On that front, Royal Caribbean has a larger lineup of ships. In total, the cruise line currently offers sailings on 26 different ships and has multiple new ships coming online with Icon of the Seas and Utopia of the Seas.
Norwegian Cruise Line is no slouch, but the fleet totals 18 ships — about two-thirds as many as Royal Caribbean. That said, NCL also has a new ships scheduled each year until 2027.
Bottom line: Both cruise lines have large fleets, but if you want more options, Royal Caribbean has the larger lineup.
Onboard Spending
Experienced cruise passengers know that what you pay for the cruise fare is not all you'll spend on your trip. There is also onboard spending. This category includes all the money you spend on things on the ship, including drinks, specialty restaurants, wi-fi, and more.
In this case, average passengers on Norwegian can likely expect to spend more compared to Royal Caribbean.
While Norwegian has its "Free at Sea" offer (more on this below) that can save you money, in general you'll find that prices on NCL ships are generally more expensive. For example, the cruise line's drink package is priced at $109 per day, while Royal Caribbean's varies, but starts around $65-70 per day.
You'll find similar differences with things like wi-fi and gratuities. The fastest Internet service on NCL is $40 per day. On Royal Caribbean, it's $24 (often with discounts for booking early).
As for gratuities, most cabins see a charge of $20 per person, per day with Norwegian. That price is $16 per person, per day for Royal Caribbean.
Bottom line: In general, you can expect higher prices for things onboard NCL, from gratuities to drink packages to wi-fi access. Royal Caribbean prices are generally lower.
The Haven
Looking for a more luxurious cruise? You could try sailing on smaller, more luxury-focused ships and cruise lines. However, that can be a very different experience than the fun of sailing on a larger vessel. For instance, if you have children, they would enjoy a big ship with things like go-karts and kids areas compared to a high-end ship focused on adults.
Norwegian Cruise Line offers a solution. Its ships have an area called The Haven. This is a high-end "resort within a resort" that features a small number of higher-end cabins along with numerous private amenities like pools, lounges, a bar, and restaurant. Regular passengers don't have access to these areas.
In short, if you're wanting a more exclusive experience while still getting the advantage of a larger ship, then NCL has the solution.
Royal Caribbean does offer exclusive areas for high-end suite passengers, but The Haven is a step above.
Bottom line: Norwegian's The Haven is a unique "resort-within-a-resort" that offers small ship luxury but big ship amenities.
Free At Sea Offer
Tired of being nickeled and dimed? One big difference you'll find with Norwegian and Royal Caribbean is NCL's "Free at Sea" offer.
Put simply, Free at Sea is Norwegian's regular sale where passengers get a number of perks to have for free on their trip. The options include everything from free drinks on the ship to free specialty dining to free wi-fi and even free airfare. To be sure there are some terms and conditions, but overall the sale can give you up to five or six different items for free.
One thing to know is that cabins with this perk are more expensive than booking without. Still, if you don't like extra charges on the ship, then this offer could be for you.
Bottom line: Don't want to be nickeled and dimed? Norwegian's Free at Sea offer can include a number of amenities with your cruise, but you will pay a higher price.
Status On the Ship
Check out the message boards for Royal Caribbean and you're likely to hear a lot about Platinum, Diamond, and Pinnacle status in the Crown and Anchor Society. These are levels of the cruise line's loyalty program, which indicate how many days you've sailed with them. Anecdotally, we've found status to be flaunted much more on Royal Caribbean than on Norwegian.
This isn't to say a lack of status is held against you; truth is no one really cares if it's your first cruise or 100th cruise. We've just noticed that there are a lot more high-status cards being shown on Royal Caribbean ships (most often being on a lanyard).
On Norwegian cruises we've see very few people with high-status key cards and fewer people in general wearing lanyards that show off the status of their card.
Bottom line: Royal Caribbean passengers seem to place more emphasis on loyalty status on the ship. That's not a big deal, but we've noticed more high-status cards on the cruise line.
Connecting Outdoors
You'd think that when you're at sea, it's a way to have lots of outside time and connect with the ocean. Truth is that most ships offer pool decks, but seemingly not much more outdoor space.
Norwegian Cruise Line, however, puts a bigger focus on being outside during the cruise than Royal Caribbean.
For instance, many NCL ships feature an outdoor promenade that sticks out from the ship on the lower decks, giving you a place to take in the sun and fresh air away from the pool deck. But where the biggest difference seems to be is with outdoor dining.
It seems like a no-brainer that if you are at sea then dining out in the fresh air will come with the territory. Truth is that the wind and sun can be a major issue. A five mile per hour breeze into the face of the ship can turn into 25 miles per hour when the ship is underway. That means everything on your table will be blown off. And if you are dining during the day, the tropical sun can make eating outside uncomfortable.
In other words, a cruise line has to think a lot about how to set up outdoor dining so that it's a comfortable and relaxing experience — not a mess that leaves you annoyed.
Norwegian seems to focus more on outdoor dining, with several spots on its ships where you can sit in the outdoors and eat without having to worry about the wind ruining your dinner or sun beating down on you.
Bottom line: Norwegian purposely creates spaces on the ship that connect passengers more to the ocean than Royal Caribbean does.
Global Itineraries (Including Hawaii)
Every cruise ship sails to international destinations, but some are definitely more global in nature. In that case, both Royal Caribbean and NCL can take you to destinations around the world. Whether it's Europe or Alaska, Australia or the Greek Isles, if you want to go there, these cruise ships can do it.
However, there are some differences. For one, Norwegian seems less focused on the Caribbean than its rival. During the summer of 2023, NCL shows just three ships sailing from all Florida ports. Royal Caribbean has eight on its schedule.
Norwegian, despite having a smaller fleet, sails more ships to Alaska. And perhaps most unique is Pride of America. This ship is the only major cruise ship to be registered in the United States. That allows it to sail the Hawaiian Islands without having to visit a foreign country on the trip. So if you've ever wanted to tour this part of the world, NCL is your best best.
Bottom line: These two cruise lines sail all around the world, but NCL's itineraries seem to be more global in focus. Norwegian also offers a ship based in Hawaii.
Ship Size and Things to Do
When it comes to the largest ships with the most features, there's little argument that Royal Caribbean is the gold standard.
Its Oasis-class ships are the largest cruise liners in the world, measuring more than 1,000 feet and 235,000 tons. The ships are also well-known for having unique things to do, including ice skating, FlowRider standing waves, huge multi-story slides, and tons more. If you want a ship with the most to do at sea, then Royal Caribbean is likely your choice.
But now the Icon class is making even bigger strides. With Icon of the Seas, not only will it be the new largest cruise ship in the world, it will also have a number of new features. That includes an entire waterpark.
Norwegian — after making huge strides in this area with ships like Norwegian Bliss, Joy, and Encore — is taking a different track. Its Breakaway-Plus class of ships are the cruise line's largest. These ships measure about 165,000 tons. On board you will find a number of unique things to do, including go-karts(!), laser tag, and even waterslides that will take you out over the edge of the ship. They are comparable to Royal Caribbean.
But now, the cruise line is moving more toward luxury with its newest ship (more on this below), seeming to cede the "bigger and more activities" crown to its rival.
Bottom line: When it comes to the ship size and number of things to do onboard, Royal Caribbean sits head and shoulders above other cruise lines.
Private Islands
These days every large cruise line offers a private island. Norwegian offers two — Harvest Caye near Belize and Great Stirrup Cay in The Bahamas. Royal Caribbean offers CocoCay in The Bahamas and Labadee, Haiti.
We love going to these private islands. They have beautiful beaches and are custom-made for cruise passengers. If you just want to hang out by the pool or work on your tan, then you can — without worry about transportation or paying fees like in other ports.
So what's the difference? Royal Caribbean has transformed CocoCay into much more than just a simple island where you sit and relax on the beach. The island now includes Thrill Waterpark with more than a dozen waterslides, a wave pool, 1,600 feet of ziplines, over-the-water bungalows, and the largest freshwater pool in the Caribbean. Similar to Royal Caribbean's ships, the company has gone "big" with its private island.
In comparison, Norwegian's island are a bit more laid back. They still offer plenty to do (ziplining, pool, watersports) and enjoy, but it's not quite the massive scale you'll find at CocoCay.
Bottom line: Both cruise lines offer private islands. Great Stirrup Cay from NCL is more laid back and relaxing while CocoCay from Royal Caribbean features much more to do, including a full waterpark.
Future Developments
There's no doubt that right now Royal Caribbean and Norwegian Cruise Line offer a lot of similarities and generally appeal to the same sets of passengers. It is a question if that will be the case as much in the future.
NCL already has pushed more into luxury cruising with The Haven on its ships. But future ships seem to be focused even more on offering a high-end experience. The cruise line's Norwegian Prima is the first of six new ships in its new Prima class, which debuted in 2022. These vessels look and are designed differently from the rest of the fleet.
With modern design, upscale dining options, infinity pools, and more, the new ships focus on a more luxurious experience compared to Royal Caribbean — or even other ships in its fleet.
Royal Caribbean, meanwhile, is debuting its Icon class. As mentioned, these will be the largest cruise ships in the world, with a large focus on family cruising with lots for kids and teens to do. That includes a complete waterpark on the ship and special family "neighborhoods" on board.
Bottom line: The direction of the future ships is very different. NCL seems to be focusing more on luxury and style while Royal Caribbean continues to go big with lots to do on the ship.
Have more questions about sailing on Royal Caribbean or Norwegian? Let us know in the comments below.
You can also see the differences between Royal Caribbean and Carnival, or the differences between Carnival and Norwegian.