Anyone who reads Cruzely knows that we are big fans of CocoCay.
The Royal Caribbean private island recently underwent a $250 million renovation (opening up as a revamped destination in 2019) that took it from a sleepy spot in the Bahamas to a complete destination.
Visit today and you'll find everything from white sand beaches to the Caribbean's largest pool to ziplines, restaurants, cabanas, and even private over-the-water villas.
But the crown jewel of the island (and the first thing you'll see from the ship) is the Thrill Waterpark.
Rising high above the rest of the island, the waterslides at Thrill Waterpark include the Daredevil's Peak, which is the tallest waterslide in North America.
In total there are eight different slides (some with multiple chutes) at Thrill Waterpark on CocoCay, but that's just the start. The park features a wave pool, an obstacle course over the water, showers, lockers, food, cabanas, and more.
If you're a fan of waterparks, it's on par with anything you'd find on land. We've spent time there and rank it as some of the most fun we've had on a cruise. But with the high cost, there's a big question of if Thrill Waterpark on CocoCay is worth the money.
Some Cruises to CocoCay Carry a Big Price Tag for the Waterpark
Unlike many spots on CocoCay, such as the beaches or the pool, there is a charge for guests who want to visit Thrill Waterpark. The admission fee applies to every person over three years old.
But while we'd love to tell you exactly how much it costs, we can't. That's because how much you pay depends on your specific cruise.
Royal Caribbean changes the price depending on the trip. As their website says regarding pricing, "Prices and pricing policies may vary by season and are subject to change without notice."
When we first visited the waterpark on CocoCay in October 2019, the price in our cruise planner was quoted at $50.99 per person for admission. In other words, a family of four would pay $204 for a day at the waterpark.
That may sound high to some, but it's actually in line with what you'd expect from a waterpark back home.
We looked up the regular prices of admission to some of the biggest and most well-known waterparks in the United States at the time of this article:
Raging Waters (Los Angeles, CA): $40 per day
Schlitterbahn New Braunfels (TX): $40 per day
Noah's Ark (WI): $40 per day
Universal Volcano Bay (FL): $80 per day
Disney Blizzard Beach/Typhoon Lagoon (FL): $69 per day
But the price charged for Thrill Waterpark seems to have risen sharply.
For example, this cruise in April 2022 saw a price per person of $97.99 per person. That's more than any of the major waterparks listed above:
At that price, it means that a family of four would pay almost $400 to spend the day at the waterpark on CocoCay. But the prices can go even higher.
In the comments of this article, there are reports of pricing at $149 per person and even up to $220 per person for cruises aboard Icon of the Seas that visit the island. The highest rate we've been able to confirm, however, is a price of $160.99 per person ($179 on the ship) sent to us by a reader:
Of course, this begs the question: Is Thrill Waterpark worth the money?
Is Thrill Waterpark Worth $161 a Day?
As we mentioned earlier, we love CocoCay and have had an amazing time visiting Thrill Waterpark on our cruises. We have paid for the experience, but also have been fortunate enough to be given complimentary passes from Royal Caribbean on media cruises.
After visiting, we'd have no problem paying the $51 per person admission to go again. We spent several hours riding slides, definitely getting our money's worth. To us, it was comparable to the top waterparks in the U.S.; paying a similar price for the island's waterpark seems fair. However, those prices have increased sharply.
At $161 per person ($644 for a family of four), we would save our money and just enjoy the free items on the island instead of paying that much.
For us, a $70 price tag is about the limit of how much we'd pay for admission. Any more than that, and we think it would be difficult to make the trip worth it.
Are There Ways to Save on Thrill Waterpark Admission?
If you're having trouble stomaching the prices for your cruise, then there is a way to save some money.
On the cruise planner before your trip you can book everything from drink packages to wi-fi ahead of your cruise. This also includes purchasing admission to the waterpark.
If you buy through the cruise planner beforehand, there is typically a discount. We normally see it at 10% off the onboard price for our cruises.
Another time where you can save is with Black Friday. During one cruise, we saw a sharp 50% discount for admission during a Black Friday sale: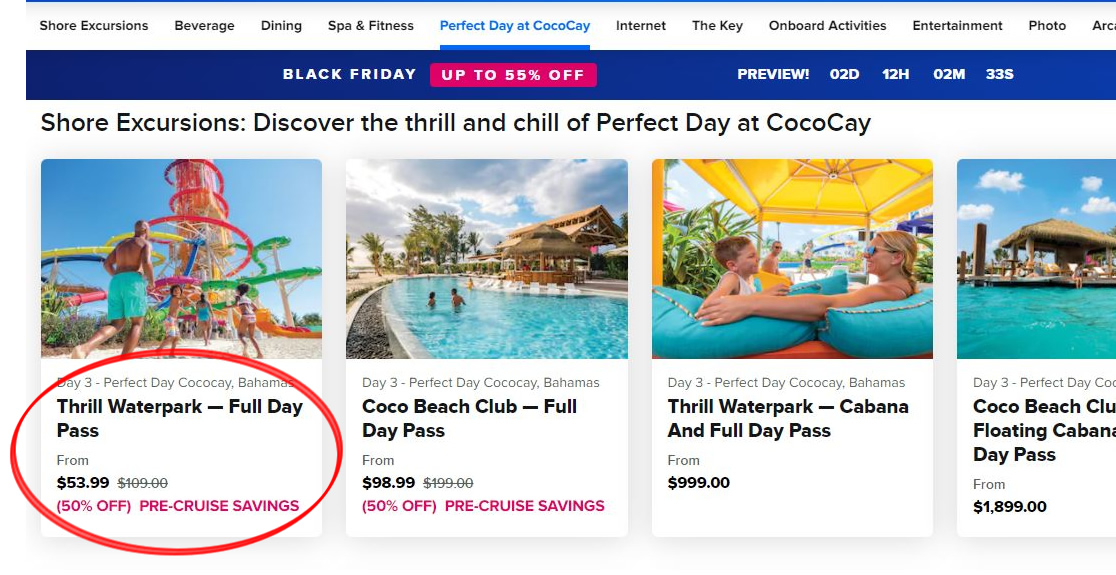 But of course, the best way to save is just not to buy if it's too much money for you. There's no doubt that Thrill Waterpark is a highlight of CocoCay, but the island still offers a lot to do for free without having to pay that much money. Instead, you can spend a day hanging out on the beach or by the pool on CocoCay, and then visit a waterpark back home for only about half the price.
What's your opinion? Let us know in the comments below.
More on CocoCay: