When it comes to Royal Caribbean's Icon of the Seas, there is plenty that's completely new to the fleet. And the ship — the largest cruise ship on the planet — is arguably the most talked-about vessel ever to hit the water.
But without a doubt the most eye-catching and discussed feature of Royal Caribbean's newest ship is the massive waterpark that dominates the back of the ship. This waterpark, dubbed Category 6, is actually part of a larger neighborhood on the ship known as Thrill Island.
Given that this is set to be one of the biggest draws to sailing Icon of the Seas, here's what you should know about the area before you sail…
What Is Thrill Island?
Put simply, you can think of Thrill Island as a full theme park aboard Icon of the Seas. The area covers a massive portion of the aft park of the ship. Whereas on some cruise ships this area might house a pool or open space for lounge chairs, Royal Caribbean has turned it into a complete destination.
Everything here is designed to be fun and active, with a focus on being outdoors for the entire family. Whether you have kids (or yourself) that want to take on the biggest waterslides at sea… or you'd rather find a spot on the deck to watch, Thrill Island looks to have you covered.
What Attractions Are There With Thrill Island?
Royal Caribbean designed the area to be a place where you can literally spend all day given the number of attractions. In fact, even if you're hungry you don't have to leave Thrill Island. Here's a full list of everything that Royal Caribbean has included in the area:
Flowrider
Fans of Royal Caribbean will know the Flowrider. The standing wave simulator gives passengers the chance to boogie board or surf while on the ship. And while some of the cruise line's largest ships have two of the rides, Icon of the Seas will only have one located at the back of the ship.
Category 6 Waterpark
Perhaps the biggest draw to Thrill Island is the massive (17,000 square feet) Category 6 waterpark that takes up almost the entire starboard side of the area. That name isn't just a clever play on the hurricane scale, but it also ties in with the staggering six different waterslides that are available to ride.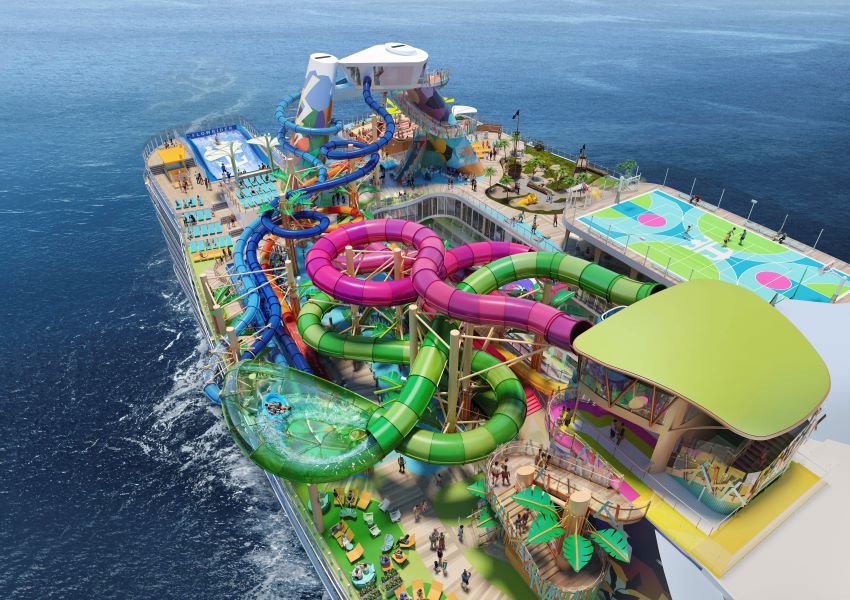 Storm Surge & Hurricane Hunter: These two slides are raft-based rides designed for families to be able to enjoy together. So parents and the kids can all ride as one group as the slide takes them up and out over the ship on a see-through wall that should be as thrilling as it is fun.
Pressure Drop: If you're a fan of "drop" slides, this is your ride. Pressure Drop is the "first open freefall slides at sea" according to Royal Caribbean. You push yourself over the edge to a staggering 66-degree incline that's fast and thrilling.
Storm Chasers: These slides are two "dueling" mat-racing slides where you can race friends to see who is the fastest. And at more than 430-feet long, this isn't some waterslide that's been pared down to fit on a cruise ship. Both slides loop back and forth around the waterpark.
Frightening Bolt: For those that want the biggest thrill, it comes in the form of the Frightening Bolt. Here, you step in and the floor falls out from under you, "dropping" you 46 feet before the slide catches you. And did we mention there is a clear portion of the tube so that you can see exactly how quickly you are falling as you ride?
Lost Dunes
Mini-golf has become a fixture on cruise ships, but we'll be honest — most courses are pretty pedestrian. Royal Caribbean says Lost Dunes is mini-golf "on steroids." The area is heavily themed with the "Thrill Island" idea, complete with wrecked ship, crashed planes and more.
Adrenaline Peak
Royal Caribbean is famous for rock climbing walls on ships, and this iteration is dubbed Adrenaline Peak. There are five different lanes for climbing and it will also not just be a blank wall with some handholds. Tree vines and other additions will be included to fit with the vibe.
Sport Court
A sport court is a must on a cruise ship, and Icon of the Seas' court takes a prominent spot, raised up from the deck below and providing wide open ocean views.
Crown's Edge
A completely new feature aboard Icon, you can think of Crown's Edge as a ropes course that's taken to a whole other level. The experience takes place on the massive Royal Caribbean logo on the side of the ship — and 150 feet over the ocean. You strap into a harness and make your way over obstacles. And at the end, the floor drops, sending you riding out over the ocean.
Base Camp
Instead of having to leave the fun to get a bite to eat, Thrill Island includes Base Camp — a family-friendly spot where you can grab burgers, sandwiches, and sides. No word on the exact menu as of the time of this article, but Royal Caribbean has said it is "meant to be both complementary and for-pay" food and beverage spot.
Desserted
Fitting with the island theme, cleverly-named Deserted is a milkshake bar. Kids can get a milkshake, while parents can get one of their own with an adult beverage mixed in.
Is There a Charge for Thrill Island/Category 6 on the Ship?
While things can always change, unlike the waterpark on CocoCay (Thrill Waterpark), Category 6 and Thrill Island are said to be free aboard Icon of the Seas.
We sat in on an information session about Icon of the Seas when Chief Product Innovation Officer Jay Schneider was asked about why the waterpark would have six slides.
He answered that it was based on studies of how to best ensure there were enough rides to minimize lines based on the expected numbers in the waterpark.
"One of the ways to do that is to charge for it, and then suddenly, automatically shrink capacity. We didn't want to do that, so we just built a bigger waterpark," Schneider said.
Are There Height/Weight Limits for the Rides?
As of now, there's no word on requirements to ride the waterslides in Category 6. However, you can expect that there will be some.
For example, the Flowrider on other ships has a 52″ minimum to ride. And waterslides on other Royal Caribbean ships see minimums of 48″ tall.
The waterslides on CocoCay don't have age limits but have max weights of 300 pounds and typically have a 48″ minimum to ride. The raft rides of CocoCay have a 48″ minimum as well, unless with an adult and wearing a life vest. Then the minimum is 42″ tall.
It's likely that many rides will see similar marks.
Does This Mean There Aren't Places to Just Relax on Icon of the Seas?
Icon of the Seas — and Thrill Island in particular — definitely look to provide a lot to do. But if you're the sort of person that just wants to relax on the pool deck, then that's definitely available. There are multiple pools, including one that spans the back of the ship and another with a swim-up bar. Places to lounge are just about everywhere on the top deck, as well as spots like Central Park that are open to the air thanks to the split design of the ship.
This ship is meant to provide everything to everyone, whether they want to relax, or get a shot of adrenaline at Thrill Island.
Where Can I See More about Thrill Island?
Royal Caribbean released the following video outlining what you can expect at Thrill Island. It covers all the ins and outs of what's included.
More on Icon of the Seas: