To say that there is a buzz about Royal Caribbean's newly revealed ship, Icon of the Seas, would be an understatement.
Cruzely has already covered lots that's been announced about the new ship. That includes all new neighborhoods, that Icon will be the new largest ship in the world, has seven different pools, and a full-fledged waterpark at sea. And that's just a start.
But we had a chance to learn even more about the new ship in an intimate information session with Jay Schneider, the Chief Product Innovation Officer for Royal Caribbean. Mr. Schneider is a driving force behind all the new concepts, venues, and things to do across the fleet. So when it comes to the cruise line pushing the limit of what's possible at sea, he is perhaps one of the people most responsible.
In this session, we learned all sorts of details about Icon of the Seas that either weren't public yet or weren't highly publicized yet we found extremely interesting.
Here's what you can expect…
This is Not Just a Bigger Ship ('White Paper' Vessel)
While you can likely tell from the renderings that show some dramatic differences from other ships in the fleet, Icon of the Seas is definitely a new direction for Royal Caribbean ships. But if you thought maybe it's just an "enhanced" version of the Oasis-class vessels, that's not the case.
"I often get a question of 'Is this just the bigger sister/brother of the Oasis class?" It is not," Schneider said during the information session. "This is really our first 'white paper' ship, as we call it, for the first time in 10 years. And the development time means it's actually our first white paper ship from a creative process in about 12-15 years. And in a white paper ship, we really take on the best of everything."
"Yes, Icon will have dual split hulls so we can have basically a wider ship with the center open, which we do inherit from the Oasis class. However, that's about it."
'Eatertainment' Becomes a Big Emphasis
Be prepared for dining experiences that are about much more than just getting passengers in and out of a restaurant. While the details weren't explicitly revealed, the discussion talked about moving toward a concept called "eatertainment" aboard Icon of the Seas.
"We've been leaning into this notion of 'eatertainment' where we're really trying to blend entertainment and great dining together. We launched a new concept on Wonder of the Seas called The Mason Jar that was a real push for us to get into eatertainment space. You'll see that more on Icon. You'll see that happen on an ongoing basis."
It Should Be Easier to Get Around the Ship (No Dead Ends in the Promenade!)
One frustrating thing on any ship is trying to get from one end to another and hitting a dead end. It usually means having to turn around, change decks, and then walk through. We personally think Royal Caribbean has some of the easiest ships to navigate, but there are still issues, like the upper deck of the promenade on Oasis vessels, which can abruptly end, leaving you nowhere to go.
That's changing on Icon.
"One of the things we really sought to solve and you'll see it… there are dead ends on every cruise ship. We've tried to solve that, so the upper deck 6 mezzanine of the promenade is a complete 360," Schneider revealed.
"What that's really trying to solve for us are ways that, frankly, all cruise lines have created weird spots in their steel structure. We really tried to think out those nooks and crannies to make them better for flow of people."
The Pearl Is More Than Just Eye Catching
One part of the ship that's gotten a lot of attention is known as The Pearl. It was teased for months, but in the reveal of the ship, we now know it sits in the promenade as a statement piece for people to experience. But it's much more than just a cool design. Schneider shared that it's also structural:
"As you come in through the airlocks, you see what is called The Pearl. It is the largest kinetic experience on the planet. And it does a couple of things. It's an engineering marvel. It is technically holding up part of the ship."
"The superstructure of the ship bends in through The Pearl."
A New Pub With Darts Makes an Appearance
There are a lot of new features coming to Icon of the Seas, many of which are obvious and expressly mentioned in press releases and renderings (such as the new Category 6 waterpark). But there will be a lot of details that are all-new throughout the ship.
One specific example is a new spot called Point and Feather. This pub will be the first to feature darts in it (hence the name "Point and Feather"). So it sounds like you'll be able to have a pint and throw some darts just like in an English pub.
The Category 6 Waterpark on the Ship Won't Cost Extra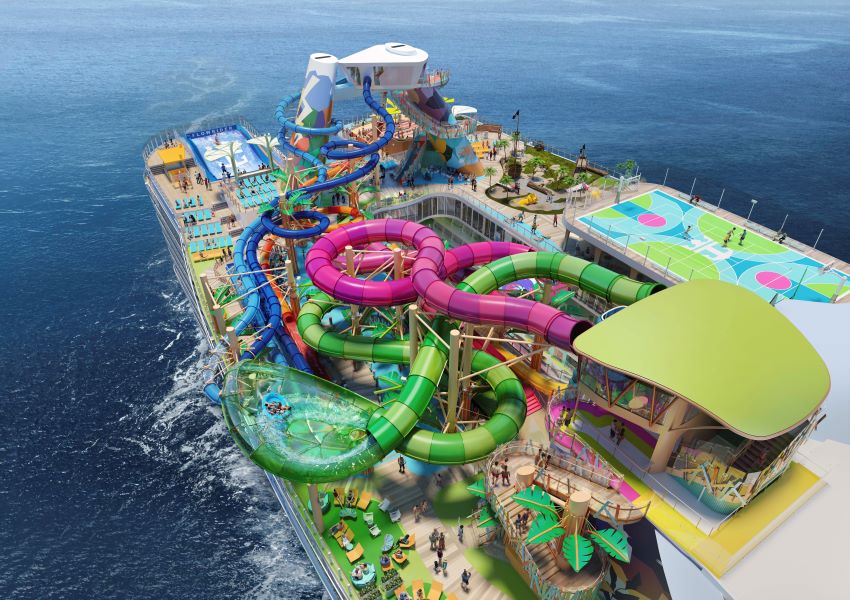 It's well-known that on Royal Caribbean's CocoCay there is a ton to do, including Thrill Waterpark, which features more than a dozen waterslides. But it also comes with a charge, and the admission cost varies based on your specific cruise. Many times it can be more than $100 per person (and sometimes much more).
The good news about Icon of the Seas is that the Category 6 waterpark sounds like it will be included with the cruise fare. During the media session, Schneider was asked about why the cruise line settled on having six slides in the park, instead of more or fewer.
He answered that it was based on studies of how to best ensure there were enough rides to minimize lines based on the expected numbers in the waterpark.
"One of the ways to do that is to charge for it, and then suddenly, automatically shrink capacity. We didn't want to do that, so we just built a bigger waterpark," Schneider said.
You Can Now See the Ocean from Central Park
One feature from Oasis-class that is being pulled over to Icon of the Seas is Central Park. But there will be some advancements. Not only are there more trees and new dining options in the park like Izumi and sushi to go, but you'll also be able to see the ocean from the park.
"The Pearl spans so many decks that it peeks up, and you can then see into the ocean from Central Park for the first time, which we think is really great," Schneider said.
It's not clear if this will just be a glimpse of the ocean or a full-fledged panoramic view. Either way, it's definitely something that's not available on Oasis-class ships.
The Solarium Won't Be on Icon of the Seas
One major change that may disappoint some Royal Caribbean fans is that the Solarium won't make an appearance aboard Icon. On Oasis-class ships, the Solarium sits at the front. This area is now being transformed to the AquaDome, which features the Aqua Theater, along with lounges, bars, and more.
Instead, the experience garnered from the Solarium sounds like it will be replaced by three different venues.
First, the Overlook Lounge will be located at the front of the ship in the AquaDome. This spot provides scenic views and a place to relax. Cloud 17 is a new adults-only pool area located on Icon of the Seas, giving adults a place to take a dip without children around. And then The Hideaway at the back of the ship (another bar and pool area with scenic views) will offer another spot to help replace what was provided with the Solarium.
A New Bar… for Adults and Kids?!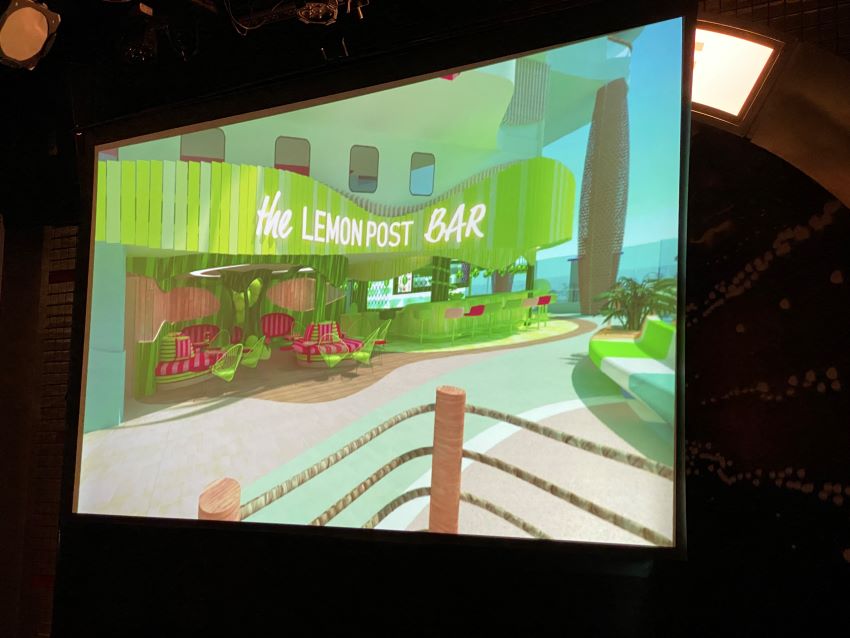 One reveal that surprised us? A new beverage spot on the ship that seems to be designed for both adults and kids to have a drink.
"We also have what we are calling our first 'Mommy and me/Daddy and me' bar in Surfside [a family neighborhood on the new ship] called The LemonPost Bar," Schneider said. "The idea being that mom or dad can get a cocktail and their kids can get a non-alcoholic cocktail."
Infinite Balconies Make Their Debut on Icon of the Seas
Another new feature of Icon of the Seas will be infinite balconies. If you aren't familiar, these cabins don't have a separate area that is an outdoor balcony with a door to access it like you have likely seen on most ships.
Instead, the outer wall of the cabin is essentially a large window where the top half can be dropped to provide the same effects as a balcony, but also can be closed to offer more space inside the cabin.
"We do have both traditional balconies and infinity balconies. So we are bringing the infinity concept that first launched with Celebrity forward to the Royal Caribbean brand," Schneider shared.
He also shared that it will be a roughly 60/40 distribution (60% traditional/40% infinite) so that people have options on what type of cabin they can choose.
Crew Areas Get a Major Upgrade
There's a lot that's being said about what is in store for passengers on the ship. But according to Royal Caribbean, Icon of the Seas will offer a lot for crew to like as well.
"For crew, it was really about giving them the same level of finishing, treatments, experiences that guests have. And in our early call for crew, we've seen overwhelming response from people wanting to come and join Icon," Schneider shared with the audience.
In fact, he shared that the cruise line went through the traditional method of creating the crew cabin, and it was universally hated by the crew. So they brought it crew members with architects and created the sort of cabin that the crew wanted. The new style was an "overwhelming success."
Spots in the crew area include their own Windjammer, disco, gym, pub, and a clubhouse to hang out in.
Icon of the Seas is scheduled to be a part of the Royal Caribbean fleet in late 2023, with its first passenger cruises beginning in early 2024.