Royal Caribbean's VOOM Internet service is billed as "The Fastest Internet at Sea." That's good news because gone are the days where having Internet service was considered a luxury. Today, it's a necessity. And even if you want to disconnect while on a cruise (which is a good idea) there are still times where you'll want access to hop online.
Whether it's checking in for a flight, sending a quick email back home, or checking in with work while you are sitting on the balcony, there is no shortage of reasons you might need access. As the public becomes more dependent on Internet access, cruise lines have made real strides to offer online access to their guests.
VOOM offers two different levels of service — a cheaper "Surf" package made for general browsing and checking email, and a more expensive "Surf + Stream" that offers the ability to video chat, as well as stream movies and music.
If you're taking a cruise, then you might be wondering exactly how the service works, how fast it really is, and how much it costs. We recently took a cruise on Royal Caribbean to give you a first-hand look at what you can expect.
Price of Royal Caribbean's VOOM Internet Service
First things first, if you are planning to get online during your cruise, then expect to fork over some considerable money.
While we appreciate the complexities that are involved in accessing the Internet from the middle of the ocean aboard the ship, the price of the VOOM service is still considerably more than you would pay for service on land.
While rates may vary based on your specific cruise, expect to pay $15-20 per device, per day.
If you wanted the most basic service — dubbed "Surf" — then the cost for multi-day packages is typically around $15.99 per day. The "Surf" package allows you to do basic web browsing and email, but nothing data intensive like streaming content or video chat.
If you upgraded to the "Surf+Stream" package, then you are given speeds that let you stream things like music and video (such as Netflix or YouTube), as well as video chat. The cost for the upgraded service is usually $19.99 per day if bought as part of a multi-day package.
What if you just want to hop online for a single day or just for a few minutes to check email? There are time blocks available for purchase, as well as a daily rate that is higher than the multi-day package rate. In that case, the rate we've seen is $29.99 to access the "Surf+Stream" service for a single day, and $22.99 for the "Surf" package.
It should be noted that these prices are only for one device. If you want to connect more than one device at a time, then you will have to pay more.
One tip: For the biggest savings you can pre-purchase an Internet package through the Royal Caribbean Cruise Planner. The cruise line usually offers a discounted rate on Internet packages if booked ahead of time.
Signing Up/ Logging In to Access the Internet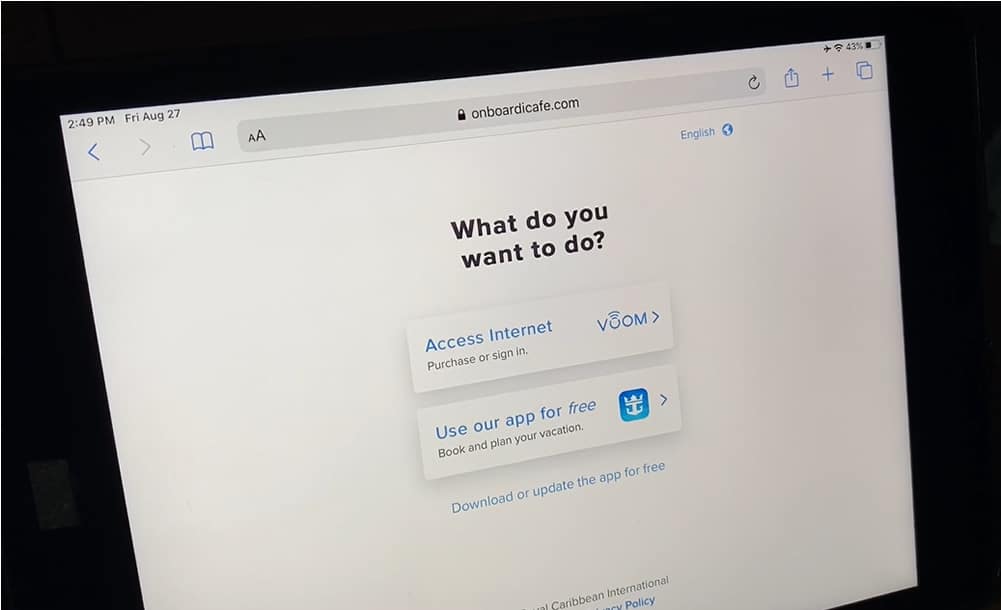 The sign-up process for Royal Caribbean's VOOM service is relatively simple. First, passengers enable Wi-Fi on their device and then select the ship's service from the list of available connections.
Then, you will open up a new browser window. If you don't see a login prompt to connect, then simply open a window and go to "Login.com". From there, it should walk you through the steps to sign up for access, including creating a username and PIN.
You should continue to have access to the Internet throughout the rest of the trip, but if the connection drops or you disconnect, then simply make sure you are connected to the Wi-Fi network and then visit "Login.com" again to sign-in.
During our trip, it seemed to help if we accessed the login page via a new private window, which cleared out any prior cookies from our browser.
If you have trouble accessing the Internet, there is a help-desk available on the ship.
Testing the Speed of Royal Caribbean's VOOM Service
As mentioned above, we tested the "Surf+Stream" service. This is the faster of the two services. So how did it perform?
As promised, the service did allow us to stream content (more on this below), but the speed is slower than we are used to from home Internet.
During the course of the cruise we performed several different speed tests. These tests all returned results in the 3-5 Mbps range for download speeds. For reference, many home broadband connections range between 20-50 Mbps (you can test your current connection speed here.)
In other words, there is a slowdown that can be felt in browsing compared to what you might be used to back home. Sites may take a few extra seconds to load. In our case, checking email was perfectly fine, but surfing many sites (especially multiple pages at once) caused slowdowns.
That said, considering you are in the middle of the ocean, the speed felt adequate to us.
Update: On a more recent cruise, we also tested the slower "Surf" package. This package is less expensive, but offers slower speeds. In our case, the speeds were drastically slower to the point that it was unusable. Our speed tests showed average speeds between 0.20-0.30 Mbps.
In our case, doing anything other than sending a text message was agonizingly slow. If you decide to purchase a package, we have to suggest the faster "Surf+Stream."
Reliability of the Internet Connection
It can be frustrating to try to access the web, only to have issues with the Internet connection. Unfortunately, we did have some issues with the reliability of VOOM at times.
During the first day of our trip the weather was bad, which has an impact on the connection. We had issues accessing websites and the service seemed to come and go. In fact, we had a similar issue during a morning storm later on in the cruise. There were also other times here and there that the connection seemed to be hit or miss for short spurts. Often it was resolved by logging out and logging back in.
Outside of these times, however, the connection was strong, offering plenty of speed and reliable uptime.
Bottom line: Don't be surprised if the connection has some issues occasionally (you are at sea, after all), especially if you run into bad weather. For the most part, we found the service reliable.
Can I Stream With VOOM?
These days, streaming is a major part of everyone's lives. The good news is that yes, you can stream with the "Surf+Stream" package.
We tested Netflix on the VOOM connection. According to Netflix, the absolute minimum required speed to access the service is 0.5 Mbps, with 3 Mbps recommended for standard definition streaming, and 5 Mbps recommended for HD streaming.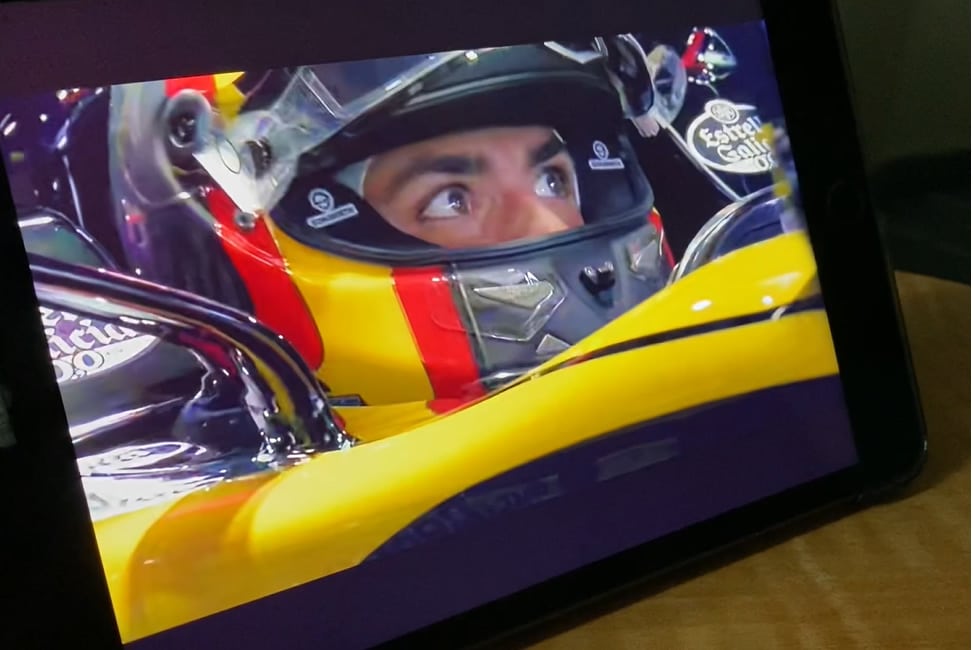 In our test, Netflix shows worked well. We were able to watch in HD. While loading took a little time, it wasn't anything too long. We also had success with YouTube videos and streaming Hulu. In general, the picture showed up clear and crisp.
In other words, yes, streaming will work on VOOM. In our tests it worked quite well. Note that you would not be able to stream with the slower "Surf" package.
More Questions and Answers About VOOM
Can I Use One Account for Multiple Devices?
One of the big drawbacks of the service is that for a considerable price, you only get the ability to connect one device. So if you want to hook up with your laptop and your traveling partner wants to connect their phone at the same time, then you need to pay for two devices.
As a workaround, if you don't need full-time access you can simply use multiple devices, with only one connected at a time. So you can login on your laptop and browse. When you are done, your spouse can then sign-in on their phone using the same account.
It will inform you the device limit has been reached and ask if you want to connect the new device. If you do, then the new device will login and knock the other device offline.
What About Video Chat Services Like Facetime?
Want to get in touch back home? During our cruise we were able to use Facetime on our iPhone. The call quality did depend on the Internet connection. Some calls were choppy here and there, while others were crystal clear. Overall, it was easy to talk to people back on land using the service.
Can I Use VOOM to Message and Make Calls on my Phone via Wi-Fi?
Yes. While connected, we used WhatsApp to both message and make calls through the app. It worked flawlessly, and the voice calls were crystal clear. Other messaging apps or wi-fi calling should work as well.
While connected, Royal Caribbean says you should still your phone in airplane mode to avoid any potential roaming charges. While in airplane mode, you might have issues sending regular text messages. On our iPhone we could make iMessage texts to other people with iPhones, but could not send regular text messages to Android users. Messaging apps, however, worked fine.
How Does the Speed of the "Surf+Stream" Package Compare to the "Surf" Package?
Royal Caribbean offers two tiers of service. The "Surf" package is less expensive, but offers slower speeds. "Surf+Stream" is faster, but with a higher cost.
As mentioned above, in our use the "Surf" package was unusably slow, seeing speeds of 0.20 to 0.30 Mbps in our tests. It offered the ability to send texts and slowly check email, but not much more. The "Surf+Stream" felt more like real Internet service, albeit slower (3-5 Mbps) than you'd find back home.
Surf: 0.20 to 0.30 Mbps
Surf+Stream: 3-5 Mbps
For that reason, we'd suggest anyone paying to access Internet on their cruise go ahead and pay a little more for the "Surf+Stream package.
Have more questions about the specifics of using the VOOM service? Let us know in the comments below.