Note: I am currently sailing on my first Princess cruise ever aboard Discovery Princess on a 4-day trip from Los Angeles to Mexico. During these daily updates I'll provide details on the experience and share what it's like.
You can read other days here:
Day 3 aboard Discovery Princess saw our first — and only — day at sea.
Now, gone are the days where the ship was just the way to get from port to port. Modern cruise ships are just as much the destination as any port of call. And typically the first day at sea comes right after you leave the departure port, giving you an early chance to really explore that "destination" that you call home for the cruise.
In this case, we had a port stop in San Diego after leaving Los Angeles, and only on Day 3 did we get to really experience the ship completely.
Honestly, after a very busy day in San Diego, being at sea was nice given the much slower pace. There's no rushing around trying to see everything like you do when in a port. You have the ability to take your time.
As you might expect in this part of the world, the weather has been gorgeous all day. In fact, waking up and looking outside was surreal. It was right at dawn and the early morning light made it difficult to tell where the water ended and the sky started. Combined with a very glassy sea, it made the view look computer generated.
Since we were in no rush throughout the day, we decided to have a leisurely breakfast in the main dining room, and our timing couldn't be better. When we arrived, there was zero wait. But when we left about 45 minutes later, the line to get in had dozens of people and most of the dining room had filled in. Looks like plenty of other people had the same idea that we did… albeit just a little later!
From there, we busied ourselves around the ship as early in the morning there isn't a lot of entertainment put on by the staff. We practiced a little golf on the putting green at the top of Discovery Princess and explored some of the places we hadn't seen on our first day.
One spot in particular is the adults-only Retreat pool that is an amazing hidden-away oasis. Unfortunately, the narrow spot with high walls means it's doesn't get as much sun as the main pool. But if it were warmer, I'd be glued to this area.
Instead, we took advantage of the still small crowds and a little more sun to enjoy the heated main pool. Discovery Princess has a total of four pools, but the two main pools in the center of the lido deck are fairly large. So while it was still cool outside, the warm pool felt amazing, and we practically had it all to ourselves given the size.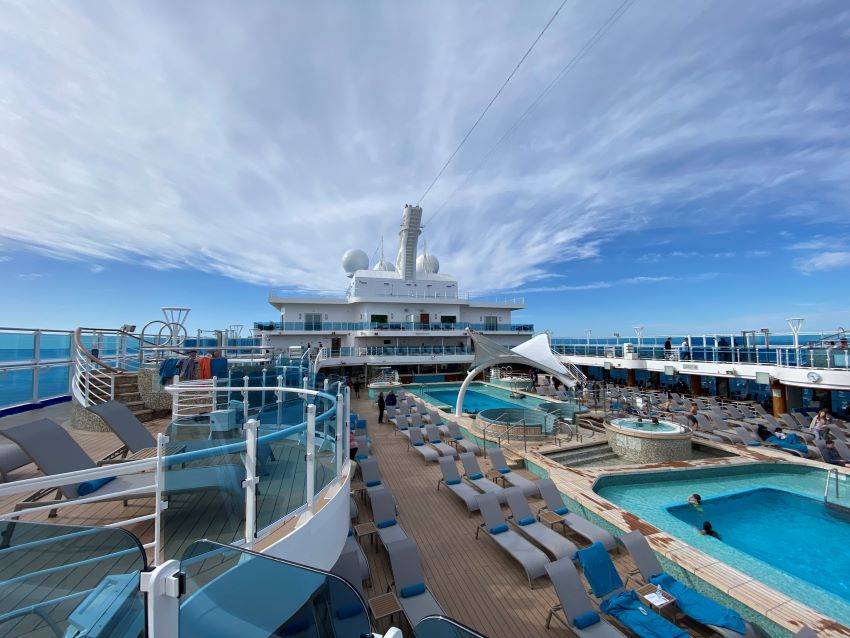 After swimming, I really started to notice the difference between sailing Princess versus other lines. Cruise ships in general push more and more toward being essentially amusement parks at sea.
Princess offers more of that "classic" cruise experience that frankly, many people will rather. When you're at sea, there are no roller coasters, climbing walls, slides, or standing waves. There is still a lot going on that's put on by the staff, but it's definitely a much calmer experience that I think people will find more relaxing. People that are high-energy (e.g. kids or kids at heart) might wish there was a bit more to do.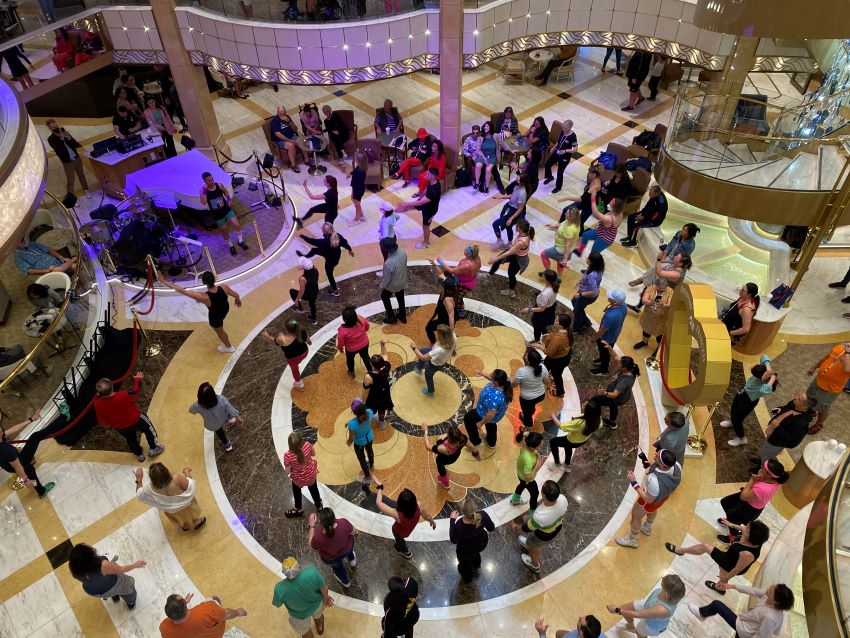 Keeping in line with the '80s theme that's a part of this cruise, we watched an '80s dance party during the middle of the day. I'd say about 15% of passengers are consistently dressed up in 1980s costumes, including three guys around the ship wearing red plastic "Devo" hats (by far my favorite). So it's definitely a part of the trip, but not the entire focus. Unfortunately, I didn't pack any '80s gear and wish I had.
We also spent some time in the casino making a "donation" to the ship. Given it's a day at sea, the casino was packed. In fact, we made an initial visit and just left as there weren't really any spots available to play. Coming back a little later saw thinner crowds.
One thing I found out is that similar to Carnival, there are no cash out vouchers for machines. Instead, everything is tracked on your medallion. You scan it, insert cash, and when you want to move machines, you cash out with the money going to your account. Then you scan your medallion at the next machine to load funds. And when you are done playing in the casino, you go to the cashier, scan the medallion again, and then are paid cash.
For dinner we visited the main dining room and while the main dishes were good, the highlight was definitely a piece of turtle cheesecake I ordered. But after dinner, I was amazed at how the ship seemed to liven up compared to the much more relaxed feeling of the day.
In particular, we skipped the professional singers in the theater to enjoy the amateur singers at karaoke in the Princess Live! lounge. I don't know if I've ever seen as many people having as good a time on a cruise.
The theater was packed to the point it was standing-room only. And the crowd was very supportive of every singer who took the stage — singing along, clapping, cheering, and generally having a great time. It didn't matter if the singers were good (a few) or bad (many more), everybody singing was a star.
One father and son duo (with the kid being around 10 years old) took the stage singing "We Didn't Start the Fire" and got by far the biggest cheer of the night when they were finished. The karaoke was only allotted 45 minutes, but there's no doubt it could have gone for hours with how much the crowd loved it.
After that, it was taking in a bit more of the ship and the buzzing atmosphere before calling it a night before our last port of call.
On Day 4, the ship is in Ensenada, Mexico
Interesting Observations
Discovery Princess has full self-serve laundromats on seemingly every deck that are completely free to use, including free detergent. This is something that while I might not take advantage on this short trip, I absolutely love. If on a longer trip you don't have to lug home a bunch of dirty clothes. You can do a load and have it all clean before you get home.
One of the "grab-and-go" spots on this ship is Slice, which serves pizza throughout the day. It is wildly good, and if you love a good slice of pizza, then you can't miss it. The ready-made slices include pepperoni, margherita, and a rotating "slice of the day" but you can also ask them to make you a pizza just for you. It's dangerous though. I find myself grabbing a piece in between meals even though I'm not that hungry. It's just that good.