No matter which cruise line you sail, crew gratuities — also known as service charges or crew appreciation — are a fact of life. This includes sailing on Princess.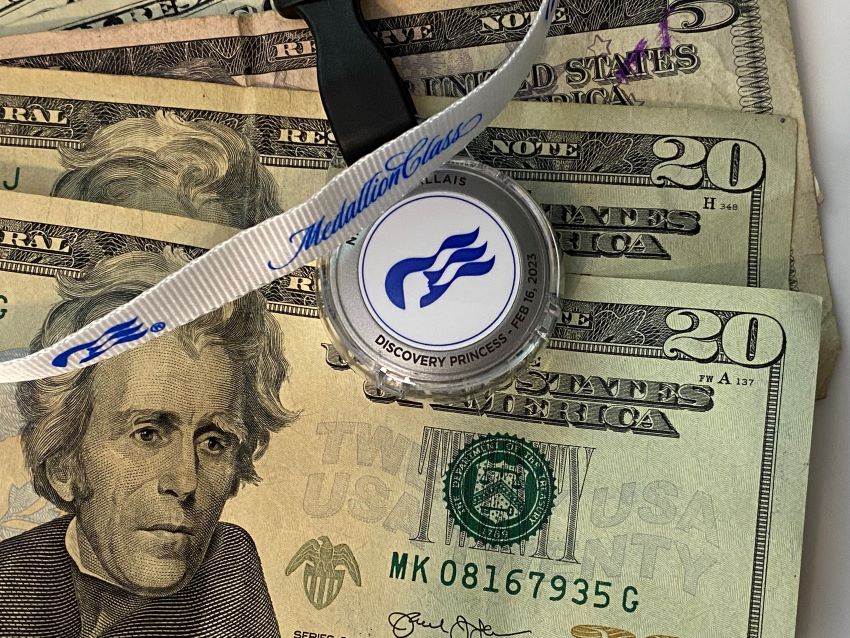 While you have your cruise fare and then any extras like drinks, specialty restaurants, gambling and shore excursions, you also have a daily fee that goes to the crew as a "thank you" for the service they provide.
And these charges can add up. In the case of a couple traveling on a week-long cruise, they can mean hundreds of dollars out of your pocket. That's why it's a good idea to understand what these charges are and exactly how they work.
How Much Are Gratuities on Princess?
Gratuities — or as Princess calls them "Crew Appreciation" — currently run different amounts depending on the type of cabin that you book. Lower tier cabins see lower costs while more expensive rooms also have higher gratuities. Current rates are set at:
Balcony Cabins and Below: $16.00 per person, per day
Mini-Suites and Reserve Collection: $17.00 per person, per day
Suites: $18.00 per person, per day
Those prices can add up. For example, a couple traveling in a balcony cabin would see a charge of $32 per day. Over the course of a week-long cruise, that would be a total of $224.
Who Is Charged Gratuities on Princess?
While some cruise lines do offer a break on these charges for small kids (typically those under 2-3 years old), Princess does not. According to the cruise line, children are included with the charge.
That means you should expect that every passenger sailing the cruise line will see the crew appreciation charge when sailing. So a family of four in a balcony cabin will see a charge of $64 ($16 x 4) each day.
How Do I Pay Gratuities?
When it comes to actually paying the gratuity fee, you have a few options.
First, you can prepay the gratuity before you sail. The full charge is calculated and then you can call the cruise line or pay via your online account up to two days before your trip. This means that once you sail the charge is already taken care of.
The second method is to simply wait until you are on the ship. In this case, the charge will automatically be applied to your onboard account. Then at the end of the cruise the amount is paid with your payment method on file.
Finally, Princess offers two packages — Princess Plus and Princess Premier — that offer a more all-inclusive experience. With these packages, you pay a set daily fee and get a drink package, wi-fi, and crew appreciation included with the cost (other perks are included as well).
Can I Change or Remove the Gratuity Amount?
Say you have a bad experience on your cruise and don't think the crew appreciation is justified. Are you able to change it? Yes, you can. You can simply head down to Guest Services to explain the situation and have the gratuity amount changed or removed.
That said, you should know that this is considered in poor taste in most cases. If you have bad service, then that is one thing. However, if you are removing or adjusting the amount simply because you think it is excessive, then you should know that the crew works hard and this is a factor in their compensation.
Can I Adjust the Gratuity if I Bought a Princess Plus/Premier Package?
If you bought the package, then the crew appreciation amount is a perk that is included. However, with this package you lose the ability to adjust the tip amount. According to Princes, "You have complete discretion to adjust crew appreciation payment while onboard, but crew appreciation may only be adjusted prior to disembarking the ship. If included as part of a promotion or package, it cannot be adjusted or refunded."
What Staff Is Covered by Gratuities?
While Princess doesn't lay out the specifics regarding who gets how much of the crew appreciation, the cruise line does offer some glimpse into where your money goes on its website:
"All of the Crew Appreciation and Service Charge payments made by all guests on all ships in our fleet are pooled, net of credit card transaction fees. The pooled funds are distributed throughout the year in the form of compensation, including bonuses, to crewmembers fleetwide who interact directly with guests and/or behind the scenes throughout every cruise, including those in the Bar, Dining, Entertainment, Housekeeping, Guest Services, Galley and Onboard Revenue areas."
Can I Tip More if I Want?
Absolutely. If you receive exceptional service and want to show your appreciation, then you can certainly tip more. The staff will certainly be happy to accept cash as a "thank you."
Does the Crew Appreciation Charge Cover Everything on the Ship? Are There Other Places to Tip?
The gratuity charge covers many people on the ship, and most times when you receive service, you don't have to worry about an additional tip. However, there are some areas where you might purchase something that is subject to an additional gratuity amount. This includes:
Specialty Dining: 17% (included in cover charge)
Specialty Food Items: 17% (included in item charge)
Drinks/Drink Packages: 18%
Spa Services: 18%
So if you purchase a drink costing $10 on the menu, you'll actually be charged $11.80 in total once the gratuity is added in.
More questions about the gratuity charges on a Princess cruise? Let us know in the comments below.
More on Sailing Princess: