Note: I am currently sailing on my first Princess cruise ever aboard Discovery Princess on a 4-day trip from Los Angeles to Mexico. During these daily updates I'll provide details on the experience and share what it's like.
You can read other days here:
At this point, I've taken plenty of cruises, sailing from Alaska to The Bahamas and points in between. But with cruising there is always something new to experience. Whether it's a new ship, a new destination — or in this case an entirely new cruise line — there's always something different waiting around the corner.
While I've had the chance to sail plenty of lines, one of the few I haven't yet cruised is Princess. In general, I'm usually interested in highly active cruises with tons of activities and things to do. Princess has always seemed like a more adult-oriented line that's focused on luxury. Still, you can't knock something until you try it, so I figured it was high time that I give the cruise line a shot.
The Cruise & The Ship
This cruise sails from Los Angeles aboard Discovery Princess. It's four days, with a stop in San Diego, a day at sea, and then another port in Ensenada before returning to Los Angeles. If you look at the map, you can actually see that the distance traveled isn't that far as the ports are very close together. In total, it looks to be just about 300 miles round trip.
Discovery Princess is the newest ship from Princess, and one of the reasons that I selected this specific cruise. Given that it was launched in 2022, I know the ship offers the latest and greatest from the cruise line, giving a chance to experience all that Princess can offer. In total the ship comes in at about 145,000 gross tons. It's definitely large, but not near the size of some of the largest ships sailing today. For reference, the last cruise I was on was aboard Carnival Celebration, which is around 180,000 gross tons.
The First Day & First Impressions
Day one started early! Flying from Texas, I woke up bright and early (ok, maybe not bright, but definitely early) to catch a 6:00 a.m. flight headed to Los Angeles. With such an early flight and heading west, it meant landing at around 7:30 a.m. local time. With boarding not until 1:30 in the afternoon, it gave some time to explore.
In this case, a family member I'm cruising with had a flight arriving a couple of hours later, meaning I did my best to entertain myself while waiting for him at LAX. Once he arrived, we caught an Uber from the airport to Redondo Beach.
While we had plenty of time to get to the port, it wasn't really enough time to go and do anything too far out of the way. Redondo Beach offers a pretty beach area and a pier with restaurants and sits about halfway between the LAX airport and the World Cruise Center.
The beach and lunch at a restaurant overlooking the water gave a great first impression of sailing from Southern California. It's easy to see why it's such a popular place to live. The beach, the sweeping coastline, hills jutting out of the water, and barely a cloud in the sky. It was a classic California scene.
After lunch, we made our way over to the cruise port. We had a late boarding time and it made check-in a relative breeze. In fact, the longest part was waiting to get to our medallions. If you've never sailed Princess, then one tweak is that instead of a room keycard, passengers have a medallion that serves as your room key, charge card, and a location identifier. Medallions in hand, it was time to scan them as we boarded and get the first glimpse of Discovery Princess.
Once aboard, you quickly get a feel for the ship's style. While some ships may have neighborhoods where some spots are vastly different than others, Discovery Princess is consistent around the ship.
It's luxurious in a "classic" cruise style. There's lots of wood, glass, and polished metal. While some new ships have gone ultra-modern with new builds (e.g. Norwegian Prima), that's definitely not the case here. It's nice, without being too trendy.
Our cabin for this cruise is a bit more modern with muted browns and whites. One tweak that I like is instead of huge enclosed closets like you see in most ships, here there's an open storage that's easy to access and doesn't block people from moving around the cabin due to open closet doors. I will say that our balcony (obstructed view with lifeboats underneath) is the narrowest I've seen on a ship.
As is usually the case with the first day, we spent a lot of time exploring and getting a feel for the layout of the ship. Doing that, it's clear that the entire atmosphere of this cruise is different from sailing a line like Carnival or Royal Caribbean.
For one, my most recent cruise was aboard Carnival Celebration and one my biggest issues with that ship was that the design and number of people made the ship feel crowded just about everywhere. Here, there's much more space and it feels much calmer, which I appreciate!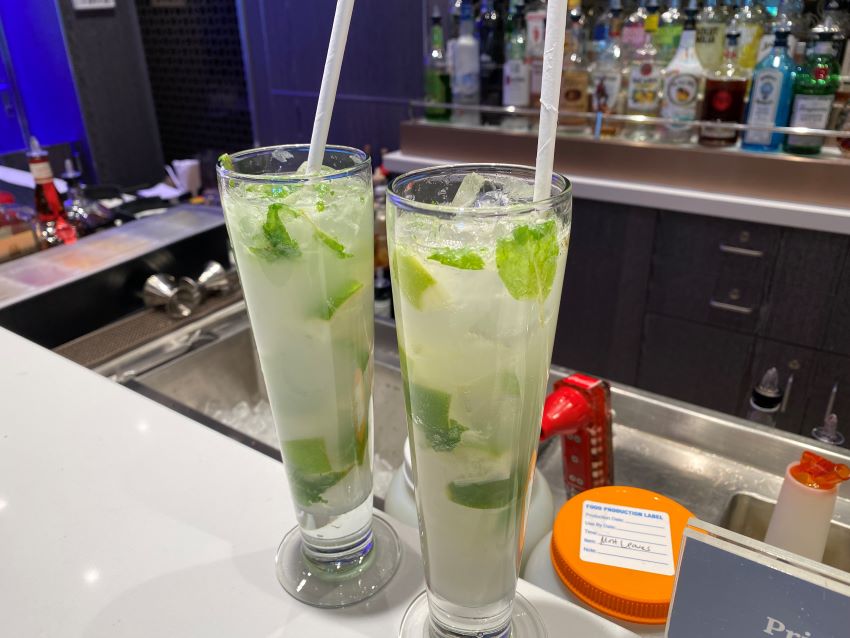 And in general the focus is much more on adults. While there is a kid's club and children certainly seem welcomed, the "ship world" doesn't seem to revolved around them. There are no waterslides or a waterpark (there is a basketball court). Live music is a big draw around the ship, and the evening entertainment (at least so far) is more subdued with music and cocktail experiences.
If other lines seem like a theme park at sea, this seems like a "date night" at sea.
Our ship sailed from port around 4 p.m., and after watching a bit of the sail away party, we grabbed some mojitos as we watched the Port of Los Angeles get a bit smaller in the distance. That was followed by an early dinner at Gigi's Pizzeria.
The restaurant includes pizza, pasta, and calzones, all freshly made when you order. I had a margherita pizza, which while it just seemed like a cheese pizza since it didn't have tomato (just tomato sauce) and only a few sprigs of basil, was delicious overall.
That evening we knew that since we were both up so early and traveled halfway across the country that we weren't going to make it too late in the evening. And with nothing on the evening schedule of entertainment seeming like a big, must-see show, we opted to instead spend the $50 onboard credit we both received with our fare.
For that, we went to the Lotus Spa and bought a day pass ($49) to visit. Here there are three different steam rooms, about a dozen heated loungers, a massive jetted hot tub, and four different immersive showers. Since it was the first night, many people aren't thinking of the spa just yet meaning there weren't a ton of people. So it was a rotation of shower, heated lounger, steam room, hot tub, shower, heated lounger. By the time we left, we both felt like putty.
It was a great way to end a long first day.
Tomorrow the ship is in San Diego, California.
Interesting Observations
Princess puts a big focus on their medallion system. If you're wondering exactly what makes it different, it's essentially just a different form of the room keycard. You scan it when you enter the ship to show you're onboard. When you walk up to the cabin, it senses the signal and unlocks the door automatically.But it also serves as a way to track you around the ship. You can look up where the other people in your cabin are around the ship based on tracking the medallion. That part is a little creepy to me, but it is useful if you are out and about the ship or you want something delivered from the staff.
When checking in on the app before the cruise, it asks you to upload a photo. So I took one… and another… and another as they all looked strange to me (think your driver's license photo, but worse). Well, eventually I gave up and just left it as is.Now that I'm on the ship, I have that terrible photo staring at me everywhere! It's on the electronic screen on the door when I open it. It's on the TV when I turn it on. It's on the kiosk screen when I check my account. Not what I was expecting when I took it!