These days, every major cruise line has something special for its passengers — a private island.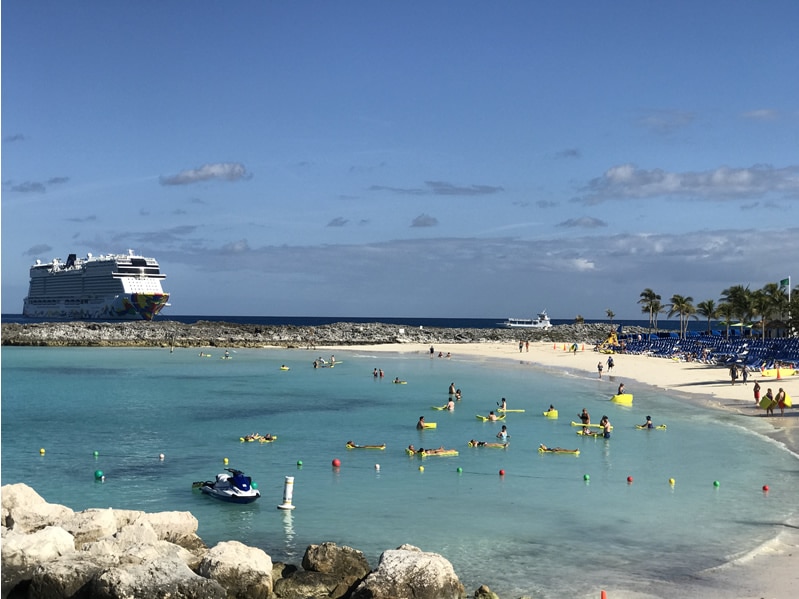 Who hasn't dreamed of having their own slice of paradise with white sand beaches, turquoise water, and where you can be waited on hand and foot?
But now cruise line islands are much more than just a spot with a nice beach and water. The companies have poured tremendous amounts of money to transform islands into complete destinations. This includes things like cabanas, ziplines, and even enormous pools and waterparks in some cases.
If you aren't yet excited about visiting yet, then you should be. And to get you even more interested, why not have a peek at the island before you get there? As well you can read more about the place you'll visit and learn more about how to make the most of your time…
Satellite Views of Cruise Line Private Islands
Below, we've included satellite photos of each island so you can get an idea of what to expect before you arrive. This gives a birds-eye view of where you'll visit. Be sure to zoom in for more details.
Princess Cays (Carnival Corp)
Sailing on Carnival or Princess? Then your ship might stop at Princess Cays, located on the southern tip of Eleuthera in The Bahamas. The niche carved out of the much larger island is a paradise for cruise passengers. Like many islands, the things to do revolve around the beach and water, including snorkeling, swimming, or just working on that golden tan.
Half Moon Cay (Carnival Corp)
If you like beaches, how about an uninterrupted white-sand beach that's more than a mile long? Oh yeah, it also curves around some of the most beautiful water on the planet. That's Half Moon Cay, from Carnival Corporation. Just take in the sun and surf, or go bike riding, horseback riding, or snorkeling. One thing you must do is get a photo in front of the "I Wish I Could Stay Here Forever" sign.
Castaway Cay (Disney)
It's hard to find the words to describe the water on Disney's Castaway Cay. It's crystal clear, but it's also an amazing shade of electric blue. You can enjoy it on Castaway Family Beach, a crescent-shaped stretch of white sand that slopes down to the water. And because it's protected by a small barrier island, you don't have to worry about rough water.
Ocean Cay (MSC)
The newest island on our list is also the closest to Miami. Just 65 miles from the coast of Florida, it can feel a world away. Ocean Cay is a newly renovated island from MSC and most (if not all) trips from Florida stop there.
When you visit the island (or see it from the satellite photos) it may not quite seem finished. That's because many of the trees and plants were freshly put in and will grow to provide lots of shade as they mature. One thing you'll love is that with a calm lagoon built in the middle of the island, there is always a place to enjoy calm water no matter the weather. See our complete guide to Ocean Cay here.
Great Stirrup Cay (Norwegian Cruise Line)
Great Stirrup Cay is NCL's private island, located just a stone's throw from Royal Caribbean's CocoCay. The island has everything you'd want, and we especially like the more secluded coves down the beach with tons of seating and a more private spot on the water.
Have kids with you? They'll love ziplining from the lighthouse on the island. For this port, you tender back and forth from the cruise ship. See our complete guide to Great Stirrup Cay here.
Harvest Caye (Norwegian Cruise Line)
Most private islands sit in The Bahamas — near the busy Florida cruise ports. But Harvest Caye is an outlier. It's off the coast of Belize. Apart from location, this small island in the Caribbean is similar to what you'd expect in The Bahamas.
It features a long stretch of beach, shops, restaurants, bars, and a large pool for guests to enjoy. One unique feature is the wildlife exhibit in the middle of the island (which also is a great place to get some shade and cool off). See our complete guide to Harvest Caye here.
CocoCay (Royal Caribbean)
When it comes to cruise line private islands, CocoCay takes the gold medal as far as things to do. Royal Caribbean spent millions to transform the island. Now it features a massive pool (Oasis Lagoon) and Thrill Waterpark. There are also plenty of places to just hang out on the beach and work on your tan. See our complete guide to CocoCay here.
Labadee, Haiti (Royal Caribbean)
Sitting on the northern side of Haiti, Labadee isn't an island, but a carve-out of the larger mainland. While it's not as bustling as CocoCay with things to do (no other islands are!), there is still plenty to enjoy during your day.
In addition to the expected beach and water fun, there's also a massive zipline that shoots out over the water (Dragon's Flight) and a roller coaster (Dragon's Tail) that takes you zooming while you can control the speed. Don't forget to get a photo in front of the Labadee sign, with the ship in the background.
What to Expect From Private Islands
So what exactly is a private island for the cruise line? As the name suggests, it's an island (some are just parts of a larger island) that's operated purely for cruise line guests. So everyone and everything on the island revolves around cruise passengers. You won't find other vacationers here. It's all passengers from your cruise. In most ways you can consider the islands simply an extension of the ship.
That catering to cruise passengers means your every need is considered. Food is provided. Bars are everywhere. Transportation isn't needed, and if it is, there are shuttles that will run. Everything is easy.
Consider trying to get to the beach in a regular port like Cozumel. There, you'll need to figure out which beach to go to, make your way through throngs of shops, find a taxi, and then in some cases pay an entrance fee to a beach club or restaurant for a chair and umbrella.
For private islands, you simply walk to the beach where there are chairs setup and find a spot all your own.
One thing you won't really get with a private island is a sense of local culture or going off the beaten path. For many cruise passengers, however, they simply want a beautiful place where they can easily relax, have a drink, and get some sun. Private islands are exactly that.
Where Are the Islands Located?
Most of the cruise line private destinations are in The Bahamas, close to busy departure ports in Florida. Outside of The Bahamas, Royal Caribbean features Labadee in Haiti and Norwegian Cruise Line has Harvest Caye in Belize.
Below, we've mapped the private islands in North America to give you an idea of where each is located.
Are the Islands All the Same?
As mentioned, think of cruise islands as extensions of the ship. And just like cruise ships, they are all fairly similar, but there are differences.
First the similarities. For one, the private islands all revolve around the beach and water. Each of them will have long stretches of beach for passengers to enjoy, as well as lots of lounge chairs and (usually) umbrellas. There are normally some small shops, restroom facilities, food, and plenty of bars. If you've ever been to a beach resort, then you have a good idea of what to expect, only on a much larger scale.
As for differences, they vary from island to island.
The biggest difference you'll find is with Royal Caribbean's CocoCay, which is a model we expect other cruise lines to follow in the years ahead. CocoCay has transformed into a full-blown destination. It has a large pool, tons of different zones around the island, a splash pad for kids, and a complete waterpark. There are even over-the-water bungalows to rent.
Some islands might have other unique features that set them apart. For example, Harvest Caye features a wildlife exhibit and Great Stirrup Cay has small apartments for rent with kitchens, bedrooms, and a private lagoon.
What Is There to Do on Private Islands?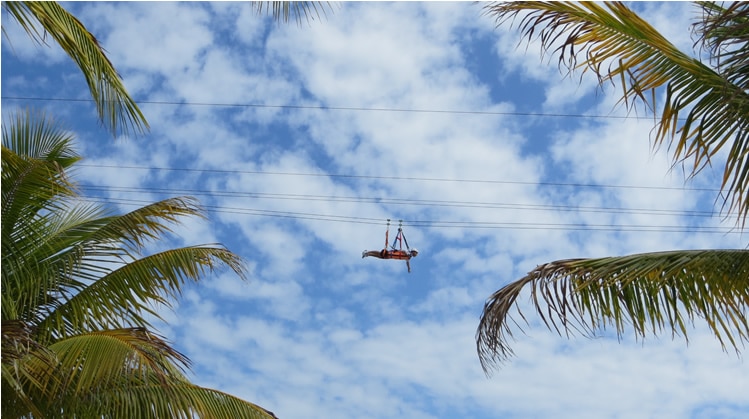 The islands revolve around the beach and water. By far the most common activity is just hanging out on the beach or pool, getting a tan, or playing in the water.
But you won't be bored on the islands if you don't want to just lay on the beach. For a fee there are a number of things to do, including kayaks, snorkeling, boat tours, ziplines, and more. Activities will vary based on your specific island. There are also usually some small shops available for souvenirs.
And if you do happen to get your fill of the sun and water? You can head back to the ship and enjoy the amenities there. Given that the islands aren't that large, you are never far from your ship or your cabin should you forget something.
Are There Food & Drinks on the Island?
Yes. Cruise lines almost always offer their guests a free buffet on the island, just like you'd eat on the ship. And bars will be plentiful.
That said, each island is a little different. For instance, Norwegian's Harvest Caye only has paid restaurants on its island. Great Stirrup Cay features things like a hot dog cart and food trucks in addition to their traditional buffet offerings. Ocean Cay and CocoCay both feature small food stations as well if you want a bite to eat away from the larger buffet offered.
Do Drink Packages Work on the Islands?
Drink packages are charged for every day of your cruise. If you are in a normal port of call all day and can't use the package on the ship, you still pay for that day.
With private islands, it can be a little different. For instance, Royal Caribbean allows use of the drink package on CocoCay, just like you would on the ship. Norwegian Cruise Line allows the use of the package on Great Stirrup Cay, but not on Harvest Caye. Carnival doesn't offer the use of its drink package on its private destinations such as Princess Cays and Half Moon Cay.
In other words, in some cases the package does extend, but it's a case by case basis. We've listed the current policies below:
Princess Cays (Carnival Corp): No
Half Moon Cay (Carnival Corp): No
Ocean Cay (MSC): Yes
Great Stirrup Cay (Norwegian Cruise Line): Yes
Harvest Caye (Norwegian Cruise Line): No
CocoCay (Royal Caribbean): Yes
Labadee (Royal Caribbean): Yes
Which Islands Have Piers and Which Have Tender Boats?
On a cruise, there are two ways of getting to land — a pier or a tender.
For piers, the ship docks and passengers can walk right off and on. That makes it faster and easier to get to the fun and back to the ship at the end of the day.
For tenders, passengers board a smaller boat that takes them into shore. This means it takes a little longer to head to shore and to get back to the ship. On the other hand, you get a neat boat ride and a great photo opportunity of the ship.
Princess Cays (Carnival Corp): Tender
Half Moon Cay (Carnival Corp): Tender
Castaway Cay (Disney): Pier
Ocean Cay (MSC): Pier
Great Stirrup Cay (Norwegian Cruise Line): Tender
Harvest Caye (Norwegian Cruise Line): Pier
CocoCay (Royal Caribbean): Pier
Labadee (Royal Caribbean): Pier
Can I Go Back to the Ship Whenever I Want?
The nice thing about private islands is that they are much smaller than traditional ports of call. That means you are always within easy walking distance to the ship or, if the ship anchors offshore, it's a short tender ride to get back.
During the day you are welcome to come and go as you please. Forget something on the ship? It only takes a few minutes to go back and get it. You can also enjoy the morning, go back to the ship and rest up, before returning for the afternoon.
Are Islands Handicapped Accessible?
Just like the ship, you can expect accessibility to extend to the island. That's a major benefit of private islands over many ports of call. In traditional ports of call, sometimes the areas can be difficult for those with mobility issues.
Cruise line islands, however, cater specifically to cruise passengers, which can mean a number of accessibility improvements. For instance, there are often smooth walkways and ramps instead of steps. Beach wheelchairs are widely available with large inflated tires. Pools have accessibility features like sloped entries, and restroom facilities have all the features you'd expect.
If you or a travel companion have mobility issues, then private islands are among the best spots to visit due to the accessibility.
What Should I Pack for a Private Island?
While it's not hard to get back to the ship, it's still a good idea to bring anything you might need for the day. That way you have everything you need instead of having to stop what you're doing and go back to the cabin.
The good news is that you don't need much. It's a good idea to bring a hat, sunglasses and swimsuit. As well, a beach towel from the ship is a must-have, as is sunscreen. Most islands allow you to purchase things with your ship keycard, but it's a good idea to bring a little cash too for things like souvenirs.
In other words, pack for a day at the beach and you'll be ready to go.
Related Articles: