Taking a cruise to the Bahamas aboard Norwegian? Chances are high that you'll make a stop at the cruise line's private island — Great Stirrup Cay.
Great Stirrup Cay sits about 140 miles from Miami and is a picturesque tropical island. And because it's run by the cruise line, Norwegian has developed it with tons of things to do for guests.
So what can you do on Great Stirrup Cay?
Without a doubt the most popular activity is lounging beachside, soaking up some sun or playing in the water. But there is so much more for cruise passengers to try. And whether money is no object or you want to watch your budget, there is no shortage of ways to spend your day.
Below we've covered all the things you can do on Great Stirrup Cay, starting with free things to do…
Free Things to do on Great Stirrup Cay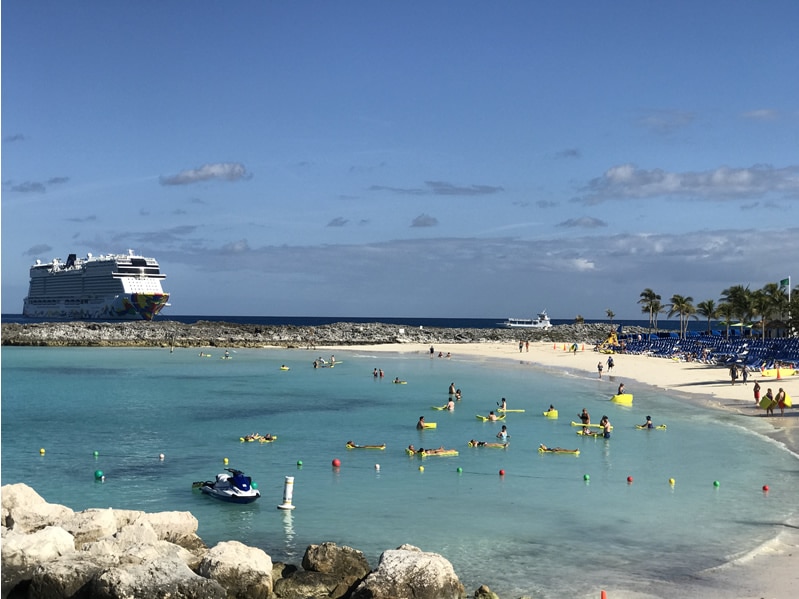 Hit the Beach
First and foremost, Great Stirrup Cay is a gem for its beaches. The island features a sweeping shoreline that features several different coves with white sand and gorgeous blue water. And because of the island's shape, the shore is naturally protected, meaning that the water is almost always calm.
The beach is completely free to enjoy, including thousands of lounge chairs available for you to use. Whether you want to work on your tan, play on the beach, swim in the water, or find a shady spot under a palm tree, it's all here for you to enjoy the paradise.
One tip is to head down the beach some to find smaller crowds. The area closest to the entrance of Great Stirrup Cay will have the most people.
Get a Photo of Your Ship
If you want to get a picture of your ship, then Great Stirrup Cay is your best chance. Norwegian anchors the ship offshore and smaller boats take guests into shore.
These boats give you a great unobstructed view of the ship for photos, but there are also photo opportunities on the island.
Head to the beach closest to the ship and you'll find a viewing platform that you can climb to take a photo. As well, the Bacardi Bar in the middle of Great Stirrup Cay has an area that can give you a great view of the ship and the island's coastline.
Take a Photo on the Swingsets
If you want the best photo of yourself, then Norwegian has you covered. In several spots around the island there are double swings (usually out in the water). They make the perfect spot to grab a photo for Instagram.
Each set of swings is a little different, including the one near the Bacardi Bar that gives you a fantastic photo in front of the water with the cruise ship in the background. If you are into Instagram, you won't find a better place for a snapshot.
Look for Turtles in the Landing Cove
As mentioned, you take a tender boat from the ship to Great Stirrup Cay. The tender then docks in a small, calm cove to let passengers off.
When you arrive, be sure to keep your eyes peeled. During our visit, we spotted sea turtles swimming in the cove. It was an amazing experience to see this sort of wildlife up close — and completely unexpected. They are hard to see… having polarized sunglasses can help cut through the glare in the water.
Hit Up The Food Truck or Taco Bar on the Island
You have several options for lunch and snacks on Great Stirrup Cay, including a free buffet. One of the most unique places to eat are Abaco Taco and Tropic Like It's Hot.
These venues are are completely free; you just head up and let them know what you want. The menu at Abaco Taco is obviously taco-centric. Tropic Like It's Hot includes ceviche, pulled-pork sandwiches, and rum cake.
These two spots make a great stop if you don't want to eat the buffet that's served or if you simply want to grab a snack.
Grab Lunch at the Buffet
What's a cruise without eating? At Great Stirrup Cay, you won't go hungry. We've mentioned the food trucks. There were also hot dog carts around the island when we visited. But the place that serves the most cruisers is the buffet.
Starting at lunch, Norwegian puts on a spread with all sorts of tasty things to eat. The big draw is the jerk chicken. Starting about an hour before the buffet opens, you'll see open grills where the staff cooks up the jerk chicken fresh. It smells amazing and tastes just as great.
Don't worry if you don't want chicken, there's something for everyone on the buffet, and it's all free.
Things to do on Great Stirrup Cay for a Charge
Ride the Zipline Across the Island
If you want to know one of the most popular activities on the island, look to the lighthouse.
As you approach the island, the lighthouse will be the first thing you notice, and it's the tallest structure on the island. It's not a real lighthouse, instead, it's a staging point for the zipline that criss-cross Great Stirrup Cay.
For a fee you can strap in and set off flying through the air, getting spectacular views of the island and the surrounding water. It's not every day that you get to fly through a place with such natural beauty. No wonder it's such a popular activity.
Prices vary depending on the course you run:
Osprey Zipline: $65 adult/$45 child
Seahawk Zipline: $75/$55
Island Zipline Adventure: $109/$79
Rent Your Own Private Cabana
If you want to relax in style, then check out one of the open-air cabanas. These spots are great for families as they are open, but also have a roof so that you can get some shade (and kids don't spend the entire day in the sun).
Each cabana can fit six-eight people (you can have up to two more for a slight charge). Inside you have a couch, chairs, a ceiling fan, plus a mini-fridge.
Perhaps the best thing about the cabanas is the view. They sit high on the hill that slopes down toward the water, giving you a breathtaking view of the beach and the water from the comfort of your lounger.
Prices vary depending on which cabana you choose:
Premier Cabana: $399
Classic Cabana: $349
Ocean Front Studio Villa: $449
Additional Guests: $25 each
Pamper Yourself with a Villa at Silver Cove
The newest section of Great Stirrup Cay is the exclusive Silver Cove. Access to Silver Cove is limited to those who book one of the villas for the day, and you might find it worth the money.
Not only do you get your own villa, complete with air conditioning, a private bathroom, fridge, a bedroom, and private porch, but you also get access to the entire Silver Cove area.
This spot has its own private cove with electric blue water and a gorgeous beach, along with its own restaurant, bars, and even a spa.
If you're familiar with the high level of service within The Haven on Norwegian ships, Silver Cove's villas give you a similar experience on Great Stirrup Cay.
Prices vary depending on which villa you choose:
Silver Cove Lagoon Studio Villa: $499
Silver Cove Lagoon 1-Bedroom Villa: $599
Silver Cove Lagoon 2-Bedroom Villa: $749
Additional Guests: $49 each
Rent a Floating Mat
It doesn't get much more relaxing than to float in the water, drink in hand, on your own private mat. You can do exactly that.
There's a spot to rent beach basics on the island, including snorkel gear. But if you want to relax, get one of the floating mats. Rentals aren't that expensive, and if you are renting a cabana, then you get them complimentary.
Do Some Souvenir Shopping
Don't forget to grab a souvenir! Or maybe you forgot something like your hat or sunglasses?
If you want there is a small market with several local vendors selling all sorts of merchandise, from sundresses to sunscreen. Want a souvenir magnet? Or a t-shirt? You'll find just the thing here. Be sure to bring some cash with you.
Take a Tour of the Snorkel Garden
One of the neatest things to do on Great Stirrup Cay is something that you can't even see at first glance.
Hidden beneath the calm ocean is an underwater snorkel garden. Just off the coast of the beach, the cruise line installed a number of sculptures and things to explore. What's neat is that aquatic life also takes up residence here so you can see some wildlife in addition to the artwork.
You can rent snorkel gear (including fins and floating vest) and head out to see what most people don't get a chance to experience.
Snorkel Gear Rental: $35 adult/$19 child
Try Your Hand at Stand-Up Paddle Boarding or Kayaking
Stand-up paddle boarding (or SUP) is a trend that doesn't show signs of stopping and for good reason. It's a fun way to get a little exercise while also being out on the water. The same goes for kayaking.
Great Stirrup Cay offers paddle boarding around the island. They have everything you need to get started, as well as some advice on getting started if you're a novice. From there, you can head out into the water and paddle around the beach — no matter if you want to stand (paddle boarding) or sit (kayaking).
Stand-Up Paddle Board Rental: $27/hour
Kayak Tour: $59
Take a Jet Ski Tour of the Island
Is kayaking or paddle boarding not quite exciting enough? What about a jet ski tour?
Norwegian runs jet ski tours, giving you the controls as you take a trip around the island and the surrounding area. You'll see a lot of places that most visitors never get a chance to experience, all while having a blast darting across the waves.
One thing to keep in mind is that you have to be 18 years old to drive the jet ski solo, or 16 if riding with an adult. Kids need to be 8 years old to ride as a passenger.
Swim With the Pigs
The Bahamas is famous for its swimming pigs, and you can have that experience from Great Stirrup Cay. Norwegian offers a tour lasting about 90 minutes that takes you to the pigs to have the joy of swimming with the cute creatures and be able to grab some memorable photos.
Swimming With the Pigs Excursion: $139 adult/$99 child
More on Sailing NCL:
Want more on visiting Great Stirrup Cay? Don't miss our 17 tips and things to know for the island.