When it comes to cruising, gambling in the ship's casino is one of the most popular activities. In fact, in the late evening it can be the busiest spot on the entire ship.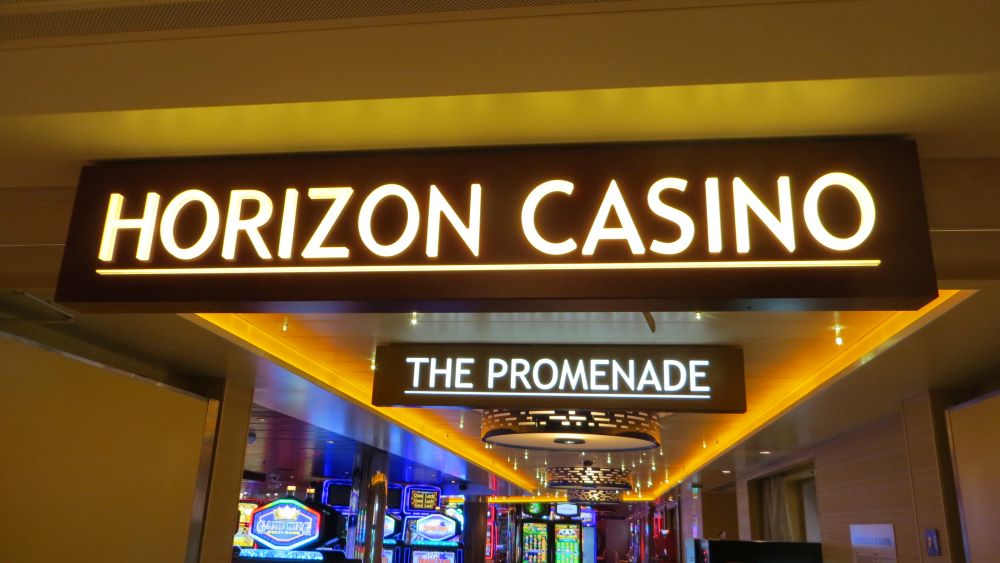 In many ways the casinos on a cruise are very similar to what you'll find on land — just on a smaller scale. If you're someone who loves gaming, then you'll feel right at home.
That said, there are still a number of things you should know before gambling on a cruise. If you've never placed a bet on a ship, the tips and details below will make you a pro in no time and teach you everything you need to know before you try your luck.
Which Cruise Ships Have Casinos?
If you're wondering if there will be a casino on your ship, you can rest assured there will be. Mass market lines like Carnival, Royal Caribbean, Norwegian, and the like always have casinos on the ship. (Note: Norwegian Cruise Line's Pride of America, a U.S.-flagged ship that sails Hawaii, is one of the few ships from a mass market cruise line without a casino.)
The only major line we've heard of that doesn't have gambling is Disney.
You'll find the casinos located in the middle of the ship, typically near the most highly-trafficked areas. So if your ship has a main promenade, the casino will be right near it. This makes sense as putting the casino easily accessible means it's easier for players to find and gamble.
What Are Cruise Casinos Like?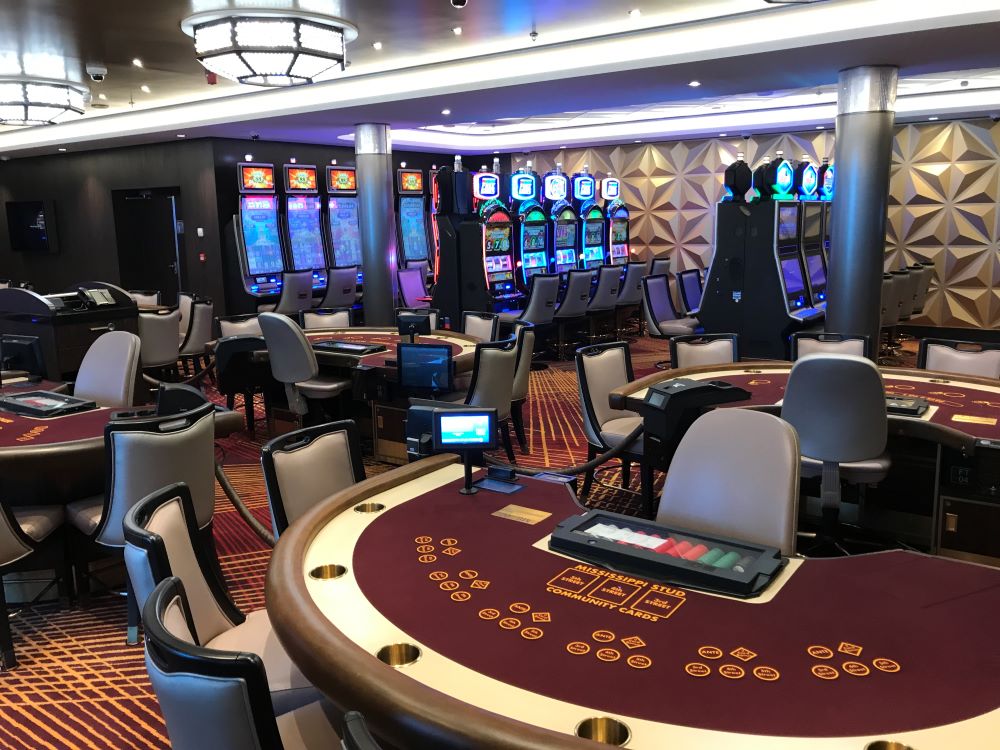 In many ways cruise ship gambling is similar to what you'll find on land. That also means that while they all feel familiar with flashing lights and dinging bells, each casino has its own personality.
In general, the gaming floor is small by the standards of land-based casinos. On many ships, you'll usually find closed-in areas with relatively low ceilings (decks above and below limit the ceiling height). The low ceilings and maze of games give the casinos a cozy feel. Still, they are among the largest rooms on a cruise ship.
Some ships — most notably the newest ships in Norwegian's fleet — have more open casinos. On those ships, the casino floor opens up to the rest of the ship, giving it a brighter and more airy feel.
As for atmosphere, within seconds of walking into a cruise ship casino you'll forget that you're on a ship. Give the casino size and number of passengers, evenings can get crowded. That means the casino will feel high energy, with lots of people cheering, noise from machines, and generally a festive atmosphere.
What Are Payouts Like in the Casino?
Everyone knows that the odds are always in the house's favor when it comes to gambling. That's especially true on a cruise. We've written before about how the games on the ship don't pay that well.
For example, the gold standard for video poker is a "9/6" machine — one that pays nine credits for a full house and six for a flush. This gives an expected payout of 99.5% if proper strategy is used over the long term. On ships you will often find "6/5" machines, meaning they offer a 94.9% payback if you play long enough with perfect strategy. (Hunt around you might find better payouts.)
For blackjack you'll often find tables that pay 6-to-5 on blackjack instead of the normal 3-to-2. If you play a higher-limit table, then you might still find 3-to-2 payouts.
Craps will have odds bets, but they will be restricted somewhat. The best you can hope for is 3X-4X-5X, but we've seen some ships with even lower bets available. They also often have the "Big 6/8" bets at tables that have a higher house edge.
So go to the casino and have fun, but if your plan is to get the best payouts, then you are often better off with independent land-based casinos.
What's the Gambling Age on a Cruise Ship?
While there are some exceptions, the majority of places in the United States require you to be 21 to gamble in a casino.
On a cruise — which heads to international waters — the minimum age to gamble is 18 years old. If you've ever wanted to try your luck but haven't been old enough to head to Las Vegas, a cruise ship might be your best bet.
One thing to know is that if you head on a cruise to Alaska from the United States, then the age may be bumped up to 21 years old.
Casino Minimums for Table Games and Slot Machines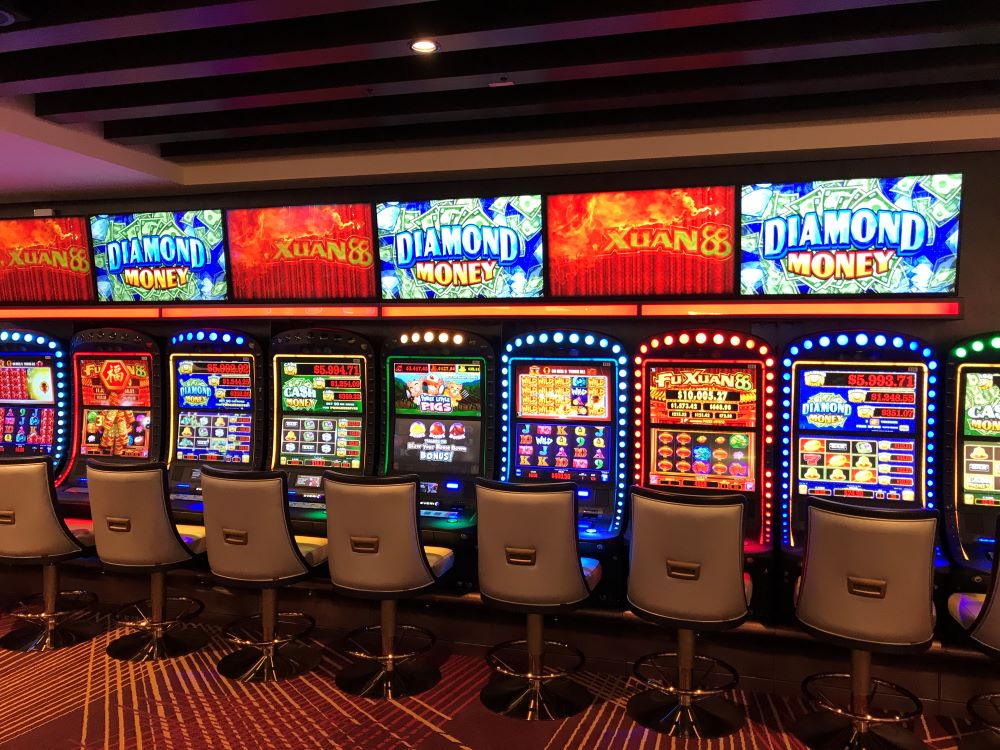 If you're a low-stakes gambler, then you'll feel right at home on a cruise ship. Minimums across games are generally low, making it affordable for any level of player to enjoy themselves.
Of course, there are penny slots as you'll find in any casino (along with higher-stakes machines — usually up to a $1 machines — if you feel so inclined). On table games you will find minimums starting at $5 for many games.
This makes sense considering the potential customer base on a cruise. With only a few thousand people on the ship (compared to millions of people within a drive of a regular casino) the cruise needs to be sure to appeal to the most people possible.
That said, we have seen table games starting to creep up to $10 minimums instead of $5.
What Casino Games Are Available on a Cruise?
Like playing slots? You're covered. What about blackjack… or craps… or roulette? They have them all. Despite the small size of cruise ship casinos compared to those on land, they offer a wide variety of games.
For instance, while you won't find table after of blackjack, there will be a few, and usually at least one craps table. There is also roulette and often other specialty table games like baccarat and others. Texas Hold 'Em poker games is also popular, with tournaments and play throughout the cruise. In general, the larger your cruise ship, the more variety of games you can expect.
What's a little surprising is that there are several games you won't ever find on land that are on a cruise. One is similar to a "skill crane" where you use a joystick to move a key to push down stacks of dollar bills. But perhaps the most popular are the coin pusher machines.
The coin pusher machines are exactly like you'd find in an arcade, but instead of tokens they use quarters. You can try your luck to push quarters over the edge, along with wads of cash that are also in the machines.
Many cruise lines also offer their own scratch-off tickets available for purchase, as well as big lotto-style drawings with jackpots worth hundreds of thousands of dollars.
Casino Games Available (Will Vary by Ship)
Slot Machines
Video Poker
Blackjack
Roulette
Craps
Big Wheel
Three Card Poker
Let It Ride
Caribbean Stud Poker
Texas Hold 'Em
Baccarat
Coin Pushers
Scratch-Offs
Lotto Draws
When Are the Cruise Ship Casinos Open?
As you might guess, there are a number of laws that oversee casino gambling, depending on the jurisdiction the ship is in. That's why there's a simple rule — the casino is open when the ship is at sea.
On the day that you board the casino will be closed (although you are still free to enter and check out the offerings). It will open up later that night after the ship has set sail. As well, during the days that the ship is docked the games are closed, but available once the ship exits the jurisdiction of the port country. During days at sea, the casino will be open all day.
Note that if you want to play during off hours — such as early in the morning on a day at sea — then table games will not be staffed (they often open for play around 10 a.m. on days at sea). However, coin pushers and slot machines will still be available to play.
Are Drinks Free in the Cruise Ship Casino?
It's common in most casinos to get free drinks while you gamble, but that's not the case on a cruise. Most people still have to pay out of pocket for their drinks while gambling. The casino will have a bar in the center that you can visit. Prices are the same as what you'll find elsewhere on the ship. Expect to pay $6-8 for a beer and $10-14 for a cocktail. Gratuity is extra.
If you achieve a high enough loyalty status (cruise lines have their own loyalty programs, just like land-based casinos) you can get free beverages. For most people, however, usually you will be paying out of pocket for alcohol.
Are There ATMs on the Ship? Can I Charge to the Room?
If you need cash to play and forget to bring some (or you run out of money and need to refill your stack), then you have a couple of options.
First, there are ATMs on the cruise ship. You can usually find these in the casino or near the Guest Services area. Just keep in mind they charge to get money out; often between $6-8 per transaction. If you can't find one, just ask and the staff will point you in the right direction.
Second, you can charge money to your room account just like you would a drink or a service at the spa. There is usually no charge for this at a slot machine, and a few percent at table games.
Are Casinos Beginner Friendly?
If there is a casino game you've always wanted to play, but have been too intimidated to pull up a chair, then a cruise is perfect for you.
Not only is it less intimidating than a regular casino, but they even offer classes on table games for beginning players. You can come and learn how to play free of charge so that when it's time to play for real money you aren't as intimidated.
In addition, the vibe at a cruise casino is simply more friendly. Remember that the dealers want to make sure you have an enjoyable time on the cruise and your other passengers are typically in a good mood (and not hardcore gamblers). In addition, the stakes are typically low, so there's usually not a ton of money at stake.
Other Things to Know About Gambling on a Cruise
Loyalty Programs — Yes, there are loyalty programs on a cruise ship, just like on land. You'll earn points for your play that can be redeemed for things like drinks, discounts off your cruise tab and even be invited on future cruises for free or at a sharp discount.
You'll use your room keycard to track your spending in the casino and your loyalty points.
Cashing Out — If you're sailing Carnival or Princess, then one thing to know is that you need to have your room keycard inserted into a machine to cash out. The money on the machine is then credited your to you player account (not a voucher printout) that can be used for another machine.
If you try to cash out without your card inserted, then you'll have to wait on an attendant to pay by hand.
Other cruise lines use the printed voucher system that most land-based casinos use.
Smoking — While smoking is banned in indoor spaces across the ship, it is allowed in the casinos. Be warned that the smaller size of the casinos on the ship means that it can be tough to get away from smoke if you are sensitive. If you have someone sitting next to you smoking at a slot machine, there may not be many options for other machines to play.
Tournaments — There are slot and blackjack tournaments on the ship. They typically take place during off hours for the casino (such as late morning or early afternoon). These tournaments can win you some money while risking only the admission fee.
If you want to play, then check the daily calendar that's delivered to your cabin each day or on the cruise line app. There will be a listing of any tournaments going on during that day.
Have more questions about gambling on a cruise? Let us know in the comments below.