What's the difference between Princess and other cruise lines like Carnival, Royal Caribbean, Celebrity, and Norwegian?
When it comes to cruise lines, it's almost like car companies. There are different brands, and each one has its own specialty and personality. Even so, just like cars, there are still a lot of similarities between cruise lines. In fact, for the most part the experience will be largely similar. Expect lots of the cruise to revolve around the pool, dining, and generally having a good time with onboard entertainment.
Still, there are major differences between Princess and other lines that do set it apart. And while the experience overall might feel familiar, these differences could make it the ideal cruise line for you.
Princess Is More Adult-Oriented
First and foremost, if you're used to sailing mass-market cruise lines like Carnival or Royal Caribbean then the first thing you'll notice aboard Princess is that there is less focus on children and families
That's not to say families or kids aren't welcomed on the ship. In fact, it's the opposite as Princess has a kids area that can provide supervision while parents go to enjoy the ship. But as opposed to other lines that offer lots of programming and activities geared toward children, that's not the case on Princess. In fact, we've heard other passengers during a trip on Princess mention specifically how they enjoyed having fewer kids on the ship.
Instead, the focus is definitely more on adult vacationers.
Less Focus on "Active" Activities on the Ship
In line with more of an adult focus, another difference with Princess is there is less focus on activities on the ship. Specifically, we're talking about built-in entertainment options common on many lines like go-kart tracks, roller coasters, rock climbing walls, waterslides, and more.
That's not to say there isn't plenty to do. There are a lot of options for entertainment that's put on by the staff, just as with other cruise lines. But as mentioned, Princess doesn't focus as much on families, meaning there are fewer options for the sort of active things that have become commonplace on other cruise lines. So if you (or your kids) are expecting to see a pool deck with tons of active things to do like a ropes course or bumper cars, that's not the case.
This also extends to other areas as well. For example, during our cruise the ship didn't have an arcade, another staple common on many ships.
More Relaxing Atmosphere & Less Party Vibe
Are you the sort of person that likes to relax on a cruise? If so, then Princess might be right up your alley. In general the atmosphere on the ship is considerably calmer and relaxing than what you find with other lines.
For instance, if you are out by the pool deck, you aren't going to hear music blaring or have "World's Sexiest Man" competitions. And around the ship there are fewer announcements from the Cruise Director interrupting the day to tell you about sales on the ship or shows coming up that day. Meanwhile, your other passengers are also less likely to be less looking for a party.
That's not to say it's boring or quiet. There's still that "vacation energy" around the ship where everyone is in a good mood and enjoying themselves. And there's lots of things to do put on by the staff including stage shows, trivia, karaoke, comedy, and more.
Medallions Instead of Key Cards
One of the first things you'll notice is that Princess — unlike other cruise lines — doesn't use a keycard. Instead, Princess uses what it calls the Medallion.
If you've cruised before, the Medallion works similarly to the keycard, with some important differences. First, the Medallion uses RF technology, similar to what you see with a credit card that has "tap to pay" service. So when you need to use the card, you simply touch it to one of the readers, like when you are boarding or debarking the ship.
But the wearable item can also be used to unlock your cabin door automatically as you approach. And perhaps the biggest difference is that it can track your location around the ship. So if you step up to the bar, your account information is already pulled up and your identity is confirmed with a photograph. You can also see where your cabin mates are on the ship through the Princess app based on the location of their Medallion.
Cheaper Drinks on the Ship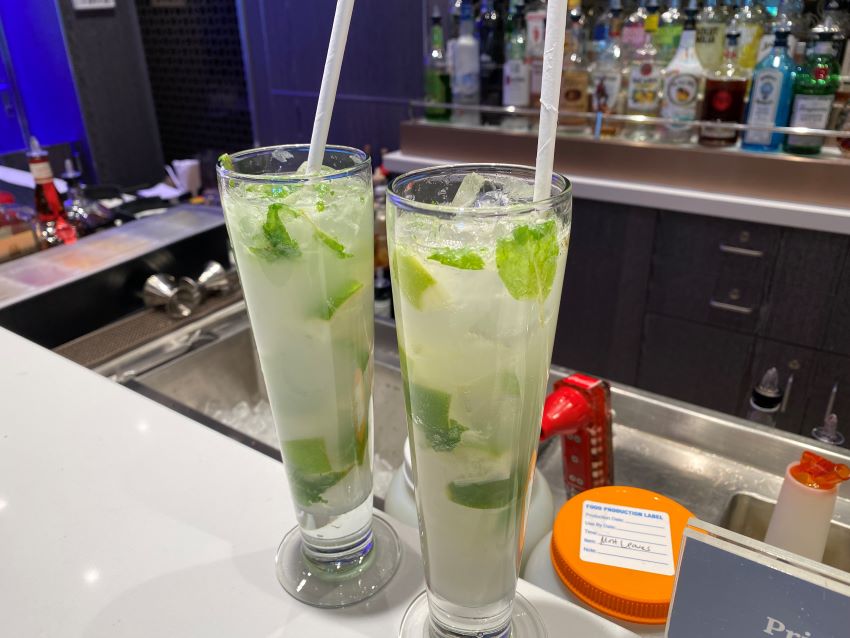 While we would classify Princess as a more upscale cruise line, that doesn't mean you have to pay a lot more to sail. In fact, we found 7-day round trip cruises starting at about $400 per person (before taxes and fees).
But even once you're on the ship you may be surprised by some prices. In particular, we noticed that drinks on the ship seem considerably less expensive than other cruise lines. One of our favorites — mojitos — were priced at just $7.50 on a recent Princess cruise while they are often $10-12 on other lines. In fact, across the board beverages seemed to be less expensive than what you might find elsewhere.
Princess Plus & Princess Premier Packages
While some cruise lines are moving toward more all-inclusive offers like NCL's "Free at Sea" or Celebrity's "All Included" that offers extras included in your fare, the norm is still for you to pay your cruise fare and then anything else costs more on the ship.
Princess offers two packages that make the cruise more all-inclusive. This includes Princess Plus and Princess Premier. Depending on which you choose (or you can just book the base fare), you have things like gratuities, wi-fi, and drink package included, along with other perks like specialty dining, and reserved theater seating.
The rates offered for these packages are considerably less than the cost of booking them individually and give passengers a chance to enjoy their cruise without worrying about being nickeled and dimed.
Global Focus on Cruising
Some cruise lines focus heavily on a region such as Europe, North America, or the Caribbean. Princess is truly global in nature.
You can sail from ports in North America, South America, Europe, Asia, and Australia. There are classic Caribbean trips, Alaska cruises, Mediterranean cruises, and even cruises to Antarctica.
Then there are cruises that last as little as two days all the way to stunning 111-day world cruises (with 50 ports of call) that literally circles the planet.
So no matter what sort of cruise you're wanting to take, it's likely that Princess has something that will appeal.
Best Pizza at Sea?
It may seem silly to point out pizza as a way that Princess is different from other cruise lines, but if you think that, it may be because you've never eaten the pie on the cruise line.
We'll be honest, just about every cruise line offers grab and go pizza. And on many lines, it's just not that good. Princess is completely different.
For one, you have a couple of options. If you just want a slice, you can grab one from the spot near the pool (our favorite). They are large, foldable slices that are unbelievably good and best of all, they are included with your fare.
If you want something a little fancier, there is Gigi's or Alfredo's Pizzeria — another included spot that's a sit-down restaurant and serves up freshly-made pizzas, pasta, and calzones.
A Less Crowded Feel on the Ship
We don't claim to have sailed every Princess cruise and maybe some ships are different from others. But when we have sailed, one thing we noticed is that the cruise had a less crowded feel. Maybe it's the actual number of people on the ship, or maybe it's the layout and design. No matter, the amount of elbow room was definitely noticeable.
To us, it made the cruise much more enjoyable. There was always space by the pool, in the restaurants, and for shows (if you got there just a few minutes early). As well, elevators were relatively quick and weren't always packed like what's seen on other ships.
Princess Compared to Other Cruise Lines
The bottom line is that if you're looking for a cruise experience that's higher-end than many other lines (without being "stuffy), then Princess is ideal. It offers a more upscale experience that's focused on adults, with a surprisingly affordable price tag.
This isn't a wild, party cruise. It's more of a place to relax and pamper yourself a bit. But it's also not a bore if you're someone that likes to have things to do. Our takeaway is that many cruise lines like Royal Caribbean and Carnival are similar to theme parks at sea. Princess seems more like "date night" on the ocean.