Princess offers one of the most affordable wi-fi programs in cruising with its MedallionNet service — an Internet offer the cruise line calls "the best wi-fi at sea."
And while you might think of a cruise as a place to disconnect from the routine and stresses of back home, the truth is that Internet access has become a necessity more than a luxury for most of us.
Whether it's simply checking in back home, wanting to stream your favorite shows on vacation, or even trying to get a little work done, wi-fi may as well be a requirement.
Of course, that leads to a lot of questions about wi-fi on a Princess cruise. We've sailed the cruise line and recently put the Internet through the paces. Here's what to know…
What Internet/Wi-Fi Packages Are Offered?
While many cruise lines offer different package levels with varying speeds for Internet, Princess instead keeps things simple. The ship's MedallionNet comes in only one tier and you simply choose whether or not you want to purchase. (There is the ability to purchase access for multiple devices.)
This means when you buy, you have full access to the web. There are no different tiers for different speeds or different tiers for social media, streaming, and web browsing.
You can choose to either purchase wi-fi on its own or have it included in an all-inclusive package like Princess Plus or Princess Premier (more on these below).
How Much Is the Internet on a Princess Cruise?
When it comes to the price for wi-fi, Princess has the most affordable plan we've seen in cruising.
If you elect just to buy the plan on its own, the cost is $15 per day for one device. So for a one-week cruise, you'd pay $105 for access.
A recent cruise showed a price to upgrade to four devices as an extra $10 per day — or a total of $25 per day. (To our knowledge, there are no plans for 2/3 device access).
But many people buy the wi-fi as part of the larger Princess Plus or Princess Premier packages. With these plans, you pay an extra $60/$80 per person, per day (depending on the package you choose) and get a number of items included like drink packages, gratuities, and wi-fi.
How Fast Is Princess' Internet Service?
Princess claims that "MedallionNet Wi-Fi sets the industry standard for internet at sea." And in a 2018 press release linked on the website, it claims that "MedallionNet download speeds can exceed residential service levels, often eclipsing 100 Mbps, with upload speeds exceeding 60 Mbps."
Our personal experience (covered below), however, was decidedly different. During a 2023 cruise aboard Discovery Princess, we found the service to be slow. Our own speed tests show service in the under 2 Mbps range, with some tests coming in under 1 Mbps.
Perhaps other ships/itineraries might have faster speeds, but on our specific cruise the speed was lacking.
If I Have Access for Only One Device, Can I Switch Devices?
Yes. Princess offers service for either one device or up to four devices. If you select the one-device service, you can connect with your phone and then switch over to using a laptop or tablet. The only limit is that you can only have one connection at a time. So if you are online and your significant other logs in, it will boot you off.
Still, sharing access is a good way to save money. If you don't need constant connectivity, then one person in the cabin can check their email and then another person can log in and browse the web later.
Can I Stream With the Wi-Fi?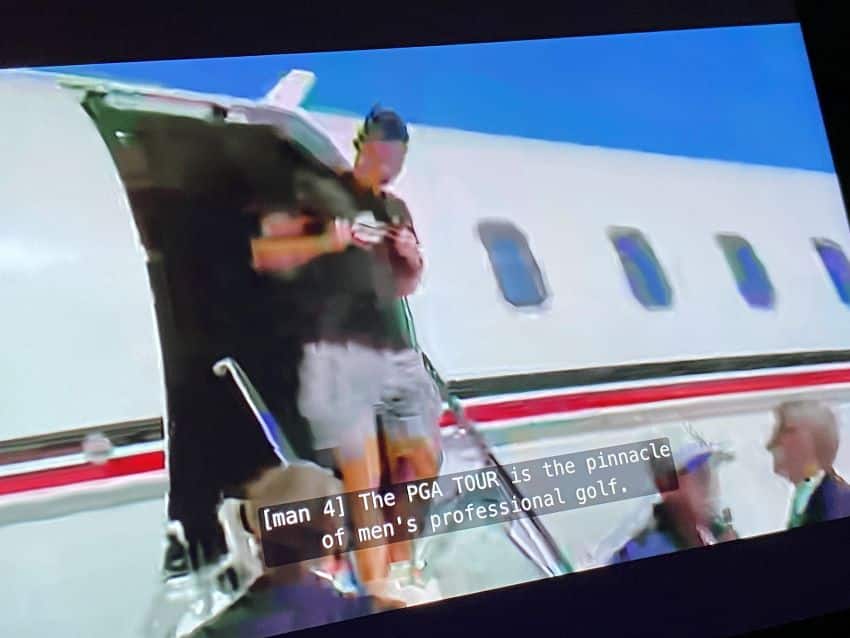 Yes, you are allowed to stream your content over the wi-fi connection. The question is if you will be able to watch it clearly.
First things first, Princess specifically says on their website that with their Internet you can "stream your favorite shows," however, as mentioned above, our personal experience was the speed of the connection when we cruised was sluggish.
We were able to stream a show on Netflix, but the majority of the time the image was pixelated, though it did play continuously without buffering and eventually cleared up.
Still, we'd suggest downloading any programs you want to watch beforehand if possible. That will allow you to watch without worrying about connection quality.
Can I FaceTime or Make Video Calls?
Just like with streaming, you have the ability to FaceTime or make video calls over the MedallionNet service from Princess. The issue is if the connection speed will allow you to do that.
During our cruise, we were able to have a FaceTime call back home. The voice part of the call was crystal clear. The video portion of the call would cut in and out and even when working, was heavily pixelated.
Again, if you see faster speeds than we did it may be that the service works flawlessly. But bottom line is that Princess does allow you to FaceTime on their service.
Can I Text Over the Wi-Fi?
Yes, you can text back home over the ship's wi-fi. In fact, we found this to be the best way to keep in touch. Texts went through easily, including sending photos of our trip to family.
One thing we also noticed is that even when logged out of the wi-fi, we were still able to send texts through iMessage to our cabin mates. That made it easy to make plans and figure out where they were even when exploring on our own around the ship.
Do I Have to Buy Wi-Fi For the Princess App?
Like all cruise lines, Princess has an app that you should download before taking your cruise. It offers up everything from the ability to check-in for the trip to ship maps, the daily calendar and more.
To use this app, you DO NOT have to purchase wi-fi onboard. While you will connect to the ship's wi-fi, the app works automatically without needing to pay.
Can I Work Over the Wi-Fi Connection?
While Internet service at sea has improved markedly in recent years, is it good enough to allow you to work or attend school while at sea? We've covered this topic in-depth here.
In general, we feel that if you have work that requires a minimal connection, then yes, you can work. So if you're sending emails or downloading small files, then it's possible. However, across cruise lines we think Internet-intensive services like Zoom meetings with lots of participants are still hit or miss.
Unfortunately, our limited experience on Princess was that it was a challenge doing even light work on the cruise ship due to the connection speed (see our review below).
Our Personal Experience With Princess Wi-Fi (Review)
One thing that we've noticed over the years is that the wi-fi experience on a cruise can vary based on a number of factors including weather, ship's position, and the service itself.
In our case, we recently took a 4-day cruise from Los Angeles aboard Discovery Princess — a new ship in the fleet. The trip saw perfect weather and we were never far from shore. Unfortunately, the wi-fi left a lot to be desired.
In our case, we found the service to be extremely slow. Speed tests that we performed regularly through the cruise topped out at around 1.7 Mbps. Many tests came in under 1 Mbps. (For reference, the average mobile Internet speed in the United States is around 80 Mbps according to Speedtest.net).
Due to the speed, using the Internet was frustrating. While we were able to stream a show on Netflix, it was heavily pixelated for much of the program before clearing up. When calling back home using FaceTime, the video would cut in and out, but the voice quality was clear. And while we did post to this site during the trip, it took considerably longer than normal.
We also asked other passengers about the performance of the Internet, and they seemed to share a similar experience. Due to the slow speed, we visited the Internet Cafe on the ship to speak to someone to see if this was normal. They indicated that the service was just slow and there wasn't much that could be done about it, but didn't provide a reason for the slow speeds.
All that said, this is no guarantee that the Internet will be the same as our experience across every ship and every cruise. Still, while we are used to seeing slower Internet speeds at sea across any cruise line (it is a challenge to provide wi-fi to thousands of people while on the water, after all), the service was still notably slow in our opinion.
Is Princess Wi-Fi Worth It?
As mentioned above, it's not clear if this sort of speed we experienced is unusual or if it is the norm. But if we had to pay the full $15 per day for the service, we would have been disappointed.
We certainly don't expect the same sort of speeds we see at home, but it seems that 5-10 Mbps is a "typical" speed for cruises that we've been on with other lines. We saw speeds top out at less than 2 Mbps in our test. This includes testing across multiple devices such as phone, laptop, and tablet.
That said, we had Internet included as part of the Princess Plus offer that also included other perks like gratuities and the drink package. Therefore, we didn't pay a specific charge just for the wi-fi, but it was included as part of the deal. In that case, it's hard to pinpoint if it's worth it or not due to the lack of a specific charge just for wi-fi.
We will say that reviews curated on Princess' website indicate that our experience may be an outlier. Those specifically mention fast speeds, including one person saying they "barely noticed a difference from my home Internet…"
So it's possible we just cruised when there was some issue affecting the speed.