In a busy day for the company, Norwegian Cruise Line Holdings Ltd. (NCLH) — the parent company of Norwegian Cruise Line, Oceania Cruises, and Regent Seven Seas — said it plans to have all of its ships back sailing by April 2022. The line also plans to finally welcome its first ship back sailing from the United States tomorrow when Norwegian Encore sails to Alaska from Seattle.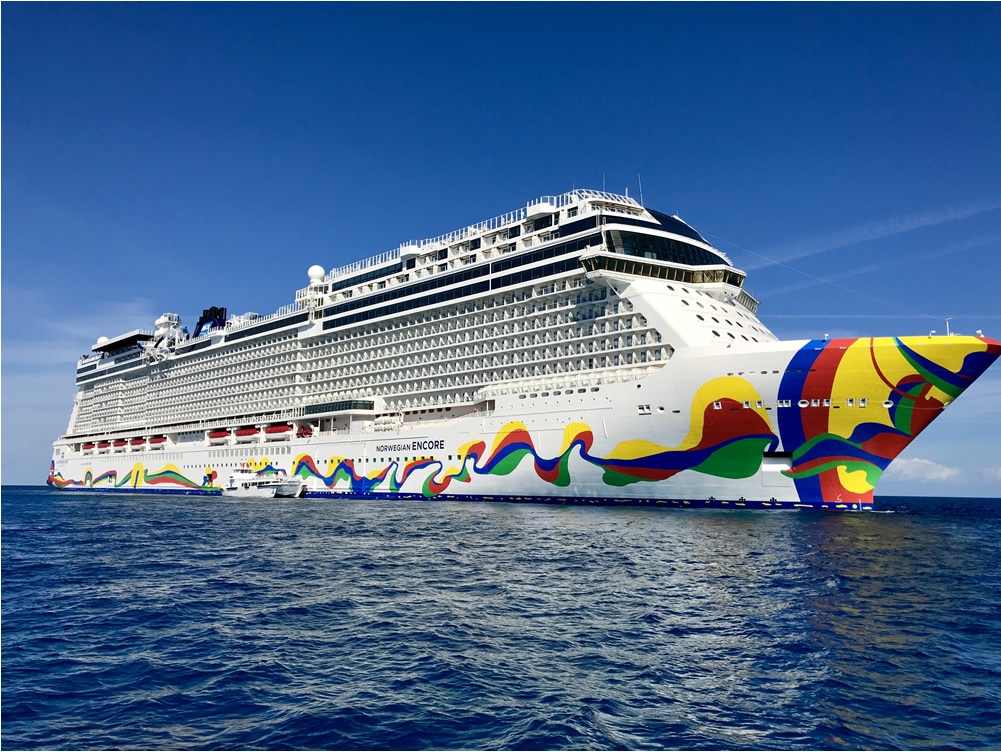 In addition, the company has an ongoing hearing today in its lawsuit against Florida's laws surrounding proof of vaccination. Last month, NCLH filed suit seeking an end to rules that say the cruise line can't require proof from its guests that they are fully vaccinated. Norwegian wants to sail with 100% of guests and crew having the shot.
75% of Ships Sailing by End of 2021, Full Fleet by April 2022
While several cruise lines, including Royal Caribbean, Carnival, MSC, Celebrity and others have already returned to sailing from the United States in the past month, Norwegian has been slower to restart. However, it will soon catch up to its competitors.
In a quarterly business update, the company announced plans for all 28 of its ships across all three cruise lines to return to sailing by April 1, 2022. That's just eight months from now.
The company's restart outside of the U.S. began July 25 with Norwegian Jade sailing from Greece. U.S. cruises kick off with Norwegian Encore on August 7, where the ship is scheduled to sail Alaskan cruises from Seattle.
Beyond that, NCLH said it plans to have about 40% of its fleet sailing by the end of the third quarter, and 75% by the end of 2021. The remaining ships are scheduled to be in service by April 2022.
"We are ready and eager to welcome guests back onboard and continue to see incredible strength in our booking trends for future cruises," NCLH CEO Frank Del Rio said. "Our team is working tirelessly to execute on our plan to return our full fleet to operation by April 2022 to capitalize on this unparalleled pent-up demand."
Legal Hearing About Vaccine Laws in Florida
One potential wrench in those plans, however, is Florida law. Current state law says that a business can't require customers to show proof of vaccination to obtain services. Norwegian wants to sail with 100% of passengers and crew vaccinated, requiring proof to get on the ship.
Other lines sailing from Florida have complied with the law by encouraging vaccines and putting in sharp rules and restrictions for those sailing without the shot. For instance, testing charges, insurance requirements, and restrictions about where the unvaccinated can visit on the ship all apply on Royal Caribbean cruises from the state.
Norwegian Cruise Line Holdings, however, is adamant on adhering to 100% vaccinated status across all ships in its fleet. So much so, that it filed suit seeking the allowance to require proof of the shot in Florida.
The company's first ship from Florida is Norwegian Gem, setting sail on August 15, 2021. A hearing is ongoing today on the matter. It's not clear what could happen to Florida cruises for NCLH if its request is denied. CEO Frank Del Rio has previously mentioned the possibility of moving ships from Florida.
"A hearing on the motion for preliminary injunction is scheduled for today, August 6, 2021, and the Company hopes to receive additional clarity shortly on its path forward to resume sailing from Florida," Norwegian said in a press release. "The ruling has no impact on sailings outside of Florida where the Company's policy of 100% vaccination of guests and crew is in place without issue in every other port it sails from around the world."
At press time, that hearing was ongoing.
Dr. Scott Gottlieb: Cruises Can Offer One of the Safest Vacation Options
Also on the quarterly business update call was Dr. Scott Gottlieb, former FDA commissioner and the chair of Norwegian's health council. Dr. Gottlieb is widely considered a leading expert regarding the health crisis and public health.
He offered up positive comments for Norwegian's vaccine policy.
"All of the scientific and medical experts on our Sail Safe council fully support and recommend a fully vaccinated and tested population to relaunch cruising as it's the most effective way to mitigate the introduction of spread of the virus onboard a cruise ship or anywhere else in society," Gottlieb said.
"Even with vaccines, however, the risks can't be fully mitigated. But this approach mitigates the risk to the greatest extent possible and significantly reduce the severity of any potential breakthrough cases."
The rise of the Delta variant and soaring cases in the United States has gained the attention of the public. At the same time, ships currently sailing — even with the vast majority of passengers vaccinated — are seeing some virus cases. On that topic, Gottlieb gave his opinion that we may be close to a peak and the situation could improve soon.
"While the Delta variant is fueling the current rise in cases, if the U.K. is any guide, I believe we are perhaps further into this epidemic surge and will hopefully be turning a corner in the next several weeks," he said. "In fact, some of the states hardest hit by the Delta surge in the South are already showing some indication that their epidemic waves could be starting to peak."
Even with Delta cases, Gottlieb believes that Norwegian's policies make the ship a safer spot to vacation than the rest of the travel industry.
"In the meantime, the vaccines are highly effective, even against the Delta variant, and Norwegian is taking the extra step of coupling vaccines with multiple additional layers of protection against COVID-19, including universal testing before boarding the ship.
"This goes well beyond what we're seeing in other travel and hospitality sectors. And with the controlled environment a cruise ship provides, it can offer one of the safest vacation options."