Heading from Houston to Galveston for a cruise? You're not alone.
Roughly two decades ago Galveston wasn't even a cruise port. It served only as an industrial port. Today it's the busiest port for cruise traffic outside of Florida. Now, each year more than a million passengers embark from the island.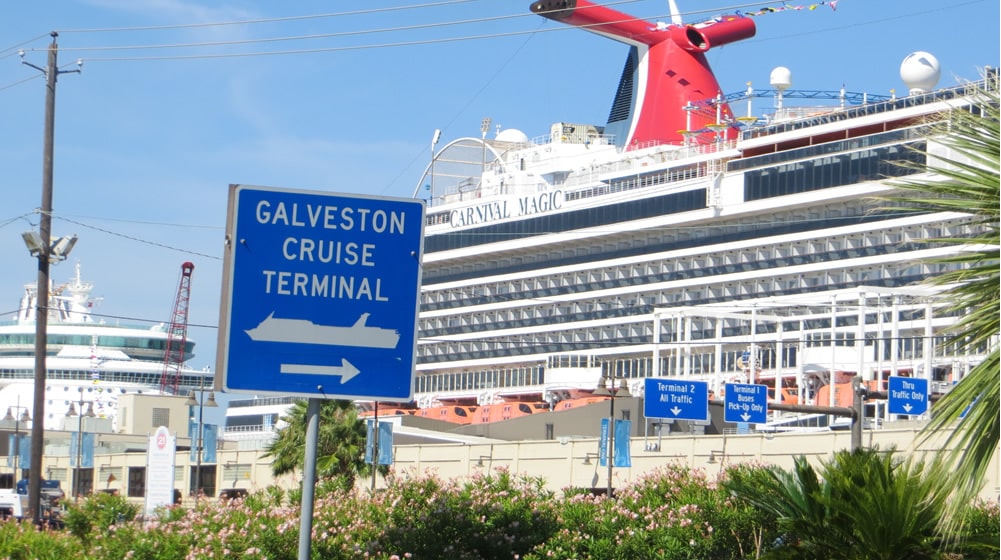 Many of those people fly into Houston from all around the United States to set sail. What surprises many of them is that Galveston is actually quite far from the Houston airports.
Considering that other ports such as Miami or Fort Lauderdale are just a few miles from the nearby airports, passengers often think it would be the same situation in Galveston.
In fact, the cruise port is about 40 miles from Houston Hobby (HOU) and about 70 miles from Bush Intercontinental (IAH). Depending on traffic, it can take 1-2 hours to get from the airport to the cruise port.
The good news is that a number of services offer transportation between the airport and the cruise port.
The bad news? There's no "cheap" way to get back and forth. Plan to spend at least $100 round-trip, depending on how large your group is and which airport you fly into.
We've outlined all your options below.
Houston to Galveston Cruise Transportation Options
So which method of getting to the port is right for you? Here is more information and our suggestions.
Rideshare | Uber & Lyft (Recommended)
For most people, rideshare companies like Uber and Lyft makes the most sense on getting to Galveston. You can request a car when you arrive at the airport, and it's a fast, easy way to make your way to the island. It's also one of your cheapest options, unless you are traveling solo.
Estimated fares from Hobby are in the $50 range, each way. If you are flying into Bush Intercontinental on the north side of Houston, the estimated fare is $75 each way. The price you pay (and the length of your ride) will often depend on traffic along I-45 to Galveston.
Keep in mind that this price is for up to four people in a single car — not per person. There are also larger cars available if traveling with a larger group or if you have a lot of luggage. Uber and Lyft serve both of the Houston airports and can drop-off/pick-up at the Galveston cruise terminals, so you can be let out and picked up right at the ship.
Note: If you are new to Uber or Lyft and plan to use them, you should download the app before you leave home for the cruise port. There is some account setup that you'll need to do, and you don't want to try to do this at the airport after you arrive.
Independent Shuttles (Recommended)
Seeing a need in the market, a number of shuttle services have popped up that provide rides to and from the Houston airports and the Galveston cruise port. While other options are cheaper for most parties, if you are traveling with a larger group then the shuttles can be a deal.
Expect to pay around $60 to $90 round trip, per person. It's obviously a little more expensive to get to Galveston from Intercontinental compared to Hobby given the greater distance.
Galveston Express: Offers both shared or private service between the airports and the cruise ship. The cheapest option is shared service, costing $65 per person round trip from Houston Hobby and $75 round trip from Bush Intercontinental. There is a $5 discount if you are a senior (55+) or for children under 10 years old.
Galveston Limousine: This company has limousine in the name, but does offer shared service from the airports to Galveston, departing roughly every hour. Book online ahead of time and the rate is $50 round trip per person from Hobby and $60 per person from Bush Intercontinental (normal rates are $100/$120). That discounted rate makes this company the cheapest among the independent shuttles.
Island Breeze Shuttle: Another shuttle service with rates of $150 round trip for two passengers between Hobby and the cruise ship. Additional passengers cost extra. Rates run $190 for two passengers needing transport from Intercontinental on the north side of Houston. Want to save a little money? The company has discounts for seniors ($5 off) and for military (10%).
Taxi Cab
Traditional taxi cabs are widely available at Houston airports. Estimated rates for a round trip between Bush Intercontinental Airport is between $275 and $350. If you fly into Houston Hobby, which is considerably closer to Galveston, the rates is about $170 to $225 round trip.
These rates are higher than many other services but keep in mind that several people can ride for that price. This can make taxi cabs cheaper than some shuttles on a per-person basis. As well, you have the flexibility to make stops on the way to the port to pick up any last-minute items you might have forgot. You also don't have to wait for a shuttle to fill up or share your ride with anyone else.
Cruise Line Transfer Shuttles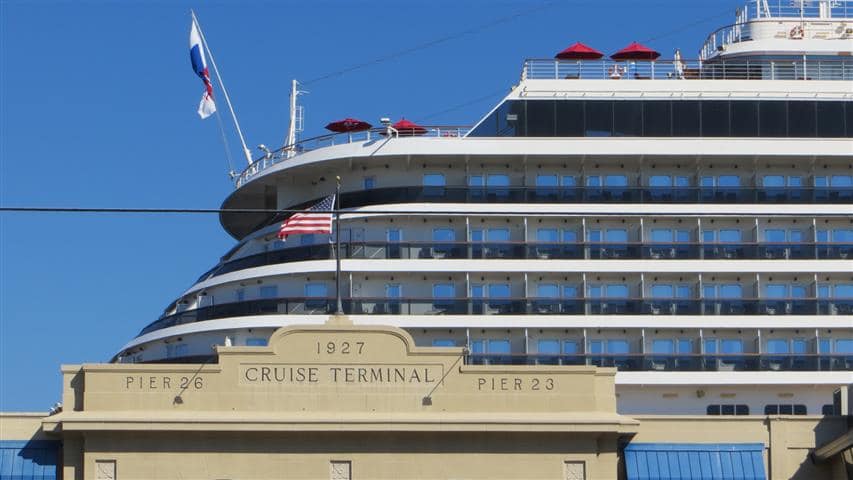 Some cruise passengers prefer to let the cruise line take care of transportation. Carnival, Royal Caribbean, and Disney will all pick you up at the airport and take you to the cruise ship (and vice versa when it's time to go home).
The benefit is that you are in no danger of missing the ship. If there is traffic or a breakdown, the cruise ship won't leave without the passengers taking its cruise transfer service. Still, it's rare that the issue ever comes up, and in our opinion isn't worth taking a cruise line transfer to the port.
Transfers provided by the cruise line are restrictive and expensive. For one, they only leave at certain times. You may have to wait on the bus at the airport until it's ready to depart. As well, it's a direct ride to the cruise port. If you need to stop off on the way to the ship to get some last-minute items, that's not possible.
In addition, rides are available only on the day of your cruise. If you fly in a day early for your cruise, then you'll need to find other transportation.
Finally, there is the cost. For example, Carnival charges $41/$58 each way between Hobby/Intercontinental. Other cruise lines charge similar rates. A family of four traveling back and forth between Intercontinental and the Galveston cruise port will spend $464 just getting to and from their cruise from Bush-Intercontinental.
For that reason, we suggest other modes of transportation from to Galveston, unless you are traveling in a small group.
If you still want to know about transfers from your cruise line, simply click on the name of your line to see their options: Carnival | Royal Caribbean | Disney
Other Services (Car Rentals | Private Cars)
Car Rentals: Want to have the freedom to explore Galveston on your own? A car rental is a good idea. This way you always have transportation — including from the airport to the Galveston cruise port.
Only Enterprise has a lot on the island, so you will need to rent with them if you plan to drop the car off in Galveston. However, sometimes they won't allow one-way rentals from the airport (it still doesn't hurt to check).
Every major car rental company is at the Houston airports. If you can find a decent rate, it's possible to rent the car for the entire length of your cruise and just pay to park during your trip (parking costs around $100 per week).
You can search for rental cars to the island below:
Private Cars: Private cars are another option. There are numerous private car/limo services around the area that are happy to pick you up anywhere in the region and drop you off at the cruise port. These services are certainly great if you want to travel in style, but aren't always the cheapest way to get to the cruise ship.
There are dozens of services that provide private cars, and costs can range from $150 round trip to several hundred dollars, depending on the car you wish to use. While the headline price may be higher, it is often cheaper to go this route when dealing with larger parties.
We can't list all of the private services, but what follows are some of the more popular ones. If you search around, you might find others that have lower prices for the specific level of service you're looking for.
Companies offering transfers from Houston airports to the Galveston terminal: Galveston Shuttle, Karr Limousine, Elite Limousines, Elite Town Car Services.
Frequently Asked Questions
How long does it take to get from the airports to the Galveston cruise port?
As we mentioned above, both Intercontinental (IAH) and Houston Hobby (HOU) are a considerable distance from Galveston. In good conditions it takes about 1.5 hours to get from Intercontinental to the island and 45 minutes from Hobby to the cruise port.
We suggest allowing at least two hours and one hour in travel time between the two airports and the cruise port, respectively, to allow for traffic.
What's the cheapest way to get from Houston to Galveston?
The absolute cheapest way to get from Houston to Galveston depends on the number of people you are traveling with. If traveling solo, then taking an independent shuttle that charges per person will be the least expensive way between the airport and cruise port.
However, most people travel with between 2-4 people. In that case, Uber or Lyft will offer the lowest rates as they charge by the car, not by the person. You can fit several people in the same car for the same price. They also have the advantage of being available on call, instead of waiting for a shuttle to depart.
Is there public transportation between Houston and the Galveston cruise port?
While the Houston/Galveston metro area is home to millions, public transportation options are practically non-existent. There is no viable public option to get from the airports to the cruise ships and vice versa. You'll need to use a service like those listed above to get to your cruise.
More on Cruising From Galveston
Galveston Cruise Parking — Driving to the port? Not sure where to park? We prices and profiles of all the lots near the cruise terminal.
Galveston Park & Cruise Hotels — Getting in late? Leaving early? Simply need a place to rest your head? We've rounded up the options for places to stay near the port, including those with park and cruise packages.