When passengers go on a cruise, almost everyone is in seek of the same things — warm weather, clear water, and sand between their toes. That's why cruises to the Caribbean head to some of the most beautiful beaches on the planet.
And if you're planning to work beach time into your trip, then you'll want to be prepared. From bags that can keep your belongings safe and dry to toys for kids to enjoy the beach, there is no shortage of things you can bring along for your time on the beach. We've rounded up some of the most unique and interesting items that we consider must-haves to bring along.
Note: The links to Amazon used below are affiliate links. Should you make a purchase, we receive a small percentage of the sale at no extra cost to you.
From the hot pavement as you leave the cruise ship to the hot sand on the beach to the sharp shells in the water, a good pair of water shoes can keep your feet protected while you enjoy the beach. We like a good pair that looks good on the beach, but not out of place if you had to walk into a store or restaurants. This open-air pair comes in a ton of colors and will help your feet dry quickly and save your soles from having to walk barefoot. See price on Amazon.
Don't want sand all over you? Better bring a beach blanket with you. The days of lugging around a heavy towel, however, are over. Now you can get nylon blankets like this one that measure 9'x7′ folded out, but pack into a tiny pouch. And because it's nylon, sand doesn't stick to it. $28 on Amazon.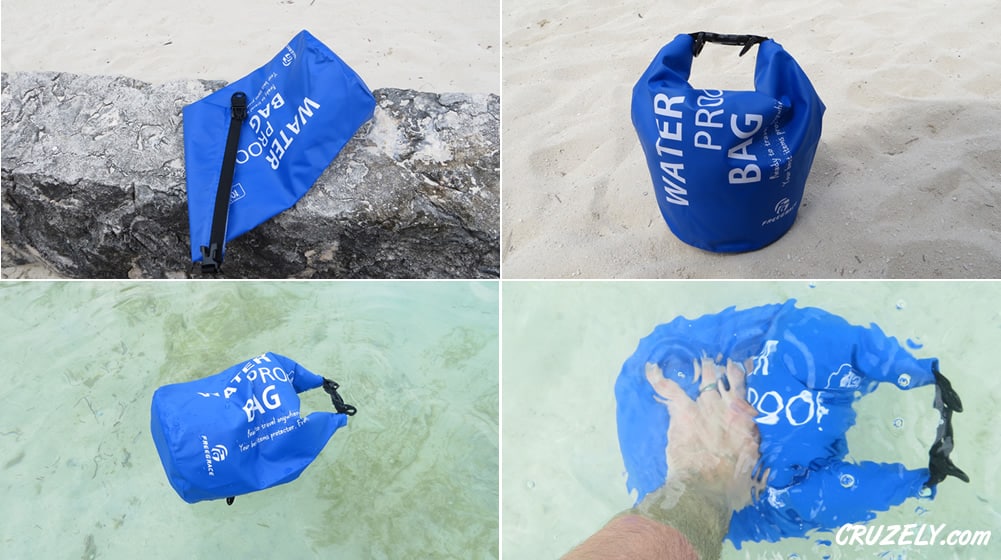 There's always a conundrum when you head out in the water. What do you do with your valuables? That's why we suggest having a drybag. Put your items in the bag, seal, and roll it up and you have a splash-proof container that you can take into the water with you. No more having to worry and keep an eye on your valuables on shore. They also come in practically any color you'd want and with a waterproof phone case.
We recently reviewed three different bags and this one by Freegrace was the clear winner. $19 on Amazon.
Yes, you can pack your phone in a dry bag to keep it safe, but then you don't easy access to it. If you want to keep your phone out (for instance, to take photos), then you'll want a waterproof phone case. This particular one has a neckstrap so you don't have to worry about carrying it in your hands. Meanwhile, you can still operate the phone's touchscreen, take photos, text, and more. Click here to read a full review of our test of this case. $8 on Amazon.
While you can rent gear from most places you'll visit on your cruise, we'd actually recommend bringing your own equipment.
First, renting a mask costs about $10 to $15. You can almost buy a new one for that price. As well, you are using something that others have used before, which is a little weird given that the mask and snorkel go right on your face and mouth. This set is $23 on Amazon and comes in several colors.
What do you do when you have clothes, towels, and more to lug to the beach? Use a large beach bag of course. They are cheap and save the hassle of trying to carry everything in a tiny backpack. If you get one like this one made of mesh, it will also make it easy to dry and you can shake the sand out. $8 on Amazon.
Even at the beach, you don't want to walk indoors flaunting what your mother gave you in a swimsuit. Be sure to bring along a cover up that you can slip over your outfit to add a little modesty. Best of all, you don't have to worry about big wet spots on your clothes if you use a cover up the way you would if you put shorts and a tank top over your outfit. $8.50 on Amazon.

Don't want to put things like your glasses, towel, or camera in the sand? This hook straps to any umbrella pole and gives you four hooks to keep your things up and off the ground. Frankly, we didn't even know this existed, but now we're not sure how we ever lived without it. $10 on Amazon.
If you don't want to deal with the size of carrying a dry bag to keep your things away from the water, then you can also just get a waterproof pouch. They are perfect for for small things like cash, credit cards, passports, and your phone. Best of all, they have a waist strap that fits secure around you so that you can take your items with you into the water. $20 (for a 2-pack) on Amazon.
What's a day at the beach without a sandcastle? The molds for building them are dirt cheap (pun intended) and if you have kids, it will keep them entertained for hours. This 13-piece set costs just 10 bucks — well worth it for the hours of fun if you have little ones. $10 on Amazon.
If you have small kids who want to swim, don't forget to bring floaties. Even if they are in the pool and not in the ocean, having some floaties can help them have a better time swimming while also putting your mind at ease. Best of all, floaties are very compact and take up almost no room in your luggage. $7 on Amazon.