Not that long ago, Internet on a cruise was largely a luxury. While someone might buy access to be able to work remotely from the ship or buy a few minutes to check email, broad access by many people on the ship wasn't common.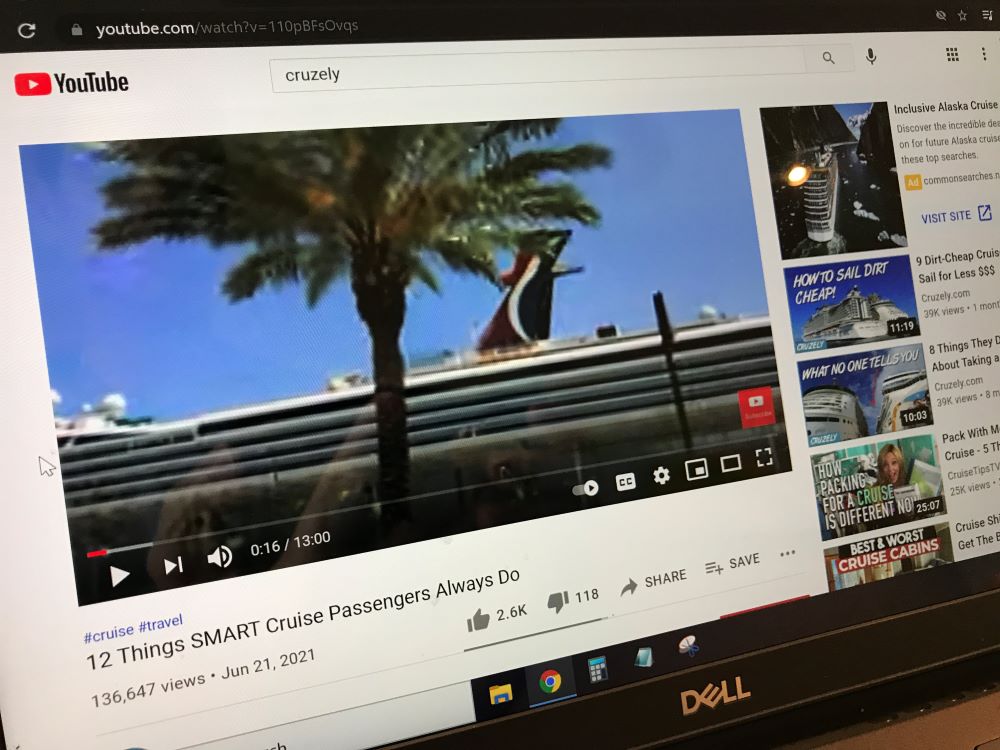 What a difference a few years can make. Now, having wi-fi access is nearly a necessity. Not only does it give you a chance to check in back home and keep tabs on your email or the office while you're away, but it also allows you to post those nice pictures of yourself having fun onto social media, watch movies in the cabin, listen to music, and even check-in for flights when heading home after the trip.
It's no exaggeration that Internet access has gone from a luxury to a must-have.
The good news is that cruise lines — including Carnival — offer wi-fi access across their fleets. Whether you want to hook up to the Internet with your laptop or post to Facebook from your phone, you can get service anywhere on the ship on any device.
That said, wi-fi access is not free, nor is it as quick as you are used to back on land. It is still a challenge to get access while hundreds of miles in the middle of the water. So what can you expect? We recently put Carnival's Internet access through the paces to give you all the details on what we experienced with the service.
What Wi-Fi Packages Are Available on Carnival?
Like other cruise lines, Carnival offers different tiers of service, all at different price points. Each tier offers different access, from just being able to login to social media, all the way to full web access at faster speeds. Here's a run-down of what's offered:
Social Plan: Gives access to social media sites like Twitter and Facebook, WhatsApp, and Snapchat, along with airline websites. However, it doesn't include most websites (including email), streaming, or wi-fi calling, FaceTime or iMessage.
Value Plan: Gives email access, what's included in the social plan, as well as broad access to the rest of the web — all at faster speeds than the Social plan. However, Carnival says it still doesn't support video/music streaming, FaceTime, or wi-fi calling.
Premium Plan: Carnival's highest tier of service, it offers everything in the other two tiers, with faster speeds (Carnival says up to three times faster than the value plan). It also allows Netflix, giving you the ability to stream shows. However, the cruise line says it doesn't support video or music streaming with other services like Hulu. (See below for more details — including our experience — on streaming).
How Much Does Wi-Fi Access Cost on Carnival?
What you pay for access will depend on when you purchase and how long you want access. Typically, Internet access is sold for the length of the entire cruise based on a per-day cost. There is a discount if you buy service before the cruise compared to the onboard price.
The prices below are what's seen on Carnival's website as of now:
How Do You Access the Internet Once on the Ship?
The sign-in process is fairly straightforward, but there were some hiccups here and there. Sometimes logging in took a few tries to gain access.
Open up your wi-fi connection settings and connect to the ship's service. In our case, it was named "Carnival Celebration Wi-Fi" or something similar.
Open up a browser and go to "CarnivalWiFi.com"
Enter your folio number and birthdate, and click "Log In"
Click "Confirm" on the next screen to enable access.
At this point you should be connected and can then surf the web as normal.
How Fast Is Carnival's Wi-Fi Service?
For our cruises, we've tested the fastest Premium plan of service. Doing multiple speed tests across cruises, it seems to show speeds between 6-12 Mbps. On this specific test, it returned a ping of 680 ms, a download speed of 9.09 Mbps, and an upload speed of 2.64 Mbps: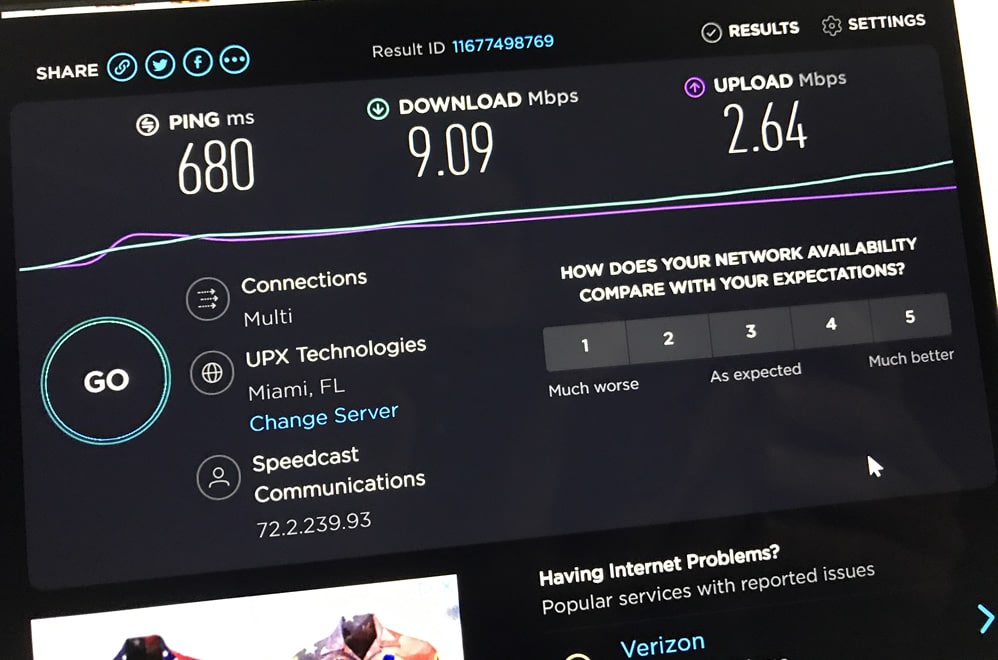 Those numbers likely mean little to most people, but for a cruise ship, they are pretty good. (Keep in mind, however, that speed will vary. We've been on other ships with slower speeds or in locations where speeds are slower.)
In layman's terms, surfing the web did seem sluggish. There were times when the connection seemed faster than others, but you wouldn't confuse the speed with broadband you have at home or the office. Sites would load, but took their time.
For instance, visiting YouTube took about 10 seconds before video thumbnails started to load. A visit to CNN.com brought up the text headlines relatively quickly, but images were delayed.
If you had to use the connection every day to surf, it would be slow by modern standards. It definitely took some time to load images onto posts for Cruzely.com when we live-blogged the cruise. Using the wi-fi here and there to check the news or email, however, was just fine.
Do I Have to Buy Access For Every Device? Can I Share Access?
It's likely you're traveling with other people that want access to the Internet. In that case you have two options. First, you can buy more than one package, giving access to multiple devices at once. Or, you can simply share access on different devices.
Carnival allows you to login to the wi-fi from separate devices, but you can only use one device at a time. So one person could connect with the wi-fi on a laptop and when finished, another person could login to have access on their phone. If you don't need access every moment of the day, it's an easy way to save some money by sharing.
To transfer access between devices, you simply follow the login procedures as normal. It will notify you that the account is already in use and ask if you want to switch devices. Simply confirm the switch and you're good to go on the second device.
Can I Stream Movies/TV on Carnival's Wi-Fi?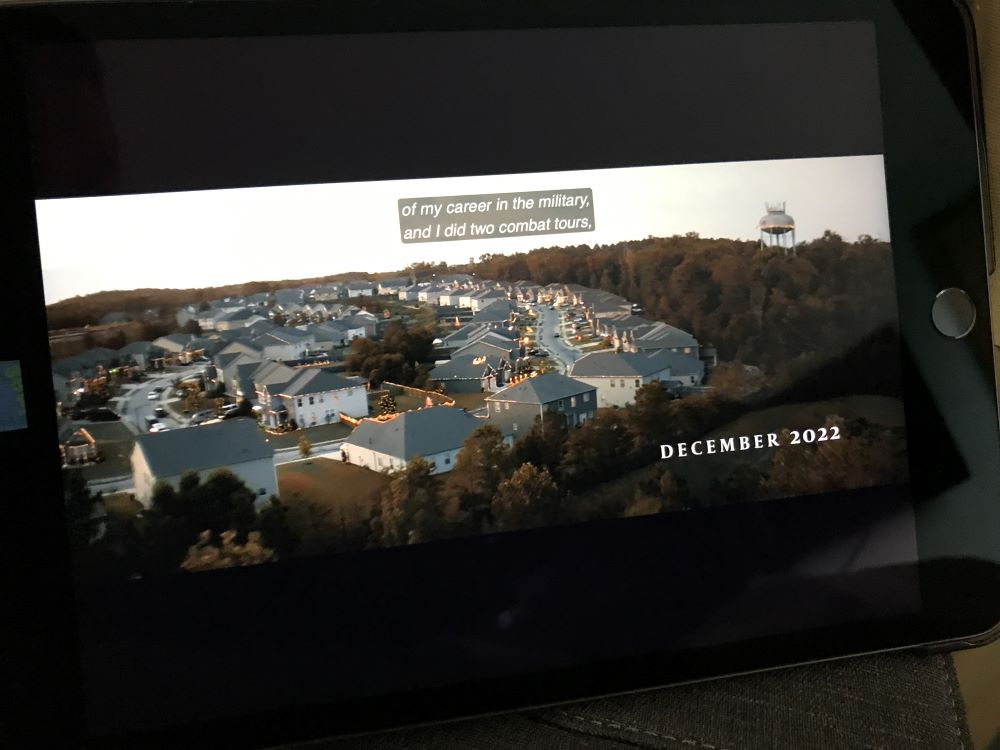 Whether you can stream on your cruise may be hard to say. Here's the issue: Carnival says that its fastest Premium plan supports Netflix, but not other video/music streaming services.
Our experience, however, is that you can actually stream at least some of those services that are supposedly no supported.
During one cruise aboard Carnival Vista, for instance, we were able to access and watch YouTube videos. We also streamed Amazon Prime videos multiple times with no issues. The picture was nice, and there was minimal buffering. When trying to stream Showtime, however, we encountered an error and weren't able to watch.
Bottom line is that yes, you can stream in at least some cases. The better option, however, is to go ahead and download any shows you want to watch ahead of time. That way you don't have to worry about wi-fi service at all. Even if you are able to stream, there might be points where a slow connection makes the show appear choppy or pixelated. Downloading before boarding makes this a non-issue.
Can I Make FaceTime Calls on the Wi-Fi?
Yes. On our trip we tested FaceTime calls from an iPhone with the Premium plan. There were no issues connecting. The call quality itself was so-so. We were able to talk, but there were some times where the image was blurry or froze for a few seconds. Audio had no issues.
Bottom line: FaceTime was able to be used, even though Carnival says on its website that it's not supported.
Can I Text Message Over Carnival's Wi-Fi?
For most of us, we message a lot more than we actually make calls on our phone. In this case, during our tests we noticed that texting iPhone to iPhone seemed to work with no problems. We were able to send and receive messages when connected to wi-fi, including messages with pictures.
However, when messaging to an Android phone, our messages had trouble going through. In the end, we ended up just emailing the person we were trying to text as we couldn't send the text. (This might also have been due to settings on our phone, which is possible.)
In that case, messaging apps like WhatsApp might be a better option. We didn't test any messaging apps on our cruise, but they are specifically mentioned by Carnival as being supported on its wi-fi service.
Do I Have to Buy Wi-Fi Access to Use Carnival's HUB App?
If you're about to sail, you've likely seen mention of downloading the HUB app to use on the ship. This app is extremely useful on the cruise, and you can use it to access everything from dinner menus to ship maps to tracking your onboard spending account.
The good news if that you don't have to purchase wi-fi access to use the app. All the features can be used without buying an Internet plan. You are able to connect and get data from the app at no cost.
Can I Use a VPN?
Some people need to use a virtual private network (VPN) when working or simply use one for more privacy online. While we didn't specifically test out a VPN while sailing, Carnival says they do not support VPNs on their ships.
According to the FAQ on their website: "VPN connections are not supported. Discuss your VPN limitations with your company's IT department if you are planning to work while sailing. We are not able to change your settings on board."
Can I Work or Do School Work With the Wi-Fi?
Of course, one major reason to sign up for Internet is to be able to work from the ship. These days, many people opt to take a "working cruise" and enjoy themselves while also being able to complete work back home. So is that possible on a Carnival cruise?
In our opinion, it depends on the type of work or school work you're doing. Have something where you need to be live on Zoom with perfect clarity and reception? That might be tough to manage. Need to make an informal video call? That should be fine. Simply need Internet access to access documents, submit an assignment, or send some emails? That's no issue at all.
In other words, access to work that requires a reliably fast and solid connection could have issues (you are at sea, after all). However, less-intensive tasks should be perfectly feasible.
Is Carnival's Wi-Fi Worth It?
For a 7-day cruise, you'll pay about $130 for the Premium plan — or nearly $20 a day. That's a sharp price to pay for online access. So is it worth it?
In our eyes, it depends on what you need access for. If you simply want to stay connected, check email occasionally and text some friends, then paying that much seems too high to us (that's where the cheaper Social and Value plans are nice). However, if you have work obligations or things going on back home that you simply can't miss, then by all means, hop online.
One thing to note is that many ports of calls offer wi-fi service in some shape or form. There may be restaurants that offer wi-fi to customers or ports of call that offer access for a cheaper fee than what's on the ship. You can also access the Internet with a day-pass so you don't have to pay for access the entire week.
This way, you can still stay in touch back home without spending as much money.