Update: Since first publishing this article, Norwegian announced it will suspend cruises for its three cruise lines (Norwegian, Oceania Cruises and Regent Seven Seas Cruises) through April 11. We think it is likely more lines will suspend cruises as well.
Over the past week the impact of coronavirus has reached major milestones, spreading well beyond the travel industry. Schools are closing. Universities have shut down. Flights have been cancelled. Even the NCAA basketball tournament won't go on this year.
While cruises have arguably bore the brunt of the coronavirus impact — along with airlines and hotels — until yesterday they largely continued to sail. Enhanced screening procedures have been implemented and industry rules restricting passengers from coronavirus hotspots are now in place.
Even so, the virus continues to spread to the point where there is hardly an area that doesn't have cases. Meanwhile, new travel bans between certain countries make it difficult for many passengers to reach their cruise.
Some ports of calls are denying cruise ships and even the Port of Baltimore has closed to any vessel that's made a call outside the United States since January 31.
Amid the turmoil, yesterday Princess Cruises announced it would suspend sailings for 60 days. Disney Cruise Line announced it will stop sailing from March 14 through the end of March.
A statement from the cruise line said:
"In an abundance of caution and in the best interest of our guests and employees, Disney Cruise Line has decided to suspend all new departures beginning Saturday, March 14, 2020, through the end of the month. This precautionary measure applies to all four of Disney's cruise ships.

While we know this decision may be disappointing, the health and wellbeing of our guests is of the greatest importance. We are equally committed to the wellbeing of our incredible crew members who live and work aboard our ships and on Castaway Cay. During the suspended operations, Disney Cruise Line will continue to compensate our Crew Members and shoreside Cast Members."
This is obviously a new milestone in the cruise lines' efforts to combat the outbreak. Princess Cruises has had two ships with significant outbreaks of the virus onboard, leading to headlines around the world. Other ships have also been impacted by the illness.
Disney, however, has largely been spared the negative headlines with the coronavirus. The company did shut down its theme parks, however, as a precaution. It's a major move to suspend operations of all of these attractions and a sign of how serious the outbreak is around the world.
Will Other Cruise Lines Suspend Operations?
With these drastic moves by Disney and Princess, it begs the question if other cruise lines will follow suit.
In fact, some other lines have made similar moves. For instance, Virgin Voyages — a completely new cruise line that was scheduled to start sailing this month — has moved its first sailing to the summer.
In response to the decision, the cruise line said the following:
"As a brand, Virgin has always championed our customers and, most importantly, listened to them. With those principles in mind and based on your feedback, our team has made the very difficult decision to postpone the Showcase Tour launch and inaugural sailing season for Scarlet Lady until July 15, 2020, with our Maiden Voyage taking place August 7, 2020."
And in perhaps the biggest news, the U.S. State Department has also issued a statement that "U.S. citizens, particularly travelers with underlying health conditions, should not travel by cruise ship."
As of yet, however, other major cruise lines, including Carnival, Royal Caribbean, and Norwegian have yet to announce a suspension like we've seen with Disney and Princess.
Instead, smaller moves have been made to keep passengers safe. In addition to enhanced medical screening (including temperature checks) for many passengers, the industry has also implemented rules that deny boarding to passengers from China, South Korea, Italy, and other countries where there have been significant outbreaks.
Carnival recently announced that it won't allow onboard passengers who have been hospitalized in the last two months or have a chronic medical condition. Guests that are 70 year or older must have a doctor's letter that they are in good health to sail when they check-in. If not, they won't be allowed to board even if they don't have current medical issues.
Cruise lines across the board have also put in place much more flexible cancellation policies aimed to help passengers nervous about sailing. For example, Royal Caribbean is allowing passengers to cancel any time up until 48 hours before their sailing on its cruises through July 31.
There is also a chance that these policies will encourage those who might be ill (or suspect they are) to avoid sailing instead of pushing through with their cruise for fear of losing their fare.
Why We Think More Cruise Suspensions Could Come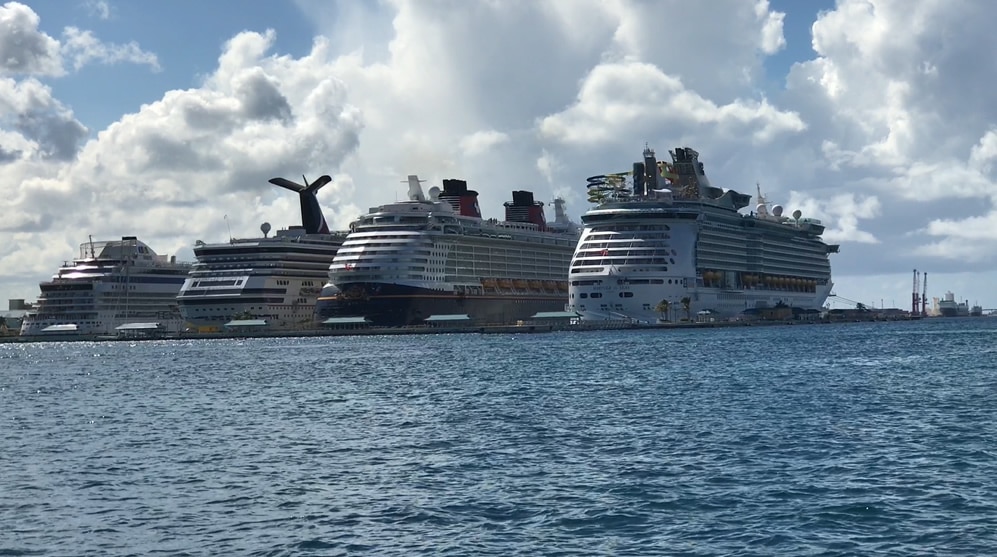 Even with these policies, all of these small moves have created a patchwork across cruise lines. At the same time the situation continues to change rapidly, seemingly by the hour. It seems that in many ways everyone is playing "catch-up" to the fast-moving virus.
So at what point (if ever) do other cruise lines follow the lead of Disney, Princess, Virgin Voyages, and others and suspend sailings?
In our opinion, it could happen sooner rather than later.
From a public relations standpoint, the cruise industry has taken a black eye in the past several weeks. While they've made unprecedented moves to keep passengers safe, there have still been multiple outbreaks on ships. Additionally, there have been a number of scares that have caused missed ports and delays for passengers.
If cruise ships continue to be associated with the virus, it might have a greater impact on people's thoughts of boarding a ship in the future. Suspending cruises now puts an and to the possibility of those sailings spreading the virus and being associated with the outbreak even more closely.
Add to that the fact that cruise lines seem to already be hurting financially.
Reports are that travel bookings are down sharply. The cruise lines haven't shared specifics, but a recent article from Bloomberg mentioned that "Richard Clarke, an analyst at Bernstein, estimates that most bookings for travel packages are down around 40% across the market. The drop off in cruise demand may be even worse."
With many people already moving cruises to future dates, the financial hit may not be as bad now as it would have been just a week or two ago.
Finally, there is the potential of cruise lines eventually being forced to suspend sailings due to powers outside of their control. The Port of Baltimore has already closed traffic to ships that have made foreign calls. Some ports outside the United States have refused entry to some ships. Then there is always the possibility that governments could put restrictions on sailings.
The coronavirus outbreak and the impact it has had is unlike anything we've seen in recent history. At this point, it seems nothing is off the table, including more lines suspending cruises.
Read our full coverage of the coronavirus and its impact on cruising here.