Is it a better value on a Disney cruise or going to Disney World? Either way, be prepared to open your wallet. Both the cruise line and the resort have a reputation for being pricey.
But while many people complain about the price, most people also feel that they get what they pay for. Disney's reputation for service is outstanding — and has been for decades. That's why some folks have no issue paying out extra for an experience that's second-to-none.
If you're researching a trip to Disney World, you might have wondered if instead it might be a better deal to take a Disney cruise. Or maybe you've seen the prices on Disney cruises and wondered if you can save money by planning a trip to the resort instead.
No matter the reason, while the two experiences are very different, it's a fair comparison to see if the cruise or the resort will give you the biggest bang for your buck.
Below, we've compared several options for both Disney cruises and trips to Disney World to see which comes out as less expensive.
What You'll Spend on a Disney Cruise
Just like any vacation how much you spend on a Disney cruise depends largely on your own personal budget, below, we've provided three options — a bare bones budget, a moderate budget, and a high-end budget.
For our comparison, we created a hypothetical family of four (two parents and two children) all staying in one cabin or room for a four-night cruise. And to make the comparison fair, we selected a cruise departing Port Canaveral (the closest port to Disney World), departing in June when many families head out for summer vacations.
Bare-Bones Budget ($6,861)
If you want to simply get on the ship, we found a cruise aboard the Disney Wish departing in June that runs a total of $6,861 for an inside cabin for four passengers.
The cruise departs Port Canaveral, with a stop in Nassau, followed by a stop at Disney's private island — Castaway Cay — before heading home to Port Canaveral
Keep in mind that this includes four people sharing a small cabin (169 square feet). However, you have full run of the ship. Furthermore, meals and entertainment are included, but extras like alcohol and shore excursions are not.
Moderate Budget ($7,517)
The funny thing about taking a Disney cruise is that while most other cruise lines have large discrepancies between what you pay for an interior cabin and a balcony, Disney offers the upgrade for relatively little.
In our search, we found you could upgrade to a verandah (private balcony) cabin for just about 10% more, or $7,517. In this case, you not only get your own balcony, but you upgrade your cabin space from 169 square feet to 243 square feet with the balacony. If you like, there is also a larger verandah cabin that's 284 sq. feet for $7,901.
High-End Budget ($11,597)
Are you a big spender on your vacation? In that case, you can get a top-of-the-line suite on a Disney cruise. These suites are ideal for families as they offer more space. That said, they will definitely set you back.
The cruise we looked at featured several options. The first was a Concierge Family Stateroom with a Verandah, which at 296 square feet, costs $11,597. It should be noted that guests who select a Concierge level cabin receive special perks like priority boarding and private sun deck access.
Even higher-grade options include a Concierge 1-bedroom suite with balcony (and a huge 608 square feet) for $16,574 and a massive 1,507 square feet Concierge Royal Suite that runs a rich $33,758.
Other Costs Associated With a Disney Cruise
One nice feature of cruises is that you pay one price and most (though certainly not all) of what you'll spend is included. This includes things like meals, entertainment, or course your transportation from port to port.
But there are some other costs to consider. This includes anything you spend on shore (excursions, meals, and drinks off the ship aren't included). Alcohol on the ship is also another cost, as are gratuities for the staff.
With these, you can expect to add a few hundred more — to potentially thousands more (if needing airline tickets) — to the cost of your cruise, depending on your spending level.
Compared: What You'll Spend on Disney World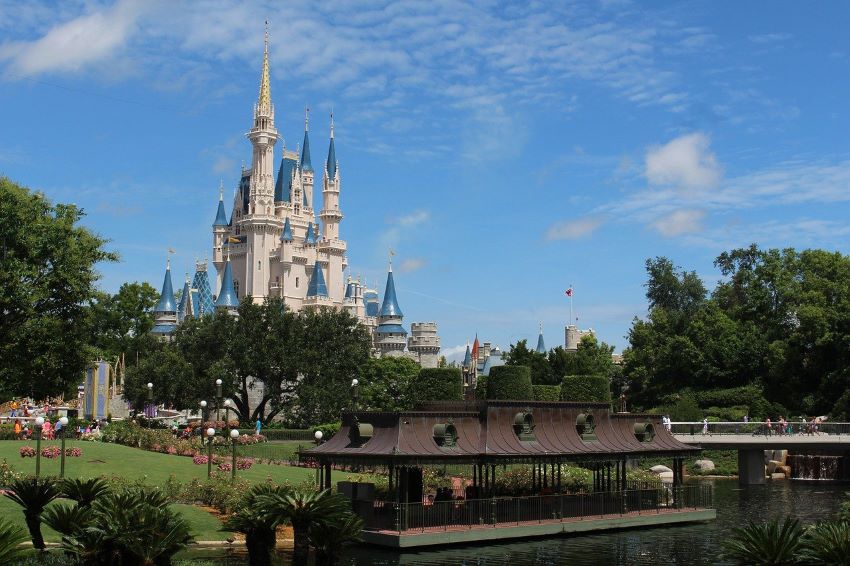 While there is no doubt that Disney cruises are expensive for most travelers, keep in mind that they include nearly everything — all food and entertainment on the ship is included in the price. By comparison, you can buy packages for Disney World that include tickets to theme parks and accommodation, but food normally isn't included. As well, the packages below don't include flights or other transportation needed to get to the park in Orlando.
The good news? If you are a budget traveler, a 4-night trip to Disney World is much more affordable than a cruise. For those with a bigger budget, the cruise and similar stay at the resort are more comparable in price.
Bare-Bones Budget ($3,233)
To compare apples to apples, we looked at a stay at Disney World for the same four nights offered on the cruise featured above. For the budget family travel, we looked at Disney's All-Star Music Resort, which is a less-expensive hotel within the resort.
The four-night stay also includes park tickets for the family for four days and costs $3,233. One thing to note — for this price, no dining is included (you'll have to pay out of pocket for food), and the tickets are the base level that only allow access to one park per day.
Moderate Budget ($5,041)
Have a little bit more to spend? There are quite a few options, but for $5,041 you can book at Pool View room at the Caribbean Beach Resort for a family of four, including park tickets. In addition, this price includes an upgrade to a Park Hopper option on the tickets, meaning you can visit multiple parks in one day instead of being limited to just one.
For this price, we've also added in the Disney "Quick-Service Dining Plan" that includes a number of casual meals and snacks instead of spending more out of pocket.
High-End Budget ($13,288)
If you have money to spend, what about a suite at the Grand Floridian Resort — one of Disney's highest-end hotels? This stay features club-level service with a number of amenities not offered to other guests.
In addition, you'll have four tickets each day with the Park Hopper Plus plan, which includes admission to any park on any day, along with waterpark access. It also includes the "Disney Dining Plan" with a number of meals included.
In total, the suite, tickets, and amenities runs $13,288 — noticeably higher than some suites on a Disney cruise, but within the ballpark.
Other Costs Associated With a Disney World Vacation
While we've priced out a hotel and park tickets, there are some considerable expenses that you'll have to pay that aren't included in these costs.
This includes the cost of transportation, including driving or flying to Orlando, meals (if not purchasing a Disney meal plan), and souvenirs. Just like with a cruise, you'll need to add a few things to the costs shown here to arrive at the total cost of the vacation.
Comparing the Costs of Disney Cruise vs. Disney World
In comparing the prices of a cruise versus a stay at the resort, it's clear that most people will spend less heading to Disney World. In many cases — though not all — a Disney cruise will cost significantly more than the price of trip to the theme park:
So does that mean it's not worth it to go on a Disney cruise? Not at all. There are some definite things to like about going on a cruise, despite a potentially higher price tag.
No Need to Fly to Orlando
One major part of the cost of visiting Disney World is that you need to get there first. In our comparison, we looked at cruises departing Port Canaveral in the Orlando area. But the cruise line also sails from Miami, San Diego, New York, and Galveston. If you are within driving distance of one of these ports, you don't have to worry about flights to Orlando. Depending on the size of your family, that can save thousands.
Don't Have to Fight Crowds & Long Days
Let's face it, heading to Disney World can be anything but relaxing. The parks are big and can be crowded. By the end of the day you can be exhausted. In comparison, taking a cruise is more relaxing. Explore the ship, head to the pool, or simply hang out at the beach. There is no shortage of things to do on the ship, but it's not as "go-go" as visiting the resort.
No Worries About the Florida Heat
One of the worst parts of visiting central Florida theme parks in the summer? The heat. It can be downright dangerous if you don't keep yourself cool and hydrated. It's much different when you have a cool air-conditioned cabin on the ship just a short walk away at all times. In other words, if you have trouble handling heat, then a cruise may be a better option.
If you're a Disney fan, there's no doubt that you'll love heading on a cruise or heading to the theme park. If you're cost-conscious, you'll likely have a less expensive vacation heading to the Orlando park. But considering the very different experiences between the cruise and the theme park, there is no wrong answer.