Unheard of roughly a decade ago, Costa Maya is quickly becoming a favorite of passengers.
Located just about 130 miles south of Cozumel, the port offers a lot of the perks of its famous island neighbor, but without near the amount of development. The result? A tropical, beachy port that's still manageable and not as heavily commercialized as Cozumel.
Cruise lines have been quick to pour into Costa Maya. Its location right near Cozumel (the most visited cruise port stop in the area) means that Costa Maya can be added into an itinerary without having to go far out of the way. Chances are good that if you are headed on a cruise that travels the western Caribbean, you'll make a stop in Costa Maya.
And while the area isn't as developed as some older cruise ports, it still offers plenty for passengers to do. Whether you want to explore ancient ruins, do some world-class scuba diving, or simply find a place to eat and drink to your heart's content, there's something for you.
Here are a couple of dozen ideas of things to do during your day in port…
Enjoy All You Can Eat/Drink at Maya Chan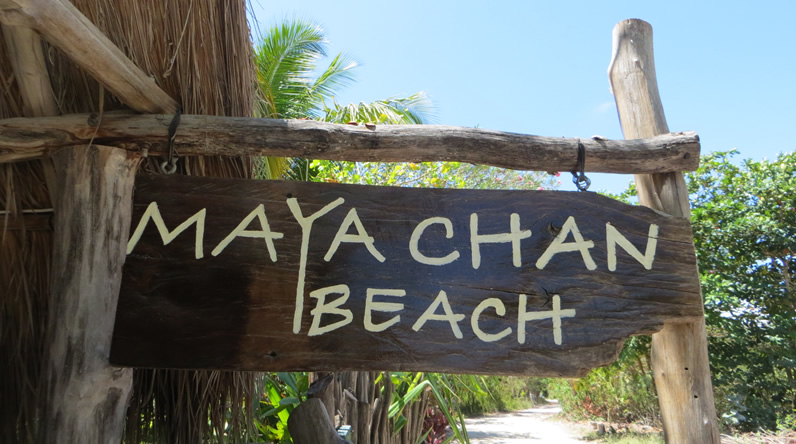 Located about 5 miles down the coast from the Costa Maya port, Maya Chan is a small, independent day resort that features enough room for only a few dozen guests at each time. You book a private cabana complete with hammock and daybed and enjoy all the snacks, drinks, and food you can eat. In short, for about $70 per person you get to spend the day in paradise. Transportation to and from the port is included as well so you don't even have to worry about how to get there. You can read our full review here.
Book an Open Bar Pass at a Beach Restaurant
Similar to Maya Chan but not near as secluded, there are several beach bars/restaurants in the main town of Mahahual that offer tables, loungers and umbrellas right on the beach… and unlimited drinks. One such place is Jaime's at the Blue Reef and another is the YAYA Beach Club. These restaurants offer an easy way to relax during your port stop, even though your memories might be a little hazy after spending all day here.
Get Your Souvenir Photo in Front of the Costa Maya Sign
No trip to Costa Maya is complete without getting your photo in front of the sign to show you've been there. It's located right at the start of the pier to the ships and you can't miss it. Sure it's a touristy thing to do, but it's fun and memorable… and it's free!
Import Your Own Bottle of Tequila
Tequila and Mexico go hand in hand. In the port area you'll find all sorts of shops, including one selling dozens of different types of tequila. Stop in to pick up a bottle as an authentic (and tasty) souvenir before you head back to the ship. Don't plan on drinking it during your cruise, however. Alcohol is checked in when you get back to the ship and returned to you the last night of your cruise.
See the Flamingos in Port
Wind your way through the port area and you'll eventually find a small sanctuary amid all the hustle and bustle. Just behind the low wall are several beautiful pink flamingos looking right at home on a small sandbar with tropical surroundings. Try not to disturb them, but it's a great photo op and a cool way to see some beautiful creatures up close.
Take a Taxi into Town
Costa Maya used to be an open-air trailer pulled behind a pickup truck that would bring you into the main town (Mahahual) for a couple of bucks. As of our last visit however, that seems to be gone and now you can either walk (around 45 minutes) or take a taxi (5 minutes). Rides cost only $3-4 per person, and it's well worth it than the somewhat confusing walk in the heat and humidity. Taxis are everywhere both in port and in Mahahual, so you'll have no trouble finding one.
Go on a Snorkeling Excursion
We'll be honest, sometimes the seaweed can make the beaches at Costa Maya less than desirable. However, the water is still very clear if you get off the shore a little bit. That's why it's a popular spot to snorkel. Excursions are available through your cruise line and the pros can take you to spots where you'll see abundant wildlife under the water.
Book a Diving Excursion to Banco Chinchorro
Located off the coast of Mahahual, Banco Chinchorro is the largest coral atoll in the northern hemisphere. There are even a number of shipwrecks to explore, including a Dutch galleon where you can still see its cannons on the seafloor. Dive shops in Mahahual will offer tours, and some cruise lines might also have excursions.
Pick up Anything You Forgot at the Pharmacy
When you're on the ship, you have two options if you need some toiletries or over-the-counter medicine. You can either go without… or pay insane prices at the ship's shops (we've seen DayQuil for $17 a bottle!). If you forgot or need anything, there is one other option — Costa Maya has a pharmacy in port with just about anything you'd need. It's also considerably cheaper than buying these items on the ship.
Hit the Souvenir Shops for Anything You Can Imagine
In the port area there are plenty of opportunities for souvenir shopping. In fact, it's stall after stall of stands selling everything from jewelry to sombreros and everything in between. If you're on the hunt for a keepsake to remember your trip, Costa Maya makes it easy to go shopping.
See How Chocolate is Made
At Kakaw in the port area, you can get a first-hand tour of the history of chocolate. You'll see the origins of the treat and see how it's made. Of course, you'll also get plenty of samples and a chance to purchase more to take home.
See How Mexico Used to Be in Mahahual
For decades Mahahual was a sleepy fishing village. While it's certainly grown (and can be busy on days when ships are in port), in many ways it still has its character as a small town. There is a main street, lots of dirt roads and a number of small shops and restaurants. If you're expecting Cozumel or Cancun, Mahahual shows what life used to be life before Mexico's tourism boom.
Visit the Mahahual Lighthouse
Just down the coast from the cruise pier is a large lighthouse that stands on the point at the beginning of Mahahual. While it takes only a couple of minutes to see, it's a neat landmark on your way into town. You can also take a photo with the "Mahahual" sign (complete with a huge marlin sculpture) to remember your vacation.
Take in the Malecon Near the Beach
After you get a ride into Mahahual, you'll find there is a "main drag" — a walkway that winds down alongside the beach. On one side you'll have the beach and the other is filled with shops and restaurants.
Want to eat/drink with your feet in the sand? Want to get a massage on the beach? Want to grab some souvenirs? You can do it all here. The beach and swimming are available too, but restaurants have taken over most of the best spots. It's easy enough to set up a spot and order something while you enjoy the beach.
Take a Drive on a Dune Buggy to Explore
In most ways the area around Costa Maya and Mahahual are pretty rustic. There aren't a lot of paved roads… which means your vehicle better be equipped to handle rough terrain. For a fun time, you can take a dune buggy excursion that takes you off the beaten path — literally. The trips allow you to drive, and head out to a secluded beach and explore the jungle. If you're looking for an adrenaline rush, this is the ticket. Check your shore excursions on the ship for details.
Hit the Spa for Mayan Healing Rituals
Sure you can head to the ship's spa… or even get a massage on the beach for that matter. But Costa Maya offers a special "Mayan Healing Rituals" that include an herbal bath, a sweat lodge, clay mask, a coconut milk bath, and a hammock massage. It's a unique take on the traditional spa experience and a trip to the spa that won't soon be forgotten.
Visit the Ruins of Chacchoben
There's no doubt that Chichen Itza takes the prize as the biggest and most popular Mayan ruins in the area, but it can also be crowded and it's a long way from Mahahual. However, only an hour away are the ruins of Chacchoben. This smaller site gets fewer visitors but still gives you an impressive sense of the advanced Mayan people. It includes several excavated pyramids, wall, and staircases that laid covered from more than 1,000 years until the discovery of the site in the 1940s.
Sail in the Most Beautiful Water Aboard a Catamaran
What better way to spend the day surrounded by some of the most beautiful water than to hop aboard a catamaran and soak up the sun? Cruise lines offer excursions aboard the boats, which many times come with a lunch and a snorkeling session. If you get seasick it may not be for you, but it's great if you want to avoid the crowds on shore.
Take a Ride on the Party Bus to a Beach Club
Did you come on the cruise to party? If so, check out the party bus. It's an excursion offered through the cruise lines that gives you an hour-long ride on a huge guitar-shaped bus where the atmosphere is lively and the drinks flow freely. After your ride you are dropped off at a beach club to spend the rest of your day… with an open bar to continue the party. Just be sure to bring a few bucks for lunch so that you don't have to drink on an empty stomach.
See the World Underneath the Waves on a Glass-Bottom Boat Tour
If you want to get out in the water but don't want to snorkel or scuba dive, you can always take a glass-bottom boat tour. These trips will take you out in the gorgeous water and give you a chance to see what's underneath the waves. The best part is you don't get wet, making it perfect for small kids or those with mobility issues. Look at the excursions with your cruise line to book.
Hang Out by the Pool in Port
As you exit the ship you'll make your through the port area where there are lots of shops, restaurants, and things to see. One draw is a massive swimming pool where cruise guests can lounge and swim — complete with swim-up bars. It's free to swim and hang out if you buy something from the nearby restaurants, making it a good option if you're looking for an affordable way to spend the day. Simply walk into the port area, and you'll run into the pool.
Explore the Kohunlich Ruins
We've mentioned Chacchoben, but Mayan ruins are common in this area. Kohunlich is another site that's about two hours from Costa Maya. Fewer people seem to visit given the distance. That means if you want to explore a major archaeological site without the crowds, this is a solid option.
Have a Slice at Pizza Papi
Hidden back in the small town near the port is a highly rated pizza joint — Pizza Papi. Described as "Bob Marley meets Day of the Dead," the vibe is unique and the pizza looks amazing. It's a fun place to grab a cold drink, eat hot, wood-fired pizza, and realize that there is nowhere else like it in the world. One thing to know is that the restaurant doesn't open until evening, so you'll need to have a late visit in port to be able to check it out.
Get Close to Tropical Birds at Aviarius
Aviarius is one of the most unique things to do in Costa Maya. Within the port area that you visit as you exit the pier, there is Aviarius — an encounter with tropical birds that traverses the port. You'll walk on suspended bridges from station to station above the port, with chances to get up close and personal with all sorts of tropical birds, including flamingos and macaws. It's also a great way to get amazing views of the cruise ships in port.
Work on Your Tan in the Shadow of the Ship
While we've mentioned the pool at Costa Maya, there is also a man-made beach area near the pool with loungers available for cruise passengers. If you want to work on your tan, this is the spot to do it, within a short walk of the cruise ships. Just know that it can get busy, so if you're wanting quiet and relaxing… this isn't it.
Stay on the Ship
Most people don't consider this to be an option, but staying on a cruise ship during a port of call can be relaxing. With everyone heading out, the ship can feel like it's all yours. The pool is less crowded, there are no long lines to get something to eat, and there's simply a more relaxing vibe on board. It's ok to simply stay on the ship during the port of call. It's your vacation!
Is your cruise headed to Cozumel too? See our 63 Things for Cruise Passengers to do in Cozumel.