A few years ago, Costa Maya was largely unheard of. Today, it's becoming a booming cruise port and ships sailing from Texas to Florida make calls on the Mexican port.
Given the recent boom in popularity, there are a large number of passengers making their first stop in Costa Maya who aren't sure what to expect. If this sounds like you, then we have a port guide that you won't want to miss. It provides tons of information about visiting the port.
As well, we've put together nearly 20 pieces of tips and advice about the port that are perfect for first-time and experienced cruisers alike. These tips for Costa Maya can help you have a better trip and make sure you feel prepared when you step off the ship.
Costa Maya IS NOT Mahahual
First things first, most people use Costa Maya and Mahahual interchangeably. That's perfectly fine, but you should know that there is a big difference. Costa Maya is the port complex/area that was built specifically for cruise passengers. Therefore, you dock at the Costa Maya pier. Mahahual is the city just outside the port area. It's a former sleepy (and still is when ships aren't in port) beach town that gives you a taste of authentic Mexico.
It Should Only Cost $2-3 Per Person to Get to Mahahual
As we said, Mahahual and Costa Maya are right next to each other, but it's a bit of a walk. Take a cab or the trolley into town to save time and walking in the heat. The cost should only run $2-3 per person each way. If you are quoted more than that, ask another taxi cab.
Hit the Beach at All-Inclusive Maya Chan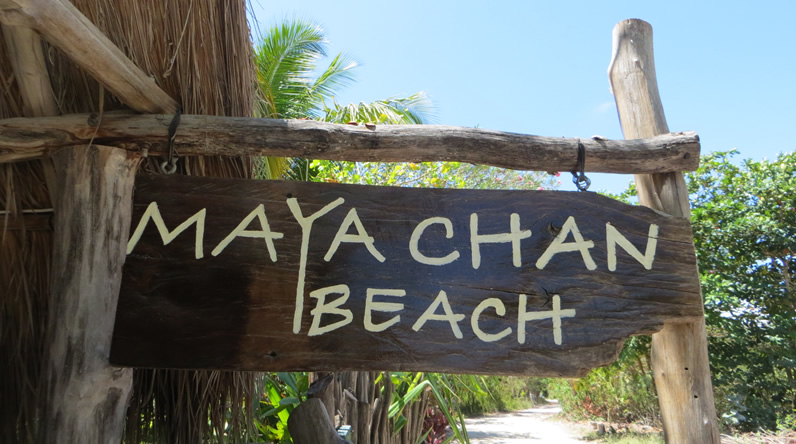 Want a relaxing way to spend the day? Check out Maya Chan. This day resort only accepts a few dozen guests each day. When you book, you'll get a private reserved seating area, all you can drink, and all you can eat. The resort itself is only about five miles down the beach from the cruise ships, but feels a world away. You can read our entire review of Maya Chan here.
Head to Pizza Papi for Tasty Pizza
In the "town" area of Mahahual (not the beachfront strip), there is an eclectic pizza spot called Pizza Papi. Described as "Bob Marley meets Day of the Dead," the vibe is unique and the pizza looks amazing. It's a fun place to grab a cold drink, eat hot, wood-fired pizza, and realize that there is nowhere else like it in the world.
Be Ready for Aggressive Vendors
On any town built on tourism, it's common to find pushy vendors trying to sell you something, offer a taxi ride, or usher you to a restaurant. It's no different in Costa Maya and Mahahual. Just give them a quick "no, gracias" and you should be fine. Still, it can be annoying to deal with.
The Port Area Feels Like a Tourist Trap… Literally
Don't be surprised if it takes you a long time walking to get out of the port area. We found it to be intentionally confusing. The walking path takes you in a big arc one way (in front of numerous stores) before turning you back the other way (in front of even more stores) to exit. In our experience, it can take 10-15 minutes of walking through heavy crowds just to find your way out of the port.
There Is a Ton to Do in the Port
The port area is designed to keep you entertained with no reason to leave. And it can do a good job. There are multiple restaurants, a massive swimming pool, water features, shops selling everything from tequila to Tylenol, swimming with dolphins, and much more. In other words, if you simply don't want to go far from the ship, then you can easily spend a day hanging out in the port complex.
It's Easy to Spend the Day Lounging by the Pool Sipping Drinks
Sometimes you just want to do something simple on your vacation like hang out in a pool while with a drink in your hand. You can do that in the Costa Maya port. There is a large swimming pool with swim-up bars. Come, get a drink, enjoy yourself, and forget about things like email and cell phones.
The Beaches Aren't Always Picture Perfect
Unfortunately, the location of Costa Maya means that it sometimes attracts seaweed… in massive amounts. Thus, the beaches can sometimes have a smell and you could have to walk through some of the stuff to get to the water. Other times, the beaches can look just like a postcard. It's a luck of the draw as to whether there is seaweed on the beaches when you visit, but keep in mind that beaches may not be perfect when you go.
Head to the Pharmacy for Forgotten Items
Forgot your reading glasses or some antacids? There is a pharmacy in the port area (and another located just down the street) that will have anything you might have forgotten. These small shops can be lifesavers when you are in a pinch and just need something to get you through the rest of your cruise.
Check Out the Flamingos in the Port Area
The port area at Costa Maya has been designed to offer anything a cruise passenger would need — shopping, restaurants, and things to do. As such, there are a number of things to see around the port. One of the cool features are the pink flamingos on display. You can stop and watch them or take a selfie in front of them. Kids will especially love seeing the birds, although the bright pink plumage is fun no matter your age.
Dollars Are Widely Accepted
Don't have pesos? No problem. In tourist areas of Mexico like Costa Maya and Mahahual, U.S. dollars are widely accepted. Just keep in mind you likely won't get a great exchange rate. For instance, 15 pesos to 1 dollar is a common exchange rate given in small port shops even though the current rate is closer to 19 to 1.
Enjoy the Beach… Just Buy Some Drinks or Food
The beachfront area of Mahahual is littered with restaurants. You can sit and enjoy the beach for free (often with a chair and umbrella), but alas, nothing is truly free. You're expected to purchase food and drink while you sit. Don't make the mistake of using a restaurant's chairs and seating without any plan to place an order. You'll quickly be asked to order something or give up the chairs.
Get a Souvenir Photo in Front of the Costa Maya Sign
As you exit the ship and walk down the pier to the port complex, you'll see a large Costa Maya sign on your right as you hit land. Stop and take a photo here to remember your trip. It's free and makes a great photo opportunity.
Massages Are Dirt Cheap
One of the best deals in Mahahual is a massage. If you head to the beach, you'll see people offering the service at ridiculously low rates — about $25 for a half-hour or $30-40 for an hour. That's a spectacular deal considering even the cheapest massages back home are about double that rate.
Mahahual Is Still a Sleepy Village (Don't Expect Cozumel)
In many ways, Cozumel is almost American. Large chain restaurants are in many places, there is traffic, and shopping is a main pastime. Mahahual is nothing like that. It's still a relatively sleepy village with one main road through it. There are no high-rise hotels or chain restaurants. Depending on your feelings, this is either a great thing or a bad thing. Either way, don't expect Cozumel when you arrive.
Have other questions about visiting Costa Maya and Mahahual? Let us know in the comments below.