Seemingly unheard of just a few years ago, the port of Costa Maya has quickly become a major cruise ship destination. Situated just 40 miles from the Belize border, the port offers everything you'd come to expect from a Caribbean port of call, including water activities, beaches, historic ruins, and more.
These days it's not unusual to have multiple ships in port when you arrive, leading to a hectic and crowded port area. So what do you do if you want to enjoy yourself in Costa Maya, but want to get away from the crowds?
How about a private beach resort that holds only a handful of people — complete with a private cabana area and all-inclusive food and drink? That's the claim to fame for the Maya Chan Beach Resort.
If you've been searching for things to do in Costa Maya, then you may have heard of Maya Chan. Currently, it is rated as the #1 thing to do in the area by TripAdvisor, with a five-star rating based on more than 1,300 reviews.
We recently visited Maya Chan on a stop in Costa Maya. Below is a review of the resort and our experience to share with other cruise passengers. (Note: Cruzely was not compensated in any way for this review. We paid full price for our recent visit.)
Maya Chan Overview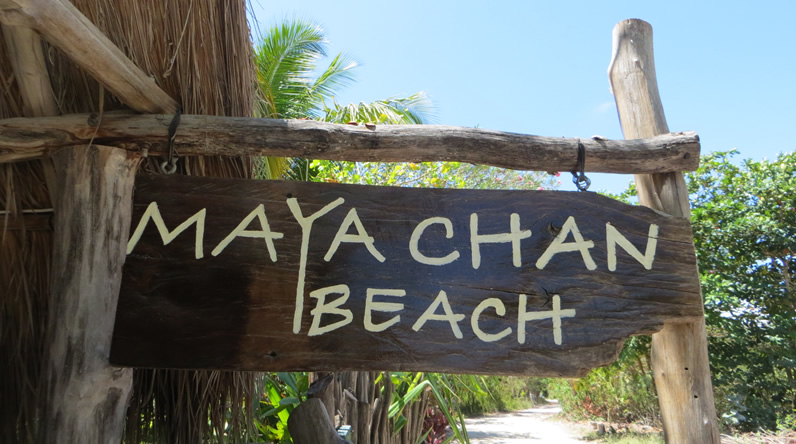 Maya Chan Beach sits about five miles south of the cruise port and is tailor-made for those looking for a relaxing way to spend their day. Sitting right on the water (off the road and built into the natural vegetation) the resort features several hundred feet of shoreline. There are only about 20 private spots to reserve, with each holding a handful of people. In short, you can expect to share the entire resort with only a few dozen people on any given day.
Once you arrive at the resort, you're greeted by lush surroundings. While the resort isn't large, you'll notice that nearly every palapa and guest area feels private due to the trees and plants that serve as barriers between many of the spaces.
The resort carries a rustic feel; you don't find marble countertops or high-end fixtures here. However, it's not designed to be that sort of resort. Instead, the attitude is decidedly Caribbean — palapas, hammocks, beach, and water. It's the sort of place where if you are wearing a shirt and shoes, you might be overdressed.
Guests of Maya Chan are all from the cruise ships, so it's likely you'll be sharing the area with your fellow shipmates. It's an all-inclusive (you'll be welcomed with chips, guacamole, and pico de gallo) with food, drink, and transportation included. There is also everything you'll need for a day at the beach, from beach toys for the kids to lockers to showers to kayaks and snorkel gear. Note that you will want to bring your own towels from the cruise ship.
Now that you've gotten an overall idea of the resort, let's get into some of the details about spending your day at Maya Chan.
Booking & Pricing
First things first, if you want to visit Maya Chan, then you need to book early. The day at the beach isn't available through cruise line excursions (as to our knowledge), so you'll need to book directly with the resort via their website. Reservations are required; you don't just catch a taxi down to the resort when you arrive.
Once you submit your dates of arrival, the resort will get back to you if they have any openings on that date. In our case, we booked about two months in advance and had no trouble getting a space.
After a space is confirmed, you'll be sent over a invoice via PayPal. There is an option for you to put a deposit down on your stay if you are booking more than 90 days out. If less than 90 days before your visit, then you'll need to pay in full. Also, there is no need to have a PayPal account. You can pay with a credit card through PayPal.
How much does a day at Maya Chan cost?
Adults (18+) are $59 per person
Kids (8-17) are $49 per person
Kids (4-7) are $39 per person
Kids (0-3) are $19 per person
For that price everything is included, including your private area, food, drinks, transportation to and from Maya Chan, wi-fi, kayaks, showers, and more.
Considering that the cost for one adult is roughly the same as one day of a drink package on a cruise ship, we found it to be a very good deal during our stay.
Getting to the Resort
If it's your first time sailing to Costa Maya and visiting Maya Chan, then you might find getting to the resort the most stressful part of your day. That's not the fault of Maya Chan, but instead the port area can be confusing to navigate.
As mentioned above, Maya Chan includes transportation between the pier and the resort in the fee paid. However, you first have to get to that transportation.
The meeting place for the taxi is outside of the port. To get there, you'll need to navigate the port area, which is somewhat crowded and confusing. The Costa Maya port seems built to keep cruise passengers in it. The route through the port is circuitous and with thousands of people in a small area, it can be tough to get out.
Look for signs that point to the taxi stand and continue to follow them to the exit. There are some shortcuts that can get you through the port faster, however, they are sometimes closed off. It's easiest just to continue following the signs, even if it takes a little longer.
Once you leave the port area, you'll want to continue down the main street for about 1/5 of a mile. The meeting point for the transportation to Maya Chan is located in front of a small convenience store. There's a sign showing the meeting place, but if you get lost, you can use the building with the red facade as a landmark. The meeting point is just before this red building. It's also just about half a block before you reach the large replica Mayan pyramid. In total, it took us about 20-25 minutes between the time we left the ship and reached the meeting point.
At the meeting point, you'll be greeted by a representative from Maya Chan who will get you checked in and request a taxi. Often guests are grouped together in taxi vans, so it may be some wait until you get in your ride. In our case we waited about 20 minutes before we had a cab.
Once headed to the resort, it's about a 20-minute ride. During your ride, you'll pass through the town of Mahahual and then quickly leave "civilization." The road to Maya Chan goes right alongside the beach and you'll see everything from open beach views to small eco-hotels to campsites. We found it to be a neat glimpse into real life in Mexico, instead of just the touristy areas most cruise passengers experience.
Finally, you reach the Maya Chan resort. Upon entering you'll be greeted by the staff who provides a tour of the common areas and shows you to your reserved space.
Features & Amenities
Touring Maya Chan gives you an idea of the feel and vibe of the place. The first thing we noticed was the secluded, tropical feel of the resort. Unless you are on the beach, you'll be surrounded by tropical foliage. Yes, you will definitely see other guests and their areas (you aren't completely isolated), but we loved that there was some privacy offered and it made the resort feel more exclusive.
As mentioned earlier, there are only about 20 spots to reserve. During our stay most were filled, but the place felt anything but crowded. Each area came with several chairs, a hammock, tables, and a daybed under a palapa. There are also some spots on the beach that offer a similar setup if you are looking for more sun.
Other features and amenities include:
Crow's Nest — A first-come, first-served crow's nest is located near the back of the property. It provides a view of the area and water. It's a perfect place to sip a cold drink.
Kitchen & Bar — Part of what's included in your day is all-you-can-eat, fresh-cooked meal. The kitchen area is the largest building at Maya Chan, complete with restrooms, a bar, and several tables. There's also a TV with satellite reception (which was ironically showing ice hockey during our visit).
Showers — Showers are available for use, as are lockers if you want to put things away while you swim. They aren't fancy by any means, but enough to rinse off the salt and the sand.
Swim-Up Bar — Floating around in the water and don't want to have to dry off to get a drink? The drink can come to you. There's a floating bar where you can get whatever you like.
Kayaks/Floating Chairs — Speaking of water, there are kayaks, stand-up paddleboards, and floating chairs are all available for you to use. In addition, there is snorkel gear and beach toys for use. All are included in your day.
Wi-Fi — We know that people go on a cruise to get away from it all, but it is nice having wi-fi to be able to check email while you are away. There is free wi-fi for you to use, including being able to post photos of the beach to Facebook.
Massages — The only thing not included in your day are massages. Still, if you want to purchase one, they are available for $25 per half hour, or $45 for one hour.
Service at Maya Chan
There's a lot to be said of Maya Chan itself. The grounds and vibe are warm and inviting, lush and tropical. Having your own reserved area with unlimited food and drink is a great way to spend the day.
However, just focusing on those aspects would leave no mention of the service at Maya Chan. Put frankly, the service was outstanding. From the time we arrived until the time that we left, everyone we encountered seem genuinely happy to be there.
Upon arrival you are given a snack to get you started, as well as a welcome drink — without having to ask for it. Meanwhile, the staff circles regularly to see if you need anything else. We never had to wait more than a few minutes for a drink (or we could have walked to the bar if we wanted one immediately).
One thing that impressed us most is that we made our reservation about two months in advance and let them know we were bring a child. When we arrived at our reserved area, there were sand toys waiting for our son already without us requesting them.
When it's time to think about heading back to the ship, the staff will come around and ask what time you would like to depart (taxis leave every 30 minutes, starting after lunch). They call the transportation for you and let you know when it has arrived.
In short, thanks to the staff the only thing you really need to worry about is simply getting to the meeting point when you arrive at the port.
Food & Drink
For us, one of the big draws to Maya Chan was it being all-inclusive with food and drink. We were not disappointed.
Food
As we said, when you arrive you are shown your reserved spot and provided with chips, guacamole, and pico de gallo. In of itself, it's a great snack and a nice treat. However, if you've been eating the same food day after day on the cruise ship (as we had), the freshness and flavor of Maya Chan's food is amazing.
For lunch, the spread is simple, but tasty. It's all-you-can-eat tacos, made fresh in front of you in the open-air kitchen. There are ingredients for any palate, including chicken, fish, beef, rice, pico de gallo, guacamole, and more. You line up, let them know how many tortillas you would like and get your fill. The menus is simple, yet extremely tasty.
(And by the way, we were told the record for tacos eaten was 15. So don't feel bad if you want to go back for seconds.)
Drinks
You can also drink your fill at Maya Chan. Most of the menu revolves around tropical drinks like margaritas and pina coladas, but they can make whatever you like. Beers, wine, sodas, tea and bottled water are also available. They even made smoothies (strawberry and mango) for our son.
Here's the menu offered during our stay:
Drawbacks of Maya Chan
Overall, our visit to Maya Chan was excellent. However, nothing is perfect and there is a drawback to the resort — seaweed.
If you notice, we haven't mentioned much about the water at Maya Chan. That's because we did not get in. Unfortunately, the area attracted a lot of seaweed during our visit. Most other guests did walk through and get into the water (and seemed to enjoy themselves). Judging by other reviews we have read, the seaweed can be a common problem.
At the time of our visit, there was several feet of seaweed that had washed up. There was also a smell that accompanied it. The smell wasn't overpowering, but it was noticeable until you became used to it.
What impressed us was how Maya Chan handled the situation.
First, right when we arrived at the meeting point, the representative told us that there was an issue with seaweed. He immediately offered that we could cancel and receive a full refund if we wished. There was no hiding the fact or springing it on us only when we arrived. Being open and straightforward — and giving us the option to cancel if we wished — was appreciated.
Second, when we did arrive, there was a small crew of workers cleaning the beach and loading up wheelbarrows and hauling them away. In other words, they didn't just throw up their hands and wait until the seaweed washed away. Instead, they were actively doing something about the situation.
Final Thoughts
Overall, we wish that Maya Chan had stunning, clear water free of any seaweed. But we also understand that Mother Nature is out of their control. That said, apart from that issue we found nothing lacking during our stay. To us, there's a reason that the resort is ranked as the top activity in Costa Maya.
If you are a cruiser that wants a relaxing way to spend your day in port, then Maya Chan is likely the perfect place for you. Not only is there a fabulous beach… gorgeous tropical surroundings… tasty food and drinks… but there is also some of the best service we've ever received.
Meanwhile, it all comes at a price that's less than most other cruise line excursions. To learn more about Maya Chan and book your day, you can visit their site here.