Looking for something free — or inexpensive — to do while visiting Costa Maya, Mexico?
When it comes to cruise ports, Costa Maya is particularly unique. Prior to building the port, this area was just home to a quiet fishing village known as Mahahual. Now, tens of thousands of cruise passengers can visit in a day and they are all looking for something to do. Luckily, if you want to enjoy the day, you don't have to spend a ton of money.
With Costa Maya there are two main areas to focus. First, there is the port area. The cruise facility is an enclosed area custom-built for cruise passengers. There are a number of things to do here that won't cost much at all.
Second, there is the town of Mahahual, mentioned earlier. The town is small, but comes alive with the cruise ships. It features beaches, shops, restaurants, and more.
If you're going to be visiting the area, here's what you can do that won't cost you much money.
Take a Taxi into Town
As mentioned, the distance between the port and the town of Mahahual isn't far — just about a mile as the crow flies. However, it's not a straight shot. Instead, you have to wind through the streets and the walking distance is closer to a mile and a half. Did we mention that no matter the time of year it can get hot and humid on the Caribbean coast?
Instead, you can hire a taxi to take you into town. At last check, most will quote you $4 a person for the ride and they are everywhere near the port and in town, making it easy to pick one up.
Hit the Beach in Mahahual
We'll be straight with you — for being on the coast, Costa Maya isn't blessed with great beaches. In fact, the shoreline here is fairly rocky. And in Mahahual, many restaurants and businesses have essentially taken over the beach. So if you're expecting wide swatches of white-sand beaches to enjoy… think again.
Still, you can find some spots. Specifically, the area near the lighthouse in Mahahual features some free beach access. You can also visit those restaurants, get a bite to eat or something to drink, and take advantage of the beach — usually with loungers and umbrellas. That will cost a little more, but it gives you a day at the beach for the cost of a meal.
See the Mahahual Lighthouse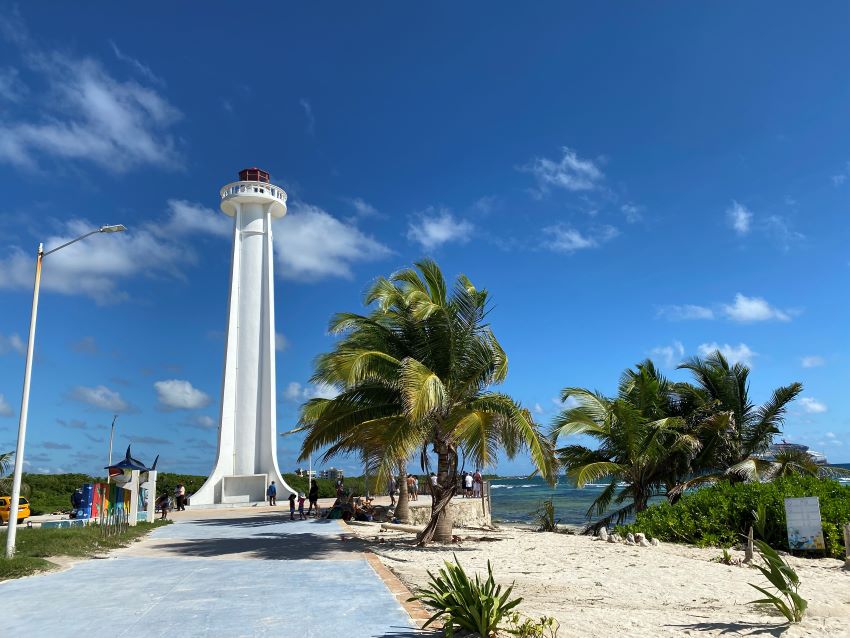 As we mentioned, Mahahual was originally a small fishing village. Combine that with a rocky shore, and it's no surprise that a lighthouse makes an appearance. It's by far the tallest landmark in the area and makes a great photo op as you can get a shot with the cruise ships in the background.
It's free to visit, and there's also a large "Mahahual" sign you can pose with. A taxi can get you there for just a few bucks and it's also the start of the winding path down the beachfront in Mahahual, making it a great starting point for exploring.
Walk the Malecon
Starting at the lighthouse, Mahahual features a winding malecon walkway that runs down the beach. On one side is the beach and the ocean. On the other are tons of restaurants, hotels, and shops. Compared to somewhere like Cozumel, however, it's rather quaint. You can walk down under the shade of palm trees, with the buzzing sounds of a beach town as you take it all in.
It can get busy if there are lots of ships in port as many tourists — and shopkeepers asking you into their stores — definitely make the atmosphere more lively. Some spots on the strip, however, are quiet glimpses into the laid-back life that happens here when the ships leave.
Explore the Port Area
Like most other Caribbean ports, in Costa Maya there is an enclosed port area that passengers have to walk through before they go explore the rest of the region. This is a spot dedicated and reserved only for cruise passengers, so everything revolves around them.
There are shows, pools, restaurants, and shops that you can visit, all laid out in what's frankly a bit of a maze. If you get off the ship you'll experience the port, but it's a spot you could theoretically spend the entire day if you just wanted something easy and cheap to enjoy. Just know that if there are multiple ships in port during your visit, it can get crowded.
Hang Out Poolside in Port
One of the big draws to the port is that there is a large pool — complete with loungers in a manmade beach — that you can use during the day. Here you can take a dip, feel the buzz of the port, and have a great view of the cruise ships docked just off the coast.
Use of the pool and loungers is first come, first served, but they are reserved only for those buying food and drink from the restaurants that line either side of the pool. Grab yourself an umbrella drink, sip it in the shade, and then have a swim. It's an inexpensive way to spend your time in Costa Maya.
Get an Inexpensive Massage on the Beach
Remember how we told you that the malecon in town has lots of shops and restaurants trying to get your business? You'll also find LOTS of offers for an inexpensive massage on the beach. Walk down the main strip and seemingly every other spot will offer up a massage on the beach for $20.
To be sure, you won't expect these to be licensed massage therapists. But if you just want someone to rub you down and don't mind passers-by, then it's a very inexpensive way to relax. Compared to the cost of a massage on the ship, you might save 80-90%.
Take Your Photo at the Port
One free thing that you don't want to miss is getting your photo at the Costa Maya sign at the port. As you walk from the ship, right at the entrance to the cruise port area will be a large sign on your right (you'll see plenty of people grabbing photos).
It's a great spot to take a souvenir picture and anyone coming or going will pass right by, meaning you don't have to go out of your way to see it.
See the Flamingos in Costa Maya
One little hidden-away gem in the busy Costa Maya port is the flamingo enclosure.
Toward the back of the port is an enclosure with small wading pool for pink flamingos. It's a bit out of the way from the crowds, and offers a cool chance to see the birds up close. Stand and watch for a few minutes, or grab a photo with the famous residents.
Don't Miss the Acrobatic Show
One free thing that you don't want to miss is an amazing acrobatic show that's free in the port. Toward the back of the port you'll see what looks like a large flagpole standing 50 feet up in the air, with ropes dangling from it.
Here, performers put on a show that's hard to describe. They tie themselves into the ropes and then wind up around the pole, flying through the sky as they circle while the rope then unwinds. All we can say is that it's something you'll want to see. Just head to the pole (you can see it from around the port) and check when the next show will be.
Check in Back Home With Free Wi-Fi
Want to save some serious money? If you skip the wi-fi on the ship — which can be upwards of $30 a day in some cases — there is free wi-fi around the Costa Maya port area. This way, you can check in back home for free without having to worry about expensive access.
Just bring your phone and search for the network. As well, some shops and restaurants may have service for customers to use.
Stock Up On Snacks
One nice thing about hitting any port is that it gives you a chance to pick up anything you forgot when you packed. Case in point: If you have a snack or a drink that you wish you brought with you on the ship, there are small stores in the port and around Mahahual where you can stop in and pick up anything you want. This includes snacks, drinks, beer (which you can't bring back on the ship), and even medicine and sunscreen.
Stay on the Ship
Want to be a contrarian? Just stay on the ship. It's an easy way to save money. While the vast majority of passengers will go ashore during the day in Costa Maya, if you stay aboard you'll deal with much smaller crowds.
That means you can enjoy many of the ship's amenities like the pool deck without struggling to find a seat or bumping elbows with tons of people. Just know that the crowds will start to filter back onboard starting in the early afternoon, but in the meantime you should have a much quieter ship.
More on Costa Maya: