Nothing says summer like hitting the beach and getting some sun and water. And what better way to get to the beach during the summer than with a cruise?
With a cruise, not only can you travel in style to some of the most beautiful beaches in the world, but you can also sample several different places while having your room, board, and entertainment taken care of on the ship.
The best news is that the cost of a cruise can be considerably cheaper than the cost of airfare and hotel at a Caribbean resort. Meanwhile, cruises are much less of a hassle to book than having to search and put together a trip on your own.
That said, there's no doubt that the summer is one of the more expensive times to set sail. With kids out of school and vacations on everyone's mind, higher demand leads to higher prices. The good news is there are still deals out there — including many cruises under $300 per person.
Below, we've rounded up a sampling of the cheapest summer cruises for 2023. But before listings those cruises, here are some pointers on finding cheap trips of your own during this time of year.
How to Find Cheap Summer Cruises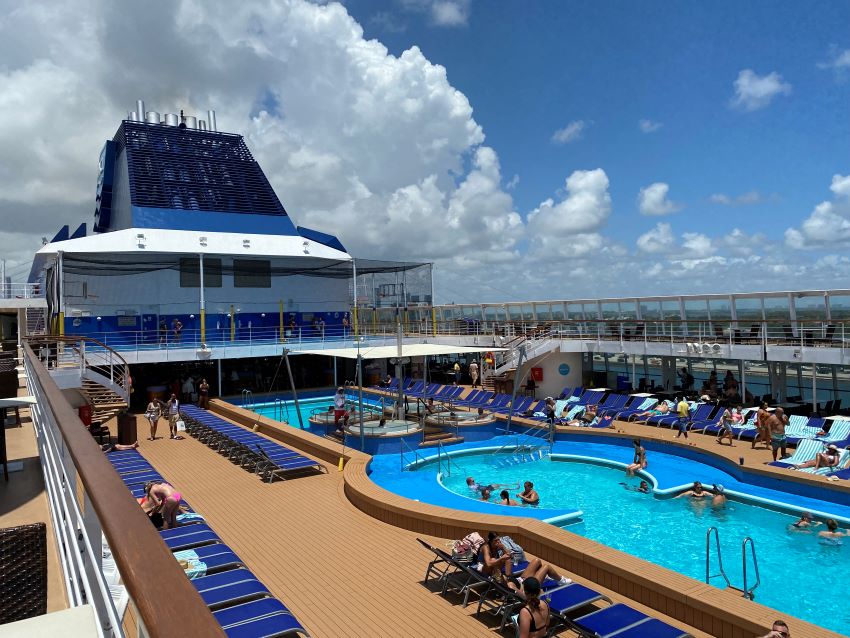 Searching for your own deal on a cruise, in addition to what we've found below? Here are some tips to keep in mind:
Sail Late in the Summer for the Best Fares
As you'll see below, the cheapest summer cruises are in August, and more specifically, late August. In general, the closer you can sail to September, the less you'll pay for your cruise. And if you can wait until early September to take your summer cruise, you'll get the best of both worlds — the cheapest prices while still having warm weather and water nearly everywhere in North America.
Why are cruises so much cheaper later in August? The late season sees a drop-off in demand for family vacations as many people have already done their travel for the season and are looking at the start of the back-to-school season.
Keep Trips Short for Lower Fares
You'll notice that cruises longer than five days aren't heavily mentioned in our list below. Don't think this means there aren't deals available on longer trips. In fact, just like with shorter cruises there are some great deals — especially later in the summer season.
However, if you want to pay the absolutely lowest amount for a cruise, then it makes sense to stick with shorter trips. Sailings of 3-5 days can be found for less than $300, with even more options for under $500 per person. Longer trips, which mean more nights, more food, and more entertainment, are obviously more expensive on a total basis.
It Helps to Be Flexible With Ports
There are summer cruise deals all around the country, as you'll see below. But if you are closest to Florida, you'll have an advantage of being able to sail from several different ports including Port Canaveral, Port Everglades, and Miami.
In a different part of the country? Most people have a port within a few hours drive, if not closer. However, if you are able to travel to other ports for better deals, then you stand the best chance of getting a cheap summer cruise.
Older Ships Usually Mean Lower Fares
It's not written in stone, but in general the lower-priced cruises will be on the older ships. Since there is often more demand for sailing on the newer ships, cruise lines can charge a premium on the cruises.
Older ships still give you a similar experience (although not quite the same) at a price that can be considerably less expensive if you're hunting for a deal.
Search Across Multiple Websites at Once
Head to the cruise line's website and you'll get the prices… for that cruise line. Instead, to find the best deals we like to use sites like AvoyaTravel.com or Orbitz. These sites search all the cruise lines at once, giving you a chance to find deals that you might not find on a cruise line's website.
Cheap 2023 Summer Cruises
Note: Prices listed are per person for cruise fare only, in an interior cabin. Cruise lines typically charge double occupancy, plus there are taxes and port fees. Keep in mind that prices will vary and may not be the same as what's listed below when you read this article.
4-Night Bahamas Cruise from Miami (MSC)
Date: August 28, 2023
Price: $159 per person
MSC only departs a few ports including Miami and Port Canaveral, making it not as well-known as some other lines. However, it offers some of the least expensive fares that you will find. Case in point, this trip departs in August from Miami to Nassau, Ocean Cay (MSC's private island), and Key West. All told, it comes in at just $159 per person or roughly $40 per night before taxes and fees.
4-Night Mexico Cruise from Long Beach (Carnival)
Date: August 28, 2023
Price: $274 per person
As a rule of thumb, if you can find a trip for under $100 per night during the summer, then you've likely found a good deal. This trip costs just $70 per night if you take a late August departure. Sailing from Long Beach, the trip takes you to Mexico on a four-night journey aboard the Carnival Radiance. There are other dates available earlier in the summer that still come in under $100 per night, but this is the cheapest date we found.
4-Night Bahamas Cruise from Miami (Carnival)
Date: August 28, 2023
Price: $204 per person
As we mentioned, sailing in late summer is key to finding low fares. Sailing from Miami is also helpful because with so many ships sailing from there, it's easier to find deals. This trip leaves in the late summer from Miami and costs only $204 for four nights. That's dirt-cheap. It leaves aboard the Carnival Conquest with stops in Key West and Cozumel, before returning home. If you're looking for one last hurrah before the fall, this is among your cheapest options.
4-Night Caribbean Cruise from Miami (Carnival)
Date: August 21, 2023
Price: $254 per person
How abundant are the deals from Miami in August? Just like above, this trip departs on the Carnival Conquest. The only difference is that it's a little bit more expensive (still just $254), leaves a few days earlier and heads to Half Moon Cay (Carnival's island) and Nassau. The good news is that if this trip doesn't fit your schedule, there are a number of options available, although they are a little more expensive.
5-Night Bahamas Cruise from Tampa (Royal Caribbean)
Date: August 12, 2023
Price: $410 per person
No destination in The Bahamas is quite like Royal Caribbean's private island, CocoCay. Complete with beach clubs, a water park, an enormous pool, and tons of open beaches, no other private island really compares. This trip can take you there with a great value.
Departing Tampa aboard Serenade of the Seas, the cruise takes you first to Key West (always a popular port) before heading over to CocoCay to spend the day. On either side of your stop there, you'll have a day at sea to enjoy the ship.
All that is for just $410 for a five-day cruise, or about $80 per day.
5-Night Caribbean Cruise from Port Canaveral (Carnival)
Date: August 28, 2023
Price: $304 per person
For a five-night cruise, this price of just over $300 per person comes out to about $60 in cruise fare per day. That's a good deal if you can sail in the late summer. The cruise aboard Carnival Freedom departs Port Canaveral heading over to Amber Cove and then Grand Turk — two desirable destinations.
How good a deal is it? The same cruise during the peak of July costs $574, or nearly twice as much.
5-Night Caribbean Cruise from New Orleans (Carnival)
Date: August 21, 2023
Price: $309 per person
So far, the bulk of the cruises we have covered have all been three and four-night trips. This cruise is a five-night departure from New Orleans aboard the Carnival Valor for just $309 per night. You'll have stops in Cozumel and Progreso before heading back to the New Orleans. If you can't sail on August 21, the trip runs regularly throughout the summer, although you should expect to pay a little more for taking your cruise during the height of the summer season.
4-Night Caribbean Cruise from Galveston (Royal Caribbean)
Date: August 17, 2023
Price: $290 per person
You don't have to sail from Florida to find cheap summer cruises. This trip aboard Royal Caribbean's Voyager of the Seas leaves in mid-August and costs less than $300 per person. For that price you set sail for four nights, headed to Cozumel. On each side of the port day you'll have a day at sea to hang out by the pool and enjoy the warm weather. If you can't make this trip, there are many more throughout the season, but just know they will be more expensive.
4-Night Caribbean Cruise from Port Canaveral (Carnival)
Date: August 21, 2023
Price: $284 per person
Port Canaveral — located about 45 minutes from Orlando — has quietly become one of the busiest cruise ports in America. Sail from there in late August on this cruise and you'll pay under $300 per person. It's a four-night trip aboard the Carnival Liberty, headed over to Nassau and the Princess Cays, along with some time at sea. Best of all, the price is only $284 in mid-August and you can sail for even cheaper later in the month.
7-Night Caribbean Cruise from Tampa (Royal Caribbean)
Date: August 19, 2023
Price: $381 per person
It shouldn't be a surprise that shorter cruises take up most spots on our list. That's because the shorter the cruise, typically the lower the price. Still, we found this deal for a departure in mid-August that gives you a week-long cruise for under $400 per person.
Set sail from Tampa aboard Grandeur of the Seas for just $381. During the trip you'll head to Cozumel, Roatan, Belize City, and Costa Maya (Mexico) — all for less than $55 a night per person.
7-Night Bahamas Cruise from New York (MSC)
Date: July 2, 2023
Price: $449 per person
One of the final cruises on our cheap summer cruise list is a 7-night trip aboard the MSC Meraviglia. This trip departs New York during early July — the peak of the cruise season in North America. From there, it heads to Port Canaveral, Nassau, and Ocean Cay. At just $449 per person, it's among the cheapest week-long cruises that you'll find.
7-Night Alaskan Cruise from Vancouver (Holland America)
Date: June 7, 2023
Price: $429 per person
Think of summer cruising, and you likely picture the warm Caribbean. But summer is also the Alaskan cruising season. The best deals are the early (May) or late (September) part of the season, but we found this deal in June.
This cruise departs Vancouver for a 7-day trip to Juneau, Skagway, Glacier Bay, and Ketchikan. That's a great lineup of ports giving you plenty to do and see while visiting one of the most remote parts of the planet… for a price that can't be beat.